Injectable Fillers
Injectable Fillers Treatment 101
Injectable fillers are an FDA-approved treatment that temporarily add volume to certain areas of the face, including the cheeks, lips, and nasolabial folds.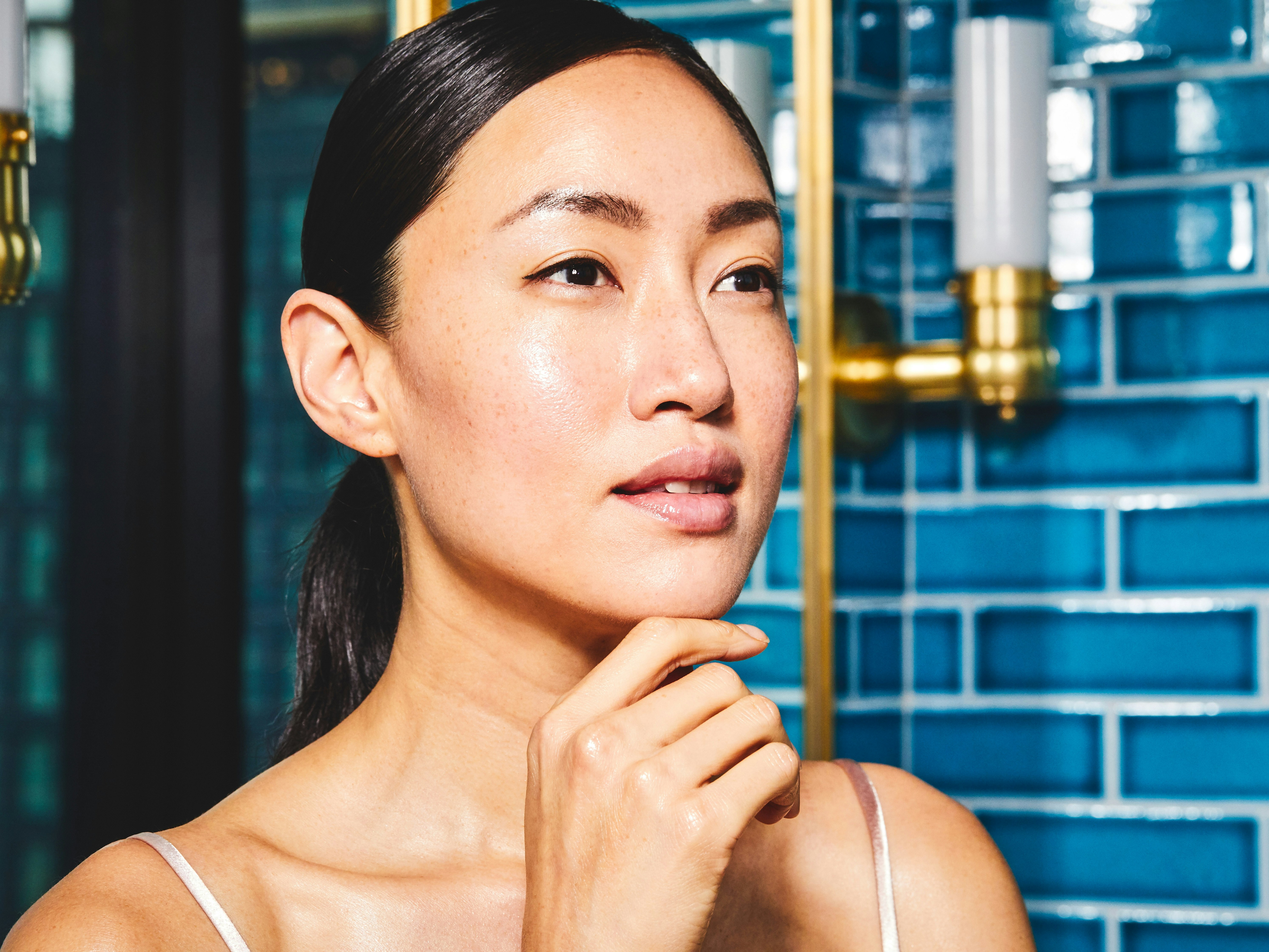 Photo by JOSLYN BLAIR | Model is not a patient
Quick Facts
Areas Treated [1]
Lips, Perioral Lines, Marionette Lines, Cheeks, Nasolabial Folds
[1]
Like any medical treatment, they have potential risks and side effects. Be sure to talk to a licensed provider to see if it's right for you.
[2]
Procedure time will vary, depending on what area(s) are being treated. 
Overview
Injectable fillers are a class of substances that can temporarily restore plumpness to areas that typically lose volume over time. Dermal fillers can help add fullness to cheeks, plump up slim or thinning lips, and help smooth deep-set "parentheses lines" around the nose and mouth.

Injectable Diaries I Tried Lip Fillers — Here's 5 Things You Need to Know Before Getting Them

Injectable Fillers Risks + Side Effects
you have an infection
allergic to lidocaine
allergic to the filler
Serious Side Effects [4]
vision abnormalities
blindness
stroke
temporary scabs
permanent scarring
Common Side Effects
tenderness
swelling
firmness
lumps + bumps
bruising
pain
itching
redness
discoloration
[3]
Talk to your doctor about any medications you are taking, such as those that suppress the immune system and blood thinners, as these may increase risks of infection or increased bleeding with injections. Also let your doctor know if you have a history of pigmentation disorders and excessive scarring.
[4]
One of the risks with using these products is unintentional injection into a blood vessel. While rare, the complications may be serious and permanent, and may result in the given side effects.
Injectable Fillers FAQS
Are injectable fillers right for me?

If you are concerned about a loss of facial volume or deepening facial lines, injectable fillers can be a treatment option. Since they are administered through a measured syringe, the amount of injectable filler can be adjusted to meet your desired level of volume. Consult with a licensed provider to learn how injectable fillers can help restore volume to your facial features.

How do fillers work?

Injectable fillers are made from a range of different substances, but the primary ingredient in most injectable fillers is a modified version of hyaluronic acid, a water-loving molecule found naturally in the skin. This molecule is the backbone of many soft, gel-like injectable fillers, which are injected under the skin to give cheek hollows, lips, and deep facial wrinkles a plumping boost.

How long do fillers last?

Injectable fillers can last anywhere from six months up to two years. How long dermal fillers last can depend on your health history, injector technique, product injected, and area of the face treated.

What outcome can I expect after the treatment?

You will see some results of your injectable filler treatment immediately, with final results being visible within about two weeks.

Do fillers hurt?

Topical numbing cream can help minimize pain from the needle insertion, along with the lidocaine that is added to most injectable fillers.
Treatment Diaries
Sure enough — you do not have to be numbed — although I highly recommend it. It helps ease the discomfort before, after, and during the injection process.
The consultation process is so essential. A lot of times the perceived images — which are strained from holding a camera at an angle, or flexing and turning the head and looking at the mirror at an angle — don't really reflect the way that we appear to other people in real life.
Have you noticed volume loss in certain facial areas? Injectable fillers are a temporary treatment that could be right for you and your needs. Dermal fillers can help plump up lips, cheeks, and deep creases around the mouth.

Here's what happens when you get injectable fillers. Your provider will determine if you're a candidate for treatment, then administer lip filler, cheek filler, and/or nasolabial fold filler. You'll see the results from your filler treatment immediately, with significant improvement within about two weeks. Your injectable fillers can last anywhere from six months up to 
two years, depending on the product used and area injected.

Curious about how much facial filler costs? Learn all about the price of lip filler, cheek filler, and nasolabial fold filler here.
More On Injectable Fillers
Plump, add volume, help smooth fine lines.