Forget any old wives' tales you may have heard: it's important for everyone to wear sunscreen, regardless of skin tone. Even if you have darker skin, you're still at risk for sun damage and skin cancer. While it is true that deeper complexions are naturally better protected from sunburn (to a certain degree), melanin just isn't enough to protect skin from sun damage. "In melanin-rich skin, the 'built-in' protection ranges from roughly an SPF of [2 to 4], depending upon the darkness of the skin tone, and that is simply not enough to guard against UVA and UVB damage," says Los Angeles-based dermatologist Dr. Pearl E. Grimes.
Unfortunately, it hasn't always been easy for people of color to find SPF formulas that don't leave behind a chalky cast. "From a historical perspective, some earlier sunscreens were not formulated with darker skin in mind," explains Grimes. "This goes back to what was a prevalent lack of education and awareness about the need for people of color to protect their skin, which played out in the sunscreen marketplace of yesteryear." As a result, many SPF formulations were predominantly made with zinc oxide and titanium dioxide, also known as mineral sunscreen ingredients. These ingredients left a white, pasty residue behind that just couldn't blend into melanin-rich skin.
This unpleasant sensorial experience has caused an aversion to sunscreen among many with deeper complexions, but there are cultural implications of using a chalky SPF, too. "A patient with the darker skin tone of an Indian background is not going to use the sunscreen that makes them look white and pasty," says Dr. Seemal R. Desai, a board-certified dermatologist in Plano, Texas. "If anything, this may even make the patient feel like it's changing their own cultural and personal identity because their skin color looks different." He adds that getting his deeper-complected patients to not only understand the importance of regular use of SPF, but also manage these challenging identity issues that come with using a chalky formula, has been a struggle.
The good news is that brands are becoming more cognizant of the need to create wearable sunscreen for skin of color; so cosmetic chemistry has advanced, and the offerings on the market have significantly improved. Many SPF formulas today contain microparticles of those once-chalky mineral sunscreen ingredients, which blend much more easily into the skin without leaving the same color residue. Keep reading, as we've selected nine products that give melanin-rich skin the protection that it needs — while barely leaving a trace of its existence behind.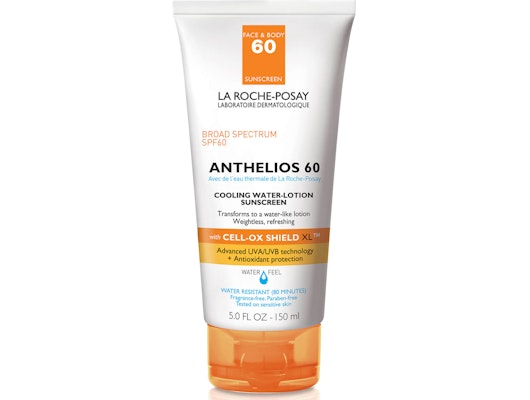 Although the SPF number on the La Roche-Posay® Anthelios® 60 Cooling Water-Lotion Sunscreen ($36) is pretty high, Dr. Desai says that he recommends the same SPF level to all of his patients, no matter what their complexion. "We know that skin cancer can happen in patients with darker skin types and, therefore, it is important that the SPF number be equally protective for all patients."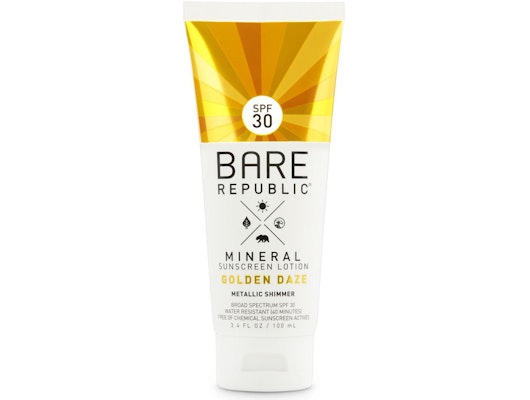 If you needed any more proof that sunscreen application doesn't have to be boring, Bare Republic's® Mineral SPF Gold Shimmer Sunscreen Lotion ($15) is it. Not only are you getting solid coverage from the sun, but the metallic finish is the perfect accent to bronzy brown skin.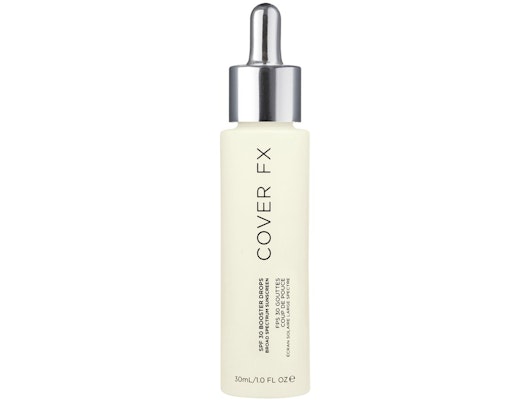 We love the completely clear Cover Fx® SPF 30 Booster Drops ($45) because of the consistency: the serum-like texture blends easily with your liquid foundation, primer, or moisturizer. You'll be getting much needed protection without feeling like you have an extra layer on.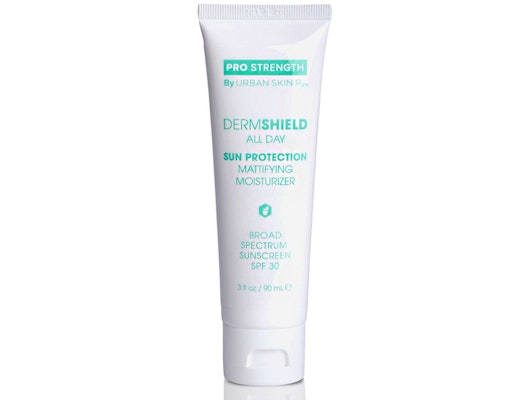 Sunny summer days can bring out excess shine, even in drier complexions. Urban Skin Rx® All Day Sun Protection Mattifying Moisturizer ($28) helps blot down the dew without leaving skin looking cakey or dull. It's mineral-based formula won't leave any white residue, and it is a must-try if you're prone to hyperpigmentation.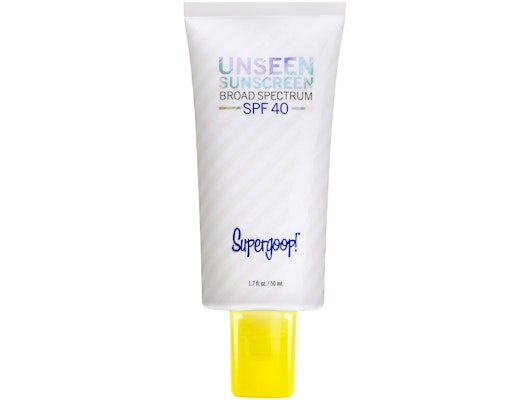 Supergoop!® Unseen Sunscreen® Broad Spectrum SPF 40 ($32) protects skin from damaging UVA and UVB rays, as well as blue light and pollution. Use the red algae, meadowfoam, and frankincense-infused formula as a primer: it will help keep makeup from sliding off of your face when temps heat up.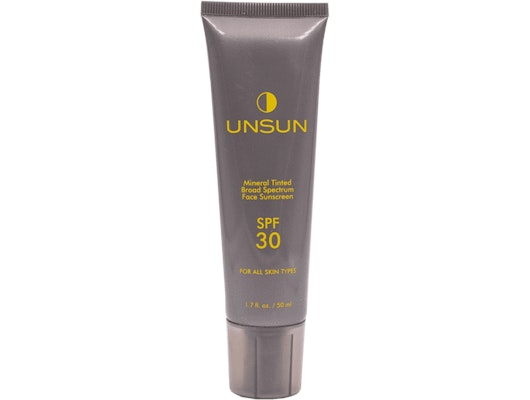 "It is my practice to recommend physical sunblocks/sunscreens over chemical sunscreens," says Grimes. UnsunTM Mineral Tinted Sunscreen SPF 30 ($29) is one such formula that was made especially for darker skin. This formula also has shea butter, vitamin E, coconut oil, and five different fruit extracts that double as skin healers if you spend too much time in the sun.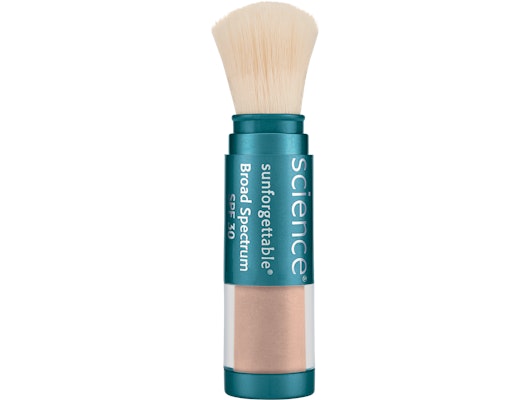 If you're a regular makeup wearer, then Colorescience® Sunforgettable® Total Protection Brush-On Shield SPF 50 may be an easy formula to adjust to. After applying your makeup, use this product as a setting powder and dust on one of five shades that range from fair to deep. You can also re-apply throughout the day to minimize shine while keeping skin protected.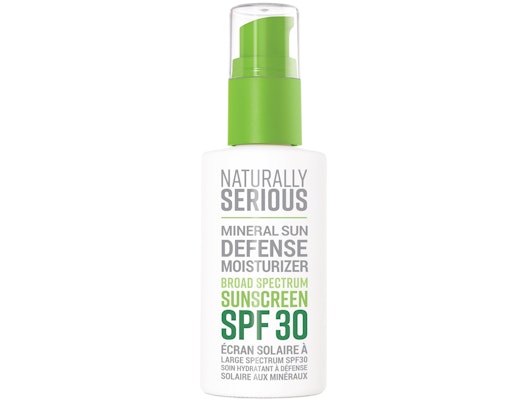 The universal tint in the Naturally Serious® Mineral Sun Defense Moisturizer Broad Spectrum Sunscreen SPF 30 ($34) will keep any chalkiness at bay — all without compromising the UVA and UVB shield. Hydrating ingredients like argan oil, squalene, and Vitamin E can also soothe any after effects of sun exposure.
If you're on a search for a chemical-free sunscreen with a high protection factor, try Australian Gold® Botanical SPF 50 Mineral Lotion ($17). It uses mattifying physical blockers titanium dioxide and zinc oxide to help repel rays, while antioxidants kakadu plum, eucalyptus, and red algae work to keep aging free-radicals from damaging skin.
Some complimentary products were provided to the author for the purpose of writing this article.
Product prices may vary from the time this article was written.
Allergan® may receive commissions for purchases made through links in this article.