In The PathTM, we spotlight different women making a difference in the fashion, beauty, wellness, and medical aesthetics industries. Here, Briogeo® founder Nancy Twine shares her road to success.
For many entrepreneurs, there's an "aha" moment that inspires them to start their company. Often, it's realizing a void in the market, or having a solutionless problem. But, for Nancy Twine, the founder of haircare line Briogeo®, her eye-opening revelation was the loss of her mother.
Twine was originally on a different career path: she took a full-time job in commodity sales and trading at Goldman Sachs® right after graduating college. But, only three years later, in 2010, she lost her mom in a tragic accident. Though starting a career in finance gave her the experience she felt that she needed to grow both personally and professionally — and to also save money — it wasn't what Twine was passionate about . . . so she quit. "Life can be so unexpectedly short, and [it's important to] do what it is that you love, so that you can wake up feeling good about your day and your life," says Twine.
As it turns out, early memories she made in the kitchen with her mother would be the inspiration for her second act. "My mom was a chemist," Twine explains. "Growing up, we used to make a lot of our own very basic beauty products at home using blends of single-source ingredients that we would get from our local health food store." Here, the 30-something explains just how she grew her haircare empire, and how she's staying true to her roots, while helping others care for theirs.
Spotlyte: How did Briogeo come to be?
Nancy Twine: I've always been a fan of beauty, and I think it's fun to create a career out of something that comes naturally to you and that you already liked. I also saw that at the time there was a void within the haircare category — specifically for more clean products — and products that really catered to a multitude of hair texture types. So, [products that were] clean, diverse, but also highly effective.
It was very therapeutic for me to be able to pour my heart and soul into this project. Three years after having the idea, I finished developing my first four products alongside a chemist, and I took them to a trade show in Las Vegas called Cosmoprof®. I met so many buyers and retailers at that show. Ultimately, that's how I ended up forging a connection with Sephora®. From there, the rest is history.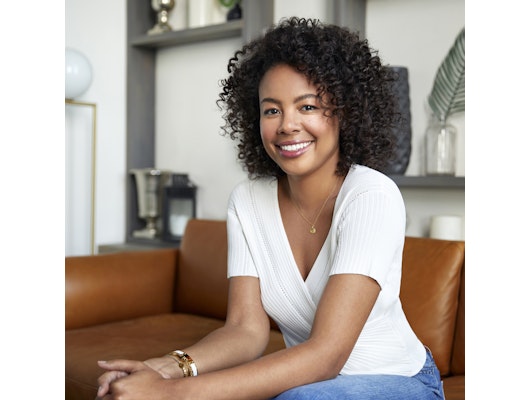 Courtesy of Briogeo
Spotlyte: What have been some of the biggest challenges creating products for textured hair, as well as being a woman of color in the beauty business?
NT: One of the main pillars of Briogeo is diversity. When I approached retailers when I was starting up, sometimes [their teams] assumed that Briogeo was only for women of color, only for textured hair types. So, one of the challenges that I had, initially, was really educating people on the line. It's not just for one hair texture type or one ethnicity. The way that we think about [hair] is a problem [and] concern. We're treating problems, not specific types of people. It was really interesting that people had to get their head around that at first. Out of all the beauty categories, historically, haircare has been the most segregated category.
Spotlyte: Were there any other challenges you faced launching Briogeo?
NT: Another early challenge — which a lot of small businesses face — was funding. I was fortunate that I had done a good job of saving money I had earned from my finance career. I was able to dip into my savings when the company needed extra cash, and then pay myself back. But that was a scary time — putting your whole life savings on the line, hoping someone was going to actually pay for that purchase order. There's a lot of risk, and that was certainly challenging from a personal finance perspective.
Spotlyte: Did your time working in finance overlap with the start of Briogeo? How did that work?
NT: I overlapped. I was working my day job, and then I spent my nights and weekends [on Briogeo]. It was so hard when I had downtime, because my mind would start racing about everything [with my mom]. When I was at work during the day, I was fine, but then I would get home — it was a challenging time.
I really used that free time outside of work to really pour myself into this project. I know that when people go through traumatic experiences, unfortunately, sometimes they get pulled in the wrong direction, they turn to things that they shouldn't. I really used that downtime outside of work to pour myself into a passion.
Spotlyte: In the few short years since Briogeo launched, the hair landscape has shifted dramatically. How do you think Briogeo stands out in this current beauty landscape?
NT: One of the things that was a little scary when launching my brand was how were we going to compete with all of the haircare brands. For the most part, their assortments were being driven by dry styling products, typically in the form of aerosols. In order to get that dry finish, you need aerosol — otherwise, a wet spray will mess up your style.
We don't use any aerosols as part of our commitment to sustainability, so that worried me in the beginning. But, what happened perfectly at the same time, was that the skincare category was growing, and the client was getting really educated on the benefits of a really good skincare regimen. Ultimately, that filtered into haircare, and what you saw is a movement that I like to call the "skinification" of hair. [Basically,] people really focusing on their scalp health, how they are treating their hair.
Briogeo was at the forefront [of that movement] because that's what we were about before the client really started to [change how she was] thinking about haircare. That was a big catalyst — what has really set us apart and made us important within the current hair landscape. Scalp revival was a big impetus of that, too.
Spotlyte: There's also been somewhat of a shift toward personalization. Where do you stand in terms of personalization and customization?
NT: It's a big part of our brand. Do I think we could do a better job educating on it? Absolutely. But for us, the idea behind Briogeo has always been mix and match. We have defined collections based on problems and solutions, whether it's Farewell FrizzTM, Curl Charisma®, Scalp Revival®, etc.
The idea is to really intertwine the different collections to create your own product regimen. Maybe you have really fine, thin hair, but it's really curly and it's dry. So maybe you're using our Blossom & Bloom® Volumizing Spray on the roots, but then you're minimizing frizz with our Curl Charisma Leave-In Cream, and then sealing the ends with our Farewell Frizz Oil to customize your product regimen.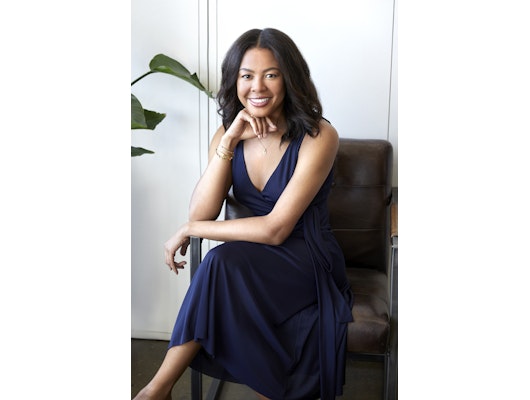 Courtesy of Briogeo
Spotlyte: Tell us a little bit about your own hair journey. What were you doing before you launched Briogeo?
NT: One of the most awesome childhood memories that I have with my mom was making our own products for my hair. There's so many more options for textured hair [now] that just didn't exist when I was growing up. Most of the stuff that existed in the ethnic aisle was for relaxed hair — we didn't really have much for non-relaxed hair. So, [I was] blending my own leave-in creams and deep conditioners, things like that, using very basic, raw ingredients.
As the world evolved and more textured products started launching I was the biggest product-testing junkie. Under my sink, I had every single product that made sense for my hair type. I would also cocktail them — so maybe I would get a cream, and it wasn't hydrating enough, so I would add my own oils. There was a lot of mixing and matching until I ultimately created Briogeo. That's really been a big part of my hair journey: not just taking what someone handed to me, but customizing it, based on what I knew about basic product chemistry from the stuff that I did at home with my mom.
Spotlyte: What's your current hair routine? What do you use and how do you use it?
NT: Maximizing time-efficiency is so important to me. I don't want to spend a lot of time on my makeup. I don't want to spend a lot of time on my hair. I don't want to spend a lot of time trying to find an outfit. During the winter months, I typically will wash my hair twice a week and I'll blow out my hair pretty rough-dry with minimal heat. Then, I'll finish it by using the flatiron on 340 degrees. Someone once asked me why [I use] 340: I figured out that's the lowest temperature that could create the look that I was going for and have it last.
In the summer, I use the Briogeo Farewell Frizz collection. I deep treat my hair once a week with the deep conditioning mask. And I also use the scalp scrub once a week as well, just to really cleanse my scalp and my hair. It's a nice weekly detox regimen. I'll wear my hair just more naturally curly [in the summer] because it's easier for me to go outside and just let it air dry — I typically walk to work. I'll [also] use the Curl Charisma regimen and finish with the leave-in cream and the frizz control gel. I'm kind of scrunching it as I'm walking, and by the time I get in [to work], it's 80 percent dry.
Spotlyte: Tell us about your skincare routine. What do you use?
NT: I've put a lot more emphasis on my skincare routine over the past couple of years because I'm really trying to get into preventative mode. I feel very, very fortunate that I don't have many fine lines or other things that people would consider problematic in their mid-thirties.
I'm learning more about my skin sensitivity. The face on my skin and neck is actually very sensitive, so I have to be very careful about using essential oils. I use an oil cleanser at night and a foaming cleanser in the morning. That way, I'm not over-cleansing my face, and I'm being gentle with that second cleanser of the day. I just started trying out the new Drunk Elephant® cleansing balm, which is nice. I rotate that with the Farmacy® balm cleanser.
Spotlyte: What's your anti-aging philosophy?
NT: So, it's funny: I realized I don't have a very expressive face. I don't raise my eyebrows a lot. I don't squint a lot. When some people talk, their face is very emphatic and that can contribute to fine lines, maybe even wrinkles. I think the natural demeanor of my face has helped to offset some of that. But, then other things help, too, like drinking enough water, switching out cotton for satin pillowcases. That's good for the hair, but also the skin, because you don't have that pulling at night that you might experience from a cotton pillowcase. And also just keeping my skin clean and hydrated.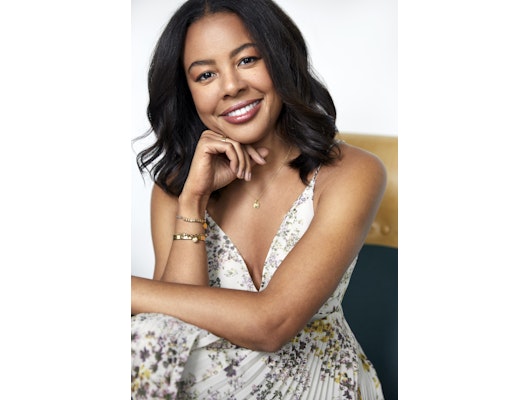 Courtesy of Briogeo
Spotlyte: In terms of makeup, what do you use and love?
NT: I don't use a lot of makeup. To be honest with you, I'm still trying to find a clean foundation that matches my complexion and doesn't look too white or orange. I keep it simple. Ilia® Lip Conditioner — Arabian KnightsTM is the color that I love. It's a berry color — I can use it as a tinted lip conditioner, but then I can also put circles of it on my cheeks and just pat it in as a blush.
I've been using Glossier® Lash Slick® Mascara. I really like it. It extends your eyelashes without making them look clumpy. It looks very, very natural. I tend to like fiber mascaras and that's what the Glossier one is — a fiber mascara. Then I just fill in any sparse areas of my brows with a dark brown eyeshadow.
Spotlyte: Do you have any beauty products you're really into right now?
NT: Oh, I just got put on to Kosås®. They have beautiful, clean lipsticks. The color called DarkroomTM — oh my God, I love it. The colors are beautiful. And [the brand] actually has some oil-based foundations. I have not tried them yet.
Spotlyte: What's been your favorite beauty launch in any category of the last year?
NT: From the last year, I would definitely say our SuperfoodTM shampoo and conditioner. It was this fun idea I had based upon my own regimen. I make my own smoothies every single morning, and I always research the ingredients that I put into my smoothies. I found it interesting that every ingredient I was putting in — whether it was kale or matcha antioxidants or collagen powders — all had really good hair benefits. I got inspired to basically create green juice for your hair, which came in the form of a shampoo and conditioner.
Spotlyte: What's your go-to smoothie recipe?
NT: I start with a base of half almond milk, half water. I add frozen kale, I do berries in my smoothie — strawberries, blackberries, blueberries. I put one banana in, because it helps to cut the taste [of the kale] and also helps with the consistency. Then The Beauty Chef® makes this collagen elixir that I put into it. I also put in some matcha green tea powder, and then I also use the Vital Proteins® collagen powder. Then I just blend it all up.
Spotlyte: When do you feel most beautiful?
NT: I feel most beautiful when I know that I am spending time taking care of myself. I give so much love and attention to my company, which is important, but this year, I am really committed to finding that balance of giving myself equally as much of that love, time, and attention. On a weekly basis, I'm going to acupuncture, I'm working out four times a week, [plus I] pray as many times a week as possible. [I'm also practicing] meditation, journaling, going for massages. When I'm taking care of myself is when I feel at peace, I feel beautiful, I feel calm. I feel energized, I feel confident — all of those things.
Product prices may vary from the time this article was written.
Allergan® may receive commissions for purchases made through links in this article.