It is 7:15 a.m. when I speak to Dr. Harold Lancer, a Beverly Hills-based board-certified dermatologist with a star-studded roster to match his swanky Rodeo Drive address (Victoria Beckham, Rosie Huntington-Whiteley, and Brie Larson are all frequent visitors). While I'm still guzzling my first cup of coffee, Dr. Lancer is ready to rip through my laundry list of questions, as he's been awake and rearing to go for nearly three hours. "I get up at 4:30 a.m. every morning no matter where I am, no matter what day it is, and no matter what part of the planet I'm on. It's always 4:30 a.m. local time, and that's from my years in surgery and medicine," says the Harvard Medical School® grad. "I start every day with the same internal whisper: believable beauty. That's the motto for my brand, for the office, and the clinics." 
Dr. Lancer's approach stands in stark contrast to the overdone aesthetic highlighted so frequently on social media, he's made it his mission to steer people away from what he calls a synthetic appearance. Instead, he prefers to direct patients' attention to a more "believable" look, which he defines as features looking like they belong to that person. For the skin guru, that entails inspecting every inch of his patients. "If you only look at the face as the target, then you are a total failure as a practitioner," he explains. "You have to look at the entire complexion, which is from head to toe."
While Dr. Lancer has over 38,000 active patient files, anyone who walks through the door gets the A-list treatment. "Yesterday, there were three Oscar® winners, two princes, and a princess," he says. "But in this office, everyone is a celebrity. A 70-year-old grandmother is a celebrity to her grandchildren." 
Despite his democratic approach to his dermatology practice, it was none other than Oprah Winfrey who suggested he bring the status and flawless skin that comes with being a Lancer patient to the masses via his product line. "Oprah was in one day and she said, 'You know, not everybody can afford to be a Lancer patient,'" notes the derm. She went on to hook him up with "her buddies" at Nordstrom®. "I did the show with her in April 2011, and we sold out in about three seconds," he adds. 
Here, the pro who made Oprah's list of favorite things shares his secrets to red carpet-worthy skin, finding your complexion "captain," and more.
Exfoliate first.
Ready to KonMariTM your skincare routine? Three steps — exfoliate, cleanse, and moisturize — is all you really need, according to Dr. Lancer. "Think of your skin like remodeling your kitchen floor: You have to remove the old floor before you put down a new one and add sealant to that floor," he says. "You have to base your skincare on the biology of how skin functions. The skin needs to be exfoliated first, rinsed, and cleansed in order for the proper removal of debris to take its course." 
You can also ditch your toner to make room for your new treatment plan. "Toners were first developed because cleansers were inefficient," explains Dr. Lancer. Thanks to high-tech formulations, you no longer have to "mop up" residue left behind by face wash. The product trinity the derm himself uses every day and recommends to the majority of his patients: The MethodTM: Polish ($75), Cleanse ($55), and Nourish ($125) system.
Give your hands some TLC.
"Skin is the best accessory you can have. It doesn't matter how big the diamonds are or what the dress looks like, if the complexion sucks, the whole story is off," says Dr. Lancer. "The face, neck, and décolleté is a hugely important area. The neck, upper back, shoulders, arms, and hands also all need to match." Yes — hands, too. He notes that this part of the body has to look good because so many people use them to talk! Dr. Lancer recommends using his three-step Lancer Method® on hands in addition to the face and chest. "In a week, the skin's surface will look so much less flawed and have a bouncy texture," he adds.
Trust your tribe.
"You need to have a good captain leading the ship," says Dr. Lancer of your provider. "Even if you don't have a board-certified dermatologist doing the work, you should have that person outline their viewpoint on what your program should be," he adds. 
One way of finding a reliable captain to man your complexion is: "Go to a place where at least a half dozen of your close friends have gone for treatments," says Dr. Lancer, who advises against "photographic lures" and "referrals" from Instagram®, YouTube®, and Snapchat®. "You have to be extremely careful because nothing is as easy as somebody may lead you to believe," he warns, as it can take months or even years to correct a poorly done job.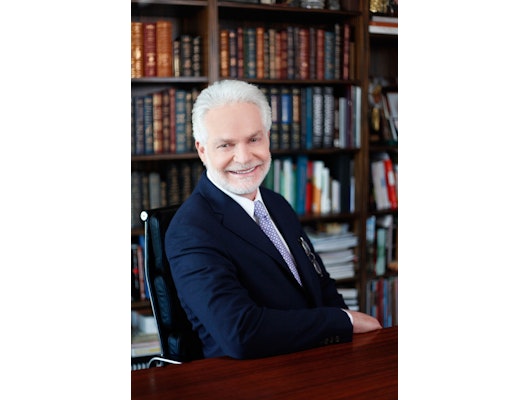 Courtesy of Lancer Skincare
Start small.
"Keep it simple" are the three words of beauty and aesthetics advice Dr. Lancer routinely gives to both his daughters and his patients. After you've found your provider, take a less-is-more approach when it comes to cosmetic treatments. 
"In a given day, I may do neuromodulators or volume replacement 20 times," he explains. "I use neuromodulators to help temporarily smooth the look of [moderate to severe] lines without taking away a patient's facial expressions. [And], I want to reshape an anatomic feature [with volume replacement], not create something that never existed."
[Editor's note: Injectable wrinkle reducers temporarily smooth the look of moderate to severe wrinkles in certain areas of the face, including the forehead, frown lines, and crow's feet; they should not be used more frequently than every three months. Injectable filler is a temporary treatment that adds volume to areas of the face such as the lips, cheeks, and laugh lines. Like any medical treatment, both injectable wrinkle reducers and injectable fillers have potential risks and side effects. Talk to a licensed provider to see if they're right for you. And learn more now by chatting with a trained aesthetic specialist.] 
Proud of practicing in the "world of subtle," he may see a patient for volume replacement at three or four month intervals for a more understated effect. "When someone sees a Lancer patient, they should say, 'Damn it, that person looks great, and I can't figure out why,'" he adds. "The whole object of the game is to restore what was once there and maintain it." 
Show some skin.
As necklines dip lower and hemlines continue to rise on the red carpet, Dr. Lancer has developed new ways of treating trouble spots below the chin. Seeing as the "cleavage line [now] goes down to the pubic line," he often employs a body contouring device that burns fat and builds muscle to help A-listers tighten everything from their bums to their bellies. 
To firm elbows and kneecaps fast, he uses PRF (platelet-rich fibrin, a second-generation form of platelet-rich plasma) in conjunction with Secret RF, a fractional radio frequency microneedling system. "The complexion is an accessory — there can't be any demarcation lines," says Dr. Lancer of these head-to-toe treatments that even out texture and tone. 
For skin emergencies, such as a pimple that pops up before a star's big premiere, the derm drains the blemish with a microprobe and uses a laser to instantly reduce redness. "Even the most seasoned people get stressed," he says.
Eat like a derm.
In addition to using a retinol product (like the Lancer® Advanced Retinol Treatment, $95) that helps stimulate cellular repair for a more radiant complexion, a good-skin nutrition plan never fails to do a body good, says Dr. Lancer. The derm follows a strict diet free of dairy, caffeine, and added salt. He suggests a daily meal plan packed with "minimally prepared, organic protein," oil (namely olive or grapeseed), and low-carb green vegetables, such as brussels sprouts, asparagus, or spinach for the ultimate lit-from-within glow.
[Editor's note: Retinol shouldn't be used by those who are pregnant, considering getting pregnant, or nursing. Please consult with your doctor before use.]
Schedule time to chill.
"I've pretty much been a type-A personality from birth," says Lancer. "Nonetheless, I unwind every day. After I'm done with patients in the afternoon, I go to the gym and do ten minutes of stretching, a 20-minute steam, and a 20-minute shower. It's an offensive waste of water, I will admit!" After his workout, he takes his two French bulldogs for a stroll. "A one-mile walk with a French bulldog takes at least 45 minutes," he laughs. 
He also built a bedroom suite in his office to make sure he clocks plenty of beauty sleep. "I'm pretty much a solo physician that's on call 24/7, so for international clients and people in entertainment, they may fly in at midnight and only be in town until 6:00 a.m.," he explains. "I will take a nap in my bedroom rather than driving home and coming back . . . I really dislike driving!" If you can't beat LA traffic, build a bedroom. For once, living at the office doesn't sound so bad.