The wonder of makeup is that you can fake fuller-looking lips, elongate your lashes, and even create the illusion of enhanced bone structure. When it comes to your complexion, however, it's a known fact that your makeup only looks as good as what's underneath it. To learn the tricks of the trade, we asked six pro artists to share the details of their beauty routines. They revealed the makeup they wear on a daily basis and, more importantly, the products in their skincare arsenals to remove it all. Read on for their cleansing rituals — and bonus, which medical aesthetic treatments they rely on.
Katie Jane Hughes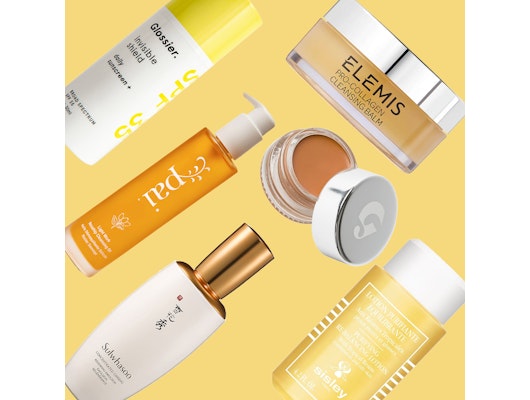 Katie Jane Hughes credits much of her success as a makeup artist to Instagram®. The self-taught guru is now an in-demand pro with clients like Rosie Huntington-Whiteley, Kerry Washington, and Anna Kendrick. Hughes maintains her complexion with a less-is-more approach to skincare. As far as medical aesthetics treatments, she's gotten intense pulsed light (IPL) laser treatment and injectable wrinkle reducers.
[Editor's note: Injectable wrinkle reducers are used to temporarily smooth the look of moderate to severe wrinkles in certain areas of the face such as the forehead, frown lines, and crow's feet. They should not be used more frequently than every three months. Like any medical treatment, they have potential risks and side effects. Be sure to talk to a licensed provider to see if they're right for you. Have more questions? Chat with our team of trained aesthetics specialists now.]
My makeup philosophy: "I like my skin to look elegant and polished. When that happens, the eyes and lips can have texture to them, they can be rough around the edges, or they can be bold. Anything looks good." 
My skin type: Normal/combination. 
Can't live without: "Glossier® Stretch Concealer. I use it all over my face as a tinted moisturizer. It sheers down. And then sometimes, I'll use Make Up For Ever® Ultra HD Concealer for heavier coverage." 
How I take it all off: "I believe that skin is a really intelligent organ and doesn't need as much as we put on it. I remove my makeup every night with a cleansing balm or oil. I have two favorites at the moment: Elemis® Pro Collagen Cleansing Balm and Pai® Light Work Rosehip Cleansing Oil. Cleansing oils do all the work for me, and I don't have to tug or pull at my skin. I put it on my dry face and massage it all around to melt off the makeup. Then, I take a hot washcloth and hold it over my pores and wipe everything away. It's the quickest, simplest routine.  
I also put on a little Sulwhasoo® Ginseng Emulsion before bed. It's a creamy oil, it's gorgeous. When I wake up in the morning, I either tone with the Elemis peel pads to remove dead skin or I love Sisley® Purifying Re-balancing Lotion. It makes my skin really taut with this polished quality."
My best skincare habit is: "How little I do to my skin."   
And the worst: "I'm very lazy with my SPF. When I do remember, I love Glossier Invisible Shield® because it doesn't hinder my makeup."
Skincare treatments: "I get a facial every three months at Rescue SpaTM, I really love it there. I get the Bio-Lift® facial: a little bit of microcurrent, a little bit of exfoliation, minimal extractions. I don't like to distress my skin."
My skincare secret: "Try one product at a time. When you do too much, you don't know what's working, [and] you don't know what's creating problems." 
Medical aesthetics treatments: Recently, I went to see [dermatologist] Shereene Idriss for IPL. She did a little bit to take away some of the freckles on my skin. She also [treated me with] injectable wrinkle reducers in my forehead on my eleven lines." 
Violette Serrat
While studying to be a painter in France, Violette Serrat, Estée Lauder's® Global Beauty Director, accidentally discovered her gift for makeup artistry while helping do a friend's makeup. Serrat's inspiration comes from galleries, art books, and fashion, and she keeps her skin glowing with a healthy diet and regular facials.
My makeup philosophy: "It's a mix of boyish and feminine. For me, the right balance is very important. Skin needs to be super healthy and fresh, but then imperfect, or else it looks fake." 
My skin type: Dry
Can't live without: "Concealer and red lipstick. Even if I'm not wearing red lipstick that day, I have it just in case. I like the Estée Lauder Double Wear® Instant Fix 24H Concealer + Hydra Prep, because I don't have to touch it up during the day."
How I take it all off: "I massage my skin with a milky cleanser and I use Estée Lauder Advanced Night Repair® Intensive Recovery Ampoules. I'm also obsessed with the Advanced Night Repair Concentrated Recovery PowerFoilTM Mask. This is doing magic to my skin. I'll use that once a week."
My best skincare habit is…: "Eating well."
Complexion-perfection treatment: "I do facials at Rescue Spa every six weeks. At home, I do my own facials once a week.
My skincare secret: "Use a really gentle milk cleanser — massage it in for a few minutes and then rinse a lot. Don't use cotton pads, as they will scratch your face." 
Bobbi Brown
If you wear makeup, there's a good chance you own a product created by Bobbi Brown®. Since parting ways with her namesake brand, the beauty pioneer has recently launched a line of ingestible supplements. "I have always believed that beauty starts from the inside out," says Brown. "Each supplement in this line addresses a specific beauty concern." Brown credits her flawless face to tons of water and a healthy diet.
My makeup philosophy: "I am not wearing much makeup these days. If I have dinner with my husband, I'll make sure to put on some RMS® or NARS® concealer, Chanel® mascara, and a cream blush that I can also dab on my lips." 
My skin type: Normal to dry. 
Can't live without: "Nudestix® highlighters and NARS lip pencils."
How I take it all off: "At night, I am loving the Garnier® Micellar Water. It takes my makeup right off. It's important to be gentle; you do not want to pull or irritate your skin. I try to use natural products when possible. I look for options with vitamin E — it is very hydrating, full of antioxidants, and leaves my skin glowing. I also make sure to apply Augustinus BaderTM The Cream or an apricot oil."
My best skincare habit is…: "Eating healthy." 
And the worst: "Sometimes, going to bed without washing my face."
Complexion-perfection treatment: "I swear by laser treatments. I usually get them done twice a year. I also take my Evolution_18TM by Bobbi Brown for Walmart® supplements. This beauty line contains a variety of clean, powerful ingredients ranging from collagen to probiotics." 
[Editor's note: As always, talk to your doctor before starting any new supplement.]
My skincare secret: "I make sure to have at least two glasses of water as soon as I wake up. I cannot stress enough how important it is to drink enough water every day. It is the best way to maintain good skin. I also take fish oil (liquid chocolate flavored), which really makes my skin glow."
Daniel Martin
Daniel Martin, Dior's® brand ambassador, was working his way through college at a MAC® counter when he realized his passion for makeup. The man behind Meghan Markle's wedding day glow is also a Fashion WeekTM favorite. His youthful complexion comes courtesy of exfoliation, retinol, and a little help from his facialist.
My makeup philosophy: "I don't wear makeup unless I'm on camera and need to balance out my squinting and cut the shine. When I do need it, I wear tatcha® Silk Primer in my T-zone, Makeup For Ever HD Perfector as a base, Dior Forever UndercoverTM Concealer, and a pressed powder by Innisfree®."
My skin type: Normal, but oilier in the T-zone and dry everywhere else.
Can't live without: "111SkinTM Eye Masks to relieve morning puffiness around my eyes, Bioderma® Sébium Control to mattify, an SPF by a brand called SigiSkinTM from Singapore that works incredibly well under makeup, and Sarah Chapman® Eye Recovery Eye Cream."
How I take it all off: "My morning routine is pretty basic. I'll wash my face in the shower with tatcha Enzyme Powder and I'll also use the Joanna Vargas Exfoliating Mask once a week. At night, I wash my face, use a retinol cream every other night, and sleep in my custom-made serum by Skin Inc.® It's a serum for sensitive/dry skin, so it's high in hyaluronic acid and vitamin A."
 [Editor's note: Retinol shouldn't be used by those who are pregnant, considering getting pregnant, or nursing. Please consult with your doctor before use.]
My best skincare habit is: "Cleansing at night."  
And the worst: "Not exfoliating as often as I should to remove surface debris and skin cells."
Complexion-perfection treatment: "My dermatologist Dr. Shari Marchbein and facialist Joanna Vargas are the ones I trust with keeping my skin in good health."
My skincare secret: "Always cleanse at night. You need to remove the dirt and debris before you hit your pillow. No excuses! If you can't wash your face thoroughly, then at least use a makeup wipe before bed and wash in the morning. I also don't smoke or drink, so that helps a lot, especially since I'm in my forties."
Gucci Westman
As the former Artistic Director of Lancôme® and Revlon®, Gucci Westman has had plenty of practice developing products. Her most recent project — her own makeup line, Westman® Atelier — is focused on glowing skin. Westman is known for giving her clients radiant complexions, something she achieves herself with plenty of sheet masks and a few skincare gadgets.
My makeup philosophy: "I believe skin should look like skin, and it really is the beginning and the end of everything I do. To me, there's nothing more beautiful than a healthy, beautiful complexion." 
My skin type: "In the last couple of years, I've suffered from rosacea and it has really flared up." 
Can't live without: "My Vital SkinTM Foundation. It has actually improved my skin, due to the ingredients included in the formulation, and helped with my rosacea. I also love my Westman Atelier Baby CheeksTM blush and Westman Atelier Face TraceTM contour."
 How I take it all off: "In the morning, I use Sarah Chapman Skinesis® Ultimate Cleanse; it leaves my skin clean, fresh, and calm. Then I apply Dr. Hauschka® Rose Day Cream — it really does the trick of keeping my skin hydrated and moisturized. And, before I leave the house, I will always cover my face in La Roche-Posay® Anthelios® SPF. I also love VOLITION® Beauty Apple Cider Resurfacing Pads, Augustinus Bader Rich Cream, and Nue Co.® Sleep Drops.  
In the evening, my go-to product is the Georgia Louise® Honey Sheet Mask with her Pulse+GLOTM device. It uses galvanic currents to boost circulation and refine pores. Dr. Devgan® Platinum Hyaluronic Serum is also amazing for my face and neck, followed by a dab of the SK-II® Facial Treatment Essence. I suffer from redness, so I may use Mother Dirt® cleanser to help reduce this in my skincare routine too." 
My best skincare habit is…: "Regular facial massages, skincare treatments, exercising my face, and taking supplements to create a glow from within."  
And the worst: "Not wearing sunscreen when I was younger has made it a challenge to deal with now." 
Complexion-perfection treatment: "I absolutely love my Koyo RantaniaTM Miracle KTM Device from Japan. It's a powerful light and current machine, and it gives my skin significant lift and tightening. I always use it ahead of applying makeup before an event. I also aim to get a facial once a month with Georgia Louise. She uses non-invasive techniques and a lot of technology in her facials, such as galvanic currents to boost circulation and refine pores.
 When I'm in London, I see Anastasia Achilleos — she gives so much more than a facial. Her approach aligns the central nervous system releasing the connective tissues — it leaves you looking and feeling so good!" 
My skincare secret: "Always remove makeup at night!"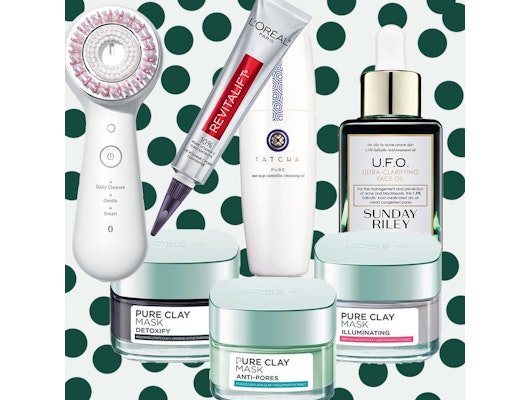 You might recognize Sir John as one of the personalities on American Beauty Star®. He's also Beyoncé's makeup artist and works with L'Oréal Paris®. Never on one continent for too long, he battles the skin concerns that come from constant travel with homemade rosewater and regular dermatologist appointments.
My makeup philosophy: "I personally don't wear makeup, but if I have an event I dust on a translucent powder to help control shine. I think my makeup identity with my clients is making them feel good in the skin they are in. Makeup is all about bringing out your natural beauty. It helps you to express yourself."
My skin type: Oily/combination.
Can't live without: "Rosewater mist is always in my kit. I make it myself with rose oil and water (20 percent oil and 80 percent alkaline water). I also love my Clarisonic® Mia Smart® [sonic skincare brush], tatcha Cleansing Oil, and L'Oréal Paris Revitalift® Derm Intensive vitamin C serum and hyaluronic acid serum. At night, I put on Sunday Riley® U.F.O.TM Oil, too — I love that stuff."
How I take it all off: "I cleanse with tatcha Cleansing Oil and use my Clarisonic. I also love to use apple cider vinegar mixed with water as a facial toner. It's especially great for when I feel pimples coming because it helps kill bacteria. If my skin needs something extra, I will do a mask before bed, too. PeterThomasRoth® makes good ones and I love the pure clay ones from L'Oréal Paris. I also like to use glycolic peel pads to help get my skin brighter and smoother."
My best skincare habit is: "My diet. I drink fresh juices and I take different supplements. I usually have hemp oil, flaxseed oil, and fish oils on hand; they help to repair skin from the inside out. I also love spirulina. It is a plant-based algae and super food, and is packed with everything you need. It also has anti-aging benefits."
And the worst: "Traveling, but that's inevitable."
Complexion-perfection and  aesthetic treatments: "I see Dr. Dendy Engelman in New York City. She's helped to transform my skin [and add volume to certain areas]. I do a mix of [aesthetic] treatments like microneeding, fillers, [and] facials. [I also have] a good at-home skincare regimen."
[Editor's note: Injectable filler is a temporary treatment that adds volume to areas of the face such as the lips, cheeks, and laugh lines. Like any medical treatment, it has potential risks and side effects. Be sure to talk to a licensed provider to see if it's right for you. Have more questions? Chat with our team of trained aesthetic specialists.] 
Skincare secret: "Exfoliation is key. Doing a mask or peel at night helps create a smooth canvas for makeup application. I love a ton of different masks — clay ones, sheet masks, and glycolic peels."
---quiz start 
---quiz end
Dr. Dendy Engelman is a paid Allergan® consultant. 
Product prices may vary from the time this article was written. 
Allergan® may receive commissions for purchases made through links in this article.