June marks a momentous celebration for many: Pride Month. While New York is particularly known for the way it kicks off the renowned LGBTQ festivities, this year's events are particularly special. 2019 is the 50th anniversary of the Stonewall uprising and the half-century of liberation that followed. So this year, the city will bring together over three million people from around the globe.
With hundreds of events on the calendar for June — and more reason to fete than ever before — comes increased pressure for members of the LGBTQ community to look their very best. Weeks and months have been devoted to finding the highest heels and the tightest t-shirts, but many Pride participants have also spent much of 2019 thinking about and executing their beauty and aesthetic plans for the 30 days of festivities. Keep reading for how four prominent New Yorkers have been primping for this eventful month.
David Burtka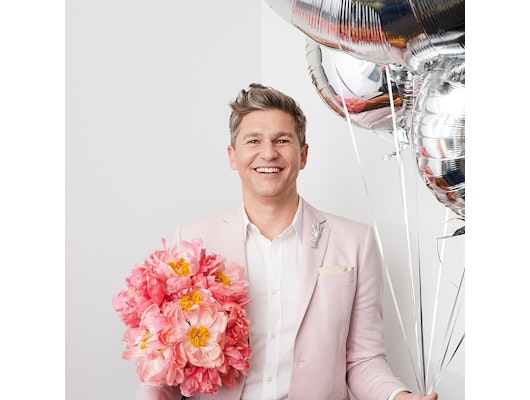 Photo Credit: Amy Neunsinger
"It really is a huge month for LGBTQ, especially in New York," says actor-turned-chef David Burtka, whose first cookbook, Life Is a Party was published last month. The 44-year-old author and his husband, Neil Patrick Harris, have a busy few weeks planned for Pride. This includes jetting between New York and Tel Aviv with Capital One®, and celebrating the June 18 release of the new HBO documentary WigTM, which the couple produced. Needless to say, looking as fabulous as possible is an absolute necessity.
"I just finished this cookbook, and I gained all this weight," he says, "like, 25 pounds." That's why when Burtka's facialist, Jeannel Astarita of SoHo's Just Ageless®, told him earlier this year about her latest acquisition, a muscle-building device, the author decided to try it. The non-invasive procedure uses HIFEM (High-Intensity Focused Electromagnetic) technology to induce muscle contractions that lead to increased muscle and a sculpted body.
[Editor's note: As always, talk to your doctor before starting any new treatment.] 
"I'm not one of those gays who goes to the White Party and takes my shirt off and hops on the table," says Burtka. "But we will be going to a lot of events, and it is summer, so I'll probably be wearing tank tops and stuff." The father of two has now completed five treatments with the device and is extremely happy with the results. "It's a really amazing way to see results really fast," Burtka says, noting that he eats healthily most days, exercises regularly, and does intermittent fasting. "I feel like I'm now up to a point where I'm comfortable taking my shirt off."
Xavier Cruz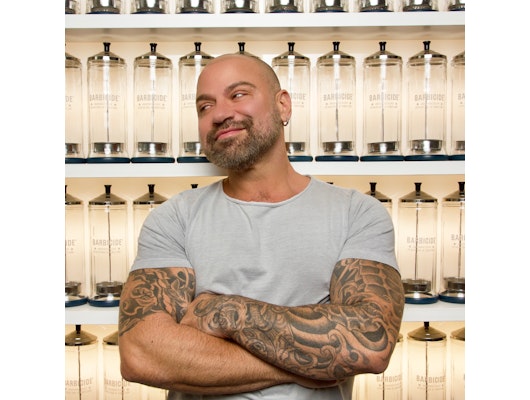 Photo Credit: Samuel Sulam
Xavier Cruz, the owner of Barba Men's Grooming Boutique℠ in Chelsea, has similarly devoted his attention to getting his body in tip-top shape. In addition to treating the fine lines on his forehead and around his eyes with Astarita's Just Ageless facial over the last two months, the 50-year old has partaken in some of the offerings at his own salon, placing particular focus on his derriere.
Barba's Butt Facial ($140 for 50 minutes), which Cruz notes is popular with his dancer and bartender clients, is a four-step treatment that includes steam and microdermabrasion, a Cellu-cup® massage to flush away toxins and reduce the appearance of cellulite, and a 24K gold mask to lift, firm, and brighten. "They vary from bum to bum, but I've had a few myself, and they are pretty amazing," he says. Cruz started doing the butt facials a little over a month ago and has been doing them every other week. "I'll be wearing some revealing clothing and shaking my rump on the dance floor," he says, "so I like to highlight my best assets."
Mila Koren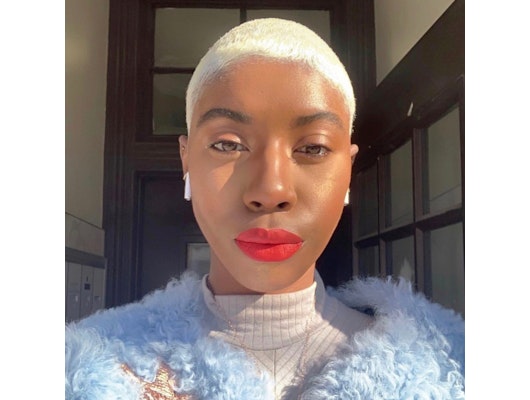 "Every queer person in the world who has the means to do so will be coming to New York for Pride," says LGBTQ advocate and creative Mila Koren. "So you really feel like you have to bring it this year." The 24-year old star of Netflix's® Dating AroundTM has been growing out her signature bleached buzz cut in order to rock some long, platinum braids at events like Ladyfag'sTM LadylandTM during Pride. "I've always loved Zoë Kravitz's tiny, chic, bohemian braids," she explains. "And from the moment I saw them, it was like, 'I must have them.'" Koren will be relying on the expertise of Harlem's Farafina Hair Braiding℠, which a friend recommended to her.
This year will mark Koren's fourth time attending the parade and, as she recently left a job where she couldn't sport colorful makeup or nails, she plans to go all out. Koren will also be taking over Brooklinen's® Instagram® for the day, so it's imperative that she look her very best for the brand's 108K followers.
After years of difficult breakouts, Koren jumped on the K-Beauty bandwagon about six months ago, and says it's been instrumental in clearing up her skin. For Pride, she'll continue using favorites like Cosrx® Advanced Snail Mucin Essence ($21) and The Plant BaseTM Time StopTM Collagen Ampoule ($29), but she will also incorporate some lighter moisturizers to cater to the warmer weather, and frequent charcoal peeling masks for deep pore cleaning. Lastly, Koren is planning on a facial at Chelsea's Soma Spa℠, a favorite of model Winnie Harlow.
Kareem Rodgers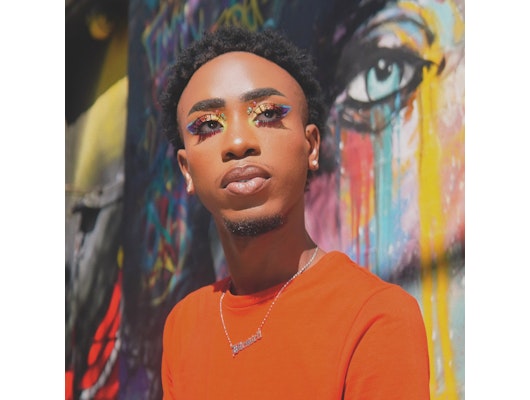 Photo Credit: Tokyo Lens @tokyolens
"I think the importance of Pride Month is being able to express yourself freely and unapologetically," says makeup influencer and event makeup artist Kareem Rodgers. "The best way to do so is to try out a new look, whether it's bold or natural."
For both the Pride March and his various beauty events, there are three products that will be fixtures in his makeup bag: the Anastasia Beverly Hills® Alyssa EdwardsTM eyeshadow palette ($45), which features vibrant colors like Unicorn TribeTM and H.O.E.TM, Anastasia Beverly Hills Shimmer Body Oil ($38), and the HipdotTM x Hey RooneyTM Legendary Pressed Glitter Palette ($30), made specifically for Pride. "I don't have a specific look yet, but it will be colorful and bold," Rodgers says.
For these incredible makeup looks to really hit home, though, the influencer is always sure to keep his skin as clean and bright as possible, turning to two beloved products: the Urban Skin Rx® Clearing Cleansing Bar ($15) and Ayele & Co.TM Sunflower SweetsTM Serum ($39). "These will help my skin stay smooth and clear while prepping for longwear [makeup]," he explains.
Product prices may vary from the time this article was written.
Allergan® may receive commissions for purchases made through links in this article.