As summer approaches, the weather gets warmer — and our hemlines get higher. I'm welcoming the renewed opportunity to soak up all that vitamin D (after applying plenty of sunscreen, of course); but for many of us, that exposed skin can also be a source of stress. If the summer season has you thinking twice about baring your body in sundresses and shorts due to unwanted stubborn fat, you might want to consider finding out if you're a candidate for the CoolSculpting® treatment.
[Editor's note: The CoolSculpting treatment is a non-invasive fat-freezing treatment that effectively reduces fat in certain self-proclaimed "problem spots" in the submental and submandibular areas, thigh, abdomen, flank, and upper arm, along with bra fat, back fat, and underneath the buttocks (you know, those bulges that just won't go away, regardless of how much you sweat it out on the treadmill). While it isn't a weight loss solution, fat-freezing can reduce pouches of fat. As with any procedure, there are risks and side effects, so talk to a licensed provider to see if it's right for you.]
CoolSculpting freezes and kills treated fat cells, which your body flushes out over time. There are no needles, little to no downtime, and it's effective. The buzz and the before-and-afters are real. But let's get down to brass tacks: CoolSculpting is not a weight loss method, and it can't replace a healthy diet and exercise. (That would be more of a metaphysical miracle, but let's not digress.) The non-invasive technology eliminates treated fat cells and improves contour on stubborn areas like the thighs, abdomen, and upper arms. Smaller areas like a double chin and back fat near the bra line can also be treated.
CoolSculpting's fat-freezing technology isn't for everyone, but it works for many. "The ideal candidate is somebody who has stubborn areas of fat that aren't responding to diet and exercise and is [close to] their ideal body weight," explains Dr. Jeremy Fenton, board-certified dermatologist and Medical Director at Schweiger DermatologyTM in New York City. He performs CoolSculpting on several patients each week. "We can now [freeze stubborn fat on some] of the most common 'problem areas'."
So, if you're thinking about warm weather and your upper arms in a tank top, your stomach in a bathing suit or, like me, your thighs in anything, here is what you need to know.
The Skinny on Scheduling
CoolSculpting treatments typically take less time to go through than your classic Netflix® binge session. According to Dr. Fenton, an average session lasts about 35 to 120 minutes, depending on the area being treated. Factor in some prep time and post-treatment massage (which may improve the results!) and you're in and out of your appointment in less time than you spent catching up on the episodes you missed from Game of Thrones.  
Be prepared for a repeat performance, however. Dr. Fenton explains that many people opt for multiple treatments on certain areas in order to reach their goals. "It depends on how much improvement you are looking for and how well you personally respond to the treatment. I like to space them apart." It may take about one to three months to start seeing results, so the total time frame for multiple treatments can add up.
Also important to consider: if you're treating multiple areas, you might need additional appointments for them, too. Some areas may be able to be treated simultaneously. "We can do the right and left love handles at the same time," Dr. Fenton says. "I can do an area on the abdomen or flank while also doing an [upper] arm." But treating, say, upper and lower abdomen and flanks along with banana rolls could get physically tricky. "The device takes up space, so it depends on the positioning of the body and what kind of position we can put you in," he adds. "The [provider] also must have two machines [in order to treat multiple areas at one time]." More important than finding a provider with multiple machines, however, is finding one that's credible. Chat with our trained aesthetic specialists to find a CoolSculpting practitioner in your area.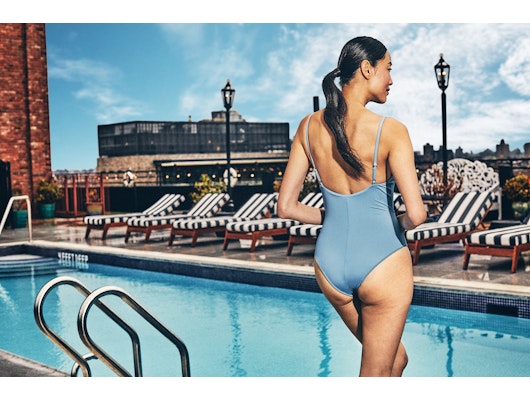 Photo By: Ben Stone
Does not imply person featured in photograph had the CoolSculpting® treatment
What to Expect
CoolSculpting treatment begins by placing the device on the skin and freezing the stubborn fat to a point that causes the treated cells to die. "My favorite analogy is likening it to a stick of butter," shares Dr. Fenton. "When you put it in the fridge, soft butter hardens. The patient sits with the device connected, and when we remove it, you can see the [treated] fat is firm — like a stick of butter." As the treated fat cells die, your body clears them out over time.
This is all very interesting, but how does it feel? "It feels quite cold and there is some suction, but everything goes completely numb in about five to [10] minutes," Dr. Fenton says. "After we remove the device and the feeling starts coming back, there [may] be some tenderness for a few minutes." For some, that tenderness, along with some mild tingling sensations, can last for a week or more. However, most are back to their regularly scheduled activities the same day.
When You May See Results.
Full CoolSculpting results may take a few months per treatment to see, though subtle initial results may be seen sooner. "Some patients are lucky enough to see good results as early as four weeks," says Dr. Fenton. "So, get your CoolSculpting done a month [or more] before summer starts, and you'll continue to slim down during those summer months." That means consider starting treatment in April or May, if not January or February to see results even sooner.
The best part, however, is that once those unwanted fat cells are removed, they are gone for good. Of course, it's important to maintain your results with a healthy lifestyle. "If you gain weight, the other remaining fat cells can expand," warns Dr. Fenton, "but your body will be sculpted to deposit less [of that] fat in the treated area." Learn more about how fat freezing works, then read about this woman's experience on CoolSculpting her upper arms.
---quiz start
---quiz end
CoolSculpting® is an Allergan®-owned non-invasive fat reduction treatment.
CoolSculpting® Treatment Important Information
Uses
The CoolSculpting® procedure is FDA-cleared for the treatment of visible fat bulges in the submental (under the chin) and submandibular (under the jawline) areas, thigh, abdomen and flank (love handles), along with bra fat, back fat, underneath the buttocks (also known as banana roll), and upper arm. It is also FDA-cleared to affect the appearance of lax tissue with submental area treatments. The CoolSculpting procedure is not a treatment for weight loss. 
Important Safety Information
The CoolSculpting procedure is not for everyone. You should not have the CoolSculpting procedure if you suffer from cryoglobulinemia, cold agglutinin disease, or paroxysmal cold hemoglobinuria. 
Tell your licensed healthcare provider if you have any medical conditions including recent surgery, pre-existing hernia, and any known sensitivities or allergies.
During the procedure you may experience sensations of pulling, tugging, mild pinching, intense cold, tingling, stinging, aching, and cramping at the treatment site. These sensations subside as the area becomes numb. Following the procedure, typical side effects include temporary redness, swelling, blanching, bruising, firmness, tingling, stinging, tenderness, cramping, aching, itching, or skin sensitivity, and sensation of fullness in the back of the throat after submental or submandibular area treatment. 
Rare side effects may also occur. CoolSculpting may cause a visible enlargement in the treated area which may develop two to five months after treatment and requires surgical intervention for correction. 
Ask your licensed healthcare provider if CoolSculpting is right for you. To learn more about what to expect, visit the CoolSculpting website and comprehensive Important Safety Information.