I've been working in the beauty industry for years and would count myself as a total treatment junkie. I've tested the BlackoutTM Laser Peel, book frequent Skin Laundry® visits, and had a particularly game-changing chakra facial. But there's an entire category of treatments that I've never tested — invasive ones — and that's because I'm just plain scared.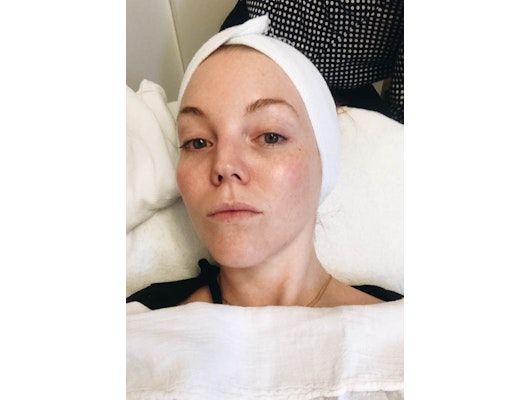 That's precisely why Venus Viva® — a skin-smoothing treatment that's less invasive than IPL or laser skin resurfacing — stood out to me. It delivers nanofractional radiofrequency, a form of heat, via a series of tiny pins. These pins help correct signs of skin damage and improve the appearance of acne scars, rosacea, wrinkles, and uneven texture and pigmentation — plus enlarged pores (my skin issue) with little pain and minimal downtime. (It's also worth noting is that this treatment works on all skin types — even darker skin tones that are historically left out from resurfacing treatments.)
As appealing as the treatment sounded, thinking about a bunch of little needles stuck into my face still gave me the chills, so I knew I had to go to someone who knew what they were doing. I tapped celebrity esthetician Kát Rudu, who's also a recent addition on RegiTM, a new website where you can book beauty treatments via a concierge.
The Romania-born Rudu has beauty in her blood. She grew up watching her mom make at-home beauty elixirs, which sparked her interest in skincare at a really young age. Her resume is impressive: She worked for recognizable Beverly Hills staples like Dr. Harold Lancer and Ole Henriksen before opening up her own studio two years ago and launching an eponymous vegan skincare line. Kate Beckinsale and Jenna Dewan happen to be two of her clients.
In the comfort of Rudu's laidback beachside space, I worked up the courage to try my first Jet SetTM Venus Viva Skin Resurfacing Treatment With RF ($450) and boy, am I happy I did. Before starting, Rudu explained the treatment to me. "It's a fractional [treatment] with microdermarolling, so it makes tiny little holes in the epidermis of the skin," she said. "It doesn't go [as far] into the dermis like a [typical] needle would, but through puncturing the epidermis, the body fights to fix it and repair it and that's how you get the resurfacing of the skin to reduce hyperpigmentation, large pores, acne scars, and rosacea. It makes the face really even." Although the hairs on my neck stood up when I heard the word "needle," Rudu's flawless complexion, myriad celebrity endorsements hanging on the walls, and the potential benefits calmed me down.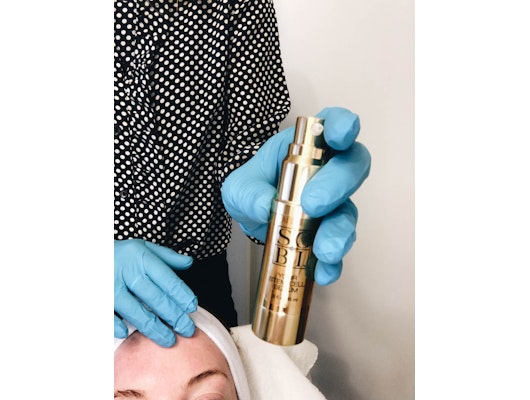 The treatment started off with a nice cleanse featuring the Coco Honey Papaya Enzymes Cleanser ($48) from Rudu's own line. She then used rubbing alcohol (admittedly my least favorite part of the treatment) to get the skin as clean as possible. That's when she dove into the treatment, using the Venus Viva on the side of my face near my temples. The handheld device's tiny pins went to work, creating tiny micro-dermal wounds that my skin would later work to heal.
The sides of my face and cheeks were a breeze but, honestly, the undereye area, sides of the nose, chin, and jawline were not particularly comfortable (but not painful per se). My skin slowly started to feel hot, as if I had a bad sunburn, and my pale skin instantly lit up like a stoplight. It was perfect timing because just as I felt like I couldn't handle much more heat, the treatment was over, just 15 minutes after we started.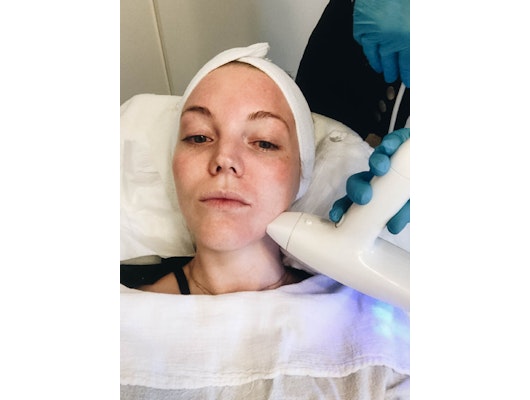 With my face bright red and warm, I was instructed to slick on her custom healing balm, but I wasn't allowed to touch my face. Afterwards, Kat gave me my homework: don't apply anything to the face for 24 hours. I also couldn't work out for a day, and I was advised to avoid sun exposure, retinol, acids, acne medication, and hydroquinone for four full days. Finally, I was to apply SPF religiously after 24 hours.
[Editor's note: Retinol shouldn't be used by those who are pregnant, considering getting pregnant, or nursing. As always, talk to your doctor before starting or stopping any new treatment or medication.]
After the treatment, I experienced about three hours of pretty intense redness, which subsided into a soft pink glow that lasted for about 36 hours. My face felt raw and hot, but that, too, wore off by the time I woke up the next morning. Most noticeably, the texture on my face felt rough the first time I washed it after a day and a half — grainy, almost like an emery board. I found this very strange, considering my skin texture is naturally relatively soft. I experienced this rough texture for about four days. When it faded away, I was blessed with smoother, tighter, and more even-looking skin. I also noticed an improvement in the enlarged pores that used to linger around the sides of my nose and chin area, which I'm thrilled about!
I would definitely be interested in continuing Venus Viva treatments to see if the improvements build with consistent use. Rudu recommends doing this treatment every four to six weeks for best results. I would also highly recommend it to anyone looking to visibly change their skin's texture without too much downtime or discomfort. Dare I even say that I'm no longer scared of needles? While that's still TBD, I'd say the future (and my skin!) is looking bright.
Complimentary service was provided to the author for the purpose of writing this article.