Many people typically like to make their Fridays at work slow and easy — but not San Francisco, CA dermatologist Dr. Seth Matarasso. As a popular doctor at the Dermatology Medical Group of San FranciscoTM, a routine Friday for Dr. Matarasso is jam-packed with none other than dozens of patients waiting for cosmetic injectables.
[Editor's note: Injectable wrinkle reducers temporarily smooth the look of moderate to severe wrinkles in certain areas of the face, including the forehead, frown lines, and crow's feet; they should not be used more frequently than every three months. Injectable filler is a temporary treatment that adds volume to areas of the face such as the lips, cheeks, and laugh lines. Like any medical treatment, both injectable wrinkle reducers and injectable fillers have potential risks and side effects. Talk to a licensed provider to see if they're right for you. And learn more now by chatting with a trained aesthetic specialist.] 
"On Friday, I had 28 patients — and 27 of them received an injectable wrinkle reducer," Dr. Matarasso tells me during our interview the following Monday. "To me, that's a normal day." Obviously, treating 28 patients during standard work hours is no easy feat, and we assumed Dr. Matarasso would want to recover from it by binge watching Netflix® all weekend. However, he isn't one to enjoy sitting idly about. Instead, he commits his entire weekend to one of his greatest passions outside of aesthetics: fitness.
"On Saturday, I did a 100-mile bike ride and on Sunday, I did an eight-mile run," he says, explaining that this is his coping method for dealing with such a busy schedule. "To me, exercise is just a modicum of staying balanced." With three triathlons scheduled and a marathon coming up in October, Dr. Matarasso is one busy guy in both his career and his personal life. Between treating patients and rigorously training almost every day, we can't help but feel absolutely exhausted just hearing about his daily happenings.
While Dr. Matarasso's passion for fitness is intriguing, it's still his medical practice that really fascinates us. For this reason, we decided to dig deep into what makes Dr. Matarasso such a nationally-recognized dermatologist. Ahead, we discuss everything from his surprisingly simple skincare routine to when he's happiest (spoiler: it's when he has a needle in his hand!).
Spotlyte: Tell us about your experience with injectables at your practice.
Dr. Seth Matarasso: I go through roughly 1,500 vials of injectable wrinkle reducer per year. That comes out to over 100 vials of toxin a month and that's probably a couple thousand patients for injectable wrinkle reducers a year.
Spotlyte: Wow! What is your clientele like?
SM: Most of my patients have been with me for 20 years. Today, I've seen maybe a dozen patients, and they've all been with me over 10 years on average. I have been in practice for over 25 years. I treat my patients with respect, but I also tailor [the types of] treatments to their needs. Being honest with patients and letting them know what's available, and telling them, "We need to think of a different strategy," at times is how I've been able to maintain such a significant injectable practice.
Spotlyte: How did your regular clients typically start their journey into aesthetics with you?
SM: For most patients, [it's] injectable wrinkle reducers. It's a nice way to introduce somebody into aesthetics. First some toxin, some filler. You can introduce a laser.
Then, oftentimes, I will graduate them to a skin tightening procedure and that is sort of the end of the line. After that, it might be time to consider some type of surgical intervention. But all the while, you've got to get [patients] into good, at-home [self-care].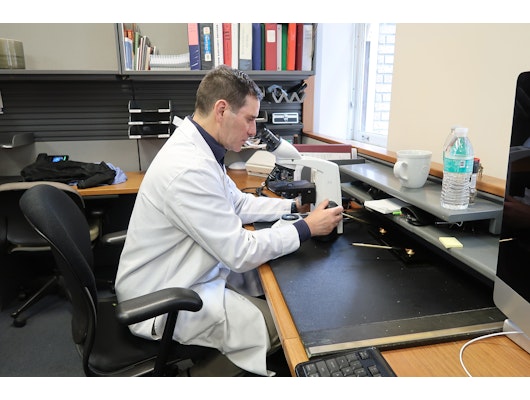 Courtesy of Dr. Matarasso 
Spotlyte: What else do you do in your practice?
SM: I take [my work] as a dermatologist very seriously. I have unearthed many skin cancers on patients who say, "I just want my injectable wrinkle reducer." I had a gentleman come in for injectable wrinkle reducers, and I noticed a spot on his shoulder, so I made him take his shirt off. Lo and behold, he had two skin cancers — basal cells. I never forget for a minute that I'm a board-certified dermatologist, and the worst thing to me would be if someone says, "I went in for my injectables and they missed a skin cancer." That is unforgivable.
Spotlyte: You mentioned you get injectables yourself — who injects you?
SM: My brother is a plastic surgeon, so I have him inject me.
Spotlyte: Are there any other skincare treatments you swear by?
SM: I get Ulthera® once a year, and I get a Clear + Brilliant® laser every three to four months.
Spotlyte: What does your skincare routine consist of?
SM: It's very simple. I put on my sunscreen in the morning — I'm a big Anthelios® fan — and I use my tretinoin at night. A couple of times a week, I'll use an antioxidant. I like them — they're icing on the cake. I use about three or four of them. You always have to rotate your skincare. Remember to switch up your topicals because your skin [may get] used to them.
[Editor's note: Retinol shouldn't be used by those who are pregnant, considering getting pregnant, or nursing. Please consult with your doctor before use.]
Spotlyte: Tell me more about your passions outside of aesthetics.
SM: I have three passions in my life. My family is the most important thing to me. I have a brother and a sister who keep me grounded. I speak to my family almost every other day. I'm able to bounce ideas off of them. So, I think a strong family relationship has been, to me, imperative.
The second thing is that when you're seeing around 20 patients a day, some people can really push it. It can sometimes be demanding and a bit draining from a psychological perspective. Without exercise, I don't know if I could cope with it. For me, I exercise every day; oftentimes in triathlon season, twice a day, and it really helps.
My third passion is art. I collect it. You just need to have outlets. Whether it's a creative outlet or maybe it's an emotional outlet, you need somewhere to vent. You need somewhere to collect your thoughts.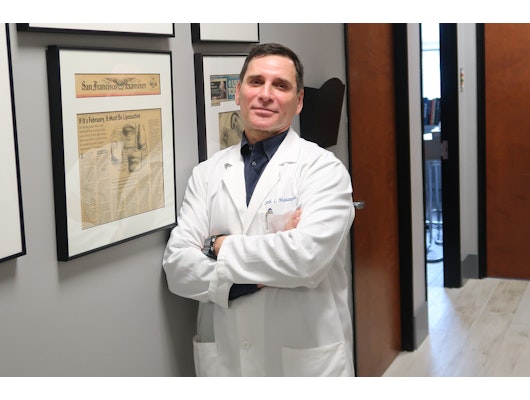 Courtesy of Dr. Matarasso
Spotlyte: If you weren't a dermatologist, what would you be doing instead?
SM: I cannot fathom doing anything else. This is such a weird statement: I'm happiest when I have a needle in my hand. I am very content when I am taking care of a patient and [helping them achieve their goals] or getting rid of early skin cancer.
I'm the happiest when I'm in my office, even when I have a full day like this past Friday.
Dr. Seth Matarasso is a paid Allergan® consultant.