My travel philosophy is twofold. First, always get a spa treatment. Second, choose a treatment that is unique to your destination. Sometimes this means seeking out small, out-of-the-way spa venues. Other times, it means choosing treatments that utilize things you can't get anywhere else, whether that is certain technologies or local ingredients.
Luckily, on a recent visit to Colorado Springs, I didn't have to look too far. I was staying at the Garden of the Gods Resort and Club®, which also happens to be home to StrataTM Integrated Wellness Spa. Part wellness clinic, part luxury spa, this state of the art facility brings medical know-how, non-traditional healing practices, and cult favorite beauty (Biologique Recherche®, anyone?) under one roof for a truly incredible holistic experience.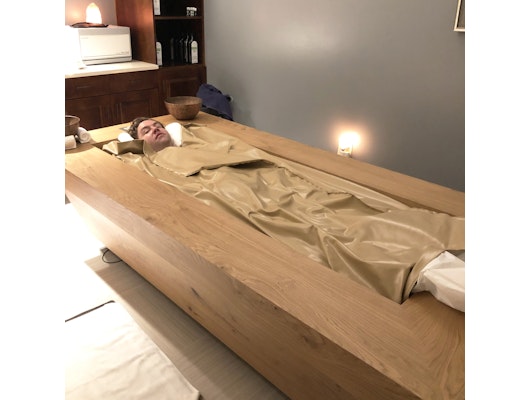 Strata's signature Colorado Pine Soft Pack BedTM treatment checked all of my boxes and it addresses a variety of ailments, not just aesthetics. The treatment utilizes something called the HaslauerTM Pure Sense Soft Pack BedTM, which is an Austrian device I had never seen before. It's like a cross between a flotation chamber and a heated body wrap, designed to offer deep physical and mental relaxation plus alleviate joint and muscle pain. It's heated to body temperature (98.6 degrees, of course). This can help improve blood flow and the absorption of skincare formulas applied beforehand.
That skincare application is why I chose this particular treatment: the formulas used incorporate pine, which is basically what the state of Colorado is built on. According to Strata, the scent of pine has a calming effect on the mind, making it ideal for a relaxation-focused treatment. It also has a deep moisturizing effect, which I can tell you my skin needed after a few days in Colorado's dry, sunny, high-altitude air.
This body treatment begins like many others, except for one major difference: The massage table has been replaced by the soft pack bed (it looked like a chic wooden coffee table for giants). The inside has been hollowed out and replaced with what appeared to be a deflated inner tube. It was an odd-looking contraption — made odder when I realized I was going to get inside. I tried to wrap my head around how this was going to work.
"It's basically a dry float," my aesthetician Jesse Wehmeier told me as she prepared me for the treatment. Once I got into the bed, she would wrap the deflated balloon around me like a burrito and then fill it up with water. I'd then be suspended in a state of weightlessness, but she noted that there would also be hydrostatic pressure, unlike a floatation chamber. The water won't actually ever touch me. "The heat and compression have a detoxifying effect on the body," Wehmeier explains This is due to improved blood oxygen flow. "You also get decompression from the weightless state of the body."
But before I dove into my water bed, she applied the products. I was laid (nearly) bare on the table, which at first felt like lying on a dining room table covered in a rubber tablecloth (there was a hidden platform, and water hadn't filled the innertube yet). Then Wehmeier methodically applied Biologique Recherche Lotion P50 CorpsTM to almost every inch of my body and rubbed it in using a silicone exfoliating glove that looked like an oven mitt covered in spikes. I appreciated the chemical exfoliation that comes from P50 Corps, instead of an abrasive body scrub, which I sometimes find too harsh for my skin.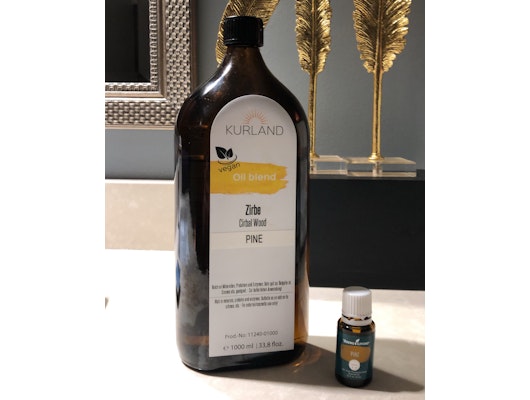 Courtesy
She then followed with what I'm here for: pine! I was slightly worried I would leave the room smelling like I'd taken a bath in Pine-Sol®, but the pine oils had been custom mixed with body cream before I got there. There was only a memory of pine scent, like the day after Christmas or the moment right before a car air freshener loses its smell. "You never want to put pine oil directly on your skin," Wehmeier tells me, as it can be irritating. "We dilute it with a body cream containing jojoba and calendula, which is also very calming for your skin, especially in the dry climate we have here."  I have to assume the lack of odor has something to do with the difference between natural and artificial pine (nothing synthetic here, thank you very much!).
Once I'm completely slathered in pine cream, I lay down in the hollowed out part of the bed as if it were a coffin. Seriously, if I were one more inch taller, I would not have fit; my head and feet just barely touched the edges. (I am 6' 3", so I don't think this would be a problem for most people.) Wehmeier wrapped the rubber flaps over me like she was making the world's largest cannoli and made sure it was good and tight. With a whir, the platform below me started to drop while my rubber swaddle filled with water. Wehmeier gently pushed down on my feet, legs, and torso to make sure the water filled the wrapping and within a minute, I was completely weightless. It was one of the coolest sensations I've ever felt: not like lying on a water bed, but lying inside a water bed.
Wehmeier turned off the lights and gave me an eye mask so I could "really immerse" myself. A soft bed float session is about 25 to 30 minutes long, depending on how hot you get. Cold rocks and cool towels are available to help cool your face down and manage sweating, but I didn't use any of them. Yes, it was warm, like what I imagine it's like in a womb, but not oppressive. Compared to other hot wraps I've done, it was a walk in the park. Or like taking a nap.
. . . Which is exactly what I did until Wehmeier started to give me a head massage, signaling that the treatment was almost over. And just like that, my float was done. When I emerged, my skin was softer than ever before. The warmth had helped drive the creams into my skin in a way I could never do on my own — even in the height of summer — and I didn't smell anything like a cleaning product.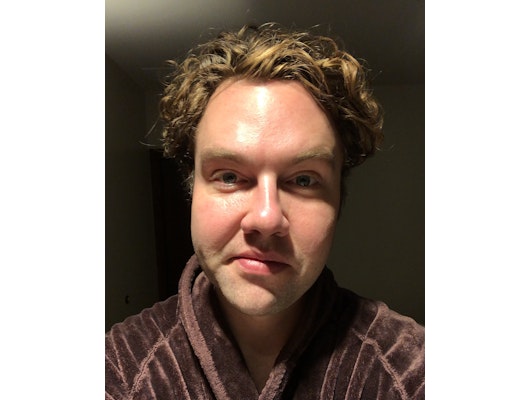 Courtesy
The real benefit, though, was the relaxation I felt. The calm reached the center of my body like somehow my bones had gotten a massage; I can see what a relief this would be if you had joint or muscular pain. I was walking with a lightness as if buoyed by a chorus of Colorado pine nymphs. However, it wasn't the zoned-out calm you get after a deep massage. Instead, I felt reset, as if I had just updated my body's operating system. The sensation of being simultaneously energized and relaxed is odd, but exciting. So exciting, in fact, that I felt compelled to go on a hike to keep my pine vibes flowing. And if a body treatment can make me voluntarily hike, you know it's something special.
Complimentary service was provided to the author for the purpose of writing this article.