Some people grow up knowing the exact career path they'd like to take, while others have a much less linear route to their final profession. For Boca Raton-based dermatologist Dr. Robyn Siperstein, the latter was definitely the case. "I actually wanted to be an artist growing up," she explains. "I had no idea what I wanted to do."
Eventually, Dr. Siperstein decided to enter the world of medicine instead, graduating from Yale University® School of Medicine in 2004 and opening her own practice in the Sunshine State in 2010.
Even though Dr. Siperstein  — who actually makes and sells her own ceramic and glass artwork creations — strayed away from pursuing an art career as an adult, she still found a way to bring her creative eye and childhood passion into the medical field. "I feel really blessed that I found this profession where every patient can be a blank canvas for me to work on," she says. "My patients really appreciate that I have an artistic eye, because it reveals things that they might not necessarily be able to effectively express."
In fact, according to Dr. Siperstein, about 90 percent of her patients don't even tell her what they'd like to get treated. Like she mentioned, it's hard for patients to be able to identify the best cosmetic procedure for their needs. So, Dr. Siperstein connects her creative background to each and every appointment, studying her subjects from all angles and using her unique artistic perspective (and extensive medical career!) as a guideline towards the proper course of treatment. "In the end, I often get told something like: 'That's what I wanted, but I really wasn't able to explain it!'" she says.
Keep reading to learn more about how Dr. Siperstein cares for patients, what her best anti-aging advice is, and the five skincare products she uses every day.
Spotlyte: When it comes to receiving a treatment, what's the most common concern your patients have?
RS: We have patients that stress that they want as little downtime as possible because they have busy social lives. A lot of my patients are involved in fundraisers and charity events in addition to their usual socializing. My toughest task is to [treat them] without anybody knowing."
Spotlyte: That's a great saying! What's your best injectable advice that you typically tell patients?
RS: [Before treatment,] I do the usual recommendations, [and go over any medications they are taking]. Also, doctors are [sometimes] in and out of the rooms really quickly — patients should look out for that. I won't go through [the procedure] really fast and then leave. I'll make sure that they're getting iced during filler treatments, as well as in my office after.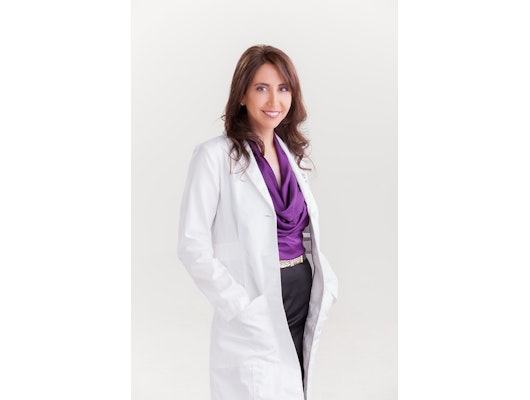 Photo by  Gary James
Spotlyte: Have you ever tried injectables yourself?
RS: Of course. I wanted to be able to understand what my patients were experiencing. And [patients] would ask me specific questions that if I hadn't done injectables, I really wouldn't know [the answers to] first hand. I've pretty much tried everything just to know what it's like.
---quiz start
---quiz end
Spotlyte: What's a typical day for you in the office?
Dr. Robyn Siperstein: No two days are ever alike. But in general, I tend to do treatments from injectable wrinkle reducers and filler to laser resurfacing, and by doing lots of different procedures, each day is kept interesting.
[Editor's note: Injectable wrinkle reducers temporarily smooth the look of moderate to severe wrinkles in certain areas of the face, including the forehead, frown lines, and crow's feet; they should not be used more frequently than every three months. Injectable filler is a temporary treatment that adds volume to areas of the face such as the lips, cheeks, and laugh lines. Like any medical treatment, both injectable wrinkle reducers and injectable fillers have potential risks and side effects. Talk to a licensed provider to see if they're right for you. And learn more now by chatting with a trained aesthetic specialist.] 
I've done [my] cheeks, my marionettes and my nasolabial folds with filler. As for injectable wrinkle reducer, I've tried the three areas — forehead, frown lines, and crow's feet. I would say the top three treatments that I get are photofacials, injectable wrinkle reducer, and filler.
Spotlyte: Are there any other in-office treatments you like to get yourself?
RS: I don't think there's a single machine in my office that I didn't [try before buying]. The reason is that I want to make sure it's not too painful and that it actually works as intended. When I sell something or do a procedure on a patient, I stand behind it wholeheartedly. I've done laser resurfacing, as well as CoolSculpting® [treatments for non-invasive fat reduction]. I've done lasers for veins and for hair removal. It's just so nice to not have to shave every day. Yeah, I've pretty much done everything we offer in my office. And if I didn't do it, I did it on my husband.
[Editor's note: The CoolSculpting treatment is a non-invasive fat-freezing treatment that effectively reduces fat in certain self-proclaimed "problem spots" in the submental and submandibular areas, thigh, abdomen, flank, and upper arm, along with bra fat, back fat, and underneath the buttocks (you know, those bulges that just won't go away, regardless of how much you sweat it out on the treadmill). While it isn't a weight loss solution, fat-freezing can reduce pouches of fat. As with any procedure, there are risks and side effects, so talk to a licensed provider to see if it's right for you.]
Spotlyte: What skincare products do you use?
RS: We have our own skincare line that we sell and I use every day. In the morning, I use the jojoba cleanser to exfoliate, the vitamins C E Ferulic® to help fight free radicals, and a 3-in-1 zinc oxide sunscreen, moisturizer, and base makeup product. At night, I use [a retinoid] and follow up with a restorative moisturizer that contains hyaluronic acid, ceramides, vitamin C, and vitamin E.
[Editor's note: Retinol shouldn't be used by those who are pregnant, considering getting pregnant, or nursing. Please consult with your doctor before use.]
Spotlyte: Other than skincare, what do you feel is an important component of anti-aging that many people forget?
RS: Staying out of the sun and wearing sun protective clothing! It's definitely proven how much the sun can age us. And if you're going out in the sun and coming to me [for help], it becomes an uphill battle.
Spotlyte: That makes sense. A tan isn't worth the skin damage!
RS: Yes! The way I get a nice, natural color [on my skin] is to use TanTowel® Body Tan Towelettes. I find them to be something easy that I can do at home. And I know that I'm going to age slower than everybody else who's getting [tan] from tanning beds or even outside.
Spotlyte: What is the most challenging part of your job?
RS: [Handling] the minority of patients who think that nonsurgical treatments can have surgical results is a bit frustrating. Some come in and pull their skin back tightly, saying, "I thought I was going to look like this [after treatment]." Not only is it unnatural, but it's impossible to achieve that look without cutting the skin. So, it can be a little bit challenging to try to educate patients.
Spotlyte: What is the most rewarding part of your job?
RS: Allowing [patients to achieve their goals] is the best part of my job. I've had other patients who I've made feel better because I've gotten rid of scars that reminded them of [unpleasant] things. One patient had gotten radiation on her chest, and every time she wore a V-neck shirt or looked at her [chest], it was a reminder of the cancer and what she went through. She told me that once I got rid of [the marks] with a laser, it allowed her to move on and be a survivor without any [physical] remnants left. Things like that, too, are incredibly rewarding.
CoolSculpting® is an Allergan®-owned non-invasive fat reduction treatment.
CoolSculpting® Treatment Important Information
Uses
The CoolSculpting® procedure is FDA-cleared for the treatment of visible fat bulges in the submental (under the chin) and submandibular (under the jawline) areas, thigh, abdomen and flank (love handles), along with bra fat, back fat, underneath the buttocks (also known as banana roll), and upper arm. It is also FDA-cleared to affect the appearance of lax tissue with submental area treatments. The CoolSculpting procedure is not a treatment for weight loss. 
Important Safety Information
The CoolSculpting procedure is not for everyone. You should not have the CoolSculpting procedure if you suffer from cryoglobulinemia, cold agglutinin disease, or paroxysmal cold hemoglobinuria.
Tell your licensed healthcare provider if you have any medical conditions including recent surgery, pre-existing hernia, and any known sensitivities or allergies.
During the procedure you may experience sensations of pulling, tugging, mild pinching, intense cold, tingling, stinging, aching, and cramping at the treatment site. These sensations subside as the area becomes numb. Following the procedure, typical side effects include temporary redness, swelling, blanching, bruising, firmness, tingling, stinging, tenderness, cramping, aching, itching, or skin sensitivity, and sensation of fullness in the back of the throat after submental or submandibular area treatment. 
Rare side effects may also occur. CoolSculpting may cause a visible enlargement in the treated area which may develop two to five months after treatment and requires surgical intervention for correction. 
Ask your licensed healthcare provider if CoolSculpting is right for you. To learn more about what to expect, visit the CoolSculpting website and comprehensive Important Safety Information.
---quiz start
---quiz end