If you watch Netflix's® original series Orange Is the New Black®, you know that it can be a challenge to pick a favorite character on the show. There's the dry wit of Red (played by Kate Mulgrew), the comedic crassness of Lea DeLaria's Big Boo and, of course, the love-to-hate-her protagonist Piper Chapman, played by Taylor Schilling. But I, personally, have always been drawn to Flaca, portrayed by Dominican-American actress Jackie Cruz.
It's not just because Flaca is both a pop culture junkie and an advocate for the written word (two characteristics that I can relate to). I also admire the character's commitment to flawless winged liner despite serving time for fraud (thankfully, I can only identify with the first half of that sentence). As it turns out, Cruz is similarly dedicated to her eyeliner — specifically, Kat Von D® Beauty Tattoo Liner ($20). "I discovered it on set," she reveals, where the precise brush tip was used to create Flaca's cat eye and faux teardrop tattoo.  
After years of sharing her passion for the formula (and for Kat Von D Beauty as a whole), the 32-year-old's fanaticism was heard by the brand's leadership. As it turns out, the love was mutual — and Cruz nabbed herself the company's very first celebrity campaign for the recently-launched Go Big or Go HomeTM Mascara ($23). "I said [on set] that one day, I'm going to get a KVDB campaign," she confesses. "It's the power of the spoken word."
Though Cruz admits that she wears a cat eye "almost every day" and "can do it with [her] eyes closed," liquid liner and her love of it aren't all that make her a good fit for a beauty campaign. The star cares deeply about beauty and skincare, especially after battling adult acne. "Growing up, I had beautiful skin, but then I got adult acne," she says. "My makeup artist on OITNB told me how to fix my skin. I started using Differin® Gel — Differin is my secret, and it helped save me."
[Editor's note: Retinol shouldn't be used by those who are pregnant, considering getting pregnant, or nursing. Please consult with your doctor before use.]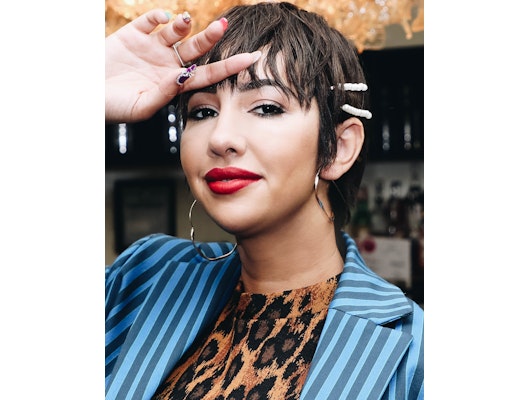 Joslyn Blair
Cruz has picked up a bunch of beauty secrets along the way: Her childhood growing up in the Dominican Republic and her adulthood working in Hollywood taught her a few tricks that she still relies on today. The ones from her youth are easy DIYs: "Raw tomato [is great] if you have a blemish," she explains. "You put it on at night, and [the pimple is] gone by the time you wake up. And egg whites [as a mask] make your hair shiny." Heavy red carpet makeup taught her about a whole new category: micellar water. She uses Bioderma® Sensibio® H₂O, which she gets in Paris, to cleanse her face after a long night.
And, while she does swear by plenty of makeup, skincare, and hair products (more on these shortly!), Cruz takes a holistic approach to beauty and anti-aging: She swears by living a low-stress life and building time for self-care into your schedule. The biggest part of her recipe for stress relief is taking baths. "I love baths, including okra baths, which are spiritual baths," she says, adding, "I don't go anywhere if they don't have a bath." Cruz is also an advocate for the meditation app CalmTM, which she explains, helps her focus before she starts her day. Honestly, same — now if only I could apply a cat eye with my eyes closed. Keep reading to discover the Top 11 beauty and skincare products that Cruz swears by, including her iconic eyeliner.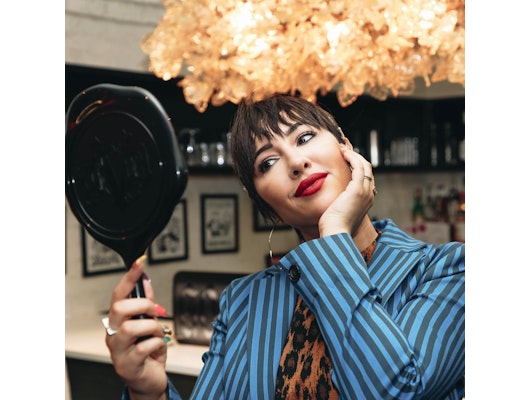 Joslyn Blair
Kat Von D Beauty Tattoo Liner ($20): "I can go to war with that liner — it stays on all day and you only have to [apply] it once."
Differin Gel ($13): "This was a lifesaver for me when I got adult acne and couldn't recommend it more!"
"The entire Retrouvé® line," but especially the Revitalizing Eye Concentrate ($415): "They have an amazing eye serum that I use all the time. It keeps me young."
Kat Von D Beauty Go Big or Go Home Mascara ($23): "I love how no matter how much you put on, it doesn't flake. It makes me look like I'm wearing false lashes. I love the 'fluff brush.'"
Sephora Collection Beauty Uncomplicated® Blush Duos ($16): "This blush blends so easily and it is so pigmented."
Ole Henriksen® Truth Serum® ($49): "I love that it makes you feel like you're not wearing anything. It's not thick — you just pump [the tube] once."
L'Oréal® EverPure® Sulfate Free Shampoo ($7): "I don't like shampoos with sulfates. This one makes my hair feel soft and it's at a good price."
K Kevin.Murphy® Easy.RiderTM Anti-Frizz Flexible Hold Cream ($30): "I can't live without this, because of my short hair. It doesn't feel like you have product in your hair. You can brush through it, and it will [last], but it's not stiff. It doesn't make your hair feel [too] thick."
Kat Von D Beauty EverlastingTM Liquid Lipstick in OutlawTM ($20): "It's the perfect red — it goes with everyone's skin tone and makes me feel badass."
RMS Beauty® Magic LuminizerTM ($38): "I love that it gives a natural glow and it is not greasy on your face."
Vaseline Intensive Care® Essential Healing Body Lotion ($6): "This is my favorite lotion, because it keeps my skin smooth and moisturized." 
Product prices may vary from the time this article was written.
Allergan® may receive commissions for purchases made through links in this article.