Jackie London, MS, RD, CDN, and Nutrition Director at Good Housekeeping®, has heard so many diet myths that she could write a book about them. And in fact, she did. London is the author of Dressing on The Side and Other Diet Myths Debunked: 11 Science-Based Ways To Eat More, Stress Less, and Feel Great About Your Body. On a regular basis, she cuts through the clutter of "detox" diets, celebrity-promoted supplements, and other fads that are consistently marketed as "healthy." If London looks familiar to you, it's possibly because you caught her doing this live on air, including on TODAY®, Inside Edition®, and the Rachael Ray® Show. 
London's nine to five is similarly food-centric: You can usually find the 32-year-old conducting test-tasting research for Good Housekeeping magazine. The job is as fun as it is important — London weighs in on which products are worthy of the magazine's prestigious seal of approval. In addition to exercising her tastebuds, the born-and-raised New Yorker also writes and oversees all nutrition-related content for the brand. 
Yet food, health, and the science behind it all were not always part of London's plan. In fact, she majored in dance — and it was that professional training that led her to nutrition and beyond. Here, she dives deep into all things diet, including that one time she ate an insect, and exactly what she eats on a daily basis (hint: wine is involved). She also shares her go-to beauty products for getting camera-ready, the best advice her famous older sister Stacy (of What Not to Wear) has ever given her, her opinion on medical aesthetics, and more.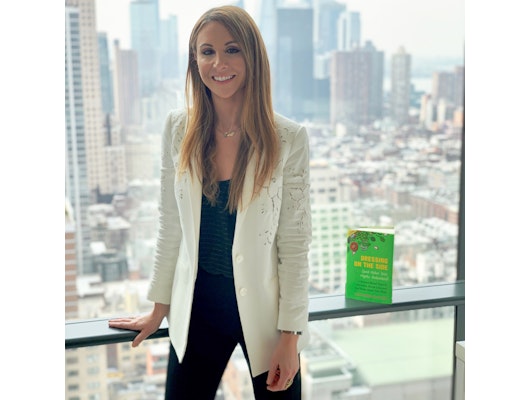 Photo Credit: Nicole Saporita
Spotlyte: You were a dance major at Northwestern UniversityTM. What made you decide to transition into nutrition and attend New York University® for your Master's in Clinical Nutrition and Dietetics? 
Jackie London: It's funny, I remember the exact moment I decided I wanted to be an RD [registered dietitian] — it was the week of my college graduation, and I was sitting in a car in downtown Chicago at a stoplight. As a lifelong dancer, I had always been interested in nutrition but, at the time, I was sure that I'd fail or never make it through a science-based program. So instead, I was actively looking for a job at a magazine or in marketing/communications. 
I knew this is what I wanted to do, but I was instantly hit with that sense of total dread you get when you realize you're about to uproot your whole life. I tried to ignore it, and it took some harrowing work experience in beauty PR to get me to hit "submit" on the application to NYU. 
Spotlyte: What was the transition like once you started school?
JL: I had to start from scratch with the [graduate level] chemistry, organic chemistry, biochemistry, microbiology, physiology, etc. — but I loved all of it, even when it was seemingly impossible. I still feel that way now. I suppose when you get that gut-punch feeling [and] it totally overwhelms you, it's the right decision to change course. 
Spotlyte: How did dance impact your path to becoming a RD, if at all?
JL: Nutrition and any form of training go hand-in-hand. In dance, biology is always in the room with you — but so commonly portrayed as only external: your feet, turnout, flexibility. There is so much that gets lost by not having a better understanding of the internal, and why it's so important to fuel yourself for sports of any kind. It was through dance that I became interested in nutrition, and ultimately that led me to other training pursuits. 
Spotlyte: When did you start at Good Housekeeping? Was your goal always to be in editorial or did that happen organically? What were you doing before your magazine days?
JL: I started at Good Housekeeping in 2014 after working in-patient at Mount Sinai® Hospital and at a private practice. [Specifically,] I was working with researchers on a study about gut microbiome, and helping out in the physical medicine and rehab unit teaching a sports nutrition course to residents. I also was collaborating on an employee weight-loss program, and [was] a spokesperson of sorts for the clinical nutrition department, thereby working closely with media! 
When the job at Good Housekeeping presented itself, I realized that it was basically everything I was [already] doing and wanted to be doing all in one role. It just so happened to be in publishing. 
Spotlyte: What does a typical day of eating look like for you?
JL: I've been following my own advice in Dressing on the Side, which is to have breakfast in two parts: The first is typically a few spoonfuls of nut butter while I'm getting ready — I'm currently having a love affair with CrazyGoNuts® Oatmeal Cookie Walnut Butter ($15)  — and a matcha or coffee. Nut butter is packed with protein, fiber, and fat — which is crucial for me while I'm simultaneously attempting to feed the dogs, blow-dry my hair, and put on pants. That way, if I wind up getting side-tracked, I'll have a chance to get to part two. [I also] at least I know I'm fueled up on some nutrient-dense stuff that can help me get through the first few hours of the day.
Breakfast part two typically happens at the office, and it's usually a combo of fruit, nuts or seeds, and granola. I always have the KIND® Almond Butter or Peanut Butter Clusters or the Healing Home FoodsTM Almond Butter Chunk stashed in my desk drawer. I'm also loving these Oats and Nut Butter Cups from Wild Friends®, which [allow you] to have your whole breakfast in one little portable cup!
Spotlyte: When you actually have time to sit and digest, what's your go-to meal?
JL: I'm keen on eggs of all types  — soft boiled, soft scrambled, or an omelet with veggies, cheese, and hot sauce! I also love avocado toast with eggs. If I'm going out for lunch, it's typically seafood in some form.
Spotlyte: What about for dinner?
JL: Weeknight dinners, if we're cooking, are usually various veggies. Sometimes I'll make a big salad, to which we'll add sautéed shrimp or fish. I've also been playing around with different flavors in cauliflower fried rice, which I make with a fried egg on top, kind of bibimbap-style.
We'll generally have some kind of "base" — cauliflower pizza crust, [or] chickpea or lentil-based pasta. Or [we use] a blend that's pre-made: Green Giant® or 365® brand for cauliflower crust, Banza® or Barilla® for chickpea pasta, or Bird's Eye® SteamFresh® Cauliflower Rice, and customize with veggies and protein from there.
At least once a week, we order from a not-so-secret spot on the Upper West Side called Sushi YasakaTM. I love sashimi or Naruto rolls of all types, plus edamame, boiled spinach salad, and a hand-roll made with ikura and cucumber.
Spotlyte: You test a lot of food for work. Any snack trends you're noticing?
JL: Many brands are shifting to customize options that are tailor-made for consumers. There's that "bento box" mentality of hitting various flavors through nutrient-dense options. Think of Starbucks® to-go plates. People are [also] making their own versions with items they have on hand. Nuts, seeds, fruit, sliced veggies, and multiple types of cheese are often included. [Additionally,] I'm hooked on an avocado-based ice cream called Cado® that I discovered during an ice cream taste-test.
There's certainly no single "right way" to eat but, for me, I'm the most satisfied and energized when I can try multiple flavors of various items at any meal or snack. I do so with the intention of trying lots of things in filling combos — protein, fiber, and fat — to actually make sure I'm not ready to deep-fry [and eat] my laptop by 3 p.m.
Spotlyte: Any favorite indulgences?
JL: My boyfriend works in wine, so most nights I'll have a glass of something he's brought home from the office. If there is one thing I'm consistent about food-wise, it's dessert. I love anything super-sour or spicy, like Hot Tamales®! I love milk chocolate, not dark. Dark chocolate tastes like it's trying too hard, in my opinion. 
Spotlyte: What is one thing that you never eat or drink, and why?
JL: I would never say never. All foods can — and should — be "on the table." I've [even] tried crickets for the first time during a live TV segment! If I had to pick something, though, I would say that I don't drink much by way of sugary beverages — even the cold-pressed, 100 percent "all natural" green juice that gets so much hype these days. The marketing of these [types of] products makes me nuts. 
I'd prefer to eat my real dessert every day than drink a concentrated source of calories from sugar.  And I'd rather actually chew my fruit and veggies, so that I can also have a cocktail and some chocolate daily.
 Spotlyte: What's your fitness regimen like?
JL: This has changed a lot from what it used to be, largely because of time — or lack thereof. I still try to go to Barry's Bootcamp® when I can. But since my schedule changes all the time and I value my "Quiet Car®" time so much, I've started going to the gym most days of the week. In better weather it's really about finding an excuse to walk anywhere.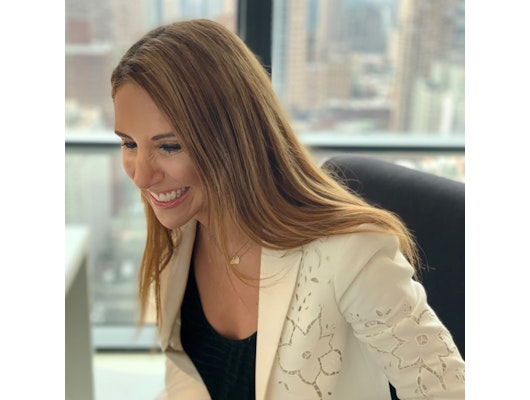 Photo Credit: Nicole Saporita
Spotlyte: What advice or tips do you have for someone who is an aspiring RD or wants to get into the nutrition field? 
JL: Get good — and get fast — at looking at research. [You also need to] understand it, put it into context, and be able to communicate it.
Everyone prioritizes personal health differently, and we're all different, be it psychologically, physically, and from a socioeconomic standpoint. How can you apply what you know about science to develop a strategy that works — for anyone, anywhere?
But, I say this often because I don't think it can be said enough: for dietitians, medical nutrition therapy and a rigorous clinical training and research background is what will always set us apart from nutritionists. 
Spotlyte: Your book is all about nutrition myths and busting them. Any common misunderstandings about nutrients and skin?
JL: [There's a misconception] that one nutrient or food [group] can make or break your state of skin. [For example], eliminating dairy or gluten for the purpose of better skin is profoundly unsubstantiated. 
Spotlyte: What's a common misunderstanding about supplements?
JL: I know this one is going to be contentious, because a lot of people "swear by" certain supplements, but there is just no [substantial] data [to prove that] powder or pill-forms of certain nutrients like biotin and collagen help with hair and nail growth or skin clarity. 
[Editor's note: As always, talk to your doctor before starting or stopping any new supplement.] 
Spotlyte: What's the secret to better skin?
JL: Hydration is key. It doesn't all have to come from plain old water, though — [try] sparkling water or fruit-infused water. Even unsweetened tea and coffee [are beneficial], because they both contain antioxidants from phytonutrients found in the leaves and beans. High-water foods like veggies and fruit can help your skin stay hydrated without being a total bore. Hydration needs vary for everyone, but I'd make two liters — about eight cups — your absolute minimum. You'll need more if you exercise vigorously or generally sweat a lot! 
Spotlyte: How about quelling inflammation?
JL: [Seek out] plant-based, polyunsaturated and monounsaturated fats. [They're] found in vegetable oils, nuts, seeds, beans, avocado, and especially seafood, including salmon, herring, mackerel, tuna, shrimp, sardines, sea bass, halibut, mussels, oysters, clams, lobster — you name it. Get that seafood! If there is one crucial place that [especially women] could improve upon in our diets, it's [getting] omega 3 fatty acids — from seafood or plant-based marine sources, like algal oil.
Spotlyte: Can we help prevent collagen and elastin loss with food?
JL: From a dietary perspective, it is mostly associated with the increase of ingestion and production of Advanced Glycation End Products (AGEs). These are a byproduct from the cross-linking of amino acids in collagen and elastin with glucose and fructose — simple sugar molecules.
Once AGEs are formed and accumulate, structural changes in skin's appearance tend to occur. That's why you want to choose more whole foods, and flavor with spices [instead of sugar]. Some early research has found herbs and spices may help to reduce AGE production, including oregano, cinnamon, cloves, ginger and garlic. 
Spotlyte: Walk us through your morning skincare routine.
JL: I'm on strict orders from my dermatologist, Dr. Ilyse Lefkowicz. Morning facial cleansing includes the DJW® Gentle Cleanser with glycolic acid, prescription azelaic acid cream for rosacea, and benzoyl peroxide/clindamycin topical cream. Then I'll put on Shiseido® Wrinkle Resist 24® Day Cream with SPF.  
Spotlyte: What does your nighttime routine consist of?
JL: I have seasonal allergies of some type all year round, so I exclusively use waterproof makeup — nothing else can stand-up to my endlessly tearing eyes. Removing my makeup is a struggle. It starts with Urban Decay® Makeup MeltdownTM Remover Dissolving Spray, then a Sephora® Makeup Remover Wipe. I love the exfoliating pineapple version! And then, if anything's left, I use the Laneige® Vitamin Brightening Cleansing Water and Neutrogena® Ultra Gentle Daily Cleanser. I love a good face oil, especially at night! I've become obsessed with Kiehl's® Midnight Recovery Concentrate®. 
Then, I apply the Mario Badescu Skin Care® Hyaluronic Eye Cream. I have been religious about eye cream since college. My roommate mandated that we start this practice immediately, because our later selves would thank us for it. Update: She was not wrong. 
The last step is the Olay® Regenerist® Micro-Sculpting Moisturizer which [earned] the Good Housekeeping Seal. When the lab was testing this product, everyone was blown away by the results.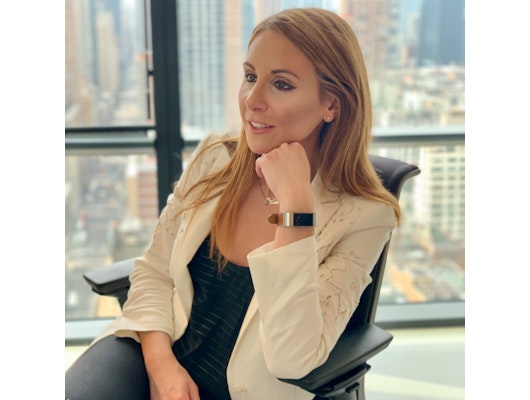 Photo Credit: Nicole Saporita
Spotlyte: What does your makeup routine entail?
JL: My sister, Nancy, truly has "power of attorney" over my makeup bag. She is beyond knowledgeable about makeup and she has yet to let me down! 
I use the Cover Fx® Gripping Primer and the Giorgio Armani® Power Fabric® Concealer. I also use the Charlotte Tilbury® Filmstar Bronze and GlowTM Contour Duo and Bar of GoldTM Highlighting Palette, if I'm really making an effort! 
Eyes are tricky in spring, but [I like] the combo of Pat McGrath Labs® Permagel® Ultra Glide Eye Pencil and the Giorgio Armani Eyes to Kill® Waterproof Mascara, which is easily the best waterproof [mascara] I've ever used. It helps everything stay where it's supposed to!  
Spotlyte: What about brows?
JL: I've recently discovered the magical power of eyebrow gel. I'm using Anastasia® DIPBROW after searching for something that didn't make me feel too made-up.
[If I have to appear on] a TV segment, I'll avoid anything too shimmery, because I look like I'm profusely sweating on camera. The Charlotte Tilbury Luxury Eyeshadow Palette in Pillow Talk is great for TV, and so is the Too Faced® Chocolate Soleil® Bronzer. My biggest secret weapon is the Urban Decay All Nighter Setting Spray and Waterproof Full Coverage Concealer in place of highlighter for TV — you look awake [without looking shimmery].
Spotlyte: What is your take on injectables?
JL: My personal philosophy is that whatever works for you, do that! Interestingly, that's really my philosophy on all things diet-related, too! 
Spotlyte: Your sister Stacy [London] is also a well-known personality! What's the best career advice she's given you?
JL: For the record: "You're wearing too much eyeliner," is probably the best beauty advice she's given me!  But really — and she is probably going to kill me for saying this, simply because it's that cheesy — she used the Oscar Wilde quote turned-trope, "Be yourself, everyone else is already taken."
Of course, you hear the first part of the quote all the time, and it's not always great advice to simply "be yourself." I mean, what if you give that advice to a jerk? But it's such a waste of time and effort to try to be who we "should" be, professionally: Unique! Interesting! Brilliant! A real "revenue-generating powerhouse!" If you have something to say and you show up, work hard, and you're as transparent as possible about who you are, you'll get sh*t done.  
Spotlyte: Anything else you'd like to add about beauty, food, career?
JL: You don't have to eat wilted lettuce with dressing on the side, green juice with something "activated" in it, or a smoothie bowl straight out of Pinterest® in order to achieve the seemingly transcendental state called "wellness." Achieving better health is about having the information to make empowered choices most of the time. The more you practice, the more confident you become, and the more you turn conscious decisions into health-promoting habits that last a lifetime.
Product prices may vary from the time this article was written.
Allergan® may receive commissions for purchases made through links in this article.