Co-Founder and CEO of GlowbarTM Rachel Liverman had my heart before I even interviewed her. A brief 10-minute scroll through her Instagram® account turned into an hour-long stalking session before our chat, and I found myself either laughing or tearing up over Liverman's witty humor and inspirational captions. From photos of her dog's butt plopped right on her pillowcase, to captions about the importance of practicing gratitude, I was excited to ask this blonde bombshell (with incredibly impeccable skin) all about her past, present, and future.
Liverman is no novice when it comes to the skincare industry — she was raised by acclaimed skincare professionals. Her grandmother, Catherine Hinds, started the first accredited esthetics school in the U.S., the Catherine Hinds Institute of EstheticsTM, in Boston in 1979; her mother, An Hinds, now owns and operates it. After working in marketing and development roles at big brand names (think Birchbox®, Eyeko®, and beautyblender®) for eight years, Liverman set out to start her own beauty business in August 2018. 
Since then, she hasn't looked back. Incorporating timeless wisdom from her esthetician-roots while also considering the woman-on-the-go, Glowbar was born. The skincare destination (which is based in NYC's Tribeca) offers customized, 30-minute treatments, including dermaplaning, LED therapy, high frequency facials, and more. Keep reading to let Liverman share all the details about her company, her thorough skincare routine, and much more.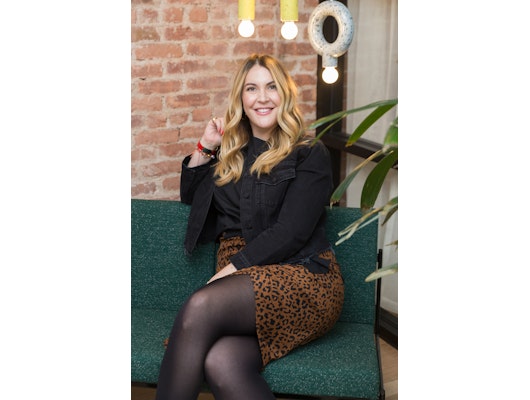 Kelsey Ann Rose
Spotlyte: Tell us how you became the woman you are today?
Rachel Liverman: It's quite simple; gratitude and trusting my gut. If you're self-aware, and have the ability to get through anything that may be holding you back from your potential, the result is confidence and fearlessness. That fearlessness has allowed me to be vulnerable, which I believe has ultimately gotten me to where I am today, especially with Glowbar. To me, being vulnerable means two things: asking for help, and being able to say "I'm not OK." I've only learned this in the past couple years, but it has impacted my life more positively than I could have imagined. Couple that with gratitude and you're glowing (pun intended)! 
Spotlyte: Can you tell me more about your grandmother? What was her philosophy on beauty?
RL: My Grandmother, Catherine Hinds, was/is a pioneer in skincare and the most vibrant, eclectic, and original "girl boss" there is. As a single mom of two in the '70s, she founded the first accredited esthetics school outside of Boston called the Catherine Hinds Institute of Esthetics. After traveling overseas regularly, she recognized how behind the US consumer was in taking care of their skin; both at home and in a salon/spa setting. So, like a true entrepreneur, she decided to create it! 
Since [1979], thousands of men and women have begun their esthetics career at Catherine Hinds Institute and supported generations, one of the things that makes my grandmother the most proud. It's also important to mention that my mother, An Hinds, now owns and operates the institute and has continued on this legacy in esthetics. It's one that I am proud to carry on for years to come with Glowbar.
Kelsey Ann Rose
Spotlyte: What's your philosophy on beauty?
RL: My philosophy on beauty is to do as you damn please — you have to choose what works for you. That being said, I always recommend seeing an esthetician and wearing SPF every day! Seriously, though, I don't think there should be rules around beauty, so my philosophy is to find what works for you and own it. My grandmother and mom taught me early on to "keep it simple" when it came to my beauty routine, and I have applied that in all areas of my life. It's now even a pillar for my business.
Spotlyte: What has it been like growing a small business?
RL: So fun, so challenging, so fulfilling, and so terrifying. We are pre-launch right now, and every day is filled with big decisions that are going to impact our future clients and team, so it can be extremely overwhelming. This is an example of when you need to lead with gratitude — in moments of stress and fear I change my mindset by focusing on what I'm grateful for. Often, I will just pause and remind myself just how lucky I am to have the opportunity to lead a team each day to create a new standard in professional skincare.
Spotlyte: What's your best career advice for those wanting to start their own business?
RL: Take the leap! You will be amazed at how quickly you will find your wings (because you really don't have a choice at that point!). Don't be afraid to ask for help — you'll be surprised how willing people are to help and how kind they are.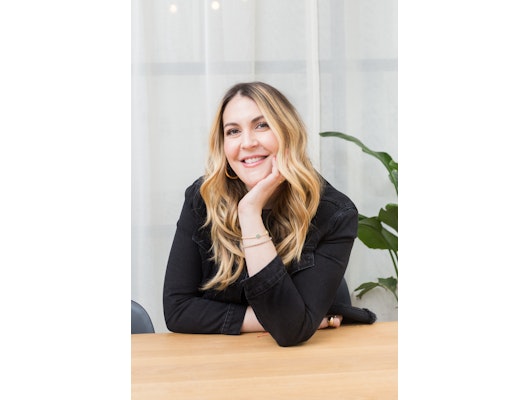 Kelsey Ann Rose
Spotlyte: Why did you want to launch Glowbar?
RL: Glowbar is my legacy. My grandmother pioneered [accredited] skincare in the U.S. and I am here to reinvent it. A few years ago I realized that, of all people, I didn't see an esthetician as often as I should. It really boiled down to two main things: time (facials are lengthy!) and money (they're also expensive). I knew that there could be and should be a more efficient and effective option for the consumer to help them take better care of their skin, consistently. And that's exactly what Glowbar is. 
Spotlyte: Can you tell me all about your skincare routine?
RL: I try to keep it simple and effective. I'm a strong believer in science and gravitate towards brands that have clinically-proven formulas, which is what we'll be living by at Glowbar. 
Spotlyte: What do you use in the morning?
RL: Environ® Low Foaming Cleansing Gel ($44):  I love this cleanser! Even though it's a gel, it doesn't strip my skin or make me feel tight after. 
iS Clinical® Reparative Moisture Emulsion ($90):  It's super lightweight, but super hydrating and keeps my skin happy. I recommend it for almost anyone, but especially those trying to defy aging. 
Weleda Skin Food® Original Ultra Rich Cream ($10): I use a tiny amount of this and just pat it on my cheekbones and any dry areas. 
Elta MD® UV Clear Broad-Spectrum SPF 46 ($35): As I said before, wear SPF every day! This is the best one out there, and you can quote me on that because I've tried hundreds. In addition to being in skincare, I also have a history of melanoma in my family, so sun protection is extremely important to me. This gives you the protection you need and a glow — name a better duo!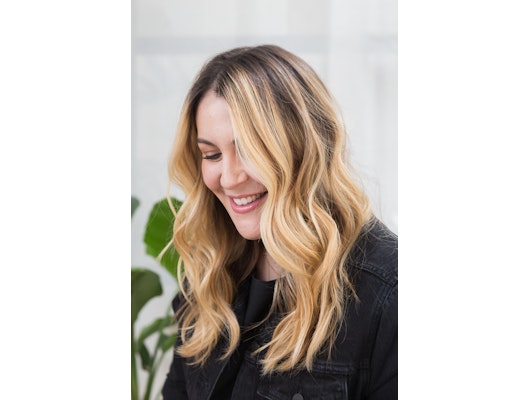 Kelsey Ann Rose
 Spotlyte: What about the evening?
RL: Environ Youth EssentiaTM C-Quence® Serum 2 ($123): This serum significantly reduces photo-ageing, pigmentation scars, and blemishes. Fixes everything!  
Environ AVST® Moisturizer 4 ($79): This moisturizer minimizes aging and sun damage — there's a theme here!
Environ Antioxidant & Peptide Eye Gel ($52): The ultimate eye plumping gel.
Dr. Botanicals® Superfood Rose Facial Oil ($21): I'll put this on if my skin is extra dry to seal everything in. I love the scent and the way it absorbs super quickly!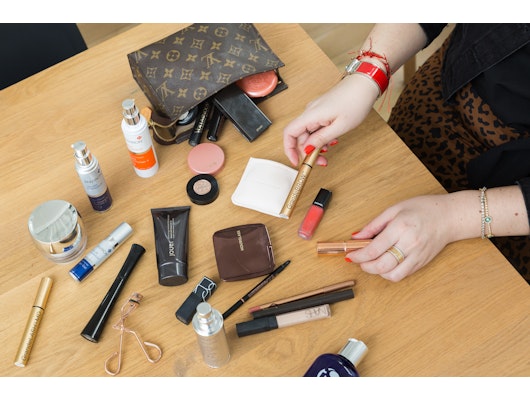 Kelsey Ann Rose
Spotlyte: What about your full makeup routine?
RL: Again, I try and keep it really simple and I also prefer to use more skincare than makeup. If you have a glowing palette, you don't need a lot of makeup!
Cle de Peau® Concealer Broad Spectrum SPF 25 ($70): Because it's the best concealer I have ever tried, and I have tried a ton, and because it has SPF. Best of both worlds!

Cle de Peau Radiant Cream Foundation ($128): I use this on special occasions only, but it really makes your skin look flawless and I love how it isn't too mattifying. 
NARS® Bronzing Powder in Laguna ($40): I have been using this bronzer since high school, which is now almost two decades ago! It's the perfect bronze for my skin tone and gives you a natural "I just went to Miami for the weekend" look. 
tarte® Amazonian ClayTM 12-Hour Blush in Captivating ($29): Because I have slight red undertones, I gravitate towards peachy/orange blushes to offset the redness. This one has been a staple of mine and gets me through long days!
Anastasia Beverly Hills® Brow Wiz® ($21): I used to swear by the powder duo by ABH®, but lately, I've been using Brow Wiz because it's just so simple, looks natural, and the spoolie on the end is so efficient. 
IT Cosmetics® SuperheroTM Elastic Stretch Volumizing Mascara ($24): I used to be a L'Oreal® Voluminous® devotee, but I have been converted. Superhero makes my lashes long and full and is the blackest of black. Pro tip: I put a coat of this on first and then smooth out any clumps with BenefitTM Roller Lash! 
NARS Lipstick in Heat Wave ($28): This lipstick holds a very special place in my heart now because it was the inspiration for Glowbar. Everytime I put on this lipstick I feel energized, empowered, and confident, and that is what I want everyone to feel like when they interact with Glowbar. 
Spotlyte: Do you do any treatments, like lasers, peels, or injectable wrinkle reducers?
RL: Trying different treatments is unofficially part of my job. I've tried a lot as research for Glowbar to ensure we give the best offerings possible that align with our mission and philosophy. I don't do lasers often, but I love chemical peels.
 I started injectable wrinkle reducers about a year ago on my forehead to keep wrinkles [smooth]. Yes — you can come to Glowbar [for a facial] if you have [received] injections [before]!
[Editor's note: Injectable wrinkle reducers are used to temporarily smooth the look of moderate to severe wrinkles in certain areas of the face such as the forehead, frown lines, and crow's feet. They should not be used more frequently than every three months. Like any medical treatment, they have potential risks and side effects. Be sure to talk to a licensed provider to see if they're right for you. Have more questions? Chat with our team of trained aesthetics specialists now.] 
---quiz start
---quiz end
---quiz start 
---quiz end
Spotlyte: What advice do you have for someone getting injectable wrinkle reducers for the first time?
RL: You should only get injectables if it's something you want and genuinely think [you will like the results of and your provider recommends them]. If you answer yes to both of these, then the only other recommendation is to start and see how you like it.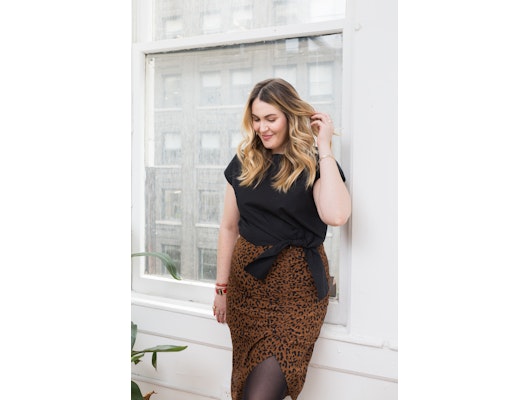 Kelsey Ann Rose
Product prices may vary from the time this article was written.
Allergan® may receive commissions for purchases made through links in this article.