Recently, I realized I might be harming the environment. It dawned on me during an episode of Our Planet, a show that suggests humans are responsible for the degradation of our precious earth. Generally, I'm able to dismiss myself of personal accountability (I recycle, after all!), but this particular episode backed me into a corner. It was about coral bleaching — a phenomenon that is transforming once-vibrant coral reefs into ghostly, lifeless versions of themselves.
Scientists believe the phenomenon can be attributed to a number of factors, including rising ocean temperatures and an increase of reef-toxic chemicals floating around in the water. Oxybenzone and octinoxate — two of the most popular chemical sunscreen filters — have, unfortunately, been linked to coral demise. (As an avid sunscreen-slatherer, who also dabbles in scuba diving, you can imagine why the aforementioned Our Planet episode struck a nerve.)
"Studies have found that [these chemicals] have toxic effects on young coral, including endocrine disruption, DNA damage, and coral death," says Dr. Terry Zickerman, physician, scientist, and founder of Love Sun Body®. Both the chemicals and coral death are bad news for other marine life, too — including fish, sea urchin, and algae — which often rely on reefs for nutrients.
Legislators are taking note of these bleak findings. Last year, Hawaii banned the sale of chemical sunscreens containing oxybenzone and octinoxate. Key West passed similar legislation shortly thereafter. But, despite the legislation, there's still no clear-cut, government-regulated system for verifying that your sunscreen is, in fact, A-OK for marine life. We know that chemicals — specifically the two previously mentioned — are no-go's. (Learn the difference between physical and chemical sunscreens.) Nevertheless, "mineral" and "reef-safe" are not necessarily synonymous.
Beelining for a physical blocker (i.e. zinc oxide and/or titanium dioxide) is still a good place to start searching for a reef-safe SPF. Unfortunately, these ingredients are also notoriously chalky. For this reason, many brands reduce them to nanoparticle size, to create a more sheer, cosmetically-elegant finish. Micronizing them allows the formula to look better on the skin, but the ultra-tiny size poses a risk for coral, which can ingest these minute particles.
Expert consensus says, as far as we know to date, the best reef-safe sunscreen formula contains one (or both) of only two active ingredients: non-nano zinc oxide and/or non-nano titanium dioxide. (Note: A non-nano SPF will always say that it's non-nano on the label.) Zickerman also suggests perusing the inactive ingredients list, which he says is a common place for brands to slip in eco-toxic ingredients. One example is methylisothiazolinone, which functions as a preservative in many sunscreen formulas. As a rule of thumb, look for inactives that are natural, plant-based, and/or biodegradable, Zickerman says.
Below, seven reef-safe sunblock formulas that are anything but fishy. And, in case you need more incentive, I urge you to watch Our Planet before packing for your next vacation.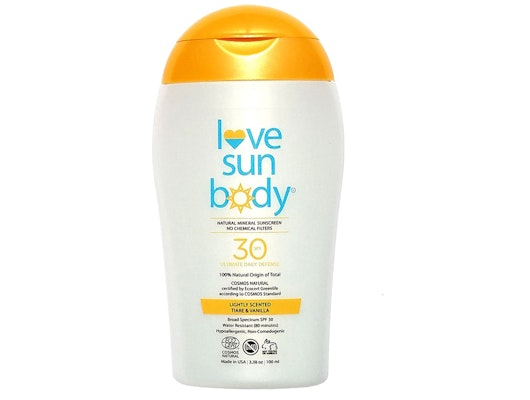 Created with reefs in mind, the Love Sun Body 100% Natural Origin Mineral Sunscreen ($32) is one of the safest bets for coral. Plus, it contains skin-softening oils from coconut and sunflower, as well as nourishing vitamin E.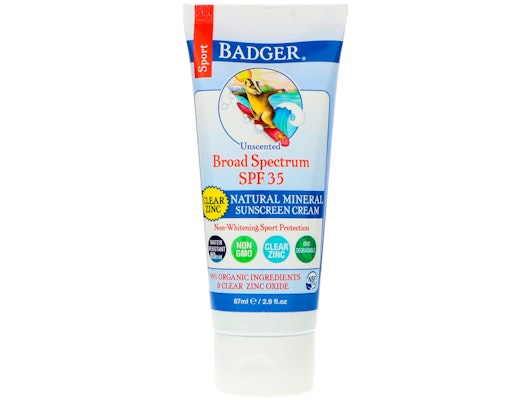 The Badger® Sport Clear Zinc Natural Mineral Sunscreen Cream SPF 35 ($16) is ideal for wearing in the water, both because it's coral-friendly and because it's specially formulated to resist water and sweat.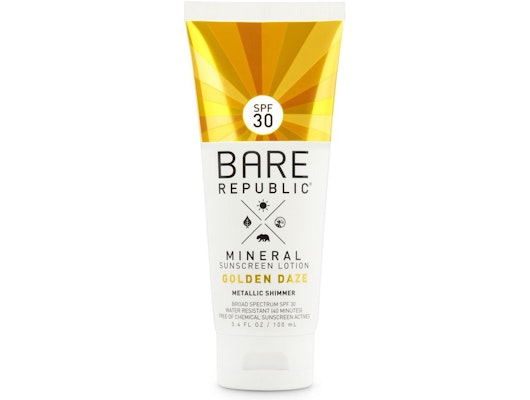 I was skeptical of the Bare Republic® Mineral Shimmering Sunscreen Lotion SPF 30 for a few reasons. First, I assumed a shimmery sunscreen would look tawdry outside the confines of a music festival. Second, I was certain that something so glitzy couldn't possibly be wholesome enough to satisfy reef-safe standards. I was totally wrong regarding both assumptions. The glimmer is flattering. The sun blockers are pure, non-nano zinc oxide. And don't worry — the shimmer comes from finely-ground mica, not (plastic) glitter.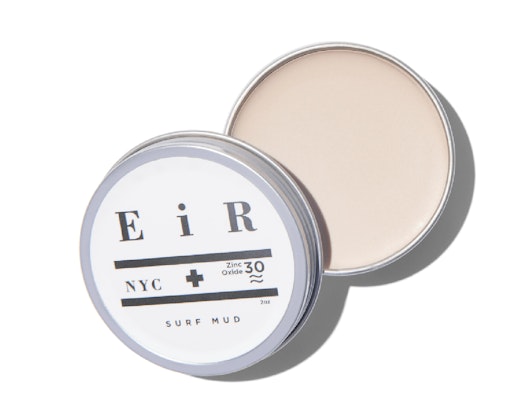 EiR® Surf MudTM ($24) might just be the coolest-looking sunscreen on the market. Tea tree and coconut oil, as well as cocoa butter soften skin, while non-nano zinc blocks out harmful UV rays.
Your dermatologist — as well as pretty much every SPF label — beg you to reapply every two hours. Brush On Block® ($25) is a dry mineral-based powder that you can swipe on without disturbing your makeup. Not to mention, it's small enough to throw in your purse.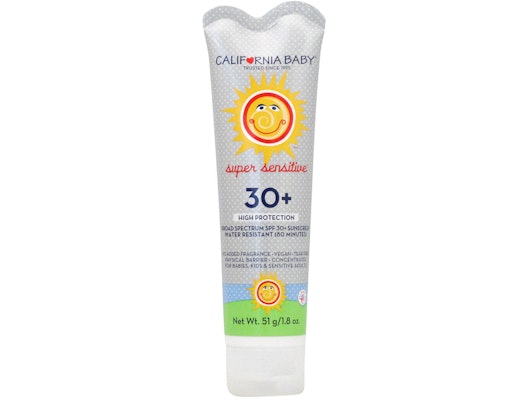 Don't let the name throw you off; California Baby® Sunscreen ($23) is a secret weapon for sensitive skin of all ages. The zinc-based formula is free from every possible skin irritant. And, because it's made for babies, the formula doesn't burn or sting the eyes.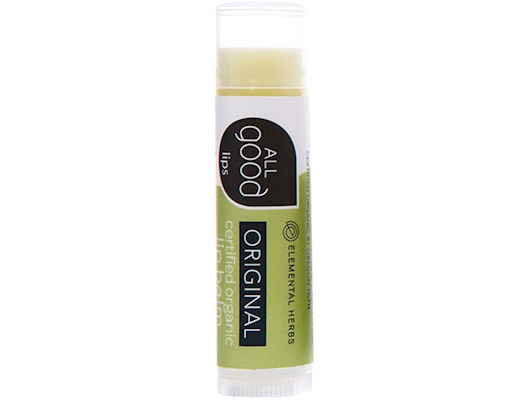 All GoodTM Lip Balm ($8) is not only reef safe and SPF-infused, but it also helps quell lip chapping, thanks to beeswax and olive oil. We're partial to the coconut flavor, which imparts a tropical twist.
Some complimentary products were provided to the author for the purpose of writing this article.
Product prices may vary from the time this article was written.
Allergan® may receive commissions for purchases made through links in this article.