I don't watch much reality TV, but there's a game I like to play whenever I do. The rules are simple: study someone's beauty look and try to guess which products they're using.
Most recently I played The Game during Top Chef®. The host, Padma Lakshmi, sports some electric makeup looks throughout the season, but it's her skin that really gets me going: At 48 years old, she's smooth and virtually poreless. A quick Google® search revealed that Lakshmi entrusts her face to a woman by the name of Christine Chin.
I'd heard rumblings of Chin's legendary facials over the past few years — mostly from editors who'd talked about "Mean Christine" with reverence and fear. The nickname is somewhat tongue-in-cheek (Chin embraces it), but not completely baseless. It was born from her notoriously ruthless extraction process, which has been known to cause some serious eye watering. Of course, it's not Chin's intention to make her clients squirm. Rather, she's not letting some discomfort stand in the way of pristine, almost-poreless skin.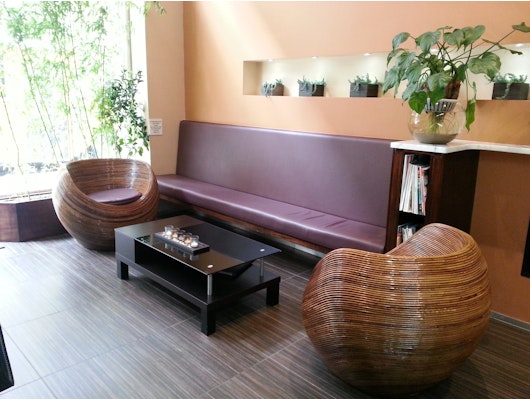 Chin's spa sits on Orchard Street in lower Manhattan, an area where you'd be more likely to find hipster coffee shops and trinket stores than a celebrity facialist's HQ. The waiting area is bright, clean, and welcoming. It's not particularly lavish, and it's certainly not pretentious. Gentle piano music tinkles throughout the space. I notice an orange-studded fruit tree in the corner, but I don't have time to confirm the type of fruit; immediately, I am whisked down a long corridor lined with frosted glass doors.
Like the lobby, my treatment room is understated, clean, and filled with the same uplifting piano sounds. It is furnished with the essentials: a large mirror, a treatment bed, and a device bearing no explanation other than CHRISTINE scrawled in Sharpie across the side. On the wall are headshots of actresses Hilary Swank and Michelle Yeoh, both signed with accolades for Chin's work.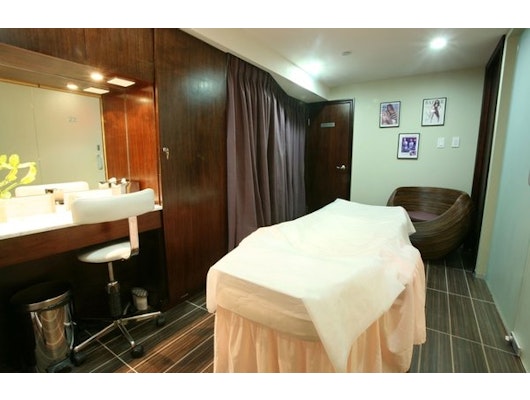 I slip on a robe and sprawl onto the bed. A soft knock on the door, and a bubbly esthetician enters, telling me she is going to prepare my face for Chin. First, she massages a gel cleanser into my skin to remove makeup and surface impurities. Then, a gentle lactic acid peel to dissolve any dead skin that might prevent Chin from getting cozy with my pores.
Shortly thereafter, Chin enters with a warm smile, and I release a breath I hadn't realized I'd been holding. She is, without a doubt, anything but mean. She is blunt, though. Tough love, if you will.
She flips on a bright light above my face, and begins inspecting my skin with the scrutiny of a jeweler. "You have the skin of a 12-year-old," she notes matter-of-factly. "But it could be better if you cleansed twice a day." As someone who tends to veer dry, I was surprised. She motions to my various facial scars, inquiring about each. She lingers on a mark from a blackhead I'd tried to self-extract. "Leave that to a professional!" she says.
"What about this one?" Chin asks, pointing to an area that I'd never considered problematic. "I don't know," I reply.
She holds a mirror to my face — the face I've been scrutinizing for the past 26 years. By golly, she's right, I think; I do have a small nick I'd never noticed. We cycle through a few more spots, most of which I can attribute to prodding and digging.
Then, Chin points to a faint mound on my left cheek — a second spot I'd genuinely never thought about. I'm still not entirely sure whether it's a mole, and neither was she.  "We can get rid of that," she says, "But first see a dermatologist to make sure it is OK."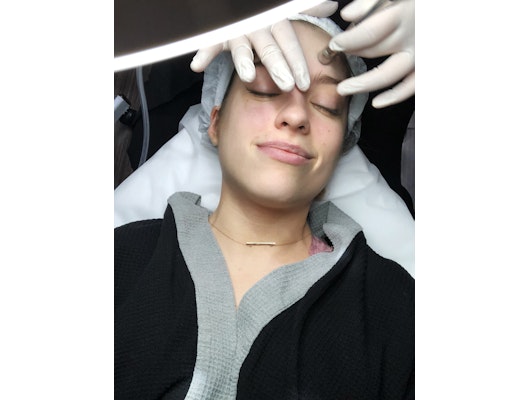 After my skin assessment, Chin launches into microdermabrasion — an abrasive-tipped wand that gently sloughs away dull, dead skin. (It's scratchy, satisfying, and leaves me smoother than the day I was born.) Typically, I close my eyes and drift off into semi-consciousness during microderm. But Chin is lively, chatting about things that are far too interesting to tune out. l ask about lip filler (Chin shares that she recently tried it), self-tanner (she says I would look better without it,) and anonymous client stories that could be straight from an episode of Dr. Pimple Popper's® TV show.
Suddenly, I feel a sharp, concentrated stab, followed by kneading, pinching, and a final squeeze. "You're lucky — you don't have many," Chin says as she excisizes pores after pore. "Many people have many more — especially those who don't get facials."
In addition to deep cleaning pores with traditional extraction methods, Chin is also known to sear skin tags, remove facial "fungus," and dig out what she calls "donuts" — raised bumps that result from improperly-popped blemishes. Luckily, I do not have any of these afflictions — though I do have some stray brow hairs, she tells me offhandedly.
The pore purging takes around 15 minutes. In retrospect, I wonder whether Chin's gregarious nature was a pain distraction technique in disguise. Regardless, I enjoyed our chat, and the discomfort was totally tolerable. (Full disclosure: I did pop an anticipatory ibuprofen prior to the appointment.)
After the pore purging is complete, Chin bids me adieu, and my bubbly esthetician returns. It is time for the final step: the Green Tea Mask. "It feels very soothing after the extractions," she explains as she drapes a viscous, rubbery goo over my face. The texture and green hue make me think of Flubber — but unlike Flubber (or at least I assume, having never met Flubber) this mask feels delightfully crisp, like the cool side of the pillow on a balmy night. Plus, green tea boasts anti-inflammatory properties, which makes the whole experience extra-delightful for inflamed skin.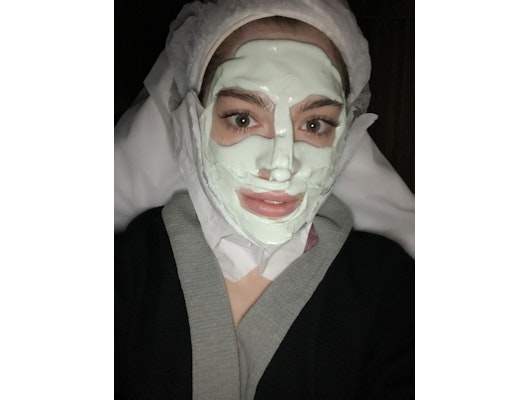 Somehow, the green tea mask manages to remain cool for an entire 10 minutes while it's clinging to my face. Then, the esthetician removes the mask in one single piece. When I ask where I can purchase this rubber mask, she says that it's available exclusively during treatment.
As with any good facial, this one ends with moisturizer and sunscreen. I step out into the city street and catch a glimpse of my skin in a passing mirror. Like the mirror, my skin seems to have transformed into a smooth, reflective surface.
However, the illusion fades when I return to the indoor lighting of my apartment. I notice a few red spots the size of pinpricks, presumably from where Chin had performed particularly intense extractions. Over the next day or two, those spots became scabs — and I grow, admittedly, dubious — but I resist the urge to pick them off. Instead, I follow Chin's instructions to cleanse twice per day and to leave picking and popping to the professionals.
On the third or fourth day, I wake up a believer.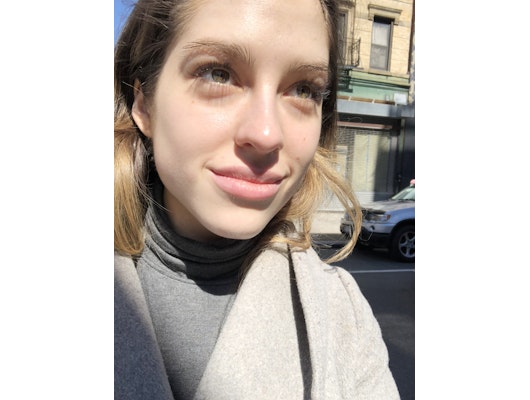 When I say my skin has never looked better than it did that day, I am by no means exaggerating. For the first time in my life, my face had an almost translucent quality — the kind of clarity I'd been trying to achieve ever since I learned about the Korean "glass skin" trend. As if by magic, the small post-extraction scabs had fallen away to reveal an unprecedented appearance of porelessness. Of course, pores can't actually disappear, but Chin had removed any sort of junk that had been exaggerating their size.
A few weeks have passed, and I'm already antsy to return to Chin's spa. It won't be breezy booking a visit, though. As you can imagine, her schedule is jam-packed (with A-listers, I'm sure). And, at $350 a pop, I might have to limit my cold brew consumption: Turns out, TV-ready skin comes at a price, but it might just be one I'm willing to save up for.
Sophie Wirt is a SpotlyteTM by Allergan® employee.
Complimentary service was provided to the author for the purpose of writing this article.
Price may vary from the time this article was written.