Long gone are the days when I considered sunbaked skin a gold trophy to flaunt after returning from a vacation. Heck, I'm even wary of freckles — not because of how they look (admittedly, I feel more attractive with bronzed skin and flecks across my nose), but because tanning is the visual manifestation of sun damage. (In case you missed it: UV exposure can be linked to a range of skin issues, including wrinkles, sagging, age spots, and skin cancers.)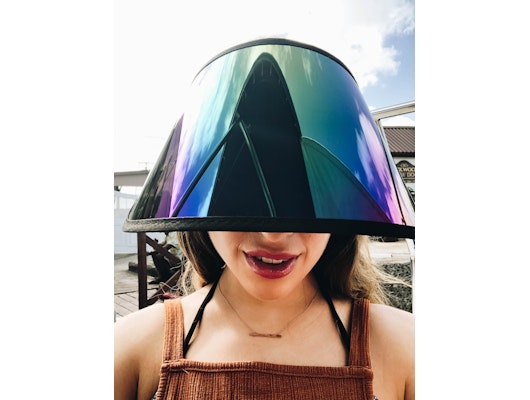 Courtesy of Sophie Wirt
So when I decided to spend the waning days of December 2018 on a beach in Barbados, I panicked for my skin's sake. Of course, there would be shade and sunscreen (personally, I adore the milky, dewy consistency of Lancer® Sheer Fluid Sun Shield Broad Spectrum SPF 30, $55). But as someone whose mother throws cardigans over her face when she exits the car on a sunny day, I've been conditioned to believe that I'm never protected enough. Imagine my surprise and delight when I discovered a literal sunshield, designed for the sole purpose of thwarting those UV rays.
I first read about the Bluestone® Sunshield® ($36) in an October 2018 SpotlyteTM interview with Beverly Hills plastic surgeon, Sheila Nazarian. In it, the doctor professes that the visor is her go-to accessory for extended sun exposure — and a fun selfie. Immediately enthralled, I scoured Bluestone's Instagram®, where I discovered that, in addition to beauties like Nazarian, celebrities have sported them, too. This discovery happened during a dreary New York city autumn; naturally, the high-intensity sun visor fell from top of mind. Until — very serendipitously — I received one as a gift a few days before I left for vacation.
Bluestone founder Jen Podany was inspired to create the UV-filtering accessory after working in dermatologists' offices in sunny Studio City CA, particularly with post-Fraxel® patients. Many patients are often self-conscious to show their faces after laser, she explains. "Immediately after [laser] treatment, there is redness, swelling, and possible bleeding," she says. "It's also incredibly important to avoid the sun while you are healing."
Podany recalls digging up a floppy fisherman-like hat out of a back room for one particularly concerned patient. "This [incident] sparked the idea that we needed a fashionable solution available in the doctor's office," she says. "Here we were, one of the top offices — many times we had paparazzi outside — so we couldn't have our patients leaving looking like fishermen!"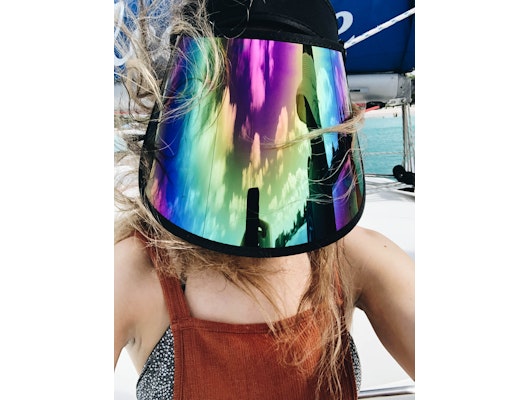 Courtesy of Sophie Wirt
Instead, you'll look more like a galactic superhero. The curved visor has a subtle holographic sheen with colors reminiscent of an oil slick. Prepare to field questions about your attire (one middle-aged man jokingly asked if I was a welder) when wearing it. Mostly, though, I found myself answering excited queries via my Instagram.
"Each Sunshield has a liquid UV coating applied to it, which gives it the blocking ability," Podany explains. "It's a common process and the same one that you would use on UV protective sunglasses." The visor's design is adjustable, so if you'd prefer to show your face, you can wear it like a long-billed visor. Podany notes that this capability allows you to adjust the hat depending on where the sun is. "If you are walking outside and the sun is directly overhead, you can wear it up [more like a traditional hat], but if you're driving and the sun is in front of you it would be better to wear it in the down position."
It's worth noting that the visor isn't necessarily a replacement for SPF.  Rather, when you pair the sunshield with a facial sunscreen, that's when you've hit sun protection gold. But don't take my word for it — sneak a peek at my freckle-free face.
Product was gifted to the author for the purpose of writing this article. Price may vary from the time this article was written.
Dr. Sheila Nazarian is a paid Allergan® consultant.