In this series, Top 11TM, influential people share 11 ways they take care of themselves including beauty, skincare, and aesthetics. Knowledge is power!
Jin Soon Choi — editorial manicurist, salon owner, and creator of an eponymous lacquer line — may have nails to thank for her accomplishments, but it was a love of skincare that first attracted her to the beauty world. A South Korean native, Choi grew up frequenting bath houses and learning the importance of basic skincare (cleansing, toning, and moisturizing) from the time she was a schoolgirl.   
"My first introduction to beauty came from my mom," says Choi, explaining her earliest skincare memory: learning to care for her hands. "We played outside a lot, so our hands got very dry and cracked. We would soak them in hot, hot water, and use pumice stones on the calluses. Thick cream like Vaseline® and Tiger Balm® are popular in Korea. We'd put them on and wear gloves overnight."
Perhaps the early introduction to hand care seeped into her subconscious, paving the way for a successful career in the nail industry. In 1991, she relocated to New York at age 28 in search of work. "I didn't know anything about nails because in Korea, nails were not that big at the time," she recalls. "When I came here, I didn't have many job choices. I liked the idea that I could sit down and do nails, and I could also talk to clients and learn English. It was considered to be a skilled job."
Clients soon caught on to Choi's attention for detail and eye for color, and it wasn't long before her services were in high demand. Today, she owns four New York-based nail and foot spas, holds court as  a backstage fixture at New York Fashion Week, creates seasonal launches and artistic collaborations for her JINsoon® nail polish line, and is a sought-after editorial manicurist. As a result, her jam-packed schedule leaves Choi little freedom to hit the Korean bath houses these days. She does, however, make time for implementing the skincare routine she learned during her youth. "I didn't realize it when I was younger, but now I notice [from practicing good skincare] I don't have a lot of wrinkles on my face. It worked."
Choi has a strong lineup of anti-agers in her arsenal. "I see a dermatologist once a year for a regular checkup, but I'm not really into getting treatments. I used to get facials, but now I don't have time, so I do it at home with products." Read on for the 11 items Choi swears by to look youthful and radiant from head to toe:
Drunk Elephant® C-Firma® Vitamin C Day Serum ($80): "Every morning, I wash my face, and then I apply this serum. It isn't greasy and absorbs quickly. It goes on smooth and feels super soft. It never disappoints me."
JINsoon Nail Polish in DottyTM ($18): "This confetti nail polish is like a festival on your nails. I like that it can be worn over any nail polish color or alone, providing the look of nail art without actually creating nail art. And, like all JINsoon nail polish, it is 10-free, yet extremely long lasting."
Farmacy Beauty® Honeymoon Glow® Serum ($58): "This is my new go-to nighttime treatment. When I open the bottle, I smell a honey scent that is so delightful, I just know my skin is absorbing lots of nutrition. I also notice a bit of a tingling sensation when applying it and it feels very active as if I got a facial, but without the effort. The result is phenomenal — my skin immediately feels softer."
SK-II® LXP® Ultimate Revival Eye CreamTM ($195): "Since I was young, I have religiously used eye cream — not only in the eye area, but on my forehead and on the sides of my mouth, where we tend to get wrinkles first. These days I need a heavy-duty formula and this one has a thick texture, without feeling greasy.  The moisture lasts all day and I feel tightness around my eye area without any drying effect."
JINsoon Nail Polish in PixieTM ($18): "JINsoon Pixie provides healthy looking nails, as though you were applying blush on your face. It can be used like a base coat and a nail color at once. It is a good sheer for a well-maintained nail look. I often use this on high-fashion campaigns."
NARS® Cosmetics Lip Gloss in AragónTM ($24): "I'm not much of a makeup person, but for special occasions like events, fashion week, and meetings, I wear lip gloss. Nars Aragón gives me the lip color contrast without overdoing it. It's the exact amount of makeup I need."
Laneige BB Cushion® Hydra Radiance SPF 50 ($38): "I'm generally not into using foundation or heavy coverage on my face, although I need it. I used to use a BB cream because it was like face lotion with a hint of tint, but when I discovered BB Cushion Hydra Radiance, it became my go-to for special occasions. Because of the cushion, it's super easy to use — I dab it on my face evenly without having any product on my fingers and it works magic. I love the natural-looking coverage."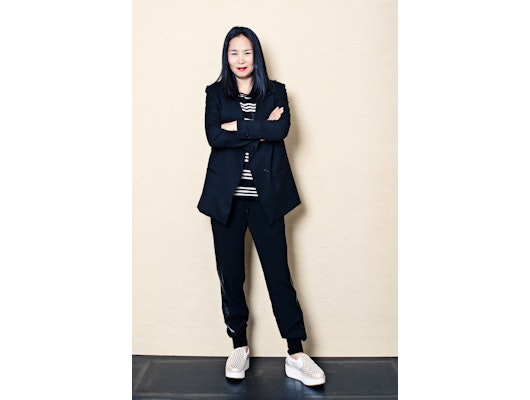 JINsoon Diamond Nail File($32): "This exquisite, diamond-faced file shapes nails without causing any tears and has lifelong durability. After each use, I clean the file with soap and water using a soft-bristled brush, then rinse it under water. It's indestructible and can even be sterilized with chemicals or in a medical grade autoclave machine without diminishing its longevity."
Diptyque® Eau Rose Hand Cream ($38): "I have been using this lotion on shoots for a long time, and every single time I use it, people ask me what it is. It is perfect for day-time use because it's light, yet super moisturizing, and has a heavenly scent."
Uncle Bud's® Hemp Body Wash ($14): "This body wash is my newest skincare item and I was very impressed by how well it works. With just a small amount, it foams up, and makes my skin very silky.  Even after I towel dry my body, I hardly need a lotion, but I also don't feel any greasy residue, either."
Bumble and Bumble® Hairdresser's Invisible Oil Conditioner ($34): "I'm a very low-maintenance person when it comes to my own beauty. I never even use a hair dryer. When I tried this conditioner for the first time, I felt like I had my hair professionally blow-dried. For me, conditioner is more important than shampoo because it tames my hair, which tends to get frizzy, and this conditioner most certainly does the trick."
Product prices may vary from the time this article was written.
Allergan® may receive commissions for purchases made through links in this article.