Anyone who has ever had a social media account knows how easy it is to fall into the trap of "the highlight reel." No matter how authentic you intend to be to your followers (even if they're just your immediate family and friends), somehow, you can slip into an alternate persona that portrays a façade of your best and most magical life. 
Yet, despite the whimsical name of her lifestyle site, Cupcakes and Cashmere®, Emily Schuman is not about showing off a highlight reel. Yes, the 36-year-old native Californian — a powerful businesswoman, wife, and mom to four-year-old daughter, Sloan — shares her victories and happiness. This includes her launch of a clothing and shoe line and a thriving blog and eCommerce site. She's also sincere and vulnerable, revealing her lifelong struggle with anxiety — as well as how Sloan also grapples with it — and techniques for how she copes. It's undoubtedly that integrity that has earned her a deeply loyal Instagram® following of over 479,000 fans.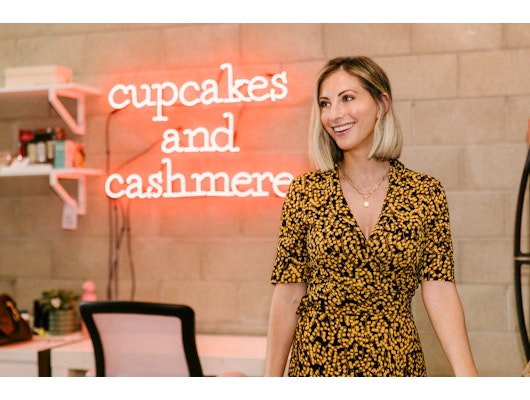 Christopher Brown Photography
Schuman started blogging in 2008 because she yearned to write about things that inspired her — and she found that all lifestyle topics inspired her. "At the time, most blogs focused on one thing: fashion, food, beauty," she says. "Overall lifestyle sites weren't really something people did back then. But I knew that if I took too narrow of an approach, I'd get bored really quickly." She started with fashion and food (which prompted that whimsical site name), and expanded from there.
She was working full-time at AOL® in sales then, an experience which she calls "challenging, but also enlightening," as she would come home from work at 6 p.m. to write from 7 to 10 p.m. "It proved to me that no matter how tired I was, if [I'm] passionate about what [I'm] working on, it really doesn't matter," she says. By 2010, she was selling enough banner ads on the blog that she'd matched her AOL salary, and took a voluntary layoff package to run the site full-time.
Today, Cupcakes and Cashmere is a family business, with both Schuman and her husband Geoffrey Fuller (a former client of hers!) at the helm. Many might find working with their spouse daunting, but not Schuman. "I've been nervous about a lot of aspects of running a business, especially since making money was never even the goal when I first started Cupcakes and Cashmere, but working with my husband was never one of them," she explains. 
While hard work goes into keeping Schuman's brand afloat, the duo also makes time for their relationship. Schuman notes that consistent date nights are key, as is creating boundaries. "Even though you may want to discuss a business deal in bed at 7 a.m., don't," she warned. "Things can always wait until you're sitting at your desk and [it helps] create very necessary segmentations between your work and personal life."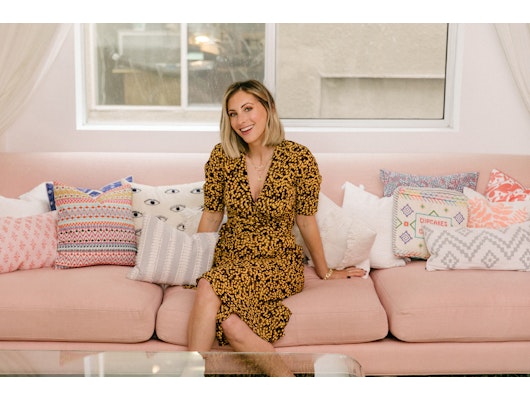 Christopher Brown Photography
Schuman admits that balancing her professional and personal lives can get tricky in her line of work, but that's just another aspect of her life that she stays honest about. Keep reading to discover how else Schuman keeps it real, from how she takes care of her skin and the evolution of her eyebrows to her struggles with anxiety.
Spotlyte: What is the most rewarding part of your job?
Emily Schuman: Feeling like we're positively impacting other people is easily the most rewarding. [Messages] that stand out to me the most are from readers who have gone through something difficult — whether it's a death in the family, or a breakup, or losing a job — and find that the content that I put out is inspiring, uplifting, and helps them get through tougher times.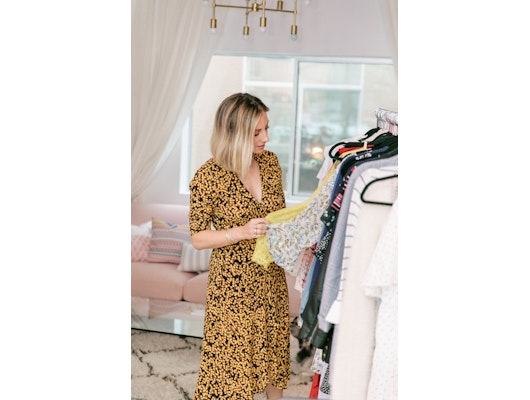 Christopher Brown Photography
Spotlyte: And what's the most challenging part?
ES: The most challenging thing is that I'm always kind of "on," which can be draining. With the uptick in social media and the idea that we should almost always be creating these 24-hour documentaries of our lives, it's hard to feel like we can ever truly shut off. 
Spotlyte: Are you ever able to fully be off and unplug? How do you do it?
ES: Yes, there are definitely times where I'm off, namely when I'm with my family. It's important to have that separation, just so that I feel fully present with them and not distracted. The main thing is just not having my phone accessible — I find myself just mindlessly grabbing it, scrolling through without even really thinking. And while a lot of my work is so closely tied into it, and I do need to have it accessible, it's also very important for me to just not have it in the room so that I'm not even tempted. And that helps me stay present and create very strong boundaries.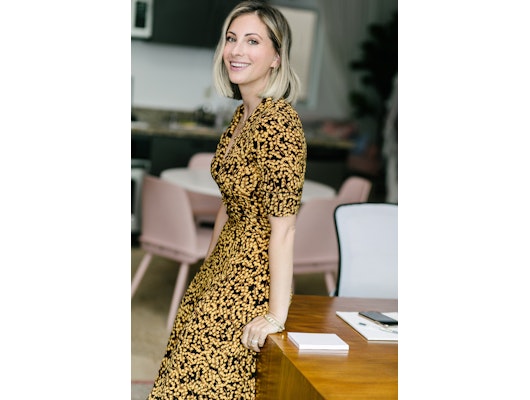 Christopher Brown Photography
Spotlyte: What misconceptions do you think people have about your job?
ES: That it's all just fun. I am beyond lucky to get to do what I do for a living. Whether I'm designing clothes and shoes, curating an online shop filled with my favorite finds, or writing and photographing things I love, it's easy for people to look at what I do and assume it's all glamorous and fun. It's a lot of hard work and part of my job is to make things look inspirational and effortless, even though that's far from reality some days. 
Spotlyte: What are we not seeing from the outside?
ES: [All that goes into] managing a team and making decisions that impact other people beyond just myself. And making sure that every decision that I make is benefiting the brand and staying true to what I've created. One of the more challenging parts of my job is that I am wearing so many hats between running our editorial team, managing my social ads, designing a clothing line and shoe line, and other projects in the works. 
Spotlyte: Moving on to beauty, how has your skincare routine evolved since becoming a mom?
ES: Honestly, it hasn't changed much.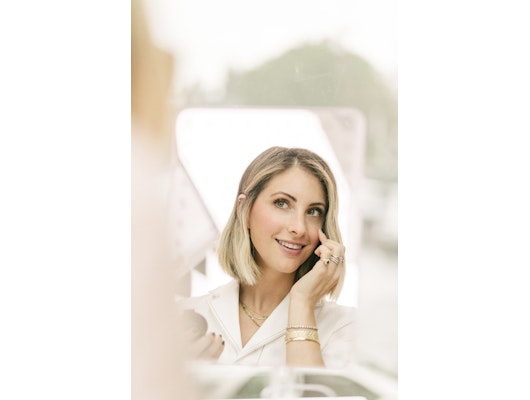 Christopher Brown Photography
Spotlyte: Really? That's fairly unusual.
ES: You know, beyond skincare, I've tried to kind of maintain a lot of aspects of my life that were the same before giving birth. That's something that I'm really fortunate to be able to do, because I have a husband that's extraordinarily involved. We really split the child care aspect 50-50. I also have an incredible nanny, and there are certainly benefits to that. I've made sure to maintain everything from my skincare routine to my friendships, and then still spend time with my husband alone. Beauty is the same way. 
Spotlyte: How do you stick to it so closely?
ES: It was very important that I maintain that part of my identity. Now that my daughter is four and a half, it's pretty easy. My skincare routine has never been that extensive, so [not doing it] is something that I didn't even consider. Obviously, in the first few weeks and months when she was born, I wasn't as dedicated, because you just don't know which way is up. But, yeah, it's just kind of something that I've always wanted to maintain. I actually pay even more attention to [skincare] now that I'm in my mid-thirties, as opposed to when I was in my twenties.  
Spotlyte: How so?
ES: I didn't have a skincare routine in my twenties. It wasn't really until I turned 30 that I started getting very specific about things, [including] making sure that I wash my face every single night. I used to be able to get away with not washing my face before bed, and I would go to bed with makeup on. Just because I didn't get a breakout didn't mean that was the best way to be taking care of my skin. 
So, that's really changed in the sense that I'll never ever go to bed — no matter how stressed I am — without washing my face and then putting on serum, moisturizer, [and] eye cream. And sunscreen! Not only did I go out without sunscreen, I also would go into the sun and hang out and tan. Those are the main things, and then just having a routine. I didn't have any products that I would use consistently.
Spotlyte: How did you get started with a routine?
ES: Reading about it, talking to friends, and seeing what other people were doing. There was a girl that I knew who I thought had great skin, I would ask her questions. It's a really valuable resource to just ask other girls you know, and then to have people you look to online that have great skin and take their advice. Then, start and experiment and see what works for you, and adjust as necessary.
Spotlyte: What skincare products are you loving right now?
ES: Caudalie® VinoperfectTM Radiance Serum ($79): In the morning, this is the first thing that goes on my skin. It makes it look luminescent and glowy and acts as a base for the rest of my skincare/makeup.
Origins® Clear Improvement® Charcoal Mask ($26): The best mask for when my skin is breaking out. Typically, it's once a month, around the time of my period, and for the most part, my breakouts are around my chin. In an ideal world, I'm noticing that a breakout is imminent — before it actually happens — and that's when I do the mask. A lot of parenthood is multitasking. When I'm giving my daughter a bath at night, that's my ideal time for putting on a mask, because especially at this age she's pretty self-sufficient. I fill up the tub, and I'm there with her the entire time, but I don't have to be holding her above water or anything. While she's in there playing is an ideal time for me to wash my face, take off makeup, and apply a mask, and then have it on, sitting there hanging out with her. 
Goop® Exfoliating Instant Facial ($125): This is part exfoliator, part resurfacing facial and makes my skin immediately more vibrant. I use it probably two to three times a week. Anytime I look in the mirror and see that my skin is just looking a little bit dull and drab, I use it. I find it sloughs off some dead skin, and leaves it looking refreshed and dewy. 
Vintner's Daughter® Active Botanical Serum ($185): It smells divine — it just kind of glides onto your skin in a way that just makes it instantly moisturized, and then I will layer things on. It's pretty heavy — once I put that on, I try to wait a couple of minutes before then applying my moisturizer. Because my skin tends to be dryer, I find that layering works really nicely. 
Eve Lom® Radiance Antioxidant Eye Cream ($75): My go-to eye cream to help my under-eye circles, fine lines, and overall brightness.
Spotlyte: Have you tried any professional skin treatments, such as chemical peels or laser facials?
ES: I actually haven't! I'm certainly curious about all of them and am looking forward to researching more to find out what makes the most sense for me and my needs.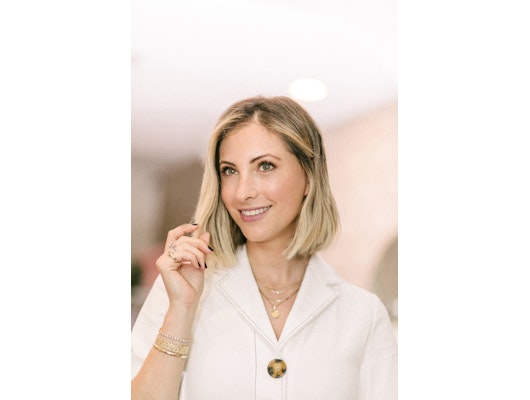 Christopher Brown Photography
Spotlyte: We saw you posted on Instagram about injectables. What kind of feedback did you get from your followers? Were they interested?
ES: They were very interested. It was really important to be open about it, because I think a lot of women aren't honest about it. There is a pretty wide divide between people who want to do it, people who are open to it, and people who are against it and judgemental about it. 
I think people really appreciated being able to have a forum for this honesty, and it was also really refreshing to see how many women came forward and said, "Look, I do injectables." Or, "I don't do injectables," and that they felt like they could share their experiences.
---quiz start 
---quiz end
[Editor's note: Injectable wrinkle reducers temporarily smooth the look of moderate to severe wrinkles in certain areas of the face, including the forehead, frown lines, and crow's feet. Injectable filler is a temporary treatment that adds volume to areas of the face such as the lips, cheeks, and laugh lines. Like any medical treatment, both injectable wrinkle reducers and injectable fillers have potential risks and side effects. Talk to a licensed provider to see if they're right for you. And learn more now by chatting with a trained aesthetic specialist now.] 
---quiz start
---quiz end
Spotlyte: What is your stance on cosmetic injectables?
ES: It's not for me, at least right now. If there's ever a shift in which I look in the mirror and every single time see something (or things, plural!) that [I'd like to address], I'm open to looking into subtle ways to fix them. 
Ultimately, if it is something that you want to do or not, we should have a judgment-free zone. Everyone does what feels best to them. Even if it doesn't feel like it's right for you, if [the results are] making someone happy, then you know, I'm all for it.
---quiz start
---quiz end
Spotlyte: How do you plan on deciding what more advanced treatments you might try in the future, whether it's injectables or skincare?
ES: You know, my mom is a huge inspiration for me in the sense that she's never done anything to her face and she exercises regularly [and] eats well. But, we're also not the same person. If I ever get to a time when I look in the mirror and am just really not pleased with something that could potentially be [treated], it's something I will explore when I get there. But, for the most part, it's important to take it day by day. Never say never to anything. But right now, it's not the right thing for me.
Christopher Brown Photography
Spotlyte: Your hair color is flawless. Who do you see for your blonde, and what tips do you have for keeping it so bright?
ES: Thanks! I see Stephen Garrison for my color and my biggest tip for keeping it bright is to not overwash it! I wash it more out of necessity, usually every five to seven days, depending on the time of year, and how active I'm being. Clearly, not that active if I wash it that infrequently. 
Spotlyte: What kind of shampoo are you relying on? Any dry shampoo?
ES: I use Oribe® [shampoo and conditioner] for color-treated hair. It leaves my hair looking shiny and healthy, and I also love the smell. I love Oribe and R+Co® dry shampoo. 
Spotlyte: Any styling tips for when it's especially dirty between washes?
ES: Embrace the top knot.
Spotlyte: How would you say beauty trends have shifted since you were a teen? Are there any trends you tried that you look back on and cringe?
ES: Less matte makeup, more dewiness. Less super glossy lips, more pigmented colors. But, honestly, the biggest thing is eyebrows. They were thin and surprised back then, and now the look is meant to be overgrown and imperfect. If only I hadn't overplucked for so long! 
Spotlyte: What do you hope to teach your daughter about beauty (internal or external)?
ES: The most important thing is that she knows how beautiful she is, with or without makeup. That beauty comes from within and being a nice, confident person are her best attributes. But I also look forward to listening to her, hearing her complaints, and seeing how I can help. I was so self-conscious of my bushy eyebrows in the '90s and wish my mom had either helped me tweeze them or taken me to get them waxed by a professional since simply telling a teenager not to touch them doesn't work.
 The same thing went for shaving my legs in seventh grade — all of my friends were shaving their legs. And it was like, "Mom, I feel like a werewolf, I want to shave my legs." And she said, "No, you're blonde, no one can see it." In an ideal world, we're raising children that will be confident at any given moment, but it's not like the reality. Especially with slightly awkward preteens and teenagers. Just having open and honest conversations and not saying anything is off limits [is important]. I hope my daughter sees me as a resource and not just someone who's going to be telling her, "No, you can't do this."
Spotlyte: When do you feel your most beautiful?
ES: On vacation with my family, preferably somewhere warm by the ocean. Sun-kissed skin, air-dried hair, flowy dresses.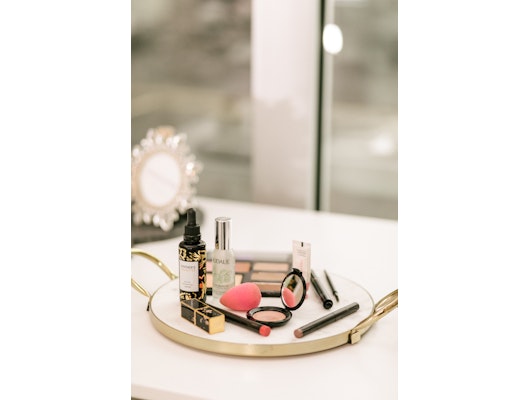 Christopher Brown Photography
Spotlyte: Moving onto beauty, what are your everyday makeup must-haves?
ES: Laura Mercier® VelourTM Extreme Matte Lipstick ($28): These ultra-pigmented colors are incredible (CliqueTM, FabTM, CoolTM, and FireTM are some of my faves) and they last all day long. 
Kevyn Aucoin Glass Glow FaceTM ($32): I just discovered this product and love it. It's like a highlighter, but creates even more of a dewy finish. I apply it to my cheekbones, down the bridge of my nose, and on the inner corners of my eyes to make everything pop.
NARS® Cosmetics Brow Perfector ($24): This eyebrow pencil glides on seamlessly and the tip is so thin that it lets you mimic the look of actual hairs. 
Clé de Peau Beauté® Radiant Corrector ($65): This is meant to be an undereye concealer, but since it offers the perfect amount of coverage with brightening agents, I actually use it all over my face.
ILIA® Limitless LashTM Mascara ($28):  A clean mascara that makes my eyelashes look defined, long, and jet black — yes, please!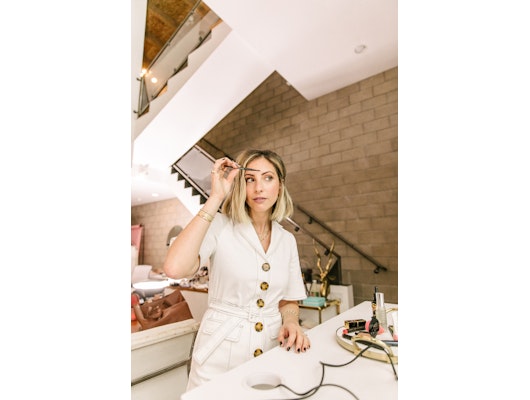 Christopher Brown Photography
Spotlyte: As a busy entrepreneur and mom, you have limited time for self-care. What's the one thing you do when you want to treat yourself?
ES: I go get a 30-minute massage at a nearby nail salon. I actually like my nails best when I do them myself, but I found someone there who gives the best neck/shoulder massages, so I try to go to him a few times a month. 
Spotlyte: Do you get facials?
ES: I used to pretty regularly but, in all honesty, I make going to therapy a bit more of a priority these days. I have an incredible therapist that I go to once a week. It costs a lot of money, and I would rather put that towards my mental health, rather than just my skincare. I'm a lot more indulgent with the products that I use at home, just because I don't see anyone regularly anymore for facials. So, if I have a great face mask, or if I'm using a really nice lotion, I feel good about doing that, just because I'm no longer taking care of my skin the way that I used to.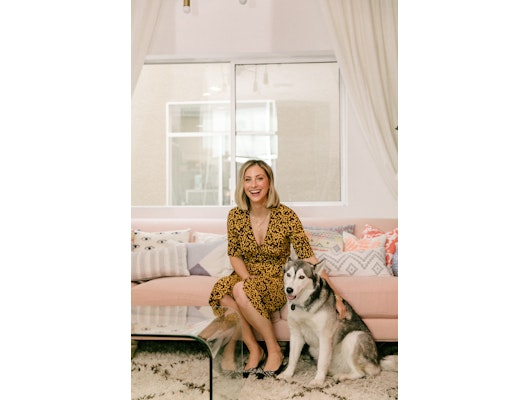 Christopher Brown Photography
Spotlyte: You're very open about your journey with mental health and anxiety. Why is that honesty important to you?
ES: There's an unrealistic expectation that women — particularly those who are balancing careers and motherhood — should balance it all. And while I'm constantly in awe of just how much women are able to take on (and do so with grace), I think it's important to share the struggles that are often ignored in the realm of social media. We shouldn't perpetuate the idea that we lead these flawless lives that are void of any issues, since it isn't the truth. I've dealt with anxiety since I was my daughter's age and being open about it not only feels liberating, but it also helps destigmatize the taboo of discussing mental health. 
Spotlyte: You've shared that your daughter has anxiety as well, and that you've felt guilty about passing it on to her. Can you tell me a little more about that?
ES: I really try to shift my perspective instead from feeling overwhelmed with guilt. I try to think of myself as her best advocate, and I have so many tools that I'm then able to share with her. And, how lucky for her, that I'm able to recognize that there are signs of anxiety within her that have been apparent pretty much since she was born. I can really help her in her journey towards being herself — you know, more confident and self assured — and, it's just about understanding what she's going through and helping her talk through those things.
Spotlyte: How do you help someone so young understand and manage their anxiety?
ES: At four years old, I don't speak to her the same way that my therapist speaks to me, but I can ask her things that she understands. To say, "You sound a little anxious," in the same way that we've really helped her identify a lot of her emotions when she's feeling sad, angry, or frustrated. We try to encourage her to talk about her emotions and not just have a temper tantrum. I help find those words. So, she'll say things to me, like, "Mommy, I'm feeling worried." Or, "I feel anxious." And I'll say, "Where do you feel it? Where in your body?" Like, "Do you feel it in your tummy? Do you feel it in your chest?" That kind of thing. 
Spotlyte: So then how do you help?
ES: There are apps that I use, like Headspace® or CalmTM, and they have [meditations] that are for kids. They're three minutes long, and she actually requests [to listen to] them now before bed. And so, she'll say, "I want Andy from Headspace," and [the recording will say], "Relax your toes, relax your ankles." She understands that, and now sometimes when I see her getting really upset about something, I watch her take a few deep breaths. It's something I take so much pride in — the fact that we've been able to identify that she's that anxious. I think all kids are, but it doesn't have this stigma attached to it. That we're able to say, "Oh, let us help, and here are some tools."
Spotlyte: It's amazing that she can identify it so easily at such a young age. Very impressed.
ES: You and me both. And it took me years to even understand that I had an anxiety disorder, if you can even call it that, yet it was always there. I just always thought there was something wrong with me. I couldn't make it to sleepovers with friends — I'd get too anxious and have to come home, and it just wasn't discussed. So, it's good to be open about things, and just share that it's okay to feel those things and the ways in which we can help.
Spotlyte: If you could tell readers with anxiety one thing, what would it be?
ES: Don't try to fight it. One of the biggest lessons I've learned is to acknowledge and accept anxiety when you notice it, instead of just fighting. I used to panic when I'd recognize that I was feeling anxious, which only perpetuated how intense the situation became. Now I take a deep breath and acknowledge it and try to let it flow through me instead of resisting it. Though it seems a little contradictory, it actually helps me regain my composure, since I'm not purely focused on pushing past it.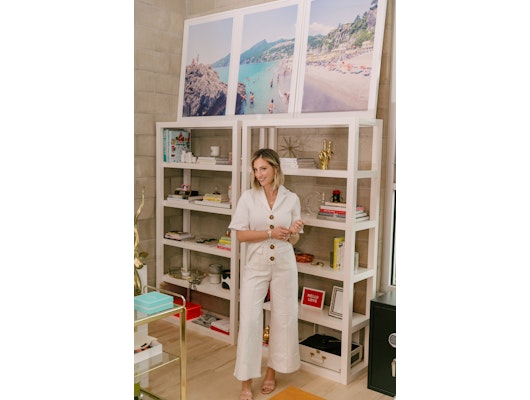 Christopher Brown Photography
Emily Schuman is a paid Allergan® ambassador.
Product prices may vary from the time this article was written. 
Allergan may receive commissions for purchases made through links in this article.