They were the braids of the century. Forget what we saw on Game of Thrones® or even the spectacular "LemonadeTM" video. When social media high priestess Kim Kardashian West posted herself with a pair of double French braids shortly after the birth of her second child, the look went viral, and so did the name that created them: Justine Marjan.
The Kardashian Effect ripples far and wide, with an extra active wave in the beauty arm of it. Makeup artist Mario Dedivanovic and hairstylist Jen Atkin led the way, of course, and now acolytes like Marjan have gained their own place in the limelight.
Marjan's story is as winding as those aforementioned braids. Growing up near Santa Barbara, her interest in hair wasn't much more impassioned than those of her classmates, but her styling skills were recognized early. She braided her younger sisters' hair for cheerleading competitions, did friends' hair for school dances, then eventually built a modest business out of braiding hair for 20 bucks a pop at the town beach.
After graduating high school, she landed a job as a receptionist at a local salon, working her way to assisting while simultaneously going to beauty school. She honed her craft at the Santa Barbara salon for eight years, then made the leap to Los Angeles, where she assisted Kristin Ess and Atkin, who also made her editorial director and in charge of social media for her new site, Mane AddictsTM.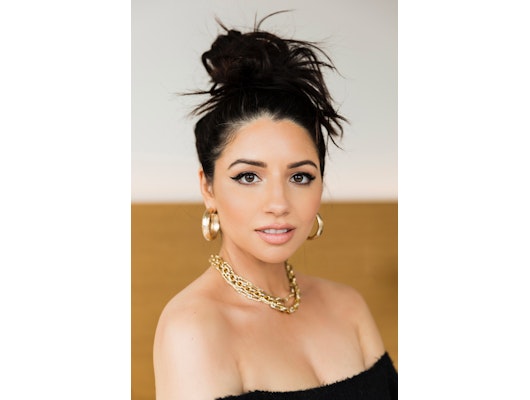 Photo credit: Daniel Kolomiyets
Indeed, Marjan is a social media natural, sharing her creations effortlessly and beautifully, and brands have taken notice. She serves as ambassadors for OLLY®, ghd®, TRESemme®, The Hollywood Silk Solution®, and Hidden Crown®, to name a few. Last November, she dipped into product creation, launching her own range of trendy hair accessories with Kitsch®.
Of course, she's also a media darling. Her work has been seen in InStyle®, AllureTM, and ELLE®, and has served as a judge for the beauty awards of both GlamourTM and The Zoe Report®. Refinery29® dubbed her "The Queen of Braids," and in 2017, WWD® named Marjan as one of fashion's next big hairstylists. Currently, Marjan can be seen on Bravo'sTM Project Runway®, where, as lead hairstylist, her affable, professional guidance is appreciated by the aspiring designers. Oh, and she is still a celebrity favorite, working regularly with Olivia Culpo, Ashley Graham, and Kerry Washington (as well as the Kardashians). Here, Marjan takes a few minutes out of her hectic schedule to share her beauty favorites with SpotlyteTM.
Spotlyte: Have you always been into hair?
Justine Marjan: I've always loved beauty, art, and fashion. I always wanted everything around me to be beautiful. My childhood drawing books were filled with outfit combos and I would beg my sister to let me braid her hair. In high school, I braided everyone's hair on the bus, did everyone's hair for our high school dances, and eventually started charging $20 for braids on the beach in the summer. I also started experimenting with cutting and coloring in high school. That led to an assistant position at a hair salon, which was also when I went to beauty school. 
Spotlyte: How did you break into the business?
JM: After working in a salon for eight years in my hometown, I realized I didn't want to be a salon stylist. I was always inspired by hair on the runway, in magazines, and on the red carpet, so I moved to L.A. and started assisting people who were doing just that! Eventually, I became a good assistant, and I started getting referred to jobs. My business grew through word of mouth. 
Spotlyte: What do you love about your work? What about it drives you nuts?
JM: I love that I have a job that is fun and that allows me to create every single day. I love that I can travel the world and that each day is completely different. What's hard is leaving my puppy and my fiancé behind when I travel, not to mention the uncertainty of the future. I have a career that is only as great as your last job, so I always have to push to be better and to look for the next thing.
Spotlyte: What advice would you give someone who wants to become a hairstylist?
JM: Always continue to learn and grow! Never get comfortable, always keep an open mind and always be humble. Above all else, your job is to make your client feel beautiful, so always be aware of how you interact with them and your own energy. Be a pleasure to work with.
Spotlyte: Describe a typical work day. Is there such a thing for you these days?
JM: There is not! Some days, I'm jetting off on a plane. Other days, I'm filming tutorials from my home, and some days, I'm running from client's house to client's house, or I'm on set for a photoshoot. I love that no two days are the same and that every day brings new people and surprises.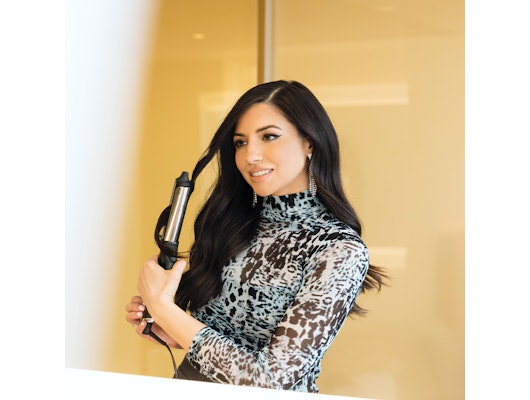 Photo credit: Daniel Kolomiyets
Spotlyte: If you had to pick just one go-to tool for styling, what would it be?
JM: The ghd platinum+ professional styler. I love this tool because the rounded edges make it easy to glide through the hair to create both waves or sleek looks.
Spotlyte: How do you like to relax? What's your favorite way to spend a day off?
JM: My ideal day off is spent with my fiancé and puppy @cashewofla. I love to do yoga, eat healthy, go for walks, read, and enjoy a great meal (Jon and Vinny's℠ in L.A. is my favorite).
Spotlyte: Tell us about the skincare and makeup products you love:
JM: I love Sonya Dakar® Rose Gold Radiance Mask and Omega 3 Serum. Together, they keep my skin super even and hydrated. I also love gadgets and beauty devices, so I use the Nurse Jamie® Beauty Uplift tool and the NuVibe RXTM Amethyst facial tool. I use both regularly to help firm and tighten my skin, but they also help my products penetrate more deeply into my skin. I love the Summer FridaysTM Jet Lag Mask for long flights, and Mara® Beauty Retinol Face Oil.  
[Editor's note: Retinol shouldn't be used by those who are pregnant, considering getting pregnant, or nursing. Please consult with your doctor before use. If you take blood thinners, talk to your doctor before using a Gua Sha tool.] 
For makeup, I like to use ethical and non-toxic [brands], like tarte®, Nudestix®, and Cocokind®. I firmly believe that beauty comes from the inside, so I regularly take the OLLY Beauty Sleep gummies before bed and the OLLY Flawless Complexion gummies in the morning.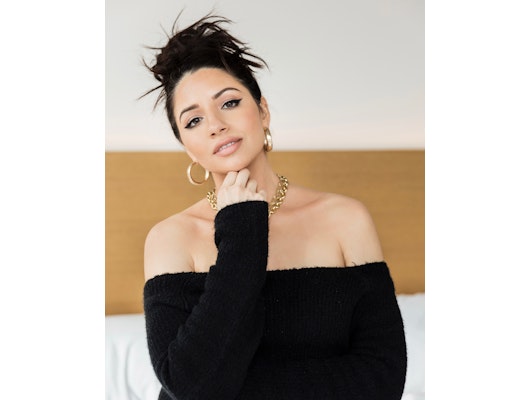 Photo credit: Daniel Kolomiyets 
Spotlyte: Do you have a favorite day spa, or favorite treatments you swear by?
JM: I love The NowTM in LA, the Bel Air Hotel SpaTM, and basically any spa anywhere. I love having a steam, getting a scrub, and a great deep tissue massage! I regularly get facials and laser treatments from Sonya Dakar and Nurse Jamie in LA. 
Product prices may vary from the time this article was written.
Allergan® may receive commissions for purchases made through links in thiws article.