In our series Behind the CurtainTM, we get the scoop on the routines, careers, and more of those working so hard behind the scenes to make celebrities look stunning.
Though it's not clear who exactly coined the phrase "lead by example," Kristie Streicher epitomizes the expression. The LA-based brow guru tends to countless A-list arches — to the point that she has her own trademarked style, the signature Feathered BrowTM — and is also the co-founder of STRIIIKETM. She created this Beverly Hills beauty haven alongside her two sisters (and fellow celebrity grooming gurus): hairstylist Ashley and makeup artist Jenn.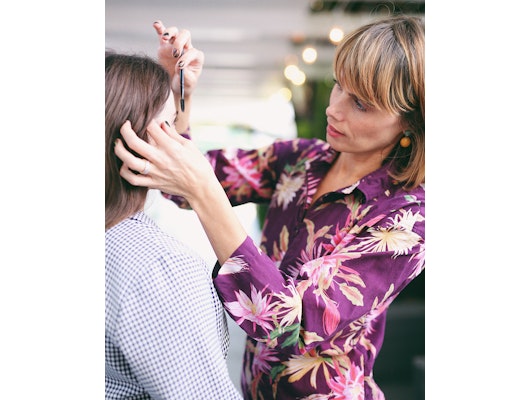 Photo: Jenna Jones
In addition to serving as a key member of this familial triple threat, she's also the middle child and perpetual "guinea pig" for her siblings. (Streicher endured an at-home perm at the hands of her little sis.) Over the years, though, she has returned the favor by routinely road-testing new products on her sisters' arches before introducing anything to her star-studded clientele. She also briefly experimented with Ashley's hair using her mother's Fiskars® pinking shears before ultimately retiring the scissors and taking up tweezing full time (more on that later).
That said, finding a volunteer willing to offer up their brows isn't exactly difficult if you're Streicher. Gwyneth Paltrow, Emily Blunt, Adele, Mila Kunis, Mandy Moore, and Busy Philips are just a few of the many devoted fans that trust her to work that trademarked magic on the hair above their eyes. Growing up in the foothills of Northern California, however, life wasn't always a steady stream of glitz and glamour. "We were mountain kids!" says Streicher. She attributes her "natural beauty philosophy," which entails "working with what you got," to all that time soaking up the untamed splendor of the great outdoors.
When she wasn't road-tripping through the wilderness in the family's Volkswagen® Westfalia® van, Streicher was saving her money for glossy fashion magazines. She pasted editorials to her bedroom walls and cut up the clothes in her closet. "I've always enjoyed putting myself together and the ritual of getting ready," she says. Now, the pro has made prepping others — and framing their faces with feathery arches — her full time job.
Here, Streicher reveals how she followed her big sister into the beauty biz, why kindness is far more important than being cool, and how to make "face magic" simply by swiping on some lipstick. 
Spotlyte: Beauty has become the family business and you manage to run STRIIIKE seamlessly alongside your sisters. What was it like growing up in the Streicher household?
Kristie Streicher: It was not as glamorous as one might imagine. We grew up in the foothills of Northern California and spent most of our time outside hiking and swimming in the lake in the summer, and playing in the snow during winter. Mom was a real DIYer and quite creative. Dad was very creative with woodworking. We would take adventures as a family all the time. We grew up very connected to nature — that plays a role in our natural beauty philosophy of working with what you've got.    
Even though we were far away from any high fashion in rural California, I remember saving all of my money to buy ELLE® and Vogue®. I would paste my favorite editorials to my bedroom walls and try to imitate the looks with the clothes I had, mostly cutting [them up] because I didn't know how to sew. I've always enjoyed putting myself together and the ritual of getting ready.  
Jenn was the first to venture into the beauty industry — and I use that term lightly — with a counter position at Estée Lauder®. I followed about two years later by working for Clinique®, which inspired me to get my aesthetician license. After doing facials and skincare for years, I decided to specialize in eyebrows.
Spotlyte: Being the middle child, were you ever the guinea pig for either of your sisters' beauty experiments?
KS: Of course I was the guinea pig — and continue to be every so often! Both Jenn and I have let Ashley perm or "wave" our hair, and Jenn even allowed me to try out some new pigments during our Microfeathering® session. I used my mom's Fiskars pinking shears to give Ashley a bob when she was five. Besides taking a small amount off the bottom of her earlobe, it looked great! We've always been inspired by one another. We respect each other's opinions and thoughts greatly.  
Spotlyte: When did you get your big break with brows?
KS: I've been lucky to have had several big breaks over my lifetime. There have been so many events that lined up to get me to where I am. I've always had a "say yes, then figure it out" approach. I truly think it's about being in the right place at the right time, being open, and saying yes to everything.  
In 2001, I moved to New York City and started working at Warren-Tricomi®, where I specialized in eyebrows. Working with Warren-Tricomi gave me the incredible opportunity to work with top editors, photographers, and other amazing people in the industry. I was also fortunate enough to receive the prestigious "Best Of" award for eyebrows from New YorkTM magazine. That immediately catapulted my career to the next level. I went from seeing four to six clients a day to 35!
Spotlyte: What happened next?
KS: I felt it was important at that point to trademark my Feathered Brow philosophy and start a more natural [movement]. I made it my duty to break the habit and trend of over-contrived and over-waxed eyebrows. I started making my own products — AforéTM Oil and AprèsTM Calming Cream — to help with the sometimes irritating tweezing process, as well as developed an all-natural vegetable dye in an effort to help brows appear fuller. In 2005, I started building clientele in LA while maintaining my NYC business. That bicoastal outreach really helped me get to where I am today.
Spotlyte: What is the biggest lesson you've learned about business over the years?
KS: For me, it's been to build and trust in your team (it truly takes a village); be the kindest person in the room (not the coolest); and trust your intuition.
Spotlyte: What is the best thing about your job? What is the most challenging?
KS: I'm very proud to say that the best thing has been the ability to create a really positive environment at STRIIIKE. Even though eyebrows sometimes feel like just another part of the body to maintain, it's so nice to see how happy we can make people every day.
The most challenging aspect is achieving balance as a small business owner. It can be hard to manage people and expectations. I end up being the boss, head of human resources, and an eyebrow specialist.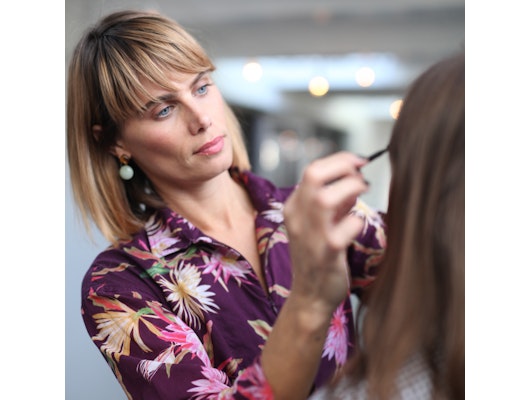 Photo: Jenna Jones
Spotlyte: You trademarked the Feathered Brow. What does this arch shape look like exactly, and how can we recreate the look at home?
I created the Feathered Brow because I was committed to rehabilitating thin, over-tweezed brow trends from the '70s, '90s, and early 2000s. The Feathered Brow embraces a natural, fuller shape that is sophisticated and groomed. The best results are achieved with strict adherence to our strategic, tweeze-only technique done in-house by the STRIIIKE brow artist team and an equal amount of patience from our clients. Clients are just as involved in the (sometimes) year-long process of developing Feathered Brows.
Up until this year, clients couldn't get the Feathered Brow at home. However, with the launch of my Essentials Grooming KitTM and my virtual appointment program, you can.
Spotlyte: What is the most common piece of advice you give to your clients?
KS: Embrace the natural shape and growth patterns of your brows. I try to help clients understand that it's the natural characteristics of their brows that make them interesting and beautiful. Not only are eyebrows totally unique to the individual, but each individual eyebrow has its own growth pattern and hair density. Whether it's a cowlick, a unibrow, or a scar, learning to appreciate what you have is what we're all about at STRIIIKE.
Spotlyte: What is Microfeathering, and how does it differ from traditional microblading?
KS: Microfeathering was inspired by my Feathered Brow philosophy. It's a more subtle and refined version of the semi-permanent microblading procedure. Whereas microblading requires the removal of natural hairs before etching in pigmented strokes, Microfeathering utilizes softer strokes and doesn't require the removal of pre-existing brow hairs. Subtle strokes of pigment that match in color, length, and orientation are used to mimic the look of natural hairs and augment each client's brow fullness. This technique is ideal for filling in gaps and sparse areas of the brow. Microfeathering also lasts around eight to 12 months, while microblading can remain in the skin for up to three years.
Spotlyte: What does your daily beauty routine look like? What are your must-have products?
KS: One of the perks of my job is that I'm able to get my hands on numerous beauty products and I really enjoy trying new things. Sometimes, I set aside ample time and will be really into getting ready, but most days I go without makeup, put on a headband (my growing-out-my-bangs trick), and add a bright lip. It's all very mood dependent. Lately, I like layering two particularly bright Laura Mercier® long-wear lip crayons: On PointTM (a neon orange) and CliqueTM (a reddish pink). There's something that synergistically happens when these two shades are combined that I can't explain — it's face magic!  
My skin is very dry and thin, so I like using sheer, moisturizing, and lightweight products. I love a good face oil. I'm currently crushing on the Goldfaden MD Fleuressence® Native Botanical Cell Oil. Since I tend to wear less and less makeup as I get older, I start by blending "Un" Cover-Up by RMS Beauty® with a damp beautyblender® (my must-have) for "foundation." Then, I'll add a little color to my cheeks that is somewhere between blush and bronzer. Lately, I've been wearing a brown mascara from Lancôme® that I stole from Jenn that I really like. And, of course, I never leave the house without clear Brow Gel by Mary Kay® because the hold is unparalleled. It's a gotta-try-it-to-believe-it kind of hold!  
Spotlyte: How do you unwind? Does beauty ever play a role?
KS: It may sound strange, but I unwind in my kitchen. I love to creatively cook! I cook a lot during the week and sometimes on the weekends. My weekdays are pretty jam-packed, so my weekends are devoted to resting, restoring, and catching up with friends.
I get acupuncture every Saturday for overall health. I also love getting a lymphatic drainage massage, sweating in the infrared saunas, or floating in a sensory deprivation tank at Pause StudiosTM. I've recently become obsessed with sound baths and Reiki by Ambi. She records the [sound baths] and makes them available on her site so you can listen at home with headphones. They literally transport you to another dimension. If you haven't experienced one, I highly recommend it.
[Editor's note: If you take blood thinners, talk to your doctor before having lymphatic massage.]
I will always find time to either meet a friend for cocktails or coffee, walk on the beach, or go for a hike up in the canyons. Now is an epic time for a hike in California with the super bloom and all of the migrating butterflies.
Spotlyte: You are the ultimate brow guru, but who are your go-to beauty pros?
KS: I love a lymphatic drainage massage from Anna Zahn of Ricari StudiosTM. She believes that your lymphatic system is not only a major part of your immune system, but it is the foundation for keeping your body looking and feeling radiant. Her treatments feel amazing and they boost collagen production, facilitate lymphatic drainage, and flush away puffy inflammation. Her treatment includes a combination of endermologie, LED Mask, and infrared therapy. She finishes with aromatherapy and a Moon Juice® plumping facial massage. It's literally heaven.
I go to Color Camp® for the best manicure. I really like the way they take care of my nails. They're one of the only places in LA that uses Japanese bio gel that truly lasts and isn't damaging. They also don't soak your hands in water and then attack your cuticles with a nipper. They push cuticles back and gently file. They pay great attention to detail.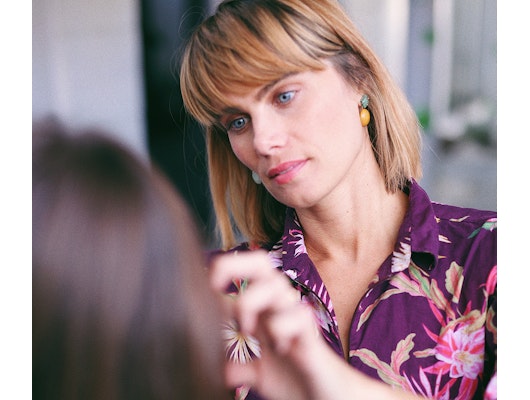 Spotlyte: What about medical aesthetics?
KG: I see Dr. Nancy Samolitis, who co-founded a really chic and unique aesthetics boutique called Facile®. She believes that achieving beautiful skin should be easy. They specialize in advanced, medical-grade treatments that help you achieve your best skin ever. She also checks your moles, which is very important!
I get the microinfusion treatment. I also get injectable wrinkle reducer between my eyebrows — an area that I've treated since I was 28. I believe women should do what [they want], because, let's be honest, people will judge you either way! I think there are [products and treatments] that get overused and overdone, [but] I'm definitely not opposed to cosmetic injectables. 
[Editor's note: Injectable wrinkle reducers temporarily smooth the look of moderate to severe wrinkles in certain areas of the face, including the forehead, frown lines, and crow's feet; they should not be used more frequently than every three months. Injectable filler is a temporary treatment that adds volume to areas of the face such as the lips, cheeks, and laugh lines. Like any medical treatment, both injectable wrinkle reducers and injectable fillers have potential risks and side effects. Talk to a licensed provider to see if they're right for you. And learn more now by chatting with a trained aesthetic specialist.]
---quiz start
Spotlyte: What is your beauty mantra?
KS: Feeling good is looking good; looking good is feeling good.
Spotlyte: What are the best beauty lessons you've learned from your sisters?
KS: We are each other's toughest critics and biggest fans, but it's nice to have that honesty . . . sometimes! I think we also push each other to take risks and try new things. It definitely keeps things interesting.
Spotlyte: What is the most challenging thing about working with family? What is the most rewarding?
KS: One of my proudest achievements is what my sisters and I have been able to create with STRIIIKE. However, family dynamics play a large role, and it takes constant work to not allow that to affect the business. We're business partners, but we're also sisters. Knowing when and where to have boundaries can be very challenging. It has brought us closer together for the most part, but [working together] has also forced us apart a few times as well. We've worked through some issues we may not have experienced had we not started a business together.  
Spotlyte: You have an incredible roster of A-list clients already, but if you could do anyone's brows, living or dead, who would it be and why?
KS: Elizabeth Taylor because, well, that face! She also had amazing, prominent brows and allegedly did them herself and never let anyone touch them. Maybe she could've taught me a thing or two!
Product prices may vary from the time this article was written.
Allergan® may receive commissions for purchases made through links in this article.