"What do you do?" Lauryn Evarts Bosstick, 32, asks me in her deliberate Southern California accent. "Tell me about you." I instantly feel as if I'm being interviewed on her viral podcast, The Skinny Confidential® Him and Her. She produces the viral show with her husband and high-school sweetheart, Michael Bosstick, 31. It's in the top 10 of iTunes® with 250,000 unique weekly listeners and 40 million subscribers to date.
Even though our call is for me to interview her, Bosstick's quizzing me from the get-go. If I had that podcast, plus a successful nine-year old blog with over three million unique monthly visitors, 840k Instagram® followers, 70k YouTube fans, 28k newsletter subscribers, a book, and more under my Gucci® belt, I'd likely brag to any reporter about my wildly successful brand. But Bosstick does none of that. Instead, her innate curiosity has gotten the best of her. She has perfected the art of interviewing others, asking those specific questions we're all wondering. Afterwards, she always shares the answers on her blog, podcast, or "in the show notes," as she and Michael like to say.
"I'm so curious," she admits. "But I'm not interested in the macro, I'm interested in the micro. I'm interested in the specifics, in little things. If you and I got to talking longer, I would love to dissect the very specific details."
It has garnered her a coven of followers, who will buy just about anything she drops on her e-commerce Instagram, @and.the.skinny.was.like, or platforms like Amazon® and Thrive Market® (where she curates shopping lists). Her brand is brilliant content creation married with authenticity (the "A-word" so many influencers are chasing these days).
How she does it: Evarts Bosstick is just honest. When she's not taking a digital detox, she gets raw with fans. Subscribe and you'll see that she covers heavy topics, such as coping after her mother's suicide or her experience getting breast implants. She balances that with lighter material, including exactly what to put in a smoothie for stable blood sugar or why she swears by lymphatic facial drainage. As a self-identified "human guinea pig," you can also expect her to test wellness fads, like intermittent fasting or dropping CBD oil in her herbal mint tea. 
This makes Evarts Bosstick damn loveable. If you follow her brand, you genuinely feel like her friend. She has a magic ability to connect with people — to speak to them — and make it personal. Part of this success, I learned, is that she has an imaginary reader and listener in mind when she's podcasting and writing. (But more on that later!)
"Create valuable content with takeaways," Evarts Bosstick advises. "That's why I called [my blog] The Skinny Confidential, not Lauryn Evarts. "It's about creating a resource where people can come and get tangible tips and tricks that they can use in their own life."
Here, Evarts Bosstick breaks that all down, as well as her advice on getting injectables, how she goes almost two weeks without washing her hair, and why she doesn't do cardio.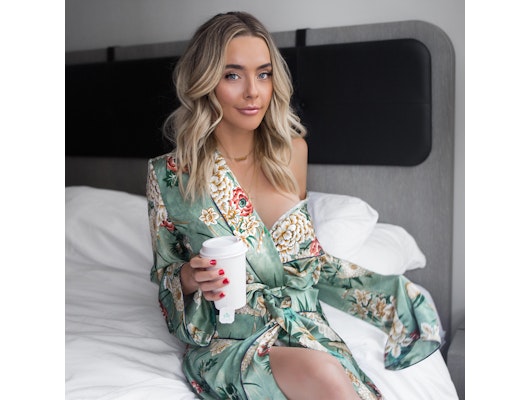 Photo: Arielle Levy 
Spotlyte: How would you describe what you do?
Lauryn Evarts Bosstick: How do I define my job title? If I'm at a cocktail party, I'm defining it as a podcaster and a writer . . . I write for my own brand because I know my audience. I'm very particular about what I put my energy towards, and if I'm going to sit down and write, it needs to be towards the community. I've always written for one girl. 
Spotlyte: How would you describe your girl?
LEB: My girl is very particular, and I'm very in-tune with who that girl is. When I first started writing for her, I imagined where she worked, what color nail polish she wore, what podcast she listened to, what her day-to-day was like, and what skincare she uses.
I named her. She has two names — either Katelyn or Stephanie. Maybe one is in New York and one is in the Midwest. I try to talk to her every single time I write and make it seem like I'm having happy hour with her. She's definitely someone I would hang out with in real life. That's why it's been so easy to write — because I know exactly who I'm writing to.
Spotlyte: How has she evolved?
LEB: I started as a bartender with no money, living at my godparents' house. I went from going to school full-time and doing anything I could to make a dollar to an evolution. It's been nine years. So the girl has grown [up with me]. Now she listens to different podcasts. Maybe still wears the same nail polish color, but she switches it up. She was, for sure, always wearing white polish, and now she's more experimental. 
Spotlyte: How did you figure out early on that podcasts were going to be a big deal?
LEB: We started the podcast three years ago, and it wasn't the cool thing to do. Now it's becoming more and more popular. And [we know] that everything is going to audio. You are going to be in your kitchen in five years, ordering all your groceries off Amazon on Alexa®, and saying, "Read me the latest blog post by The Skinny Confidential." So the podcast just feels right. 
I am always looking to where attention goes. I have become a practitioner of attention. And my whole brand is about being on the pulse — looking at a hundred things and finding the one thing that everyone needs. The Skinny Confidential has always been a resource. A podcast mixes this idea of [being a resource] with the idea of [holding] attention. 
I also respect my audience's time, [and with a podcast] I'm saving their time. The audience has to get something valuable and tangible to apply to their own life every single time they consume your content.
Spotlyte: What inspired the name Skinny Confidential?
LEB: I wanted it to be a cheeky, feminine space where you could become the best version of yourself. You could take what you love and apply it to your own life, leave what you don't like. In that space, I wanted to have all different people on it. I didn't want it to just be about me. I wanted to know what the everyday girl in Florida was doing, and then I also wanted to know what lipgloss Julianne Hough was using. It's a place to get the juice, get the skinny, get the scoop. And The Skinny Confidential just felt cheeky and like a place [or name] to get the skinny.
Spotlyte: Let's talk about your natural curiosity. Were you always like this?
LEB: It goes back to my grandma. When I was in high school, she would tell me, "Lauryn, go get interested. Get outside yourself, go get interested in something else." I really took that to heart. During childhood, I was always a reader, too. I'm very interested in reading about other people's lives.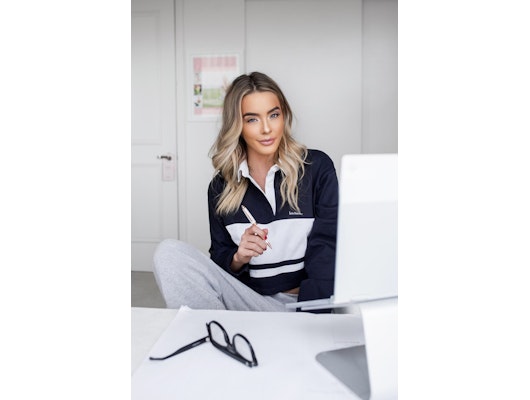 Photo: Arielle Levy 
Spotlyte: How does this relate to your brand?
LEB: When I'm posting an Instagram story, and there's something in the background [such as a Hydro Flask® water bottle], my audience is going to want to know exactly what's in my Hydro Flask. [They'll ask:] Where you get it? Blah, blah, blah. But, [they'll also ask], What's in it? Is there mint? How much mint? Is there lemon? I always want to provide very detailed information.
Spotlyte: You pick truly interesting people and topics. How do you decide who you're going to feature?
LEB: I don't have a protocol. You don't have to have 100,000 followers. You don't have to look or act a specific way. I am interested in everyone from the people who read my blog to the mom who is doing it all. Last week we featured a reader who I saw on Instagram. I appreciated her hustle, and I wanted her to share her top 10 wellness tips. I always say, "Give me anything. Just don't give me boring."
Spotlyte: Who are you hoping to interview but haven't yet?
LEB: I would love to interview [Spanx® founder] Sara Blakely. I'd do something different than just tell her story, which I feel like everyone has heard. I'd love to interview Tim Ferriss, Joe Rogan, Kanye West, and Kris Jenner. I'd also love to interview people you wouldn't think of — like Kylie Jenner's assistant would be a dream interview for me. Kylie has lived such a unique life; someone who has been a voyeur into that would be a really interesting interview.
I would also love to interview someone who's just starting out in the blogger world. There's this one girl who has a super interesting Instagram page called @things.i.bought.and.liked. She doesn't even show her face, but she just talks about products that she likes. I love people who have a unique perspective and are doing something off-the-cuff. 
Spotlyte: What is it like to be business partners with your husband?
LEB: We met when we were 12 years old. I've known him for a long, long time. We went to the same elementary school, junior high, high school, and definitely dated other people. Being in a relationship and being in business with your significant other is not a joke. It's definitely interesting. You have to be committed to the same goal and really be on the same team.
Spotlyte: Any advice for those considering working with their partners?
LEB: It helps when the person who you are married to and who you choose [is strong at] your weaknesses. We've been together for 10 years, and I've noticed that whatever I'm lacking, he seems to pick up. It's cliché, but when it comes to doing business, it's really important.
It's also important to set boundaries within the relationship. Like, "No, I don't want to talk about our bank account at 11:45 p.m. at night. I'm winding down." That's been like a dance and something we're perfecting all the time. And it's not perfect, and I love it. I wouldn't trade it.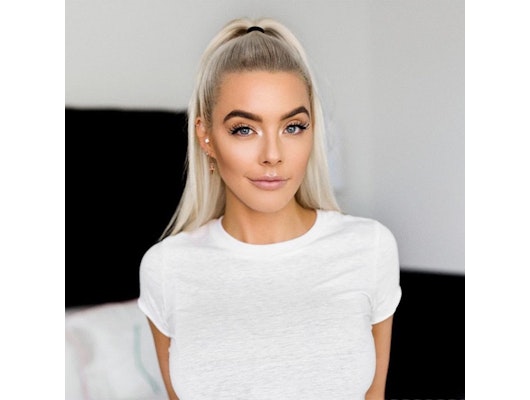 Photo: Arielle Levy 
Spotlyte: How do you measure success?
LEB: I completely measure success — in general, not even just for myself — on being able to wake up and do things on my own terms. And being able to build out my future how I want it. I practice stoicism. If you look at philosophers and actors or creators of empires — all of them have been able to sort of design what their future looks like. Being able to do that every morning represents when I feel successful. 
Spotlyte: Let's talk skincare — what's your skin type and how do you take care of it?
LEB: My skin type is normal. I have horrible hyperpigmentation that comes and goes. I try so many products all the time because of what I do. I always want to be the person who weeds through all the bullsh*t, so I can just tell you what I think is the best, why, and get specific about it. Since I try so many things, I don't have a set skincare routine. 
Spotlyte: Are there any products you are consistent with?
LEB: Some things that I go back to constantly are always sunscreen. I like a caffeinated sunscreen, because it tightens the skin. I love the Dr. Dennis Gross® Hyaluronic Marine Oil-Free Moisture Cushion — it lays so nicely under makeup, and I like to apply it with a beautyblender®. I love a mist. It's so peaceful to mist your face in the morning. There's this one by Tata HarperTM that's incredible, smells delicious, and is nontoxic. I'm really loving Vintner's Daughter® right now. It's a little pricier, but worth every penny. I also really like [Dr.] Barbara Sturm® products right now. She's great.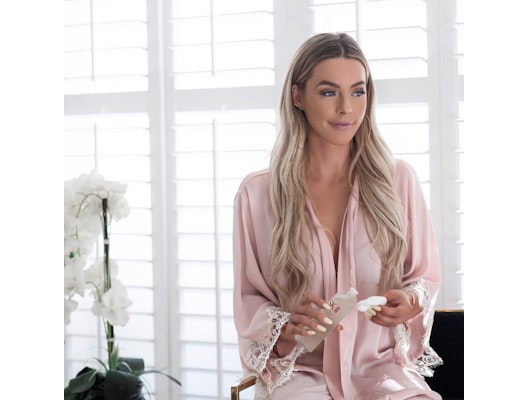 Photo: Arielle Levy 
Spotlyte: What about consistent treatments?
LEB: I get injectable wrinkle reducer treatments. I've been getting them since I was 21 years old.
Spotlyte: Why did you get it?
LEB: I never will forget [this] — one day I was driving to my sister's graduation, and I looked up in the rearview mirror. The sunlight was on my face; I looked in the mirror, and there was a huge "11" in between my brows. I thought, "Okay, I can do something about it." Once I got an injectable wrinkle reducer, I didn't have [that] wrinkle anymore. It worked and [temporarily] smoothed the wrinkle. [I wasn't uncomfortable] at all. It's just like a little prick.
I'm very careful with how I use it, and I don't want to tell people that they need it. I just want to share my own journey and my own experience, which has been a positive one. I get injectable wrinkle reducers in my elevens and in my forehead. Nothing near my eyes. I don't need that yet.
[Editor's note: Injectable wrinkle reducers are used to temporarily smooth the look of moderate to severe wrinkles in certain areas of the face such as the forehead, frown lines, and crow's feet. They should not be used more frequently than every three months. Like any medical treatment, they have potential risks and side effects. Be sure to talk to a licensed provider to see if they're right for you. Have more questions? Chat with our team of trained aesthetics specialists now.]
Spotlyte: Who do you see for your injections?
LEB: I just moved to LA [from San Diego], so I will probably find someone who is here now. Before, I had been seeing Dr. Douglas Wu in La Jolla and Dr. Gwendolyn Henao in Rancho Santa Fe. With this, you have to do your own research. You have to be your own guru. You can't listen to me or someone on the internet or some random person. You have to go out there, get in the trenches, talk to different people, and see what works for you. Everyone is different. Like I said, I'm just sharing what's worked for me. 
Spotlyte: What about injectable filler?
LEB: I'm very careful with filler. Be very careful with it, if you're going to get it. With filler, it's even more important to not just go [out and get it]. [Consult with your provider to determine:] Where do you really need it? Is it [the right] time to do it? It's so important for everyone who is getting any of these treatments to do their own research and make sure that they're getting it injected in places that they actually need it.
I'm sure you've seen so [many] bad filler [results]. If you get the right doctor [and treatment, the results can be] amazing. The reason that filler gets a bad rap is because we've seen bad filler [results]. You [may not even notice] good filler [results, if it's done right].
[Editor's note: Injectable filler is a temporary treatment that adds volume to areas of the face such as the lips, cheeks, and laugh lines. Like any medical treatment, it has potential risks and side effects. Be sure to talk to a licensed provider to see if it's right for you. Have more questions? Chat with our team of trained aesthetics specialists now.]
Spotlyte: Have you tried filler?
LEB: I don't want to talk about my own experience. Not because I'm saying I didn't get it. I don't want to talk about my own experience, because if I decide to talk about this on The Skinny Confidential, I want to do a collaboration. I would want to collaborate with the right doctor. I would want to get the doctor on the podcast and interview him or her — make it a whole thing. [Editor's note: after this interview was conducted, Evarts Bosstick shared on Instagram her experience getting lip filler for the first time.] 
My fear with filler is that I also have to be careful, because I don't want to give blanket advice to people. Everyone's face looks different. Like if I say, "Yeah, I got my lips filled," you know, maybe there's someone in Minnesota who goes and gets a Groupon®. And they get bumps in their lips. So, I really want to be careful. It's just not a one-size-fits-all kind of thing. [It's not like] we're recommending a shoe.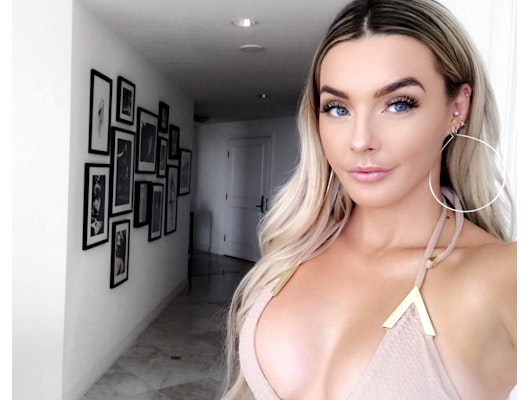 Photo: Arielle Levy 
Spotlyte: Have you done any body treatments or procedures?
LEB: Yeah, I just got my boobs done and showcased the whole journey. That was another one that was giving me a little bit of anxiety to talk about, because I don't want to give blanket advice. At the same time, you can tell I've got my boobs done, so I don't want to lie. I documented the whole entire journey with Dr. Daniel Barrett. Very happy with my boobs. 
I also get laser done on my banana roll. I've tried CoolSculpting® — loved [the results]. I did it on my thighs.  
[Editor's note: The CoolSculpting treatment is a non-invasive fat-freezing treatment that effectively reduces fat in certain self-proclaimed "problem spots" in the submental and submandibular areas, thigh, abdomen, flank, and upper arm, along with bra fat, back fat, and underneath the buttocks (you know, those bulges that just won't go away, regardless of how much you sweat it out on the treadmill). While it isn't a weight loss solution, fat-freezing can reduce pouches of fat. As with any procedure, there are risks and side effects, so talk to your licensed provider to see if it's right for you.]
Spotlyte: Any beauty body care services?
LEB: I get spray tans. I've done all the peels. I've tried a lot of different things. Again, it comes down to what works for you. 
Spotlyte: Favorite place to get a facial in LA?
LEB: Oh my God, I'm obsessed with this place called PellequrTM. The woman who does my facials, Haile, is Korean and she has this dewy, beautiful, glowy skin. And she does all the lymphatic drainage, cupping, tightening, and contouring. It's so peaceful and relaxing. I just love it. It's taken me probably three years to find a facialist I like up here.
Spotlyte: How often do you get facials?
LEB: I'm absurd with how often I get facials. I'd get facials once a week if I could. I love [activities during which] I can passively multitask. During a facial, I can return emails or DMs for an hour or do a conference call and also get self-care in. It's incredible that, as an entrepreneur, I can do something for myself while also getting other stuff done. Facials are my thing. They're such an important part of my life. I love facials.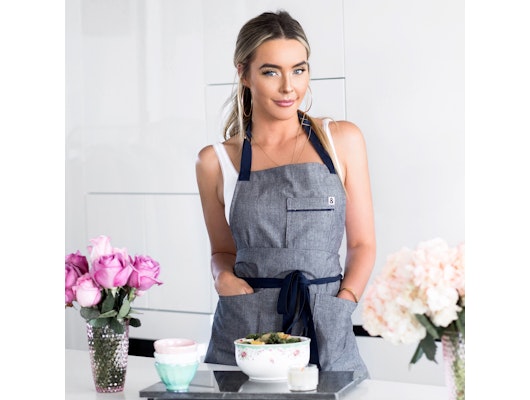 Photo: Arielle Levy 
Spotlyte: How do you stay in shape?
LEB: I work out six days a week. I do all my workouts from home, because I realized that going to the gym was taking an extra hour, and I'm very particular about my time. So I started doing Skype® workouts three days a week with my trainer, Kim Kelly, who I worked with on The Skinny Confidential body guide. I also do The Method® by Ingrid Delamare, which is like a low-resistance barre workout.
And I am always walking. I'm not a runner; I feel like it's bad for skin. But I'm always trying to be moving. I don't do any high-intensity workouts or running because I feel like it ups my cortisol, and my cortisol is up all day long from what I do [already]. I found that I am way fitter when my workouts are low-resistance.
Spotlyte: Let's discuss your amazing icy blonde hair...
LEB: I'm [actually a] dark brunette. [I went blonde] probably when I was 14 — pretty young. And I don't wash my hair. My hairstylist says: "Everyone asks to bleach their hair. But I say that the only [way] you can do it is if you don't wash your hair." I wash my hair every week and a half to two weeks. With the color of my hair, you can't be washing your hair everyday. It would fall out.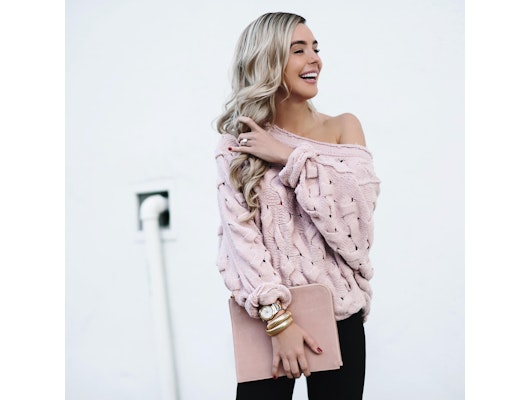 Photo: Arielle Levy 
Spotlyte: How do you get by between hair washes?
LEB: I love the dpHUE® Apple Cider Vinegar Dry Shampoo, because it doesn't make your hair white. Also, the workouts I do are low-resistance, so my hair isn't dripping in sweat. And I guess my hair is not super oily to begin with. And [when it is], I just slick it back in a bun or ponytail. I just make it work. If you're going to have this blonde hair, you have to make some sacrifices.
Spotlyte: You genuinely put yourself out there for readers. What do you like to do on the side that no one really knows about?
LEB: There's 20 percent that I keep to myself. You have to have that. I am very introverted sometimes. I'll go quiet, meditate, and be with my thoughts. That's not something I could show on social media. But there are a lot of times where I'll want to turn it off and just go inward. 
Spotlyte: There seems to be a digital detox trend happening in the influencer community. What are your thoughts on this?
LEB: Here's the thing, the Real Housewives® has commercial breaks. They have seasons. As an influencer, I could spend 24/7 creating content. It's important to understand that you do need a commercial break. You need to know when it's time to go away for a minute — when it's too much. You don't want to saturate the situation. I love the times when I can take time to think, reflect, write, and read. I'm a huge reader. 
Spotlyte: What are you reading right now?
LEB: I'm reading The War of Art — you would love it if you're a content creator. The war of art is such an internal thing, especially if you're a writer. I'm also reading The Daily Stoic® and Jerry Hall's Tall Tales — she was the wife of Mick Jagger. I'm also reading the book Jackie, Janet, & Lee: The Secret Lives of Janet Auchincloss and Her Daughters Jacqueline Kennedy Onassis and Lee Radziwill. It's about Jackie Kennedy, her sister, and her mom. Love biographies, because I like to read about people.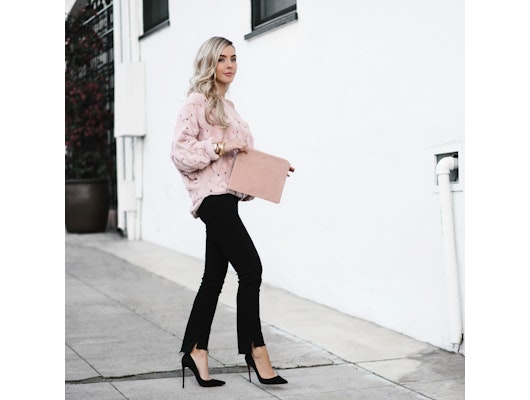 Photo: Arielle Levy 
Spotlyte: Last piece of advice — what would you tell budding bloggers who are trying to grow and find success in this crowded space?
LEB: Pick a unique perspective. Bring something to the table that someone else hasn't done. Or maybe they have done it, but bring your own twist to it. 
Be patient. I've been a blogger for nine years, and three of those years I didn't make a dime. And it's something that you do have to work at every single day.  
Lay your head down on the pillow every night and really think about what you've done to move the needle. Every night, I'm like, "Okay, what have I done today that's going to propel me forward?" And I really reflect on that. Take time for reflection. Be super productive with your time. Time is so important. 
Spotlyte: Any inspiring life advice you'd like to leave us with?
LEB: Trim the fat. If you have toxic, negative people in your life that are taking up your energy — that's wasted energy, which could be used towards something that could be incredibly productive.  
Spotlyte: And if you weren't an influencer, podcaster, and content creator, what would you do?
LEB: I would be a brand consultant. I love branding, and I think that if I had 24 more hours in the day, I would love to consult bloggers or brands on how to build a story. Like a kit. And when I say kit, I mean like the colors, the fonts, etc. You know, what you're trying to evoke, what you're trying to leave the person with. And I'm obsessed with storytelling, so [I'd work on] the story behind the brand, and why it's going to solve a problem. [Editor's note: Can we hire you, Lauryn?] 
---quiz start
---quiz end
Dr. Douglas Wu is a paid Allergan® consultant. 
Product prices may vary from the time this article was written.
 Allergan may receive commissions for purchases made through links in this article.
CoolSculpting® is an Allergan®-owned non-invasive fat reduction treatment. 
CoolSculpting® Treatment Important Information  
Uses
The CoolSculpting® procedure is FDA-cleared for the treatment of visible fat bulges in the submental (under the chin) and submandibular (under the jawline) areas, thigh, abdomen and flank (love handles), along with bra fat, back fat, underneath the buttocks (also known as banana roll), and upper arm. It is also FDA-cleared to affect the appearance of lax tissue with submental area treatments. The CoolSculpting procedure is not a treatment for weight loss.
Important Safety Information
The CoolSculpting procedure is not for everyone. You should not have the CoolSculpting procedure if you suffer from cryoglobulinemia, cold agglutinin disease, or paroxysmal cold hemoglobinuria. 
Tell your licensed healthcare provider if you have any medical conditions including recent surgery, pre-existing hernia, and any known sensitivities or allergies. 
During the procedure you may experience sensations of pulling, tugging, mild pinching, intense cold, tingling, stinging, aching, and cramping at the treatment site. These sensations subside as the area becomes numb. Following the procedure, typical side effects include temporary redness, swelling, blanching, bruising, firmness, tingling, stinging, tenderness, cramping, aching, itching, or skin sensitivity, and sensation of fullness in the back of the throat after submental or submandibular area treatment. 
Rare side effects may also occur. CoolSculpting may cause a visible enlargement in the treated area which may develop two to five months after treatment and requires surgical intervention for correction.
Ask your licensed healthcare provider if CoolSculpting is right for you. To learn more about what to expect, visit the CoolSculpting website and comprehensive Important Safety Information.