The entire service industry is rapidly evolving around us consumers, largely because of our reliance — and honestly, obsession — with the internet. Sure, browsing products in person is fun, but so is sitting in your pajamas surfing online retailers while waiting for your Postmates® to arrive. These digital offerings aren't just trendy; they make life so easy. They've also evolved to a level of service that many of us never imagined to be possible.
One such example is SmileDirectClubTM. While you may have spent tedious hours as a teen sitting in an orthodontist's chair in the name of straighter teeth, today, people can get dental aligners shipped directly to their house. In fact, no visit to an office — or interaction with another human being — is necessary at all. Here, we break down everything about the revolutionary service, which has continued to gain momentum since launching five years ago.
What is SmileDirectClub?
SmileDirectClub was founded with one primary objective: to disrupt the traditional process for getting a Hollywood-quality grin. Though the company recently launched a professional-level teeth whitening set, its efforts are currently focused on providing teeth-straightening services via invisible aligners.
"Using a teledentistry platform, SmileDirectClub connects customers with a licensed dentist or orthodontist in their state who remotely creates a personalized SmilePlanTM and monitors their treatment process from start to finish," says Dr. Jeffrey Sulitzer, Lead Dentist and the Chief Clinical Officer at SmileDirectClub. "The invisible aligner system is designed to address minor to moderate teeth misalignments, including space between teeth, crowding, and rotations."
Like Invisalign®, SmileDirectClub uses 3D printing technology to create aligners for their patients. As a boon to your wallet, however, it costs roughly half the price. Patients pay $1,850 upfront, or alternatively put $250 down with 24 $85 monthly payments. In comparison, Invisalign costs roughly $3,500 to $8,000 and braces cost an average of $5,000 (in some cases, your HSA or dental insurance will cover part of the cost). As well as saving patients money, the service provides the additional convenience of not having to make in-person appointments and then schlep across town while wearing the aligners. 
Interestingly, the 3D printing technology that SmileDirectClub uses is available to all dental practitioners. Numerous offices have already purchased printers of their own to take advantage of it. SmileDirectClub is simply the first to succeed at launching an online platform that uses it.  
How does SmileDirectClub work?
The first step of the SmileDirectClub process is determining whether you're a candidate, since these services are intended for those with mild to moderate imperfections, like some crowding or small gaps. You'll also need to be candid about your medical history. This review process can be completed either in-person at one of their brick-and-mortar locations, or you can order an online impression kit from the website, take images, and answer questions online. While the kit can get a little messy (after all, you're making molds of your teeth!), it's relatively straightforward if that's your preferred option. Your information is then sent off to a dentist or orthodontist for final approval.
"A dentist or orthodontist licensed in the customer's state reviews each customer's photos, medical and dental history, the chief complaint, 3D images of their smile, and any necessary x-rays or other needed clinical information before creating their custom SmilePlan," explains Sulitzer. "Using innovative technology and a prescription, SmileDirectClub creates a personalized invisible aligner kit for every customer, tailor-made to their unique needs."
Once you're approved and your treatment plan has been created, your aligners should arrive within three to four weeks with instructions for how long you should wear the set.
You'll need to wear the aligners almost 24/7 — the only exception is when consuming hot drinks and while eating. And yes, they do take some getting used to, especially when you switch to a new set. You may even have a slight lisp the first few days as you get used to speaking with them on, but this goes away pretty quickly. Fortunately, the aligners live up to their invisible claims, and unless someone really gets up close to inspect your teeth (which would be very weird), they won't notice you're wearing them.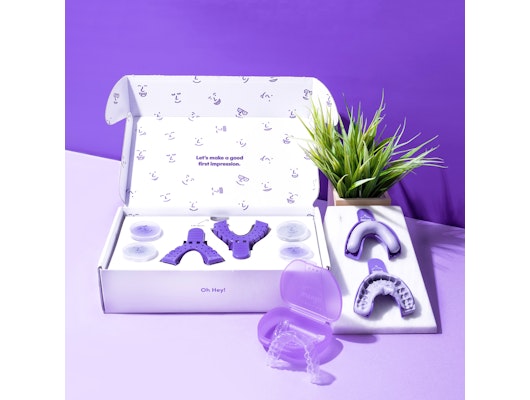 Courtesy of SmileDirectClub
The entire "smile journey," if you will, typically takes approximately six months, but depending on your case, may take more or less time. "Throughout the process, customers follow the simple directions provided on wearing their aligners, and check in on their progress remotely with their treating [dentist] as needed," Sulitzer explains. "After [you've completed the process], you can order retainers to wear at night to preserve your new smile."
As with anything, results vary from person to person and every case is different. Generally, people notice a positive change from beginning to end with gaps closing, crowding reduced, and teeth becoming straighter. We recommend checking out candid online reviews and before and after images to get a feel for what SmileDirectClub can do.
Are there any possible disadvantages to SmileDirectClub?
The whole thing sounds pretty amazing — half the cost and half the hassle for a nice smile — but we'd be remiss if we didn't include a few considerations.
"The potential negatives to SmileDirectClub is that there is [little] dentist or orthodontist involvement," notes Dr. Inna Chern, a dentist at New York General DentistryTM. "The possible complications of unsupervised orthodontic movement are quite extensive." Dr. Chern warns that these possible complications include TMJ issues, bite disharmonies, and periodontal problems (meaning issues with your gums or other surrounding tissue).
Should you experience an issue, SmileDirectClub can connect you with a dentist or orthodontist, and you can speak to customer service, as well. That said, it's certainly not the same as being examined in person or watched closely throughout the months-long process.
"The best advice I can give to people interested in SmileDirectClub is to evaluate your expectations of the product and its limitations," says Chern. "Most importantly, think about whether you feel comfortable proceeding with a dental procedure without the ability to [easily] consult a dentist or orthodontist." Of course, anyone requiring a significant tooth transformation with imperfections that would fall beyond the classification of "mild to moderate" should seek out the help of a professional in office. Seriously advanced orthodontic cases are out of the scope of SmileDirectClub.
Whatever option you choose for teeth straightening, be it traditional braces, in-office invisible aligner treatment, or an online service like SmileDirectClub, having a smile that you're proud of can be monumental for your self-esteem. Do your research, consider your options, and figure out which route makes the most sense for you.