Admittedly, I am among the sliver of people who does not actively follow the adventures of Jon Snow and co. on Game of Thrones®. Nevertheless, I feel adequately looped in, thanks to droves of mega-fans at my office. One such fan is Courtney Afriyie, Spotlyte'sTM Visuals Producer. (Breathe a word about Winterfell, and watch her react with the excitement of someone winning the lottery.)  
When we caught wind of a "Fire and IceTM" facial that you can book on RegiTM — a treatment with a name reminiscent of the dragon vs. night king theme of the show — Afriyie was more than happy to give it a whirl. I was curious, merely from a beauty perspective, what, exactly, this extreme-sounding facial would entail. (Fire-breathing dragons?)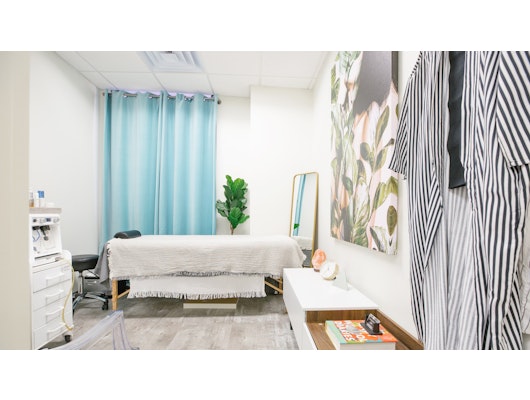 GLO Spa℠ is located not in Winterfell, but in New York City's Financial District on the fifth floor of an unassuming building. We were greeted by the spa's founder, Saime Demirovic, who incidentally has icy blonde hair that makes her look like a modern-day Daenerys. She led us into a treatment room, where the glow-boosting magic would take place. Read on for the step-by-step scoop.
Step 1: Pore Purging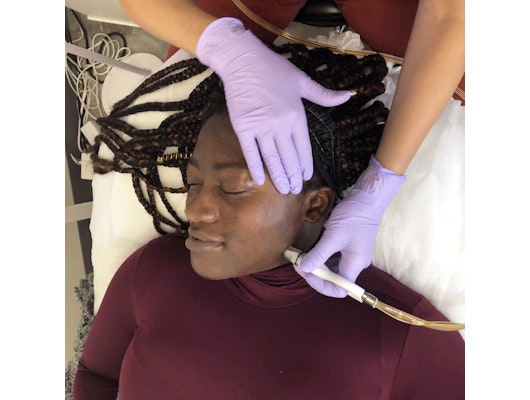 Photo Credit: Sophie Wirt
To smooth, prime, and prep the surface of the skin, the facial began with a Dermalinfusion® treatment. This treatment "vacuums" gunk from pores and simultaneously infuses skin with serum of your choosing. Standalone Dermalinfusion treatments usually use an abrasive head for an intense exfoliation. But, since the Fire and Ice facial involves exfoliation measures of its own (more on that later), Demirovic uses a flat, non-abrasive tip so as not to overdo it.
 In addition to a customizable tip, the Dermalinfusion treatment also boasts a range of serum offerings. For Afriyie's skin, which she says is oily and prone to hyperpigmentation, the aesthetician opted for a brightening vitamin C serum. 
I had heard about the pore-clearing prowess of this device, but watching it in real life was a whole new experience. After running the suction-tipped device across Afriyie's skin, we marveled at the particles it had extracted. (Gross? Perhaps. Satisfying? Absolutely.) 
Step 2: "Fire"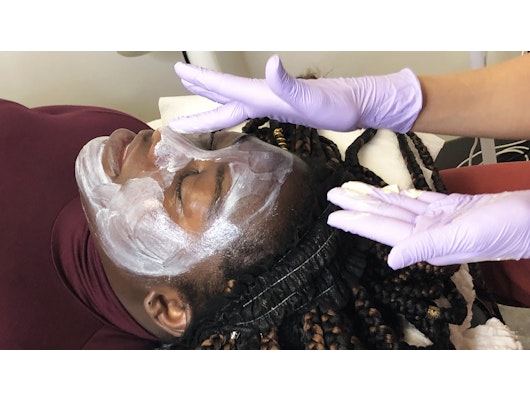 Photo Credit: Sophie Wirt
Once Afriyie's pores were deep cleaned, it was time for the "fire" portion of the treatment. Fortunately, the treatment does not involve a lick of actual fire (from Drogon or otherwise) — but it does leave skin feeling the burn, thanks to a 30 percent glycolic acid-based solution. "This is not a true chemical peel," Demirovic notes, "but it's pretty close."
For context, many at-home peels contain less than 10 percent glycolic acid, and they still manage to impart an uncomfortable skin tingle even so. Demirovic applied the 30 percent solution, which was a thick cream infused with cinnamon (and a pleasantly spicy smell to match). Within seconds, she began fanning her hands above Afriyie's face — a habit she said she'd developed after years of watching clients squirm from the peel's uncomfortable sting. 
"When I first tried this part, I was such a baby about it!" Demirovic recalls. As someone who tingles every time I apply my at home chemical exfoliant, I imagine I'd have been writhing in agony — yet Afriyie seemed virtually unaffected by the sensation. Instead, she said the peel felt satisfying, as if it was "burning all of the impurities off." 
After a few minutes, Demirovic used a damp cloth to wipe the product away. Afriyie's skin appeared slightly pinker than usual, though the chemical-induced glow was already apparent. To finish putting out the "fire," Demirovic applied a pH-balanced cleanser from iS Clinical® ($42). "This neutralizes the peel," she explained, slathering it with massaging motions across the skin. A pH-balanced cleanser can also help skin return to its optimal state — i.e. not tight and dry, and not overly-oily. (Read more about pH in skincare.) 
Step 3: "Ice"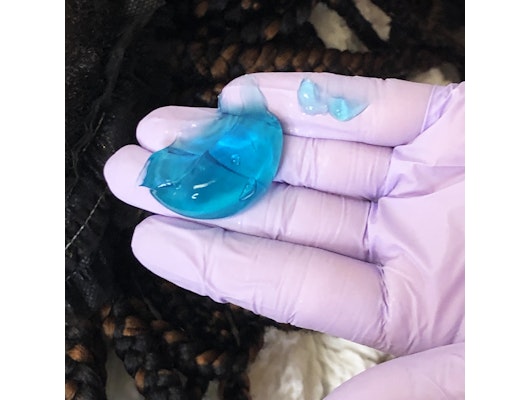 Photo Credit: Sophie Wirt
Next, Demirovic applied a dollop of gel to Afriyie's face that was as blue as the eye of a White Walker. This professional-grade iS Clinical Rejuvenating Mask formula contains hyaluronic acid to seal in hydration, plus soothing aloe to calm inflammation. Ergo, this cooling jelly mask feels particularly soothing after the "fire" portion of the facial. It also helps counteract any sensitivity and/or redness that may have arisen.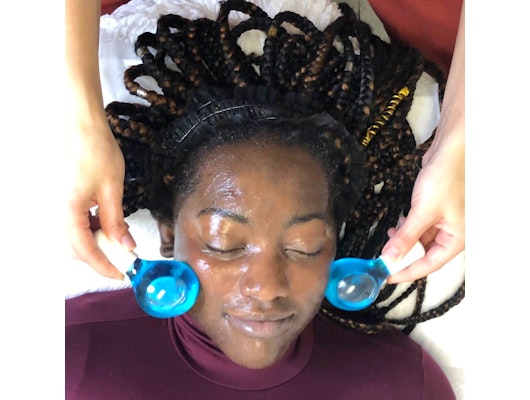 Photo Credit: Sophie Wirt
Then, Demirovic retrieved two glass orbs; facial massagers used to further cool and calm the skin. This step also acted as a mini depuffing face massage.
[Editor's note: If you take blood thinners, talk to your doctor before using a facial massager.] 
The final step consisted of a refreshing peppermint-infused towel wrapped around the head, followed by a lightweight, retinol-infused moisturizer. The entire treatment took less than an hour, but the results — glowing, more even-looking skin — were nothing short of epic. Or, as Afriyie puts it: "I walked out of GLO Spa feeling like a Khaleesi ready to sit on my iron throne."
[Editor's note: Retinol shouldn't be used by those who are pregnant, considering getting pregnant, or nursing. Please consult with your doctor before use.]
Complimentary service provided to the author for the purpose of writing this article.
RegiTM is an Allergan®-owned venture.
Dermalinfusion® is an Allergan-owned treatment.