Celebrity esthetician Georgia Louise is undeniably one of the most in-demand facialists in the beauty business right now. Her long list of Hollywood clientele and her infamous Hollywood EGF FacialTM put her on the map years ago. However, she's grown to be much more than the skincare expert that celebrities — like the entire roster of Victoria's Secret® models — trust their faces with. Louise has morphed into one of the most innovative product developers within the skincare industry, which is why we keep a watchful eye on everything she touches.
Straight on the heels of her unique face mask-boosting device launch last year, the GLOPulseTM Galvanic Machine ($165), the famed facialist is introducing the next addition to her namesake brand: Pure MoleculeTM ($550). This is a set of topical (not edible) freeze-dried serum tablets that dissolve in your hand when mixed with an activating liquid pre-application.
Don't be shocked if you've never heard of topical skincare tablets — Louise claims this is the beginning of a whole new skincare category. Luckily, it's a pretty simple concept to get used to. Pure Molecule is a "32 nightly" set containing four sheets of eight pills that are meant to be used over the course of a month. Each packet contains one of the four different ingredient tablets. The four types of tablets in each kit are as follows: hyaluronic acid to hydrate, epidermal growth factor (EGF) to strengthen, collagen to firm, and vitamin C to brighten the skin.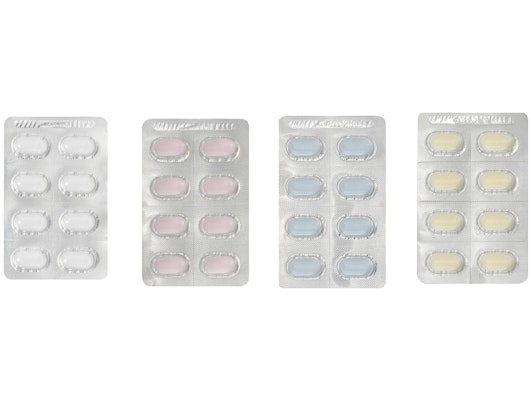 Every tablet is freeze-dried, which keeps all the nutrients in the formula but removes all the moisture. Thanks to this method of preparation, the tablets are 100 percent pure, meaning they're free from chemicals, additives, preservatives, and parabens. Not only does freeze-drying the ingredients aid in preservation, it also shrinks the molecular weight of the ingredients, which is a huge deal in the skincare world. Here's why: skincare formulas with a lower molecular weight are absorbed by the skin much easier than those with a larger molecular weight. After all, bigger molecules tend to sit on top of the skin rather than penetrate it, which is exactly what we don't want — molecules that get into the skin deliver the powerful promised benefits.
To incorporate these tablets into your routine, you should first choose your desired tablet according to the skincare benefit you're looking for. Louise recommends beginning your regimen with the hyaluronic acid tablet before moving to the collagen, EGF, and finishing with vitamin C, but you can adjust this order to your personal preference. Once you've made your choice, dissolve the tablet in your hand using eight drops of Georgia Louise's liquid applicator (this is included in the kit!). While you can substitute water for the applicator in this step, Louise recommends her own applicator since it contains soothing ingredients like rosewater, peptides, and additional hyaluronic acid.
Adding the liquid step will cause the tablet to dissolve and turn into a treatment serum. At this point, you can pat the formula into your skin until it's completely absorbed. Immediately follow-up with another serum or oil of choice, proceeding with a face cream as your final step. When I first tried a tablet, the dissolved pill felt a bit gummy on my skin, but that feeling quickly disappeared — especially when I topped it with a hydrating product. I personally like to use PCA Skin® Hyaluronic Acid Boosting Serum ($115) after using the tablet. It gives my skin an extra boost of moisture without feeling greasy.
Another tip: pack these tablets into your carry on bag before long flights for an instant skin boost. "I always travel with the hyaluronic acid tablets so my skin never goes thirsty on the plane," says Louise. "And for a no makeup look, I use the vitamin C [tablets instead] to really give my skin that 'just got a facial' glow."
While all this molecule mixing might seem a bit like bringing chemistry class to your bathroom (or airplane seat!), the unique formulation and application technique actually work. Louise partnered with Korean research and development experts, conducting clinical studies that proved 22 women saw a 19.69 percent increase in skin density and a 1.98 percent increase in skin elasticity after two weeks of use. And thanks to that low molecular weight that we discussed above, the ingredients penetrate so deeply that they have been scientifically proven to last 72 hours within the skin. 
I know what you're thinking, 72 hours of maximum hydration seems a bit too good to be true. And while claims like this usually are, I've personally noticed a major difference in my skin after using this product line. My complexion looks healthier and more radiant each morning and, as someone who doesn't usually clock in the suggested eight hours of sleep a night, this is a big deal. As a matter of fact, my skin looks so good when I wake up, that I've slimmed down my morning skincare routine to only three steps. So, kudos to Georgia Louise for not only delivering a seriously effective product, but also one that helps to save me time in the morning.
Complimentary product was provided to the author for the purpose of writing this article.
Price may vary from the time this article was written.