Think back to your last massage. If you were lucky, it was a totally blissful experience. But we'd argue that (more often than not), there's a little bit of discomfort around the average massage, whether it's confusion about your preferred pressure during it or trying to figure out the tip afterwards. That's exactly why the brilliant founders of Drybar® (Cam Webb, Alli Webb, and Michael Landau) created SqueezeTM.
The team is working to revolutionize the massage landscape by offering a totally transaction-less experience. Squeeze's first location opened up just weeks ago in Studio City, California, and as an avid Drybar user, I knew I had to check this place out. Like everything today, Squeeze centers around its app. The app allows you to book appointments, set your personalized preferences, pay, tip and rate your therapists to eliminate any awkward exchanges so that the entire process is relaxed and effortless.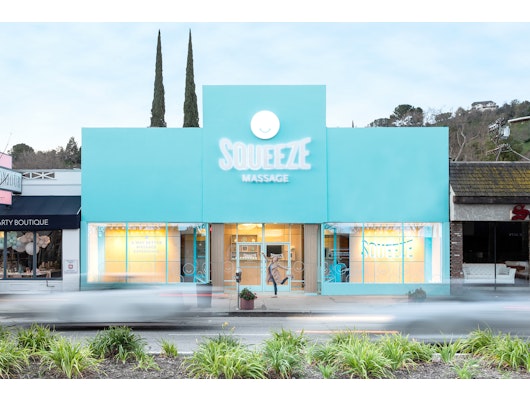 "We like to say you walk in and float out," Squeeze CEO and co-founder Brittany Driscoll tells me. "You're in a very relaxed state of mind the entire time you're here — it's transaction-less and stress-less to create a space that is truly an escape."
And, honestly, they nailed it. When walking into the space, you're instantly greeted by the cheeriest Squeeze sky blue — a calming yet cheeky color — and a doormat that reads, "Good for the Sole." The lobby is minimal and although there is someone to greet you at the front desk, everything is already mapped out for you on the app. Once checked in, you walk through tranquil wood hallways of rather hidden Squeeze suites that were constructed to resemble jewelry boxes, so instead of walking past rows of doors, you walk through a zen environment of structured wood paneling with touches of blue.
One of the main things I loved about my Squeeze experience is that they take you on a sensory journey the entire time you're there. It starts with an aromatherapy bar next to the waiting area, which has four encased diffusers that you can sniff and select for your treatment. I landed on bergamot, an easy choice for me as it's always my go-to.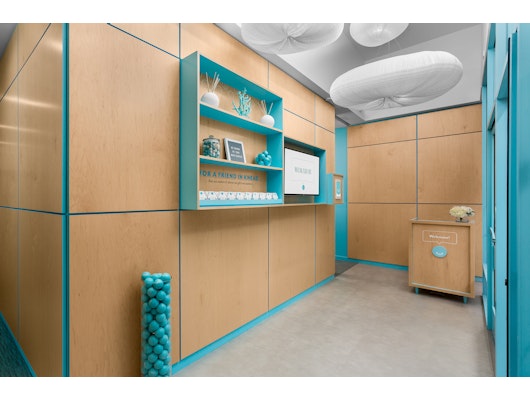 Once inside your Squeeze suite — which is neutral, cozy, and serene — you're in the driver's seat and have the ability to customize everything from the music (I went with Zen) to the temperature of the bed and the lighting. The team has really thought of everything, right down to in-room phone chargers and a genius button underneath the bed that allows you to notify your therapist when you're under the covers and ready for them to come in. Brilliant, I know.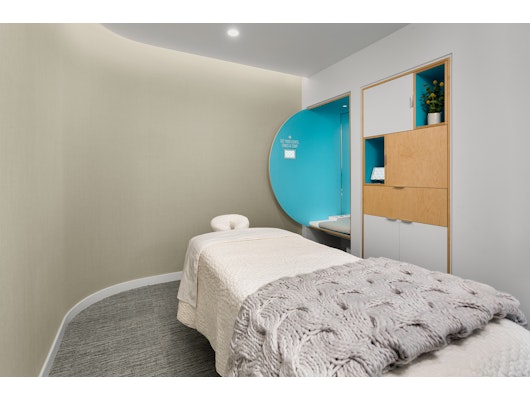 I enjoyed an 80-minute Main SqueezeTM deep tissue massage with heat therapy and bergamot aromatherapy courtesy of my therapist, Timothy, and all I can say is: wow. I hold a lot of tension in my shoulders and neck, and I oddly like my massages to be intense. However, I'm usually unsatisfied by the pressure of most massages — but not at Squeeze! It was one of the best massages I've had in a long time and I cannot wait to go back.
At many spas, you'd find that booking a treatment with bells and whistles like mine would add up — especially if you opted to tack on upgrades mid-massage. However, the advertised price at Squeeze is what you pay, regardless of any add-ons. The best deal is definitely getting a membership; a mid-membership gets you one 50-minute massage a month ($79) and a main membership gets you an 80-minute massage a month ($99).
There's no initiation fee, and massages roll over indefinitely so you never lose them. You do have the option to gift them to a friend, though, and you can cancel your membership at anytime. "We really tried to incentivize a regular massage routine because it's so important for our wellbeing," Driscoll says, so for members who want to come more frequently, additional massages within the same month are discounted to $59 for a 50-minute treatment and $79 for an 80-minute appointment.  
Currently, Squeeze's only location is in Studio City, but the brand has plans to grow and scale quickly through franchising like Drybar (which is about 25 percent franchise). If you're not based in Los Angeles, good news: Driscoll mentions the Squeeze team has their eyes on Arizona, Colorado, and Texas. Hopefully, it's only a matter of time until more massage aficionados have the opportunity to float out of Squeeze soon.
Complimentary service was provided to the author for the purpose of writing this article.
Service prices may vary from the time this article was written.