These days, everybody wants to be an influencer. Simply scroll through your Instagram® feed if you need evidence: you'll likely see highly saturated images of sunsets, carefully staged dishes of eggs Benedict, and the perfect #OOTD (outfit of the day) styled just so. Of course, very few of these aspiring tastemakers actually "make it" in the field, despite all the effort they put in. But blogger Irene Khan — who boasts 464,000 followers on Instagram® — did make it. And her career evolved far more organically than those of most influencers.
The 32-year-old Detroit native originally planned to become a plastic surgeon, because she was "so obsessed with aesthetics," but she ended up switching majors multiple times. After four years of following a pre-med path, she graduated with a marketing and advertising degree from Wayne State University®. "I ended up changing gears completely after realizing there were so many creative things I wanted to pursue," she explains. Khan notes that her traditional Bangladeshi parents were not pleased that she wanted a career in anything but medicine, adding that they "definitely didn't see any viable future in the arts."
That all changed, however, once Khan had the moment every influencer needs to make it big: she went viral. In college, she was working as a photo retoucher — and realized that she could take better shots than some of the photographers. "I was 22 when I splurged on my first camera and lighting equipment," Khan recalls. Once she had the right tools, she just started shooting, gravitating towards beauty pageant contestants because she loved hair and makeup. Her passion for makeup turned out to be a serendipitous one: she debuted her very first YouTube® video in 2010, right when interest in beauty videos was hitting its heyday.
Christopher Brown Photography
"My first YouTube video was a photoshoot behind the scenes with Miss USA® 2010," Khan shares. "The video went viral, and that's how my YouTube channel started." It was at this point that her parents' mindset changed — they loved bragging to their friends about the fact that her daughter was working with such a prestigious organization. She continued sharing more behind-the-scenes videos with pageant queens, but also started turning the cameras towards herself. Because she worked so frequently with professional beauty experts throughout this time, she became even more interested in hair, skin, and makeup. Early videos on her channel include hair tutorials, Valentine's Day makeup ideas, and Bollywood beauty looks.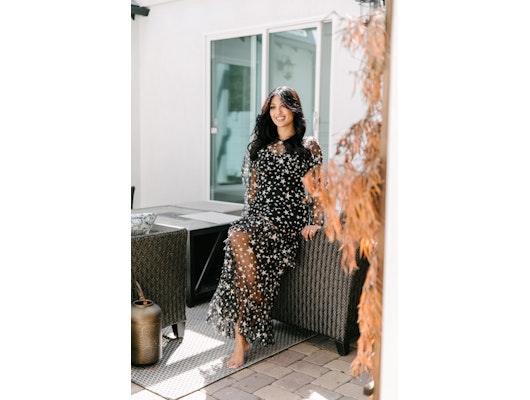 Christopher Brown Photography
Interestingly, it seems as if Khan was fated to be a blogger — as if her whole life had led up to this moment. Yes, she'd been a professional photographer and retoucher (key for creating her perfect blog and Instagram images). She'd also learned basic HTML in her seventh grade computer class, which she says "sparked a fire in her" and "changed her life." "I spent that entire summer [in middle school] teaching myself more HTML and JavaScript®, and began creating my own websites," Khan shares. "It was from here that I taught myself Photoshop® (so my websites would be pretty!), and this laid the foundation for everything to come."
That evolved into her current thriving career as a lifestyle influencer. Khan has remarkably engaged followers (with over a quarter million of them on YouTube alone), partnerships with brands like Nordstrom® and Panasonic®, and even gives talks (recently, she spoke at Northeastern University® about the importance of pursuing her passion despite the pressures of growing up in a South Asian family).
Her home life is flourishing, too. After dreaming of living in Los Angeles, she and her husband Waseem (who works in advertising) moved there four years ago. In 2017, they started their family when Khan gave birth to her adorable daughter, Iya (22 months). Despite all that she's accomplished, the self-professed "one-woman team" admits that she is still mastering how to delegate.
---quiz start
---quiz end
"Anything you've seen me put out, I did myself from start to finish," she explains, adding that looking back on her work and thinking "I did that!" is the most rewarding part of her job. Recently, though, Khan has found that she's now forced to ask for help. "After becoming a mother and losing the 'luxury' of being able to stay up all night or sit at the computer all day, I finally realized that I'm doing such a disservice to myself and my brand," she shares. To avoid being spread so thin, she now works more closely with her management team, and her husband will be taking a more active role in brand development. "People think this job is so easy and the only requirement is being pretty," she adds. "If they only knew how much work goes into this behind the scenes."
That said, in addition to being a savvy businesswoman, talented photographer, and writer, Khan is quite pretty. As anyone who puts time and effort into experimenting with products can tell you, beauty is hard work. She takes skincare and makeup very seriously. Just watch one of her tutorials or GRWMTM (get ready with me) videos: she offers endless feedback on different formulas, while offering regular product suggestions to her viewers. (Truthfully, it's hard to watch her channel without going on a shopping spree.) Despite all the items she tests, though, her regular routine is fairly edited — which she thanks Iya for.
She's also open to trying medical aesthetics treatments and seeing how they fit in her lifestyle. So far, she's dabbled in lasers and cosmetic injectables, the latter of which she openly discusses on her platforms because she believes "there is no shame in cosmetic procedures." Here, she divulges which procedures she likes best, along with her favorite products, beauty traditions, and much more.
---quiz start
---quiz end
[Editor's note: Injectable wrinkle reducers temporarily smooth the look of moderate to severe wrinkles in certain areas of the face, including the forehead, frown lines, and crow's feet. Injectable filler is a temporary treatment that adds volume to areas of the face such as the lips, cheeks, and laugh lines. Like any medical treatment, both injectable wrinkle reducers and injectable fillers have potential risks and side effects. Talk to a licensed provider to see if they're right for you. And learn more now by chatting with a trained aesthetic specialists now.]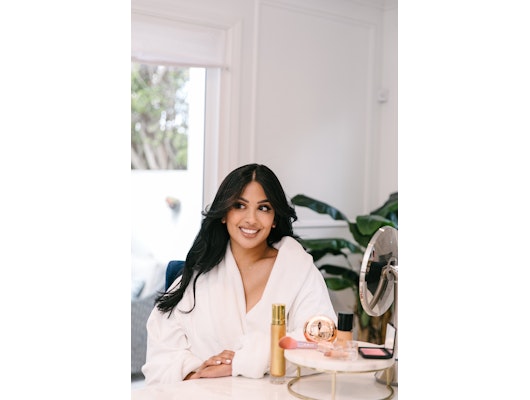 Christopher Brown Photography
Spotlyte: If you weren't in your current line of work, what would you want to be doing?
Irene Khan: I'm honestly not sure. Before shifting over to blogging full-time, I was always a freelancer and have actually never worked a 9 to 5! I could see myself working in the ad world (like my husband).
Spotlyte: Are there any South Asian women in beauty that are inspiring you right now? If so, who and why?
IK: I love Sharifa Easmin online and in real life! She's one of the sweetest girls I know in this (sometimes hyper-competitive) industry and is always so supportive. She's so funny, authentic, and creates amazing content.
Spotlyte: If you could go back in time and do anything for your skin in your early twenties, what would it be?
IK: [Using] all the sunscreen. I truly believe I could have put off stressing about aging for another several years if I just took care of my skin sooner. Luckily, it isn't too late!
Spotlyte: How has your skincare routine evolved since becoming a mom?
IK: It's gotten very lazy. There are some nights that I'm so exhausted, I can't be bothered with a skincare routine. Some mornings — when my daughter demands all of my attention — I can't even wash my face. In moments like these, I depend on things like micellar water or cleansing pads. [Doing] something is always better than nothing, so I definitely have an assortment of bottles and cotton rounds on my nightstand.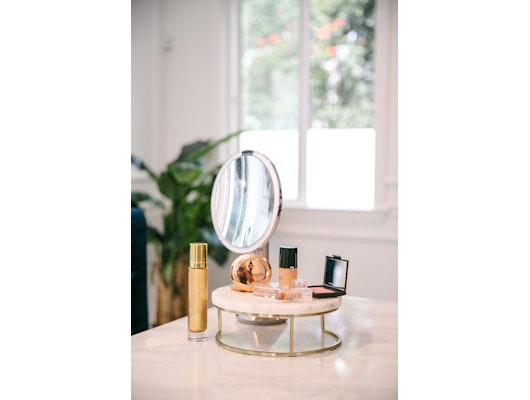 Christopher Brown Photography
Spotlyte: What are your skincare essentials right now?
IK: La Roche-Posay® Micellar Water really gets off every last bit of my makeup. I always swipe [myself] with a soaked cotton round, even after washing my face.
I love a great chemical exfoliator to get rid of dull dead skin; Sanitas® Brightening Peel Pads really help fade any acne scars I still have lingering.
Retinols have helped me so much in fading acne scars and hyperpigmentation. I've gone as far as getting tretinoin prescriptions. I really love the Murad® Retinol Youth Renewal Serum, because it gives me great results without being drying or causing any flaking. I also love the brand's night cream. 
[Editor's note: Retinol shouldn't be used by those who are pregnant, considering getting pregnant, or nursing. Please consult with your doctor before use.]
Supergoop!® Everyday Sunscreen — it has no white cast, it's not greasy, no odor. It's seriously the best! I keep one tube at home and one in my car at all times.


Spotlyte: What about your everyday makeup must-haves?
IK: Armani® Luminous Silk Foundation is my new favorite foundation! It looks so silky and flawless while still looking like skin.
I'm pretty dry so a lot of powders make my skin crawl. I love that Becca® Hydra-Mist Powder feels like a splash of water and never makes me feel dry.
I love a bright undereye, and I'm obsessed with the way the Kylie Cosmetics® Soft Pink Powder brightens me up and makes my blush pop.
Too Faced® Better Than SexTM Waterproof Eyeliner is the best liquid liner. It applies so easily, cleanly, and is so black! I never wore eyeliner unless I knew I could take my time (so, only glam looks), but with this, I can wear a wing casually.
KKW Beauty® Nude 2 Lipliner is the perfect nude for my complexion for both casual and glam looks. Sometimes just a little lipliner is all you need to look put together.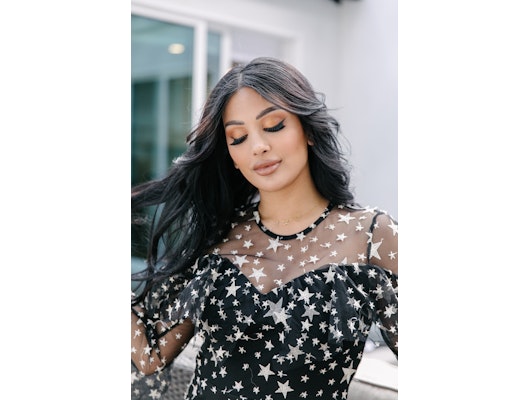 Christopher Brown Photography
Spotlyte: Your hair is amazing. What do you do to make it so beautifully glossy?
IK: Thank you! My hair is actually super coarse and not as shiny as I'd wish. I dye it blue-black, though — I feel like the darker your hair is, the shinier it will appear.
Spotlyte: Who do you see for your hair (cut/color)?
IK: I see Lara at Studio Kay®. She's great and such a girl boss.
Spotlyte: We love that you are open about having greys and don't retouch or dye them.
IK: It isn't intentional; I wish I could have my hair freshly colored at all times, but that just isn't my reality. Grays are so normal —  so I don't see the point in hiding them between colorings!
Spotlyte: Are there certain treatments you swear by, or tools you love?
IK: I am obsessed with the Revlon® One-Step Hair Dryer and Volumizer. It's perfect for my hair type and completely changed my life! I used to have to schedule wash and blow-dry days because it was so time consuming, but now I can dry my hair in under five minutes.
Spotlyte: Are there any beauty treatments or traditions that have been passed down through your family that you still use or follow today?
IK: I don't do it on myself much anymore, but I love massaging my daughter's scalp with coconut oil when her hair is looking a little dull. My grandmother used to do it for me!
Spotlyte: What do you hope to teach your daughter about beauty?
IK: Beauty truly comes from within and self-affirmation is so powerful. I try to tell her every day how smart, sweet, and beautiful she is.
Spotlyte: When do you feel your most beautiful?
IK: Bare-faced, when my skin is looking A1! I love feeling fresh-faced and free.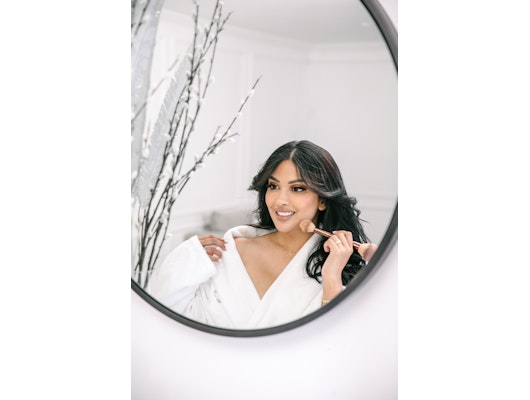 Christopher Brown Photography
Spotlyte: Have you tried any professional skin treatments to get camera ready?
IK: Laser hair removal was probably the best investment of time and money I've made. I got areas of my body done, as well as my hairline, a few years ago. I am still so happy with my results, even after pregnancy! I used the Soprano® laser which is supposed to be great for women of color — I saw significant results after just one session. It's been years since I've gone; I actually need to find a new place that I love.
Spotlyte: What is your stance on cosmetic injectables? Please explain.
IK: There is no shame in cosmetic procedures. If you like the way [your results] look, go for it!
Spotlyte: Have you ever tried any cosmetic injectables, such as injectable wrinkle reducers and fillers?
IK: I've been getting fillers in my lips for over five years! I've always been happy with my results, but recently got them redone more conservatively, and am obsessed [with the results]. I see Nurse Marissa at California Cosmetics® in Newport Beach.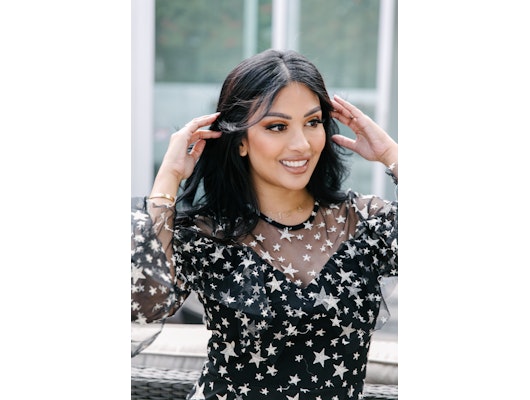 Christopher Brown Photography
Spotlyte: Why do you think cosmetic injectables are so popular among beauty influencers?
IK: I think it's a mixture of pressure and the pursuit of a certain look. We have cameras on our faces every day, so we want to look a specific way for our large audiences. It's very easy to get obsessive — we just have to stay grounded and self-aware. 
Irene Khan was paid by Allergan® to be featured in this article.
Product prices may vary from the time this article was written.
Allergan may receive commissions for purchases made through links in this article.