To the delight of dermatologists and consumers alike, products formulated with retinol as the hero ingredient seem to be increasing exponentially on store shelves. We've got buttery balms, luxe oils, silky serums, and countless treatments formulated for all skin types, which means there's no excuse for skipping this dermatologist favorite in your own routine.
[Editor's note: Retinol shouldn't be used by those who are pregnant, considering getting pregnant, or nursing. Please consult with your doctor before use.]
"Second to daily sunscreen with an SPF of 30 or greater, a retinoid is the most important part of any skincare regimen," says Dr. Jeanette M. Black, a board-certified dermatologist at Skin Care & Laser Physicians of Beverly HillsTM. "Regular use of a topical retinoid can provide long-term benefits for the skin, including decreasing acne breakouts, reducing the appearance of pores, evening out pigmentation, reducing fine lines, and improving overall texture of the skin."
However, it's important to keep in mind that introducing retinol into your regimen (or increasing the potency) will result in an acclimation period that often consists of redness, flaking, sensitivity, and a bit of skin purging. This shouldn't prevent you from trying it, however. According to Dr. Nancy Samolitis, a board-certified dermatologist and medical director of Facile Dermatology + BoutiqueTM in California, your skin will adjust. "Even if the retinoid seems to produce some irritation when it is first used, the skin will often build up a tolerance and the strength of the retinoid can be increased as the skin builds up healthier cells," she explains.
Additionally, while you can use it in the morning if you so choose, it's best to apply retinol in the evening. That's because the ingredient tends to break down under UV exposure, which renders it less effective (no sense in throwing your money at the sun). Additionally, it shouldn't be paired with other active ingredients, such as AHAs, BHA, and vitamin C. This can cause irritation and extra dryness, since your skin can only handle so much goodness at one time.
Of course, you should consult with your dermatologist to see what's best for you, but to make things simple, we've asked Drs. Black and Samolitis to share their favorite retinol formulas that you can snap up at your local Nordstrom®. With these picks, you're well on your way toward clear, radiant, and youthful skin.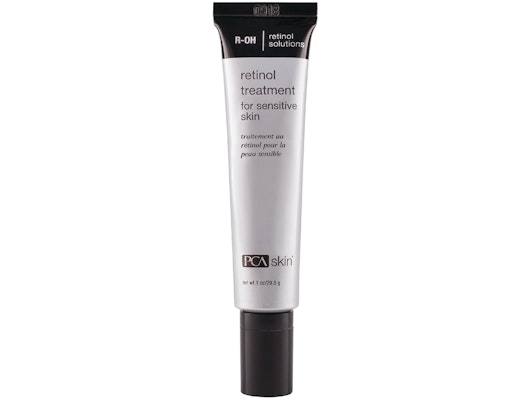 The Product: PCA Skin® Retinol Treatment for Sensitive Skin ($110)
Best For: Retinol Newbies, Sensitive Skin, Reactive Skin
Dermatologist Insight: "I like this product because it is specifically formulated for sensitive skin and those with allergic reactions to common skincare ingredients," says Dr. Black. "It's also great for those with skin allergies, as it doesn't contain ingredients such as parabens, lanolin, synthetic dyes, or fragrances." If you're new to the retinol game, she says to start with a pea-sized amount every other night and then increase use as your skin acclimates.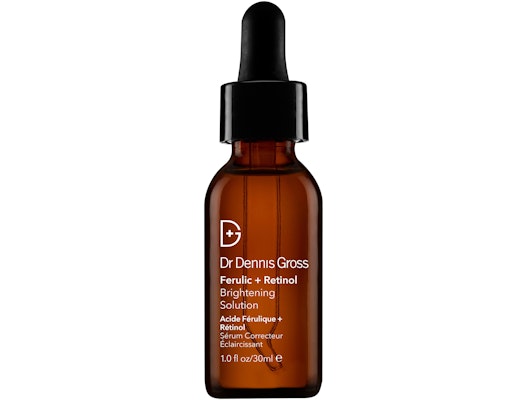 The Product: Dr. Dennis Gross® Ferulic Acid + Retinol Brightening Solution ($88)
Best For: Hyperpigmentation, Free Radical Damage, Improving Texture
Dermatologist Insight: This product was developed by a board-certified dermatologist and is gentle enough to use morning or evening. "It contains antioxidant powerhouses — like ferulic acid, quercetin, and vitamin E — that are blended with retinol and a combination of exfoliators," says Dr. Samolitis. "It is ideal for someone who is looking for brightening skin discoloration from sun damage and improving fine lines and skin texture." It also contains bearberry extract, which is a natural alternative to hydroquinone and can help reduce hyperpigmentation.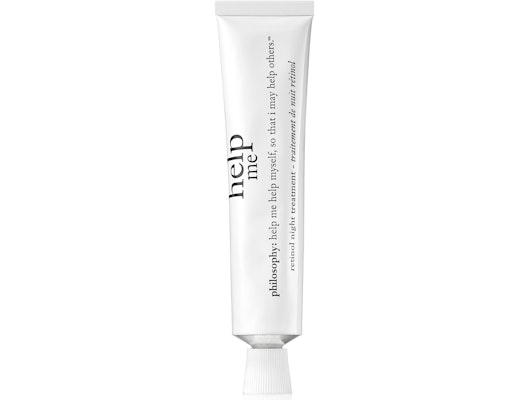 The Product: Philosophy® Help Me® Retinol Night Treatment ($49)
Best For: Congested Skin, Dry Skin, Sensitive Skin
Dermatologist Insight: "This retinol treatment is hydrating and well-tolerated by most patients," says Dr. Black. The formula was actually developed to be an over-the-counter alternative to prescription tretinoin. "It's ideal for someone with dry skin who's looking for a hydrating retinol cream." If you're searching specifically for a retinol to tackle acne, this could be an ideal option for you: it targets congestion by time-releasing retinol into the pore.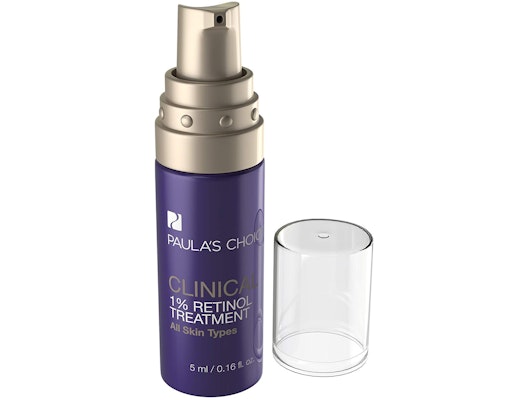 The Product: Paula's Choice® Clinical 1% Retinol Treatment, ($58)
Best For: Retinol Pros, Hyperpigmentation
Dermatologist Insight: Dr. Black recommended this retinol treatment from Paula's Choice, noting that it's formulated with nourishing and brightening licorice extract and soothing oat extract. At 1 percent concentration, it's a potent retinol product, making it ideal for those looking to advance from a lesser concentration to something stronger. It also serves as a nice intermediary product before dipping into prescription strength retinoic acid (with your doctor's guidance, of course).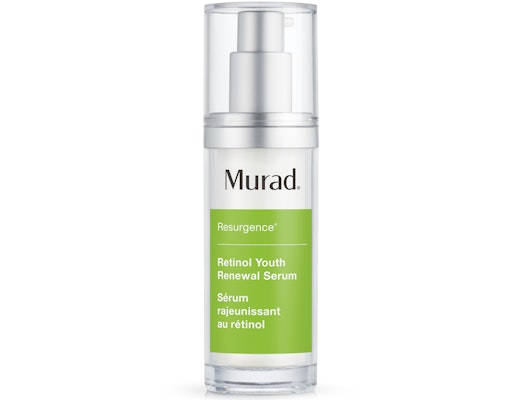 The Product: Murad® Retinol Youth RenewalTM Serum ($89)
Best For: Sensitive Skin, Dry Skin, Mature Skin
Dermatologist Insight: "This retinol formula was also created by a board-certified dermatologist and is best for someone with more sensitive skin who is looking for anti-aging benefits of retinol," says Dr. Samolitis. If you're prone to irritation with retinol, you might want to give this formula a try, thanks to the nourishing ingredients retinol has been paired with. "The formula is boosted with multiple emollients, such as shea butter, ceramides, and hyaluronic acid, to keep the skin barrier intact and prevent the possible side effects that can occur with retinol, such as redness or dry skin."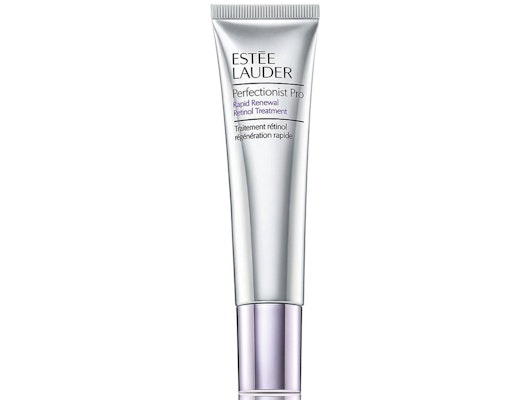 The Product: Estee Lauder® Perfectionist ProTM Rapid Renewal Retinol Treatment ($82)
Best For: Dry Skin, Oily Skin, Combination Skin
Dermatologist Insight: Just launched this year, Estee Lauder's retinol treatment has already received abundant buzz within the skincare community. It's a retexturizing formula with a time-release system that targets fine lines, wrinkles, and photo damage while you sleep. "This product contains a potent retinol that is released into the deep layers of the skin more slowly to reduce the possibility of irritation," says Dr. Samolitis. "It also contains nourishing antioxidants and moisturizing ingredients for all-around skin brightening and health." That includes hyaluronic acid, which can help reduce redness, flaking, and irritation. Read our beauty editor's review of this popular new product here.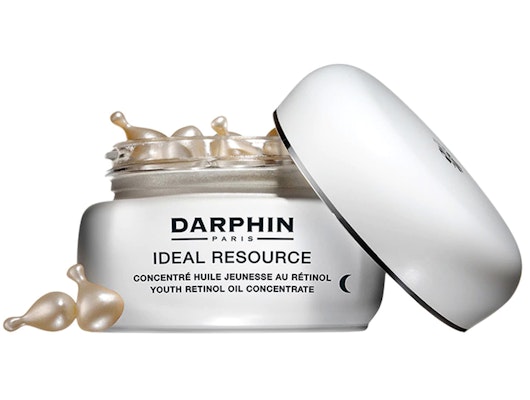 The Product: DARPHIN® Ideal Resource® Youth Retinol Oil Concentrate ($98)
Best For: Natural Ingredient Fans, Mild Sun Damage
Dermatologist Insight: "This French-girl favorite brand encapsulates their retinol product in single-dose packets in order to preserve and protect the potency," says Dr. Samolitis. "It is infused with multiple botanical antioxidants, like cranberry and pomegranate, as well as moisture-locking natural oils." Those botanicals include carrot extract, which is loaded with beta-carotene, another form of vitamin A, which also helps cellular turnover to fight signs of sun damage and hyperpigmentation. Plus, the fact that the treatment is housed in ampoules makes it remarkably travel friendly — no need to carry an oversized jar with you on vacation!
---quiz start
---quiz end
Dr. Jeanette Black is a paid Allergan® consultant.
Some complimentary products were provided to the author for the purpose of writing this article. 
Product prices may vary from the time this article was written. 
Allergan® may receive commissions for purchases made through links in this article.