As a teen, I was the proud owner of great skin. While my friends combatted the horrors of acne during our high-school years, complaining of the embarrassment that accompanied every red pustule, I nodded along empathetically, all the while thanking the heavens that I never had to face such concerns.
But as I entered early adulthood, my clear-skinned teenage luck was wearing thin. Hormonal breakouts became one of the many challenges of being a 20-something (along with dating, paying taxes, and figuring out what you plan to do in life). As if fending off crow's feet, smile lines, and crepey skin weren't enough, I had to worry about blackheads and blemishes, too.
Luckily, most of my acne is under control now, thanks to help from my dermatologist. But even so, I'm still left with scars and dark spots as reminders of my former skin issues. So, when I heard about Laser GenesisTM, a non-invasive treatment that targets light acne scars, fine lines, large pores, and uneven skin tone, I knew I had to try it. The fact that supermodel Elle McPherson is a fan only convinced me further of its efficacy.
Before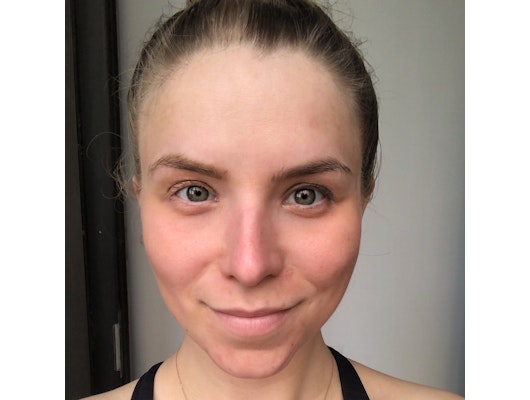 Courtesy
That said, when I arrived at Jeannel Astarita's Just Ageless® medspa inside the trendy 11 HowardTM hotel, I was still a little unsure of what to expect. I had tried other laser treatments before with varying results; but the one commonality they all shared was redness, blotchiness, and even increased breakouts immediately after. The Laser Genesis seemed different, however. While most lasers target brown pigmentation in the skin, this near-infrared YAG laser (which operates at a wavelength of 1064-nm) also seeks out red pigmentation. Ultimately, this allows the laser to penetrate deeper.
"Basically, any time blood rushes to your face — during hot yoga, steam showers, or over-exfoliation — vessels [may] burst," explained Astarita, who noted most people aren't aware of this potential side effect. "But Laser Genesis is designed to eliminate the ruddiness this causes and give you a more even complexion." That's because of how the laser penetrates deeper: broken capillaries are blasted away, reducing overall redness and related discoloration.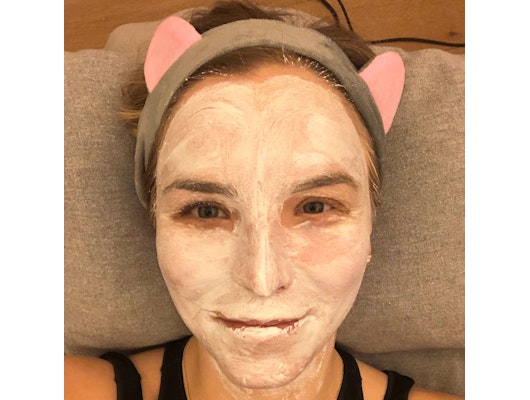 Courtesy
Before firing up the laser and zapping away my imperfections, Astarita used the DefenAge® 2-Minute Reveal Masque ($74) on my skin to brighten and smooth texture. She also did a round of Dermalinfusion®, an advanced form of microdermabrasion that simultaneously exfoliates the skin and infuses it with serums like hyaluronic acid, vitamin C, and salicylic acid. "I love combining Laser Genesis with Dermalinfusion because the heat from the laser can be very drying," the aesthetician says.
When it was finally time to bring out the big Laser Genesis guns, Astarita warned me that it would feel warm, especially over blemishes. She asked me to let her know how it felt on a pain scale from one to 10 so that she could turn it up as high as I could tolerate. "I want you to be at about an eight out of ten," she said, "[It should feel] uncomfortable, but not painful."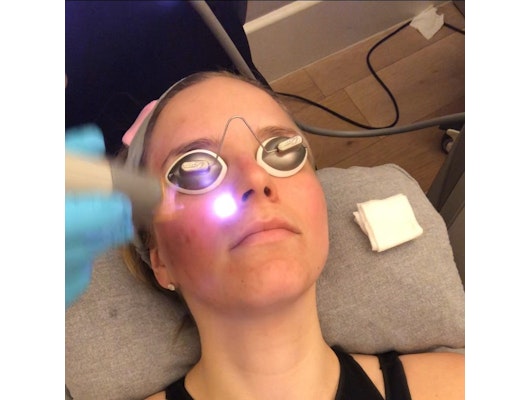 Courtesy
Next, she slipped some (surprisingly cute) goggles over my eyes and began pointing the laser over my skin. The pain was almost non-existent. It was only when the heat was directly over certain red spots that I felt more of a zap. As she increased the joules and revisited areas of my face, Astarita explained that the heat was being absorbed into my upper dermis. This is the layer of the skin just underneath the surface, which is home to many of the complexion's blood vessels. The heat of the laser worked to target redness in the area and promote the growth of new skin cells.
"The laser is [getting] heat deep into the dermis at that particular level where the vessels are to stimulate collagen," Astarita noted. Another added bonus, in case you weren't convinced already: the heat causes the pores to shrink and temporarily appear smaller.
After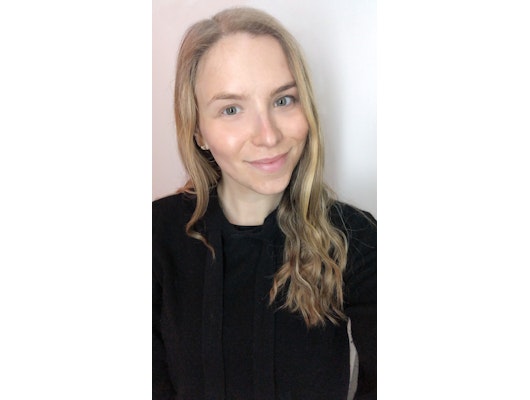 Courtesy
The Laser Genesis treatment took about 15 minutes in total, which explains why it's so commonly referred to as "the lunchtime laser." When I removed the stylish goggles and held a mirror up to my face, I could see that my skin was already glowing, an effect that only grew in the hours after I left. Two days later, a friend commented on how radiant my skin was and asked if I'd gone on vacation over the weekend. I didn't immediately see the lightening of my dark spots and scars, but in the 12 days since, they have nearly disappeared.
Laser Genesis is effective on a spectrum of ages and skin types (Astarita says she sees clients ranging from 12 to 80). Plus, the treatment can be used all skin tones, though Astarita says she usually does fewer pulses and uses a lower setting for people with deeper complexions just to be safe.
As far as frequency, Astarita recommends treatment once every three weeks or so to treat acne and rosacea. After you've tackled these concerns, she recommends an appointment every four to eight weeks for maintenance. "I really love it because it's a red-carpet treatment — you look beautiful afterwards — but it actually has long-term benefits," she says, which makes it logical that Astarita's supermodel client Elle McPherson is such a big fan.  
Laser Genesis doesn't come cheap (prices generally range from $200 to $700 per session), but the clear skin results are nothing short of amazing. I'm looking forward to my next maintenance appointment with Astarita in a couple of months; until then, I will be celebrating the acne-free, scar-free skin. It's almost like reliving my teenage years.
Complimentary service was provided to the author for the purpose of writing this article.
Dermalinfusion® is an Allergan®-owned treatment.