We've all heard of boutique clothing stores, boutique hotels, and even boutique fitness studios, but have you heard of a boutique dermatology practice? Probably not. Interestingly enough, this shift towards a more intimate, sophisticated, and trendy derm office is becoming much more popular, with Redondo Beach's The Derm InstituteTM being an example.
Stanford-trained dermatologist Dr. Annie Chiu founded The Derm Institute with a chic, relaxed design in mind. One look at her Instagram® page is enough to reveal that she's got an eye for elevated beauty, and her practice radiates that kind of aesthetic. "The vibe I've worked really hard to build in my practice is to have every team member and patient feel like it's a friendly, comfortable place where they can discuss anything," explains Dr. Chiu. "When I go to work and see my patients, it honestly feels fun. It's like a giant social hour — sprinkled with injectables, lasers, facials, peels, and body sculpting — for a bunch of friends!"
 [Editor's note: Injectable wrinkle reducers temporarily smooth the look of moderate to severe wrinkles in certain areas of the face, including the forehead, frown lines, and crow's feet. Injectable filler is a temporary treatment that adds volume to areas of the face such as the lips, cheeks, and laugh lines. Like any medical treatment, both injectable wrinkle reducers and injectable fillers have potential risks and side effects. Talk to a licensed provider to see if they're right for you. And learn more now by chatting with a trained aesthetic specialist.]
Dr. Chiu has such a positive relationship — and in some cases, friendship — with her patients that she even uses the hashtag #dermbff on her social media. And since Dr. Chiu specializes in bespoke cosmetic rejuvenation, each individual she treats gets his or her own personalized experience as soon as they step into her office.
As a result, it's no surprise that Dr. Chiu has such a loyal and ever-growing group of patients. Below, the doctor walks us through her own skincare routine, the in-office treatment she feels more people should try, and her tips for those getting injectables for the first time.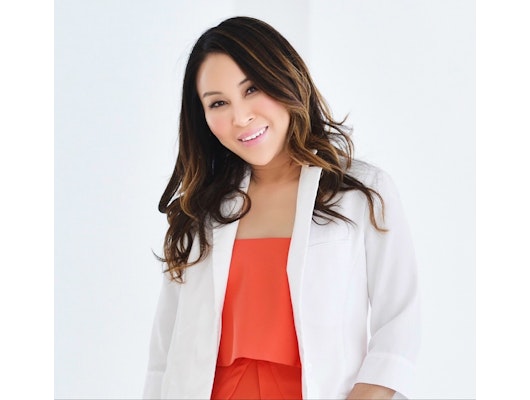 Courtesy Paco Aguilar
The skincare routine that gives her a glowing complexion
"I practice what I preach and I definitely don't skimp on skincare products," explains Dr. Chiu. "My regimen consists of our clinic's proprietary SkinLab MDTM Daily Glow Pads, SkinMedica's® TNS Essential Serum® ($281), Skinceuticals® CE Ferulic® ($166), SkinMedica HA⁵® Rejuvenating Hydrator ($120), and Skinceuticals Triple Lipid Restore 2:4:2® ($128), in that order." For eye and neck care, Dr. Chiu uses the NeoCutis® Lumière® Bio-Restorative Eye Cream ($97) and Alastin Skincare® Restorative Neck Complex ($110). "I use Elta MD® UV Clear Broad-Spectrum SPF 46 along with Colorescience® Sunforgettable® Brush-On Shield SPF 50 ($65) for re-application [of UV SkinMedica protection] throughout the day." At night, Dr. Chiu says she tops off her regimen with the prescription-strength retinoid tretinoin.  
[Editor's note: Retinol shouldn't be used by those who are pregnant, considering getting pregnant, or nursing. Please consult with your doctor before use.]
The injectables she gets herself
Dr. Chiu also admits to using injectables. She is also a big believer in the idea that doctors have to have tried everything they offer to patients so that they can honestly relay how certain procedures feel. "I think it helps me learn how to maximize treatments to give the [best] results," she explains.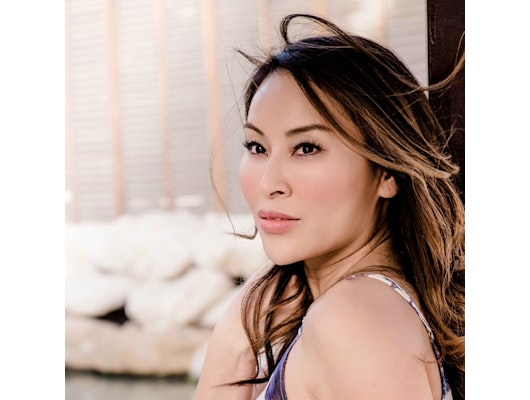 Courtesy Paco Aguilar
Her advice for patients who are new to injectables
Like any dermatologist, Dr. Chiu spends a lot of time with first-time patients. "I know there is a lot of anxiety for [new] patients. I always stress that safety, expertise, and an absolute commitment to completely [subtle-looking] results are my priority," she explains. When seeing first-time injectable patients, Dr. Chiu first questions them on what their goals truly are and what inspired them to book an appointment in the first place. Then she explains anatomical changes — like volume loss or dynamic wrinkles — [if they] are occurring and how she would address those specific concerns with fillers or injectable wrinkle reducers, respectively.
For those who are first-time injectable patients, she says doing research before the consultation is vital. "Check the qualifications of your injector, look at their befores and afters," she stresses, to be sure they align with your aesthetic goals.
The in-office procedure more people should try
While injectables are obviously popular in Dr. Chiu's office, she says those looking to improve their skin should consider adding other in-office procedure to their regimen. "I always stress the importance of healthy skin texture and the canvas of the skin," she says. "Routine light resurfacing treatments like the Clear + Brilliant® Laser, peels, or AquaGold®-Infusing Facials can promote collagen production and eliminate early photodamage when done consistently."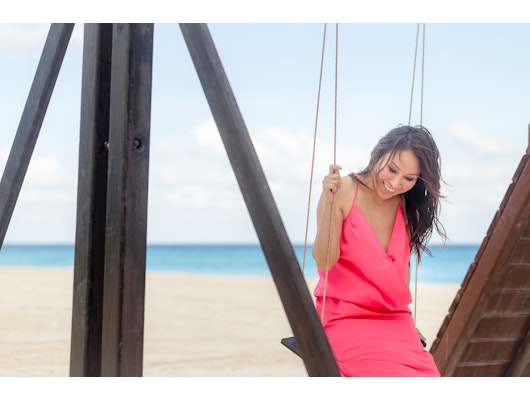 Courtesy Paco Aguilar
Her best travel skincare tips
"I'm totally the crazy person on the plane with the sheet masks and eight bottles of skincare all laid out," she explains. "I use it as my personal 'spa' time to treat my skin with hydrating and nourishing masks that I normally don't have time to do." According to Dr. Chiu, she never gets on a plane without a SK-II® Facial Treatment Mask ($135) or the Tata HarperTM Beautifying Face Oil ($78). These powerhouse products are her secret to infusing extra moisture into her skin while traveling. Considering how drying airplane air can be, we'll definitely be purchasing a few of these products in anticipation of our next flight!
Dr. Annie Chiu is a paid Allergan® consultant.
SkinMedica® is an Allergan-owned skincare line.
Product prices may vary from the time this article was written.
Allergan may receive commissions for purchases made through links in this article.


---quiz start
---quiz end