Ask Jenny Eden about her breast implants, and she'll happily divulge the details. In fact, those details — from the procedure itself, to the minutiae behind the decision to get implants in the first place — have become a source of pride for the 33-year-old, and an invaluable resource for countless women. Eden lives in Raleigh, North Carolina, but she has amassed a global presence through BustmobTM — a private online community for women seeking information, support, and advice regarding breast augmentations. And this type of information is becoming increasingly necessary, judging by the steady increase of women going under the knife for cosmetic breast enhancement. According to data from the American Society of Plastic Surgeons®, that number has risen a whopping 48 percent since 2000.
[Editor's note: As always, talk to your doctor if you are considering breast augmentation.]
Despite the procedure's increasing prevalence, the amount of digestible, unbiased information on the topic is surprisingly difficult to dig up. "[Before my first procedure] I wasn't able to find information about breast augmentation that I trusted, or that I simply understood," Eden recalls. This information gap inspired Eden to create her first blog, Eden Knows ImplantsTM. Her honest, relatable tone garnered massive success; success that served as a springboard for an even bigger venture, BustMob. In addition to advice, the platform offers chat boards for women to lend an ear and share stories. "The goal of Bustmob is for kind-hearted women to get together and help one another through the [breast augmentation] journey," Eden says. 
Bustmob members come from all walks of life. Many have kids — which Eden, a mother to a 4-year-old girl, can speak to. Incidentally, she says that her daughter, Hazel, inspires her to work even harder to spread awareness about a cause she feels passionately about. "My hope is that my daughter sees my excitement and dedication to my work — and in turn it inspires her to find what sets her soul on fire and pursue it," she says. "Being a mother doesn't mean you have to stop doing what gives you energy."
Below, the mom, Bustmob founder, and social media maven opens up about her personal journey with implants, her opinion on cosmetic injectables, and what makes her feel most beautiful. 
Spotlyte: How did you become interested in breast implants?
Jenny Eden: Strangely enough, when I was 18, I had a breast reduction. My breasts were large, but they weren't perky. I wanted a lift, but insurance would only cover a reduction and, being 18, it seemed like a good idea. After surgery, I was barely a B cup, and I didn't realize that big breasts had been a huge part of my self-identity. 
After a few years, I found myself in a good place — married, stable job, financially secure — and I decided to look into getting breast implants.
Quite honestly, my first breast augmentation was a horrible experience. So, I started blogging about breast augmentation because I never wanted another woman to have as poor of an experience as I did. Then a crazy thing happened . . . my site went viral. I had women from all over the world reaching out to me for help, and that's when [my first site, precursor to Bustmob] EdenKnowsImplants.com was born!
Spotlyte: How would you define your mission with Eden Knows Implants and Bustmob?
JE: My personal mission is to help empower women through education and community throughout their breast augmentation journey. I have walked blind into two cosmetic procedures, and I don't want that for anyone. It's unpredictable, it can be scary, and it's just completely unnecessary.  
I also don't want anyone to feel alone in the process. Women are communal. We have the unique ability to nurture and connect with one another throughout this big event in our lives.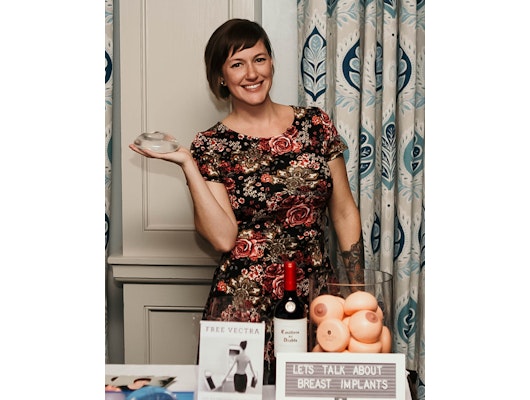 Kathleen Nolis Photography
Spotlyte: Did you ever imagine the topic of breast augmentation would become so central to your life?
JE: No way! At least not before getting breast implants. But once I started my journey I realized there was something missing for women researching breast implants. There wasn't a single, unbiased source of information that was easy to understand, fun, and created by a woman. 
Spotlyte: What do you think is the most common misconception about breast implants and/or women who have breast implants?
JE: That all women who have breast implants are adult film stars or strippers. Not that I think there's anything wrong with either of those lines of work, but the truth is [on my site] the overwhelming majority of women who get breast implants are married, college educated, have kids, and simply want to feel more confident. 
In fact, after I went public with my breast augmentation story, I had several friends tell me that they had implants, too. I didn't even know! The bottom line is, women with breast implants are just as common as women without. 
Spotlyte: In your experience, what are some unexpected challenges women face before, during, or after augmentation?
JE: I've found that women who have had unexpected challenges are those that weren't fully educated and informed on all aspects of the procedure. 
Another thing I would add is "boobie greed!" This is when you are happy with your implant size at first, and then you start seeing women who went bigger or smaller than you — and you [are envious of their breast size]. I guess it's true that we all want what we can't have!  
Spotlyte: How important is it to be in a healthy, good place emotionally before you consider breast implants?
JE: It's extraordinarily important! Getting a breast augmentation shouldn't be a tool to use to fix something external like a broken marriage, or hoping someone will love you more, or to get that promotion. If those are the determining factors driving the decision to get breast implants, then you're not going to be happy in the long run.  
Spotlyte: Any advice for self-evaluating whether you're ready?
JE: It's important to slow down and ask yourself why you want breast implants. Some women never developed breasts during puberty and have always longed for them . . . some self-identify with having larger breasts and don't feel at home in their current bodies, some may have had breast cancer and had to have their breasts removed, and a lot of women just want to get their pre-pregnancy breasts back. These are all great and healthy reasons to want a breast augmentation . . . they're in the right headspace.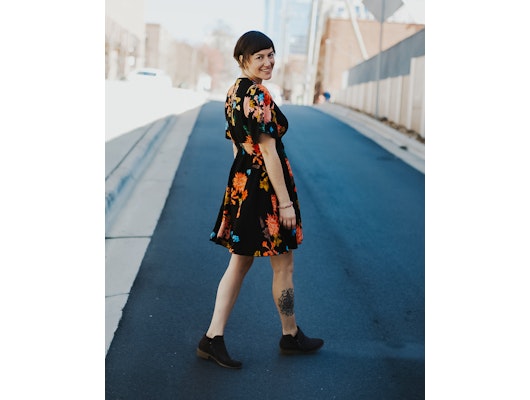 Kathleen Nolis Photography
Spotlyte: What is your stance on cosmetic injectables?
JE: I think they're great, and I'm a huge fan of [injectable wrinkle reducers]. I finally took the plunge six months ago at Skin Raleigh MedSpaTM and keep asking myself why I waited so long. I have the classic elevens between my eyebrows, and have since I was about 19. It's one of those things I always noticed first when I saw a photo of myself.  
---quiz start
---quiz end
[Editor's note: Injectable wrinkle reducers are used to temporarily smooth the look of moderate to severe wrinkles in certain areas of the face such as the forehead, frown lines, and crow's feet. They should not be used more frequently than every three months. Like any medical treatment, they have potential risks and side effects. Be sure to talk to a licensed provider to see if they're right for you. Have more questions? Chat with our team of trained aesthetics specialists now.] 
Spotlyte: Do your friends talk openly about injectables?
JE: Everytime I'm in Skin Raleigh Medspa now, I am very open about posting my procedures on social media. I get so many questions after I post about [injectable wrinkle reducers] or Hydrafacial®. This proves people are super interested, just intimidated at first (which I can totally relate to). I am all about transparency. The more people see and have the opportunity to ask questions, the less scary the unknown seems. 
Having a large-scale platform, I always make sure to stay true to myself and to be just completely honest about who I am. For example, I have no problem sharing photos of myself after just waking up and joking about how my [injectable wrinkle reducer] is wearing off. I just want to remain "real" and not fabricate a persona with photos that seem unattainable. 
Spotlyte: What are three skincare products you swear by?
JE: Skin Dew® Coconut Water Cream by One Love BeautyTM ($58) is my jam! I put it on every morning and it's just the perfect amount of moisture without the greasy feeling. My skin literally just soaks it up!
After I get out of the shower, I put on a product that I created myself after searching high and low for something to use on my breasts. Jenny Eden's Boobie ButterTM ($35) keep my girls hydrated, perky, and it promotes skin elasticity. It's all natural and handmade, of course! 
Lastly, I'd have to say SkinCeuticals® C E Ferulic® with 15% L-Ascorbic Acid ($166) for a daily morning serum! It's great for blocking free radicals from the sun, helps improve skin tone, reduces redness, evens out your skin tone, and promotes collagen production — AKA liquid gold! 
Spotlyte: What makes you feel most beautiful? Has this changed over the years? If so, why?
JE: It might be a cliché, but I believe true beauty is more than skin deep. How we treat others when no one's watching, how we choose to live our lives. Do we conduct ourselves in a way that is honoring to others, do we stick up for those who don't have a voice? These things are beautiful.  
I've always had a heart for helping others in all different kinds of capacities over the years. Whether it was volunteering at church, mentoring a friend through recovery, or being a shoulder to cry on, compassion has always been my spiritual gift.
Things like breast implants have simply [made me look more like who I already am]. I couldn't recommend them more to women who are ready to invest in themselves.
Product prices may vary from the time this article was written.
Allergan® may receive commissions for purchases made through links in this article.