When we're deciding whether or not we'll invest in a medical aesthetic treatment, there's a lot to consider: what the process entails, what typical results are like, whether the cost is worth it, etc. So once we've finally set our minds on a treatment, it can be easy to kick back, count down the days until we meet with our aesthetics provider, and dream about the results. But penciling in days for potential post-treatment downtime is just as important as how you prep.
For instance, you wouldn't want to schedule your injectable wrinkle reducer appointment the day before your wedding, because the full effects won't be visible until a few weeks after you say "I do." And you wouldn't want to get a deep chemical peel right before a sunny vacation, since your skin will be tender in the days — sometimes weeks — that follow. 
Planning your treatments around your life — even around relatively mundane events like work and brunch with friends — can alleviate some post-procedure stress. So, with expert insight, we've outlined what you may expect the day-of, week after, and month following some minimally invasive and non-invasive medical aesthetic treatments. Grab your calendar and start taking notes. 
[Editor's note: Recovery times below are based on averages, and therefore don't guarantee resolution of any side effects within state timeframes. Individual experiences and recovery vary person to person. As always, talk to your licensed provider before starting any new treatment.]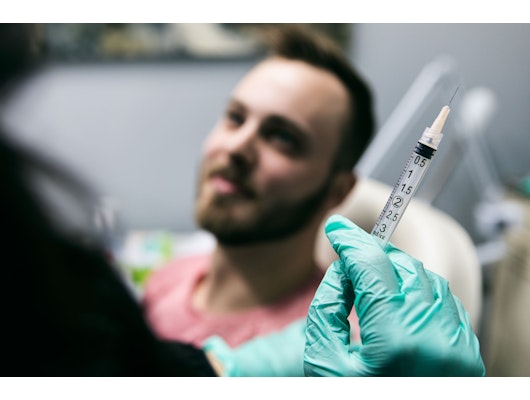 Stocksy United / Sean Locke
Filler
Generally speaking, the results from injectable fillers are immediate, but this treatment often entails some downtime. Common side effects include temporary swelling and bruising at the injection site, which you'll want to account for before making big plans.
---quiz start
---quiz end
[Editor's note: Injectable filler is a temporary treatment that adds volume to areas of the face such as the lips, cheeks, and laugh lines. Like any medical treatment, it has potential risks and side effects. Be sure to talk to a licensed provider to see if it's right for you. Have more questions? Chat with our team of trained aesthetics specialists now.]
 Day of: It can be hard to predict exactly how you'll react to filler — experiences vary person to person, as well as side effects like swelling. "Swelling from injectable fillers can last a few days, or longer, [sometimes up to two to four weeks], depending on how much filler is utilized," says Dr. Jacob Steiger, a double board-certified facial plastic surgeon based in Boca Raton, Florida. "[In certain cases], swelling [can be] minimal and sometimes even [imperceptible] to others . . . Bruising is also a potential variable [that can occur after filler]." he adds. 
That said, you'll want to ensure you allow for some post-filler leeway, just in case your swelling and/or bruising is more on the noticeable side, says Steiger.  
Afterward: Typically, seven days post-filler should be a fine time to pencil in some plans. After about three to four days after your treatment, any bruising or swelling usually subsides significantly. At the week mark, swelling and bruising should be completely gone. 
Four weeks post-filler, there should be no residual bruising or swelling at this point — just more volume in your face!
Injectable Wrinkle Reducer
Generally, you can expect to begin seeing results from injectable wrinkle reducers within a couple days to a week after the injection, with full results visible a few weeks later. The downtime is completely dependent on your body and your injector. Many people say they are able to leave their injectable wrinkle reducer appointments and continue on normally with their day afterward. 
---quiz start
---quiz end
[Editor's note: Injectable wrinkle reducers are used to temporarily smooth the look of moderate to severe wrinkles in certain areas of the face such as the forehead, frown lines, and crow's feet. Like any medical treatment, they have potential risks and side effects. Be sure to talk to a licensed provider to see if they're right for you. Have more questions? Chat with our team of trained aesthetics specialists now.]
Day of: According to Dr. Rachel Nazarian, a board-certified dermatologist at NYC's Schweiger Dermatology GroupTM, "Bruises from injectable wrinkle reducers will show up within hours post-injection [if they occur at all]." Nazarian advises avoiding blood-thinners like aspirin or ibuprofen before going under the needle.  
[Editor's note: Prior to treatment, talk to your doctor about any medications you are taking, including blood thinners, as well as before stopping any medication.]
Afterward: Dr. Nazarian says that bruising from injectable wrinkle reducers typically fades within 10 to 14 days, but may persist for longer, if it occurs at all. This is also usually true for any swelling or tenderness. (Learn more about the full safety information and more possible side effects here.) 
If you are getting injectable wrinkle reducers for a super-special occasion (say, a reunion), one month before the event is an ideal time to do so. While injectable wrinkle reducer results will be visible about two weeks following your treatment, Nazarian says that depending on where you are treated, the lines might continue to fade over the next two to three weeks post-injection.
Fractional CO2 Laser
There's a reason facial resurfacing lasers are getting so much buzz — these treatments can make skin look significantly smoother. CO2 lasers are a type of laser that work by microscopically puncturing skin's outermost layer, which spurs new collagen and fresher-looking skin to grow. Within the fractional CO2 lasers category is a range of laser types, which work to resurface the skin at various depths and intensities. Recovery from a fractional CO2 laser ultimately depends on the depth of the laser treatment. Depending on the intensity of the laser, you can generally expect full recovery to take two weeks.
Day of: After a mild to medium-level laser  treatment, skin may feel hot and look red or pink for a few days. It may also itch or sting like a mild sunburn. This is also true for the deepest level of fractional CO2 laser treatment, though the effects will be more intense in terms of appearance and discomfort, and may also include blistering or oozing like a more severe sunburn. 
Afterward: Around five to seven days after a mild to medium level CO2 laser, skin will start to darken and flake off, says Nazarian. "Then your skin will look pink and feel rough for up to two weeks," she continues, noting that people with particularly pale skin tones may remain flushed-looking for longer. Deep laser treatments will often result in a slower and more intense slough-off, with skin that remains red or pink for a longer amount of time.  
For mild to medium-level laser treatments, your skin should look and feel its best one month post-treatment. (Redness will have faded, peeling will be done, and your skin should look glowier.) For deeper treatments, it can take up to three months for your skin to completely heal. Skin will likely remain pink during this time, but Steiger says it's usually mild enough to be covered easily with makeup.
Chemical Peels
Similar to CO2 lasers, the downtime following a chemical peel also depends on the depth of the treatment. Like lasers, peels come in various strengths. Mild at-home peels typically don't require any downtime, while deeper, medical-grade peels involve a more extensive recovery period. For our purposes, we're focusing on deep peels and their downtime. 
Day of: "Immediately after a deep peel is deactivated, which is done in-office, your skin might feel a little warm," says Nazarian. It may also appear very red and swollen, and it might throb or burn. However, you shouldn't cover any redness with makeup, as your skin will be highly sensitive afterwards and you don't want to risk irritation. 
Afterward: Nazarian says to expect a mild tightening sensation the day after you receive a  deep chemical peel. Around days three through five, your skin will start to look dry and will begin peeling. By the end of the week, some of the peeling will have stopped, though skin may remain slightly pink. New skin will grow in about two weeks, at which point the swelling should have gone down and you should be good to cover any redness with makeup. 
Generally, you can expect your skin to look significantly smoother and more radiant one month following a deep chemical peel. In some cases — especially for those with sensitive or very light complexions — your skin will remain slightly pink for up to three months before optimal results become apparent. 
(It should be noted that there is usually some sort of pretreatment for up to eight weeks before you get a deep chemical peel. This is to prepare your skin and ultimately speed up the healing process, and should be factored in to the overall treatment and recovery time.)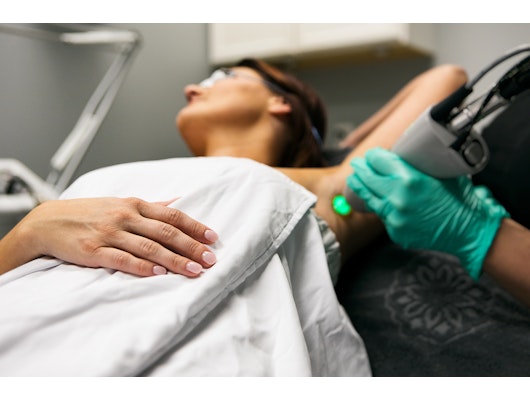 Stocksy United / Sean Locke
Laser Hair Removal
Laser hair removal requires multiple sessions before you see noticeable results. Though the process itself takes a while, there's no significant downtime after each session. Learn more about how laser hair removal works here. 
Day of: "Immediately following laser hair removal, the skin may be a little sore and tender," says Nazarian. "It could be a little red and puffy." Your provider may offer you hydrocortisone cream or aloe to help soothe the treated area.  
Afterward: By the end of the week, you can expect the treated areas to look and feel almost back to normal. In some cases, you may experience ingrown hairs. (This is more common in areas with coarse, thick hairs.)
 By the end of the month, you'll be getting ready for your next session, which are typically spaced four to eight weeks apart. "It takes an average of [five to] eight sessions for people to notice full results — though some people take fewer, and others need more," says Nazarian. "The darker your hair is, the better the results, but
the color of your skin also determines how aggressive the laser settings can be.
" She recommends waiting at least one month between sessions for new hair to grow in. (During that time, it's imperative that you do not wax or pluck the treatment area, so the laser will be able to target it during your next session — though shaving is okay.)  
Professional Microneedling
You can purchase over-the-counter microneedling tools, but Dr. Steiger says that in-office microneedling will yield more effective results because the needles penetrate more deeply. At-home microneedling involves less than 24 hours of downtime, but as in-office treatments are more aggressive, recovery takes a little longer. There may be inflammation, which can take one to two days to subside.
Day of: "The in-office procedure requires numbing cream to make it comfortable, but it is a fantastic procedure for anti-aging," says Dr. Nazarian. "The first night after treatment, you can expect your skin to look red, but not tender or painful," she says. "You might experience mild stinging when you apply your topical serums and creams that night."
Afterward: In the days that follow an in-office microneedling treatment, Nazarian says your skin will likely be slightly pink, and you may notice pinpoint red marks where tiny bruises may have formed. It's OK to apply makeup over the treatment area if needed. At the end of the week, your skin should be completely recovered.
"[About a month post-treatment], your skin will show improvement from the microneedling session: more collagen and elastic formation, and an improvement in fine lines and wrinkles," Nazarian notes.
CoolSculpting®
CoolSculpting takes some time to show results. That's because your body needs time to eliminate the frozen fat cells. Some common side effects from fat-freezing, including soreness and swelling, can linger for days or weeks — but, there is little to no downtime.
It should be noted, though, that there are other potential side effects. So be sure to talk to your doctor prior to getting the treatment. 
[Editor's note: The CoolSculpting treatment is a non-invasive fat-freezing treatment that effectively reduces fat in certain self-proclaimed "problem spots" in the submental and submandibular areas, thigh, abdomen, flank, and upper arm, along with bra fat, back fat, and underneath the buttocks (you know, those bulges that just won't go away, regardless of how much you sweat it out on the treadmill). While it isn't a weight loss solution, fat-freezing can reduce pouches of fat. As with any procedure, there are risks and side effects, so talk to your doctor to see if it's right for you.] 
Day of: Following the procedure, your skin will feel tender, tingly, cold, and numb. It will also likely be slightly swollen and red. However, Nazarian says many people can leave a session and return to whatever they would normally do — including a workout.
Afterward: "For the next few days [post-treatment], some areas may feel tender to the touch and mildly bloated or swollen, while others may simply feel numb," Nazarian notes. "Occasionally bruising happens the next day, typically due to the suction action of the machine and from the massage that follows each session." After a few days or weeks, though, any discomfort (including tenderness and bruising) should subside. 
Around a month post-CoolSculpting, swelling, numbness, and tenderness should decrease. At about four weeks, you may begin noticing some results as your body begins to eliminate dead fat cells. Many people see results two to four months post-treatment. For best results, providers will recommend multiple CoolSculpting sessions spaced a few months apart, though the exact number of treatments depends on the area you're targeting. Regardless of where you are freezing those fat cells, be sure to bake in ample time — before, say, bikini season — for the treatment to yield results.
---quiz start
---quiz end
CoolSculpting® is an Allergan®-owned non-invasive fat reduction treatment.
CoolSculpting® Treatment Important Information
Uses
The CoolSculpting® procedure is FDA-cleared for the treatment of visible fat bulges in the submental (under the chin) and submandibular (under the jawline) areas, thigh, abdomen and flank (love handles), along with bra fat, back fat, underneath the buttocks (also known as banana roll), and upper arm. It is also FDA-cleared to affect the appearance of lax tissue with submental area treatments. The CoolSculpting procedure is not a treatment for weight loss.
Important Safety Information
The CoolSculpting procedure is not for everyone. You should not have the CoolSculpting procedure if you suffer from cryoglobulinemia, cold agglutinin disease, or paroxysmal cold hemoglobinuria. 
Tell your doctor if you have any medical conditions including recent surgery, pre-existing hernia, and any known sensitivities or allergies.
During the procedure you may experience sensations of pulling, tugging, mild pinching, intense cold, tingling, stinging, aching, and cramping at the treatment site. These sensations subside as the area becomes numb. Following the procedure, typical side effects include temporary redness, swelling, blanching, bruising, firmness, tingling, stinging, tenderness, cramping, aching, itching, or skin sensitivity, and sensation of fullness in the back of the throat after submental or submandibular area treatment.
 Rare side effects may also occur. CoolSculpting may cause a visible enlargement in the treated area which may develop two to five months after treatment and requires surgical intervention for correction.
Ask your doctor if CoolSculpting is right for you. To learn more about what to expect, visit the CoolSculpting website and comprehensive Important Safety Information.