While scrolling through New York dermatologist Dr. Adarsh Vijay Mudgil's Instagram® page, you'll notice he has a unique influencer-meets-doctor vibe. With posts showing off a wide breadth of dermatology demonstrations, hardcore workout videos, and inspirational pep talks, it's pretty difficult not to want to throw him a "follow" while peeping through his feed.
Dr. Mudgil is so dialed in with social media that you can find him recording videos for his Instagram and YouTube® pages in between seeing patients. But all this focus on social isn't simply for his own exposure, there's an important educational aspect to his posts. "It's amazing how when folks see [a treatment] on social media, it lifts the fear about a procedure a little bit," says Dr. Mudgil. "When you see someone else getting [a procedure] and they're doing fine, it moves the curtain away."
For many, this online candidness about in-office procedures has completely changed the world of aesthetics. As a matter of fact, Dr. Mudgil says that it has led people to become much more willing to try medical treatments for the first time. "It really enables me to project a very realistic view of what it's like when you come see me as a patient, so patients know what they're getting into," Dr. Mudgil explains.
Beyond social media, Dr. Mudgil is double board-certified in both dermatology and dermatopathology (a subspecialty that focuses on the microscopic identification of skin diseases). But that's not all: his overall presence is a huge draw for patients as well — from his camera-ready skin and fit physique to his positive and uplifting attitude. As a result, we decided to dig deep into Dr. Mudgil's own skincare and aesthetics routine. Not only does he have advice on the workout to do for better skin, he also reveals how to defend against skin-damaging toxins. Read on!
Spotlyte: What's a typical day for you in the office?
Dr. Adarsh Vijay Mudgil: On Mondays, I get up really early in the morning — probably around 4 a.m. — and I head into my New York City office. I'll see patients from about 9 a.m. to 12 p.m. Then, I come back to my Long Island office. My media team is here. We usually record something for our Instagram or YouTube, and then I'll start seeing patients around 4 p.m. until 7 p.m. Mostly seeing my clinical patients, which is a mix of medical, surgical, and cosmetic procedures. That's my sort of marathon day, and the other days are kind of dialed-down versions of that.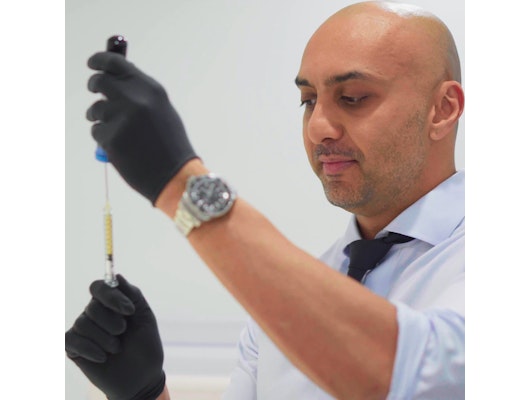 Spotlyte: What does your skincare routine consist of?
AM: My skincare strategy is something I'm very open about and something I discuss with all my patients. It's literally the most basic strategy. I wear sunscreen every morning and use some kind of retinoid cream at night.
[Editor's note: Retinol shouldn't be used by those who are pregnant, considering getting pregnant, or nursing. Please consult with your doctor before use.]
Spotlyte: Do you get cosmetic injectables?
AM: I get injectable wrinkle reducers. I haven't [gotten] any fillers, though.  
---quiz start
---quiz end
[Editor's note: Injectable wrinkle reducers temporarily smooth the look of moderate to severe wrinkles in certain areas of the face, including the forehead, frown lines, and crow's feet. Injectable filler is a temporary treatment that adds volume to areas of the face such as the lips, cheeks, and laugh lines. Like any medical treatment, both injectable wrinkle reducers and injectable fillers have potential risks and side effects. Talk to a licensed provider to see if they're right for you. And learn more by chatting with our team of trained aesthetics specialists now. 
Spotlyte:  Do you have a favorite retinol and SPF that you use?
AM: The minimum SPF you have to use is SPF 30. Below 30 is not great. The difference between 30 and 100 is minimal, so I wear SPF 30 — preferably one that has titanium or zinc in it. I personally like the Elta MD® line. It's broad-spectrum, it has titanium dioxide in it. For retinol, generic [prescription] tretinoin at 0.025 percent is what I like the best.
[Editor's note: Retinol shouldn't be used by those who are pregnant, considering getting pregnant, or nursing. As always, talk to your doctor before starting or stopping any new treatment] 
Spotlyte: Other than skincare products, treatments, and procedures, what do you feel is an important component that many people forget?
AM: The skin is your largest organ, but it's an organ you can really see. What's happening on your skin [may] reflect what's going on in your body. If you're eating sugary foods and stuff that's bad for you, it's not good for your skin. That sets up a cascade of inflammatory events in your body. There's endocrine responses in your body like cortisol spikes, which is not good for any of your organ systems — including your skin.
Spotlyte: Interesting. What kind of lifestyle adjustments should people make in order to improve their skin?
AM: Do things that really help your body function optimally, like eating a lot of antioxidant-rich foods and doing some sort of regular exercise regimen. I'm also a big believer in strength training. Having some sort of resistance component to your exercise is really good for your body in general, but particularly for your metabolism. And the better your metabolism, the better your body is able to fend off toxins — including toxins that affect your skin. Maintaining a healthy lifestyle is critical for optimizing the health of your skin and the way your complexion looks.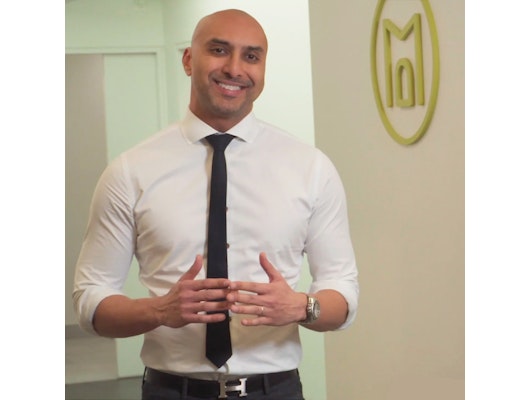 Spotlyte: You mention metabolism is important for healthy skin. Can you expand on that a bit?
AM: Strength training and a high-protein diet are important for this. If you're strength training, you need to [consume more protein] in order to support your body — including your skin, which is made of protein as well. So, a high-protein diet that incorporates healthy fats is great. Add peanut butter and avocados in good helpings to your diet. If you see a bodybuilder's Instagram, the stuff that they eat is a pretty good diet to try to replicate. It's always a lot of grilled chicken, sweet potatoes, and some really colorful vegetables. That's a good template for anybody to follow. 
Spotlyte: Knowing how active and fit you are, what skincare advice would you give to others who exercise frequently?
AM: The biggest mistake I see active people make is with sunscreen and the re-application. A lot of folks are really good about putting sunscreen on before they start whatever they're gonna do. Whether it's going for a bike ride, going for a run, or going to play golf, it's usually the re-application where folks get into trouble. For other fit folks who are sweating a lot, you have to take a shower after you sweat. Otherwise, you're opening yourself up to irritation, acne, or folliculitis.
---quiz start
---quiz end