When it comes to battling pervasive fine lines, maintaining a healthy glow, and even warding off unwanted acne, dermatologists, master aestheticians, and skin experts across the globe routinely turn to one ingredient: retinol. Yet, despite its ubiquity, the ingredient remains a source of confusion. Below, we're demystifying some of the most common misconceptions about the hero ingredient including what exactly it is, how it differs from retinoids, and how to shop for retinol.
[Editor's note: Retinol shouldn't be used by those who are pregnant, considering getting pregnant, or nursing. Please consult with your doctor before use.]
What retinol is
Much of the bewilderment around retinol stems from a basic misunderstanding of what the ingredient actually is. In short, retinol is a type of retinoid — an umbrella term that encompasses any skincare ingredient derived from vitamin A.
"[Vitamin A is] an antioxidant that helps protect the skin," explains New York City dermatologist Diane Berson, M.D. Furthermore, it's an essential nutrient for promoting cell turnover — a process that slows down as we age. "It stimulates collagen production by fibroblasts, gradually exfoliates the outer layer of skin to improve tone and texture, and can help even pigmentation."
Retinoids vs. retinol
With the ever-expanding lineup of retinoids on the market, choosing one can get confusing. In fact, concentrations and formulations can vary significantly, which explains why certain retinol products are more irritating and/or more effective than others.
Prescription retinoids, such as tretinoin, contain the highest concentrations of the ingredient in the form of retinoic acid. Retinoic acid gets to work the most intensely, which is why prescription retinoids are more powerful (read: faster-acting) than retinol products you'll find at your local beauty store.
Instead of going to work right away, over-the-counter retinols contain a form of vitamin A that your body must work to convert into retinoic acid. So, when you apply a retinol-infused product that you picked up at your local skincare store, you can expect it to work more slowly than a prescription treatment. In fact, you may not even start seeing results for issues like fine lines and wrinkles for six months to a year. (The retinol must first fuse with receptors and enzymes in the skin before it can create retinoic acid.)
Benefits of retinol vs. prescription retinoids
Though slower-working, there are a few reasons first time users might want to start with an OTC retinol instead of dashing to their derm for a script. "[OTC] retinols have come to the forefront for two reasons," says David McDaniel, M.D., a board-certified dermatologist based in Virginia Beach. "They don't require a trip to the dermatologist or a prescription, and depending on the formulation, retinols can be much less drying [than pharmaceutical-grade retinoids]."
Dryness is one of the most common side effects of starting a retinol routine, along with redness, flakiness, and sun-sensitivity. This can be intimidating to first-time users, but using the ingredient conservatively — or turning to gentler formulations — can help. Many skincare brands have attempted to mitigate these side effects by combining retinol with other beneficial, often soothing ingredients. Many brands also offer retinol in tiered concentrations, ranging from 0.25 percent to two percent, so that you can work your way up (more on this later!)
How to start incorporating retinol into your routine
First, establish the mindset that your skin might look worse before it looks better — even with OTC formulas. "It's not uncommon for patients to initially develop a little irritation or have a few breakouts when first starting with retinoids," says Dr. Berson. To lessen or avoid these side effects, she encourages first-timers to start out with less frequent application, using the product only two or three nights a week.
Additionally, she advises to apply it over a thin layer of moisturizer, which will improve tolerability without sacrificing efficacy. Learn more about the "retinoid sandwich" method here.
Unlike with other anti-aging and skincare ingredients available to consumers, trial-and-error is not a smart method to find the retinoid that's right for you, as it can take months for all of the vitamin A derivative's benefits to manifest. "Find something good for your skin, and use it chronically," advises Dr. McDaniel. "That's how you get the best results."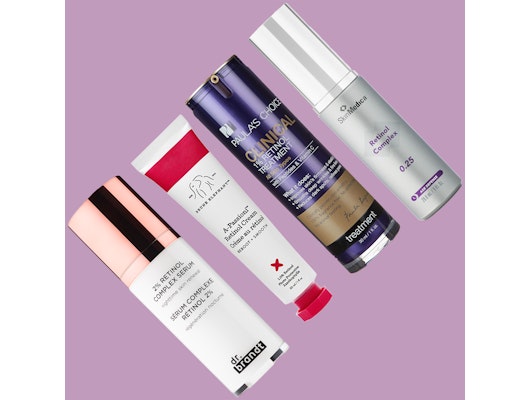 It's worth noting that OTC retinol formulas contain different concentrations and percentages of the active ingredient. Unfortunately, not all formulas list the exact percentage, but some do. Start by seeking out lower-strength retinols, like SkinMedica® Age Defense Retinol Complex 0.25 ($93). If your skin can tolerate it, work your way up to higher strength products like Paula's Choice® Clinical 1% Retinol Treatment ($58) or the one percent retinol Drunk Elephant® A-Passioni® Retinol Cream ($74). (Read Spotlyte's senior beauty editor's review of the latter product.) If you don't experience much irritation with lower concentrations, you could graduate to a two percent formula, like the Dr. Brandt's® 2% Retinol Complex Serum ($69), which offers one of the highest concentrations of retinol that you can get without a prescription.
"Naturally, if you use a higher concentration of retinol, it will be more efficient but highly irritable; if you use a lower concentration, it will be less irritating but also less efficient," notes McDaniel. However, studies have found that over a long period of time, using a low-strength and medium-strength retinols reap the same anti-aging effects, so it's really just a matter of getting to the endpoint more quickly.
Do your research
While many prescription retinoids are required to go through extensive clinical testing, over-the-counter retinols often have not undergone the same heavy scrutiny and investigation. For this reason, Berson and McDaniel both stress the importance of doing your homework. "Make sure you stick with brands who have studied the skin," cautions Berson.
"It's truly a jungle out there," says Dr. McDaniel of the many available brands, formulations, and concentrations of retinoids. "The best guide through the jungle is a skin expert."
Whether you want to brave the almighty power of a prescription retinoid after consulting your dermatologist, or you plan to start slow with a low-strength retinol, remember to start gradually and be patient. "It's normal to look a little worse before you look better," says Berson, "but after a few weeks of allowing skin to acclimate, [your complexion may] feel and look smoother, appear more radiant and glowing, and have better tone and texture." Sign us up!
David McDaniel, M.D. is a paid Allergan® consultant.
SkinMedica® is an Allergan®-owned skincare line.
Product prices may vary from the time this article was written.
Allergan may receive commissions for purchases made through links in this article.
---quiz start
---quiz end