In The PathTM, we spotlight different women making a difference in the fashion, beauty, wellness, medical aesthetics, and more industries. Here, Managing Director and Global Head of Strategic Partnerships at Christie's and author of "The Most Powerful Woman in the Room Is You" Lydia Fenet shares her road to success. 
"If I succeed, that doesn't mean you can't succeed." These words to live by have become a mantra of sorts for Lydia Fenet. The Lake Charles, Louisiana, native certainly knows about success, and has been chasing it since college. It was in those early years that she interned for her lawyer father and American and British politicians; eventually she realized she wanted something that spoke to her soul. She found it at another internship between her junior and senior years with world-renowned auction house Christie's®. 
Since then, she has been climbing the ranks at Christie's, where she currently works as the Managing Director and Global Head of Strategic Partnerships. However, her dream job isn't the only avenue of her life that she brings that passion and drive to. She's also an auctioneer in her spare time, a mother of three and, most recently, an author. Somehow, she still finds time to help people network and give informational interviews, balancing it all with aplomb. Here, she tells us everything from how to be the queen of networking and what it's like to write your first book (hers comes out this April) to beauty treatments and self-care.  
Spotlyte: You're a big proponent of the importance of interning. Other than trying to build a resumé, why are internships so important?
Lydia Fenet: Interning allows you really assess if this is something that you're interested in long term. When I worked for my dad in his law firm, there was nothing about being a lawyer that appealed to my personality. The same happened when working in the Senate and House of Commons in London; I just remember thinking, "This isn't what I wanted to do. This doesn't feel right to me." Whereas with the internship at Christie's, from the moment I walked through the door, I knew that's where I was supposed to be. 
Spotlyte: How has the internship program at Christie's changed over the years?
LF: It's a more formal program, even in the summer. Now they have internships going through the school season, too, so you can get school credit to intern. You have scheduled museum visits and there are lectures. People are coming to talk to you about their different roles in the company. People are more interested in making sure the internship program is more structured and robust. We have something like 700 applicants for 40 internships for Christie's. It's completely competitive.  
Spotlyte: Any advice for anyone who wishes to get their foot into the door at Christie's?
LF: Networking is the most important thing. If you aren't in a position where you went to a school with a robust alumni program or don't naturally know someone, start reaching out. I get tons of emails for informational interviews and I do two a week. It may be the week someone emails me that I just had a conversation with someone that they need an intern. That's the way networking works: you're at the right place, at the right time. Put your expectations out there to everyone you know so that if someone crosses their path that's looking for the same thing, it ends up working out.
Spotlyte: Are there a lot of women in the auction world or is it a male-dominated industry?
LF: Historically, there have been a lot of women who work in the auction world; I've always worked with women and my whole team right now is filled with women. I feel like women, especially in the last two years, are moving into positions of power. It's been amazing to watch people — who have been suited for these jobs — finally filling these spots. It's a great time to be a woman in the auction and art world. 
Spotlyte: That's amazing to be surrounded by women throughout your career. You must have amazing mentors because of it.
LF: I didn't really have a mentor. I was relying more on mentorship from my peers. I utilize my peer mentors more than anyone in business and in life. When I was starting in the auction world, it didn't feel like that to me. Women [at the time] were trying to figure out how to get ahead; there were few people getting to the top, so it was very competitive. 
The older I get and the longer I am in the auction world, [the more I] I realize that's really a race to the bottom; it doesn't help anyone. I say to people all the time that there's room for everyone. If I succeed, that doesn't mean you can't succeed. It means you, too, can succeed.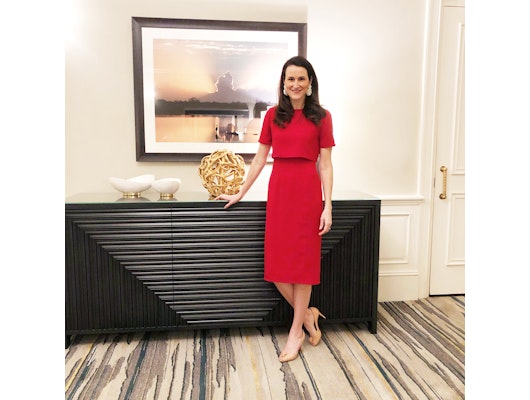 Courtesy of Lydia Fenet
 Spotlyte: Christie's is a well-known auction house. But for those outside of the auction world/industry, what's something you think they would be surprised to learn about it?
LF: Everyone thinks that the auction world is so out of their league; they think we only sell Picassos or Monets. [But] even if you have no intention of buying something at Christie's, you should just come in — it's the world's greatest museum. Any person can walk into a Christie's from 10 a.m. to 5 p.m. to watch a sale and look at the art. You'll also be surprised that we sell a lot of other things besides the Picassos and Monets. If you're looking for a nice piece of jewelry, you can find something for much less than you can get at retail. We've also sold prints for something less than you would buy at Pottery Barn®.
 Spotlyte: What made you want to write a book?
LF: I had been an auctioneer for 16 years, and it seemed like every time I got off stage, there was someone waiting in the wings, saying, "So what are we going to do with your talent?" or "What are you going to do with this talent to get on stage and raise all this money?" We would go down all these avenues and have all these talks, but nothing would come out of it; I didn't really know what "it" was. 
Then about six years ago, I was on stage for Uma Thurman's charity, Room to Grow®. Her agent was in the room and I was chiding him because he was bidding on everything. Afterwards, he came up to me and asked, "What are you going to do with this talent?" I'd been through this before, so I sat up that night and wrote a list of whatever I could think of that I would want to do. The first thing I wrote was "write a book about selling." That was the first time I had ever mentioned it. Nothing ever came out of it, and then I forgot about it. 
Spotlyte: So how did it finally come to fruition?
LF: In 2017, a woman — who did a piece on me for Crain's® eight years prior — called me and said she pitched a story to The New York Times® about how I work all day and take charity auctions at night. She followed me around to do "a day in the life" feature. The last question she asked was, "What do you do at night when you get home? I'm sure you're amped up from all the adrenaline." I said,"I either read a book or write my book that I've been writing." It was a very loose interpretation of what I had at the time — I had, like, a chapter and a half.
I called my best friend's agent, who'd always told me that I have something, I just need to figure out what my angle is. Because I knew The New York Times piece was coming out, I finally said to my best friend, "I either have to do this or I need to stop talking about it." I had six weeks between her turning in her transcript and when it was going to be published in the paper to write a proposal. I sent it to the agent and she was like, "This is it, you've got it." When [the article came out] and writer posted it on social media, I had offers from HarperCollins, Simon & Schuster®, etc. and it was sold in a week.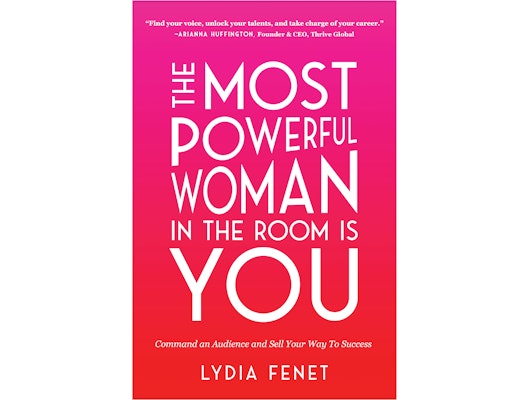 Courtesy
 Spotlyte: What is your book about, and what do you hope people, especially women, take away from it?
LF: What I learned through selling was how to be confident, and how to sell myself to people. That's what I want them to understand. 
Spotlyte: How did you go about writing a book along with everything else you have going on?
LF: It was very stressful; I was still nursing my youngest child. But I've always been very good about structuring my time. I wrote an entire chapter [in my book] called "Roadmap Your Life." I feel like it's so easy to get sucked in and not set a new goal for yourself doing something different from the day-to-day grind. I set a goal to write 1,000 words a day for 60 days (and if I wrote 1,000 words, my reward was that I got to watch an hour of Netflix®). Prioritize what you want. It's not always easy, but you can do it. 
Spotlyte: Is there anything else you do in terms of self-care that helps you get through your busy schedule?
LF: I run. I've been a runner my entire life. The best thing about running is you can do it anywhere, anytime. It doesn't take that long; going to the gym takes longer than going for a run. I [also] get my best thinking done when I'm running. If I have to do a speech, I will literally speak as I'm running. It's a different thought process.
Spotlyte: Let's shift to your beauty routine. What are some of your go-to products?
LF: It's been pretty minimal, but as I've gotten older, I enjoy [makeup and skincare] more. I have a friend that sells BeautyCounter®, and as a result, I have this great exfoliator, BeautyCounter Nourishing Cream Exfoliator ($35) and this peel mask, BeautyCounter Overnight Resurfacing Peel ($63) that I love. 
I also use the Clé de Peau Beauté Le Creme ($535). Clé de Peau is amazing, and the brand is actually providing me with a makeup artist for the whole book tour. The products are just so luxurious. The one thing I love more than anything is the Clé de Peau Beauté® Lip Serum ($95); because of the running — especially in cold weather — my lips are always cracked. I love that and the lipsticks — it feels like cashmere on lips; it's so soft. I use the Clé de Peau Beauté Rouge a Levres® Lipstick in Dragon Red ($65) and [Refined Lip Luminizer] in Cute Kiss ($58). 
I like the Charlotte Tilbury® WonderglowTM Face Primer ($55) and Hollywood® Flawless Filter ($44); it keeps my makeup on when I'm on stage and it gives you that flawless finish you need after being under the hot light.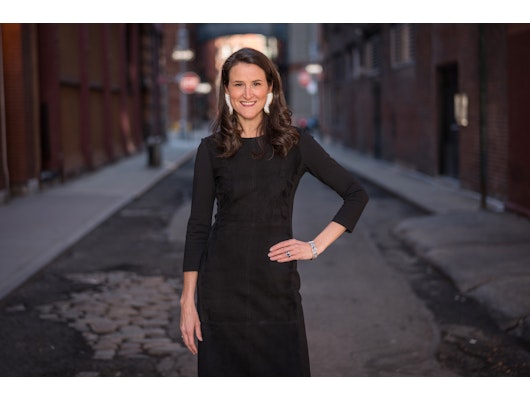 Credit: Jena Cumbo
Spotlyte: Do you do any in-office skin treatments?
LF: I just started seeing Dr. Jessica Weiser. I told her that I'm always on stage and my face needs to be expressive; I have wrinkles and it is what it is. She suggested a laser to see if we can get my skin up and running for everything for the book tour. So I just tried a laser treatment for the first time.
Spotlyte: What about injectables?
LF: I'm comfortable with what I look like. I'm sure [there may be a day when] there will be parts that I will want to look a little [smoother or fuller], but I won't get anything permanent because I'm so terrified of surgery. What I don't want is someone to look at me and think, "Is she 65 or is she 25? I can't tell because her face isn't her face anymore." If [smoothing or plumping] involves a little extra help, I'm okay with doing that. 
Spotlyte: What's next at Christie's that people should be aware of?
LF: We picked up George Michael's collection. In addition to being a fabulous musician, he has a fabulous art collection. Even if you have no interest in purchasing, just come see the collection — it's breathtaking.
Product prices may vary from the time this article was written. 
Allergan® may receive commissions for purchases made through links in this article.