Karla Martinez has been a magazine girl for as long as she can remember.
"My mom used to say she always knew she'd have to spend more money at the grocery store if I went with her because I'd ask her to buy new magazines," remembers the Editor-in-Chief of Vogue MexicoTM and Vogue Latin AmericaTM. "And I wanted to look at magazines that weren't read by everyone else."
When Martinez learned that her University of Arizona® classmate was heading to New York to intern at Nicole Miller®, she had one thought: "'What am I going to do? I want an internship in fashion, too!"
And so, she got herself one.
Gumption is something Martinez has always had in spades. She cold-called AeffeTM, the public relations agency in New York that handled Jean Paul Gaultier®, Alberta Ferretti®, and Moschino®, among other high-end labels. An interview was extended, and then an internship was offered.  
"I remember sitting at my desk plugging in sales numbers or something when Brooke Magnani from W MagazineTM walked in," recalls Martinez. "I was told she was a stylist who was there to pull clothes. I thought, 'Oh my god. How do I get that job?!'"
More internships followed, but when Martinez graduated, she moved to Paris so she could learn French. A year later, she was back in New York and found herself assisting in the fashion departments of MademoiselleTM magazine, then ELLE®, working under then-fashion director Nina Garcia. Within a few years, she found herself at VogueTM.
She rose up the title ladder during her four years there until Stefano Tonchi called. He was launching T MagazineTM at the New York Times®, and he wanted Martinez. "I consider that my first real adult job," she says. "I was 28, which was young for that kind of title back then, and I paid the price for that. I remember some publicist at Prada® not being very nice to me because she thought I was too young."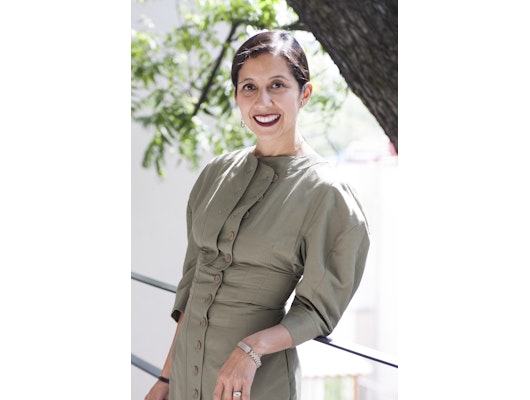 Photo: Karla Acosta
She left T for a brief stint at InterviewTM magazine, but when Tonchi left T for another letter magazine — W — Martinez joined him. It was at W where I met Karla, and was immediately taken with her enthusiasm, which instantly fills a room. We bonded over skincare, sample sales and, of course, gossip, so I was sad when she left New York and moved to Mexico with her husband. The couple had twin girls, but a mere few days after, Condé Nast® came knocking, offering her the Editor-in-Chief position. Next month marks her third anniversary at the helm.
I reconnected with Karla right when she had returned from the Fall 2019 shows in Milan. She was at her home in Mexico City for a mere two days before flying back to Europe for the Paris shows. She chatted with me over the phone about how she juggles motherhood with work, her crazy travel schedule, and her continued curiosity over all things beauty.
Spotlyte: What's your favorite part of the job?
Karla Martinez: I love that we have a platform that no longer requires people to wait a month to get our magazine in other parts of the world. You can see what we're doing online immediately.
Another favorite part has been promoting Mexico a lot in America and giving it a different eye. We give this platform to designers and artists and interior decorators that make Mexico, and Latin America in general, really appealing.
Spotlyte: What about your least favorite part?
KM: TV appearances! Live television really scares me, but I'm getting better at them, so I guess practice makes perfect. It certainly does make you a little bit more used to it.
Spotlyte: Finally, the most challenging part?
KM: One of the hardest parts is covering a region that is so vast. It's such a big market, plus the seasons: it's summer in Argentina right now, but they're going into winter, so it's like, how do we reach the consumer there, while Colombia is entering spring? And I have to do both magazines with one budget. It's something that's really cool, but, at the same time, really difficult.  
And there's a whole other travel component. So many editors just go to Europe twice a year. Meanwhile, I come back in March, then I have to travel through all of Latin America — Peru for three days, then Colombia, et cetera. Going to all these places and getting to know our consumers is really important, exhausting, and exciting, all at the same time.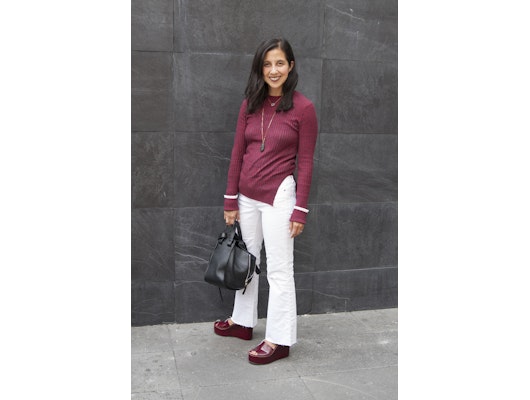 Photo: Karla Acosta
Spotlyte: What are you most proud of in your work at Vogue Mexico and Vogue Latin America?
KM: Oh, that's easy: Our Yalitza [Aparicio] cover. I never imagined the magnitude of it! I knew it would make waves here in Mexico, but I had no idea people on the other side of the world would be so impressed. I was really excited that we were the topic of conversation for a good reason. It made history in Mexico, including the conversation of how beauty ideals are changing. A friend said, "I never thought I'd see someone who looked like me on the cover of a magazine." That really resonated with me.  
That, as well as the voice of the magazine, is something I'm really proud of. People in fashion are snobs. They don't want to work in this region; model agents tell me all the time that Mexico and Latin America isn't important to them, so they don't want to give me this model or that model. But, little by little, we've been breaking that down.
Spotlyte: How so?
KM: One model in particular is from Latin America, but she's too snobby to be in the magazine. It's just ridiculous, but it's prompted us to look for talent within. In March, we did a cover of a woman named Lali Esposito. She's from Argentina and she has almost six million followers. She's living a really great message. So, a lot of those challenges we've used to our benefit. Not that I don't care about using the latest, newest model, but I think our reader wants more. That's the path we're taking this year.
Spotlyte: How do you juggle being the mother of twins and your busy job?
KM: My mom helps a lot when I travel, as does my mother-in-law, but I found two really wonderful nannies who I give full credit to because my daughters are a handful! Everyone talks about the terrible twos, but no one talks about the terrible threes! Maybe I sacrifice my health a little bit, too. I was just in Milan, but I came home to touch base for a few days before I head back to Europe to go to the Paris shows, versus staying the whole way through. But I have to give full credit to my nannies. They're my lifeline. Everyone needs a helper, and they're mine.
Photo: Karla Acosta
Spotlyte: Let's talk about your beauty routine! I know you love beauty products. What skincare products are you using/loving these days?
KM: I love Natura Bisse®; I just got the Diamond CocoonTM products, and I love [Dr.] Barbara Sturm®, too. My skin is so dry — I just discovered Francisco CostaTM Costa BrazilTM Kaya Anti-Aging Oil. It's beautiful and it smells amazing. For my routine, I'll alternate between Biologique Recherche® cleanser, toner, cream, then top it off with oil. Or Barbara Sturm's cleanser and face cream.
Spotlyte: When did you start caring for your skin?
KM: My parents had really good skin; I never went through the zit phase and took that for granted when I was younger —  I never washed my face or anything. When I got to college, I finally started to take care of my skin and get into beauty products. I love products, and I love reading about treatments, more so in magazines. I'm not really up with the beauty blogs.
I'm lucky because I can just ask my beauty editor, but I do love buying lipstick. I feel like lipstick literally changes my face. You can be sick and not feel well, but lipstick really changes your face. I love going to the makeup counter, but I literally buy the same colors over and over!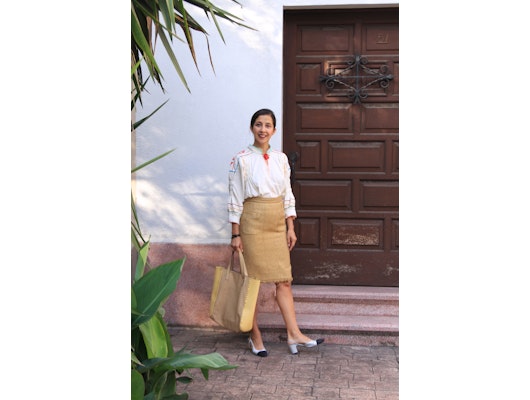 Photo: Karla Acosta
Spotlyte: What makeup do you use?
KM: I really like Charlotte Tilbury® lipsticks and concealer. Clarins® also makes a concealer that has a little hint of cream — it's like eye cream and concealer in one. For my skin tone, I have to mix concealer with a little bit of red.
I still, to this day, don't know how to apply eyeshadow, which is really embarrassing. But I did just discover lash perming. I never imagined it would change my face this much! I don't even have to put mascara on!
Spotlyte: Have you done any in-office procedures?
KM: I get wrinkle reducer with Dr. Amy Wechsler about twice a year on my forehead [and] near the eyes [crow's feet]. I haven't gone the filler route yet.
---quiz start
---quiz end
 [Editor's note: Injectable wrinkle reducers are used to temporarily smooth the look of moderate to severe wrinkles in certain areas of the face such as the forehead, frown lines, and crow's feet. They should not be used more frequently than every three months. Like any medical treatment, they have potential risks and side effects. Be sure to talk to a licensed provider to see if they're right for you. Have more questions? Chat with our team of trained aesthetics specialists now]
Dr. Amy Wechsler is a paid Allergan® consultant.
Product prices may vary from the time this article was written.
Allergan may receive commissions for purchases made through links in this article.