For many women, our hair is our crowning glory — and for those of us who have embraced our own halo of natural curls, it's a special delight. About four years ago, I stopped straightening my hair and went natural. I then discovered thick, lustrous curls that are utterly glorious in their expression. But as I've learned more about my curls, I've also watched them change with time. It's hard to admit it, but hair (like skin) shows signs of aging. And it can be difficult to understand what those changes mean and how to adjust your hair and scalp regimen.
Before we get into how curls evolve over time, let's talk about how hair works in general. There's a lot of misinformation out there about "regeneration" of hair and hair growth. "Basically, we're born with a certain number of follicles, and each one has a certain number of life cycles — ranging from generally [two to six years] of growing hair, [then] resting, and shedding," explains Kerry Yates, trichologist for évolisTM professional and co-founder of Colour Collective®. "As we age, your [hair] lifecycles start slowing down."
While you may prioritize your hair, your body doesn't necessarily echo your vanity. According to the doctor, if one area of your body need more "help" or energy (such as a nutritional imbalance or an illness), hair growth may slow down. This occurs because the body deems it to be the less-important function of energy use than the area or issue that needs "assistance." Furthermore, once your hair follicles have gone through their full life cycles, they slow and — eventually — stop. And once it stops, it's gone. You can't reanimate a dead follicle.
What does all this mean for your hair? "As the cycles start slowing down, you'll notice the diameter of the hair starts to thin, which will feel like you're losing the density of your hair," notes Yates. This could be especially problematic for those with African American or curlier hair texture: "The loss of density is more noticeable because they have fewer hair follicles than individuals with fine hair." Plus, your curl pattern will loosen with age, becoming more relaxed and thus, appear less thick.
However, there is good news — your hair follicles work independently. That's why you don't suddenly "wake up one morning and [realize] you're bald," says Yates. Hair thinning and loss is a more gradual process. But it's essential to monitor it closely: most people don't notice the density of their hair has changed until around half of it has been lost. Adds Yates, "It can feel very noticeable in natural hair because you see the open spaces when the hair is worn in protective styles like braids and twists."
Lastly, you may find that as hair turns grey, it seemingly has a different texture. But Yates says that the changes in feeling and behavior are simply due to its loss of color. "The issues with it feeling and acting differently [may be] due to the hair losing some of its pigment, shine, and diameter as a sign of aging, which can impact the overall feel and health of the hair strand," she explains.
Knowing that all these changes can occur to curly hair as you age is important — but being armed with solutions is even more valuable. Below, find the most essential tips for both managing switch-ups to your texture and keeping the hair you have.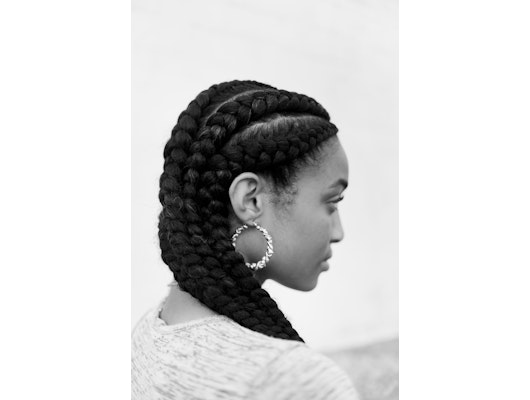 Stocksy United / Chelsea Victoria
Watch protective styles.
Traction alopecia — hair loss due to excessive and continued pulling on the hair follicles — is a major issue in the curly hair community and everyone (regardless of age!) should resist too much tension when styling.
"If you're going to get it braided, go to the right person who isn't going to braid it too tightly," advises celebrity hairstylist Takisha Sturdivant-Drew. "A lot of people have problems because of braids and twists: when hair is continually pulled, it damages your hair follicle, which is how people start losing hair. Go to someone who knows how to achieve and maintain the style without excessive tension. Otherwise, it's good to let the hair be free."
Additionally, if you're using wigs as a protective styling resource, Yates has a word of warning. "Some women use wigs with elastic that keeps hitting their hairline at the same certain point," she explains. "It starts rubbing and creating that tension, which can lead to a receding hairline." Same goes for pulling hair back too tightly or constantly pulling hair up or back into a ponytail or a bun. If you can't ditch the taut style (or wig) from your routine, at least switch up how often you rely on it. That way you'll be releasing the tension on your scalp to keep the strands you have.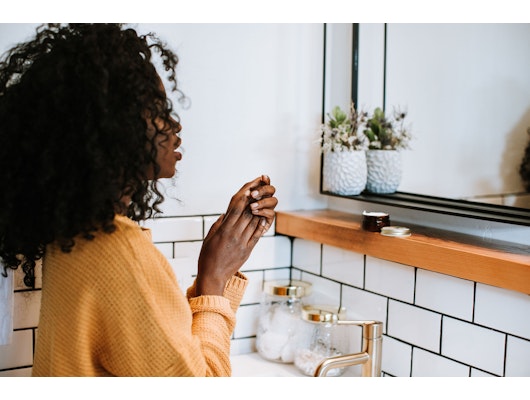 Stocksy United / Leah Flores
If your hair changes, your routine needs to change, too.
A switch-up to your curl type and hair texture means it's time for a new care routine. "When texture changes, it's good to change the type of product you use," advises celebrity hairstylist Ursula Stephen. She recommends adjusting your cleansing routine to address specific issues: thinning might call for a volumizing shampoo like Suave Professionals® Full Volume Body Thick and Full Shampoo ($3), while dry hair might call for a moisturizing option like Crème of Nature® Moisture & Shine Shampoo with Argan Oil ($33). "It's about really applying and adding what you're lacking," she says.
When it comes to conditioners, Yates says to apply the moisture only to where your hair needs it, which is mid-lengths to ends. And regular conditioning treatments like SheaMoisture® Manuka Honey & Yogurt Hydrate + Repair Protein-Strong Treatment ($18) can help with overall health and strength. We like this specific formula because it also contains mafura oil, which helps soften and promote healthier hair.
Maintain scalp health.
To keep the hair you have, it's essential to keep your scalp happy and healthy. Part of that is ensuring it's clear of any buildup. Seek out a special cleansing treatment just for your scalp, like Aveda® pramasana® Purifying Scalp Cleanser ($35). This one contains a tingly, wintergreen-derived salicylic acid to exfoliate and remove pollution, plus seaweed extract to help balance sebum production.
An essential factor in keeping both hair and scalp healthy is avoiding silicones, says Yates. "There's a misconception that products containing silicones are great because they add softness and shine to the hair, but they prevent moisture from entering the hair," she warns. "They also can create a waxy buildup on the sebaceous glands of the scalp, which can clog the follicles." Clogged follicles can ultimately result in hair loss, so be sure to keep your scalp decongested!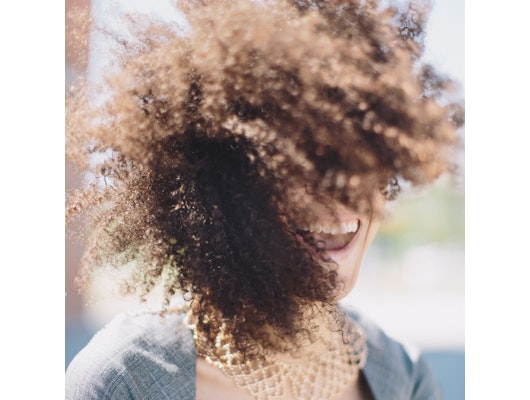 Stocksy United / Ania Boniecka
Be gentle.
You may have spent years aggressively processing and styling your strands, but Stephen says it's time to think differently about your hair. "People tend to be a lot rougher and more experimental with hair than skin, but once people start to realize that hair is just as delicate, they treat it better," she explains. "As you get older, start pulling back on certain things. If you always use hot tools, alternate — maybe air dry now and then, or opt for a roller set instead of a round brush." Which leads us to another gentle tactic…
Slow down — or stop — any chemical processing.
Any kind of chemical process — including hair color — can be trying on the scalp. "Your hair tells you when it's time to stop," cautions Sturdivant-Drew. "That could be relaxers, keratin, color — in the end, they're all chemical, and when your hair has had enough, it definitely tells you. Sometimes, you have to go natural and stop putting all those products in it, just let it be and find out how it reacts then."
And by that, our experts mean natural as in no processing whatsoever, not "natural" hair color. Yates points out that some of the dye formulas that are touted as organic or ammonia-free can actually be pretty aggressive on the scalp, despite what you might expect. They could cause significant inflammation and irritation, which can challenge follicle health. So if you're looking to cover grey, she recommends looking for a gentle, semi-permanent hair color.
Discover our tips for covering grey hair here.
Remember that natural oils are your friends.
Curly hair tends to be dry hair, which is why Sturdivant-Drew recommends natural oils to maintain and seal in moisture. "I love a natural oil, particularly coconut oil," she enthuses. "When you're natural, you can use all the oils possible because the hair is so dry."
Olive oil, shea butter, and Jamaican black castor oil are also helpful and known to be especially nourishing. Both coconut and olive oils are powerful moisturizers that can penetrate the strand to hydrate from within. Shea butter and Jamaican black castor oils, on the other hand, are sealing oils, which should be used as a last step to lock in moisture. You may have to experiment with your hair and different oils — try mixing and matching to see what works for your texture.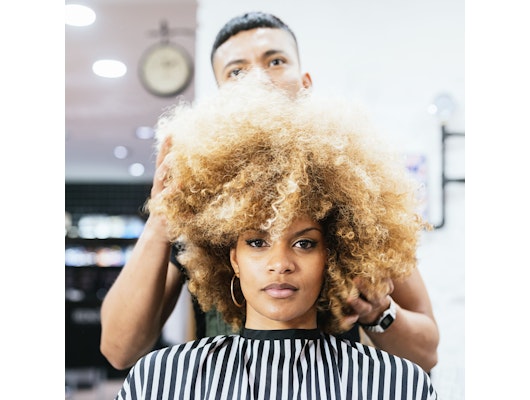 Stocksy United / Santi Nunez
Be open to the possibility that it's time for a haircut.
One of the most delicate suggestions one can make to most women fighting to keep length is to cut it, but Sturdivant-Drew argues that sometimes a cut can create positive change. "When you see brittle ends and dullness, that's a sign," she says. "I always advise a fresh start."
You don't have to go for a huge chop right away, but rather, can snip some then work gradually to let the hair texture become more uniform. "You'll see the difference in the hair," adds Sturdivant-Drew. "If you cut it and give it a style, it honestly helps you look younger because the texture and color are more even."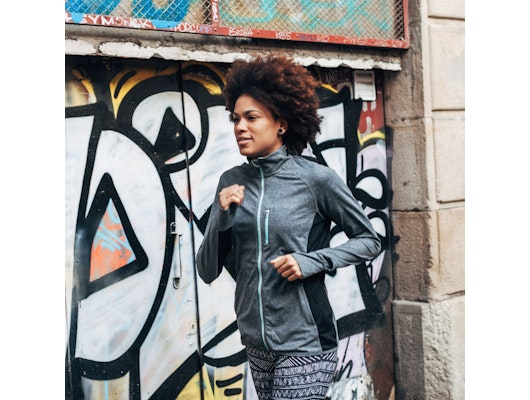 Stocksy United / BONNINSTUDIO
Maintain a healthy body and watch your stress levels.
Stress wrecks our health in so many ways — not the least of which that it can exacerbate hair loss. "There's a protein called FGF5 [fibroblast growth factor 5] which lives on our scalp, and certain changes in hormones or stress triggers overproduction, which can put hair growth cycles into hibernation," explains Yates. She recommends évolis professional PROMOTETM Activator ($65) as a solution to the issue, as the formula contains FGF5 inhibitors as well as anti-inflammatory botanicals and antioxidants. "I've found it does a great job of keeping scalp health at its optimal level, and we've seen some really great responses with taking hair out of hibernation."
Additionally, if you want the body to perform optimally, you have to keep it in top condition. This means eating a balanced diet, drinking plenty of water, and maintaining strong blood flow to the scalp with regular scalp massages and exercise. "Our hair is made up of protein, keratin, so it's always important to make sure you have a balanced diet because that can negatively impact your hair," advises Yates. And above all, be kind to yourself! Though it can be stressful to navigate changes to your strands, knowledge goes a long way — use these tips and be confident that you're doing something helpful for your hair.
Product prices may vary from the time this article was written.
Some products were gifted to the author for the purpose of writing this article.
Allergan® may receive commission for purchases made through links in this article.