In The Path, we spotlight different women making a difference in the fashion, beauty, wellness, and medical aesthetics industries. Here, the founders of Heymama share their road to success.
Don't ask best friends and business partners Amri Kibbler and Katya Libin what they think about mom haircuts. "I don't have any perception of mom-anything anymore," says Kibbler, who has two daughters, Mari, 7, and River, 3. "The women we know are so multidimensional that I don't see being a mom as a qualifying factor of them. Yes, they're women who have children, but they're all so different." 
It's that multifaceted attitude toward motherhood that led Kibbler and Libin, who also has a 7-year-old daughter named Liliana, to start Heymama, an editorial platform and group for moms in business. "We provide a community to help them thrive as they're juggling work and motherhood," says Libin. Since 2014, Heymama has grown to more than 1,000 career-motivated members and has chapters in seven cities and counting.
But just because the women eschew the notion of a mom-cut, doesn't mean they're not deeply interested in beauty. Here, the entrepreneurs discuss the role it plays in business, the skincare tips they've learned from their members and what they want their daughters to know about the power of makeup.
Spotlyte: How would you describe each other's beauty style?
Amri Kibbler: Katya does these amazing cat eyes. I've been saying forever that I want her to teach me how to do them because they're the most perfect.
Katya Libin: Aww, thanks, Mama. Amri is pretty simple and understated. She's a natural beauty and has such a beautiful face structure. Very few people don't need makeup as much as Amri. She doesn't need it at all.
AK: You are a liar.
KL: It's super true.
AK: Katya is wrong. I do wear makeup, but it's just more natural-colored makeup. I'm obsessed with eyebrow pencils right now, so I can't leave the house without putting it on. I'm using a Bobbi Brown one, and I have a bunch of different colors of them. That's my thing now. I've been switching up the style of my eyebrows. I don't know if you've noticed.
KL: I was wondering! There was something different about you. Now I know what.
Spotlyte: Walk us through your skincare routines.
KL: I have to work really hard at my skin. I have a pretty standard five- or six-step process. I do a micellar water cleanse first, and then I do a mild face soap. I love the Gentle Cleansing Milk from Caudalie®. Most days, I'll do a serum, a moisturizer and maybe little night oil. Every other day I'll do retinol. And then once a week I do an enzyme peel. A couple of other times a week I do other masks to combat dryness. I'm really fair-skinned, so I don't get a tanned glow. My glow comes from getting rid of the dead skin cells, which happens either through these quick peels or retinol. I have really dry skin. I need to constantly be using those kinds of things to make it fresh.
I also swear by my esthetician. She's part of the Olga Klimov practice in Long Island, New York, so I go all the way out there to get treatments from her because they're that good. They do the most state-of-the-art facials and know skin so well. I've been going once or twice a year for my entire adult life.
AK: I dabble in so many things. I'm a commitment-phobe! Right now I'm using a Tula probiotic cleanser. And then I'm obsessed with sprays, so I'm using two botanical spray [toners]. Then I use this serum from Perricone MD, and on top of that I use something to lighten up the dark spots on my face that I got from my dermatologist. Next I put on Juice Beauty® moisturizer and Coola® sunblock.
KL: Amri, I would go to your dermatologist and lay all those [products] out because sometimes the ingredients in some of them cancel each other out. I learned that from my esthetician. I Facetimed her once and showed her everything I was using. She asked to see the back of the products so she could see what was in them. That's actually why I've been trying a line now called Ever. It's simple because it lays out the exact process for you, and you know everything works together. I find skincare to be super complex. There's so much out there, and it's very overwhelming. Sometimes it's hard to stick with one line, though.
Spotlyte: Katya, it sounds like your skincare regimen is intense. How long does it take you?
KL: Oh, it's not super long, probably 12 minutes. One of my mom hacks is that I do masks when my daughter is in her bath. It's so genius. It's the only time I could get it in. She thinks it looks funny.
AK: Does she want to put it on? My kids always want to put them on.
KL: No. She thinks they're yucky. I do a really delicious pumpkin enzyme mask from Peter Thomas Roth®. I do clay masks. Actually, I do any kind of mask; it doesn't really matter. I think it's more about the act of doing something that takes care of myself.
AK: I'm obsessed with those Peter Thomas Roth® under-eye gold things. I'll put them on after I get out of the shower and leave them on until I leave the house.
Spotlyte: As an entrepreneur, what role do you think beauty plays in business?
AK: It's really important because if you don't feel your best, it's hard to have confidence to go and speak about what you're doing. It's a lot about rituals that we do to build ourselves up and make ourselves feel comfortable. There is also a certain need to look polished, especially if you're going to fundraise or meet with a group of people. You can say that that's not important, but you have to put your best face on, and walk the talk, like you have everything together.
KL: From a realistic standpoint, it's about being comfortable in your presence and also with the way that you look, so that way when you are on panels or see yourself in images, you're like, "Oh, cool." It may not always be your favorite photo, but given how important social media is in getting the word out about what you're doing, it's really healthy to have a good perception of yourself.
Spotlyte: What perception do you think people, including your Heymama members, have around injectable wrinkle reducers and fillers?
AK: I don't see a lot of stigma around injectable wrinkle reducers really. There are definitely people that don't do it, but I don't feel like there's judgment around it. In so many ways, women, mothers, have become so comfortable with their own viewpoints and allowing other people to do as they wish without being as judgmental.
---quiz start
---quiz end
[Editor's note: injectable wrinkle reducers are temporary medical treatments designed to smooth the appearance of moderate to severe wrinkles in certain areas of the face. Like any medical treatment, they have possible risks and side effects, so consult with a professional to see if it's right for you.]
KL: Yeah, I agree with that. I don't think there's any stigma. I think it's just a personal choice, just like plastic surgery's a personal choice, or what you eat is a personal choice. We have the right to identify with and subscribe to a whole number of practices that help us [look] our best, and if it makes us [look] good and isn't harming anyone else, I don't think anyone gives a sh*t.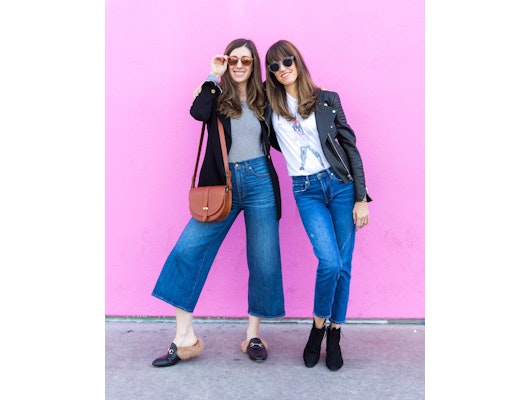 Marisa Vitale Photography
Spotlyte: What are your personal thoughts on those kinds of treatments?
KL: I've been doing injectable wrinkle reducers around the eyes for a few years. I usually go once a year around my birthday.  
AK: I get injectable wrinkle reducers. I'm obsessed. I've been doing it about every four months for the past year and a half. I see Dr. Julie Russak. I found her through one of our mamas. I was like, "Your skin just looks so good. Why does your skin always look so fresh?" And she was like, "Here's my secret!"
Spotlyte: It sounds like you get a lot of beauty advice from your members! What about from each other?
AK: Yeah, we get a lot of beauty advice from our members. I feel like I always see something on someone at an event that I haven't noticed before and I'll say, "What are you doing? Your skin looks amazing" or "Why do your eyes look so good? What products are you using?" We definitely talk about that. I don't know how much Katya and I talk about beauty together, though.
KL: We should share more beauty advice. I don't know why we don't.
AK: 'Cause we sit next to each other every day.
KL: We just forget. It's not like a core thing that we talk about.
Spotlyte: You should start now.
KL: My new project is my nails. That's what I do. I find a project. I have little boy nails and they're so weak. It's the worst. I don't know how. My mom has the most beautiful long nails, but my nails just break so soon, and it's so weird because my hair is the opposite. It grows so fast — I'll get a haircut, and within two months it grows out. I thought it was all connected. But I'm doing a lot of omega and fish oils to help them grow.
AK: Do you do cuticle oil? That always really helps my nails to grow stronger. I have them painted now, but I started just doing buff manicures, and putting cuticle oil on them every single day, and it helped them a lot.
KL: Oh great, I'll order cuticle oil on Amazon.
Spotlyte: See you're helping each other already! Katya, you mentioned your hair grows really fast. Amri, what about you?
AK: I've had bangs for years and I just grew them out. It's funny, people will say, "Oh wait, I didn't even recognize you," because I had them for so long.
KL: What are your thoughts? Are you going to go back to bangs or are you done?
AK: I don't know. Jason, my husband, likes no bangs. I'm sure I'll end up going back though. When you have bangs, the styles that you can do are very limiting, so to get some sort of a change, you have to grow them out. And who wants to have the same hairstyle all the time?  
Spotlyte: How often do you get your hair done?
AK: Definitely not enough. I forget to make an appointment, and it's really hard to get into my guy who I love so much. I go to Tommy Buckett at Serge Normant.
KL: I've been mixing it around. I go to Cutler, I go to Spoke and Weal. I don't feel like I have extreme loyalty to one specific person. My hair's not that difficult to cut, so whoever I go to typically does a good job, and I'm just happy to have a fresh cut.
Spotlyte: Tell us what you want your daughters to know about beauty.
KL: My daughter is really funny. She actually kind of rebels a little bit against some of the times when I'll say, "Your dress has a little stain. You can't wear that." And she'll look at me and say, "Mom, what's more important, me having fun, or me looking pretty?" And she'll constantly challenge me and say things like, "Books over looks." She doesn't subscribe to the concept of her looks defining who she is, which is a really strong message that she just happens to be attaching to herself early on. Maybe part of it is just rebelling against her mom, and part of it is from watching different shows with strong female leads. But I'm glad that she knows that her looks don't determine her value.
AK: Both of my kids are obsessed with beauty stuff. Petite 'n Pretty sent us this amazing box of makeup for kids, and my girls went to town. Then we had a really lovely conversation about how makeup is so fun, and it's exciting to put on the different looks and to change up the way you look as entertainment. But we also talked about how important it is to be really comfortable with yourself, love yourself, and not want to change how you look on the outside [because of someone else].
My girls are totally different. The older one is really delicate and sweet and empathetic, and the little one is super tough, but she's the one that's more into girly stuff. She looks like a little truck driver and she's all about dolls and nail polish. I love them having such different looks and styles, but understanding how they're both just as beautiful to me, and different, and not to be judging other people that way.
Spotlyte: What's next for Heymama?
KL: We have so much on the horizon. Our big mission is to build the most supportive, powerful group of women who can change the world together. We are in a really incredible time right now where mothers are no longer — or shouldn't be — put in a specific box, and the way that we look and perceive mothers should be evolving with the times to honor how incredibly efficient and intelligent and capable and investable they are. I truly think that these women together can be unstoppable.
Ultimately, we started this because we wanted to find our tribe, and now it's far beyond us. It's not really about us. It's about us just making sure that as we're growing and expanding to new cities. that the values and that the core intent of what we started continues to flourish. Then within that, it's all about the women. You know, they bring it, and they're living and breathing examples of how much moms can achieve.
Spotlyte: Amri, is there anything you want to add?
AK: I mean, she said a lot. That's the thing, she always goes first, and she's so articulate and beautiful at describing what we do.
KL: Aww. I love you. I'll teach you how I do my eyeliner tomorrow.