When we talk about healthy skin, we usually focus on how it looks. But an equally important indicator as to your complexion's wellbeing is how it feels. Take a minute to glide your fingers over your face. Does it feel smooth as glass or like a topographical map of the Rockies?
If you answered bumpy, you can thank clogged pores and dead skin for that rough, raised sensation. In addition to creating texture issues, that terrible twosome can also cause blackheads and breakouts, not to mention dullness and more visible lines and wrinkles. Regular exfoliation helps, but in order to really make an impact, you need a one-two punch of sloughing and sucking. Pore sucking, that is. Enter: DiamondGlowTM. 
This hybrid three-in-one professional treatment, according to the company, "simultaneously exfoliates, extracts, and infuses skin." Meaning it uses a specially designed diamond-tip headset that functions as a microdermabrasion, pore vacuum, and serum applicator. Being one of those many people dealing with bumpy skin, I knew I had to try it for myself.
I traveled to the office of Manhattan dermatologist Dr. Monica Halem and willingly put myself in the masterful hands of medical aesthetician extraordinaire Cynthia Rivas. As a DiamondGlow educator and expert, Rivas has been using the device religiously on her Upper East Side clientele. According to her, it's a truly universal treatment as it works on almost every skin issue, tone, and type.
"The treatment is customizable," she says. "You can control the exfoliation depth, vacuum suction, and the serum infusion." This means that no matter your issue, DiamondGlow (most likely) can help.
[Editor's note: Consult with your dermatologist before trying any new treatments.]
After looking at my broken out, blackhead-riddled skin, she told me the re-texturizing and decongesting powers of DiamondGlow were going to have a huge impact on my complexion woes.
The treatment starts on dry, freshly cleansed skin. Rivas picked my custom serum — the salicylic-acid acne formula — and inserted it into the machine. She switched it on and the machine started up, producing a sound that was somewhere between a generator and those saliva-sucking machines they use on you at the dentist.
Rivas slowly glided the tool over my skin in upwards strokes, paying special attention to my nose (where the pores were most clogged) and my jawline (where my hormonal breakouts were focused). The neat thing about this treatment is that, unlike most abrasive exfoliators, it was safe to use on my active breakouts. She just needed to change the settings to ultra-gentle and proceed with caution in those areas. That said, if you have specific skin concerns, be sure to ask questions to ensure you get the right treatment for your needs.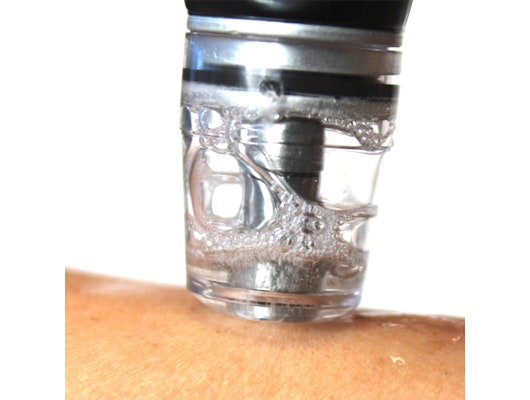 Not a depiction of author's treatment.
Overall, the sensation is minorly unpleasant but not painful — it basically feels like a combination of getting microdermabrasion and a face mist spritz at the same time. The entire treatment took a grand total of 10 minutes and the only immediate side effect was that my skin was a little pink-ish, but that went away after a few hours.
Now, having an aesthetician telling you they've cleaned out your pores is all well and good, but there's nothing like seeing it for yourself. That's exactly what this treatment does. As the vacuum passes over your skin, it not only suctions up all the grossness, but deposits it in a clear glass jar. Once my treatment was over, Rivas disconnected the jar and showed me what it had pulled out. Visibly floating in there were dead skin flakes, pore gunk, and lots of oil. It was nasty to look at, but even nastier to think all of that had, up until a minute ago, been residing on and in my skin.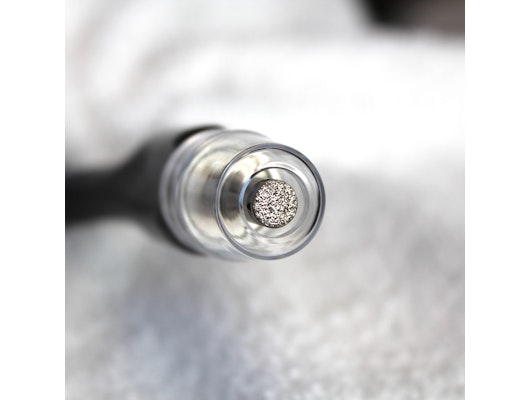 I could also physically feel the difference — as I ran my fingers over my face there was nary a bump to be felt. It was surreal, almost like someone had draped a layer of silk over my skin. Plus, my foundation was easier to apply and looked more natural than I'd ever seen it.
When I next went back to see Rivas two weeks later, some of the bumps had returned, but there weren't nearly as many as before. After using the salicylic acid serum for my face, she replaced the vial with a hyaluronic acid moisturizing one and used it on my neck, under my eyes, and even on my lips.
"It plumps up fine lines and wrinkles," she explained. My eyes definitely looked less tired and my perpetually chapped lips felt hydrated and soft. Best of all, the jar 'o nasty was visibly less populated — I saw mostly dead skin flakes and a handful of blackheads.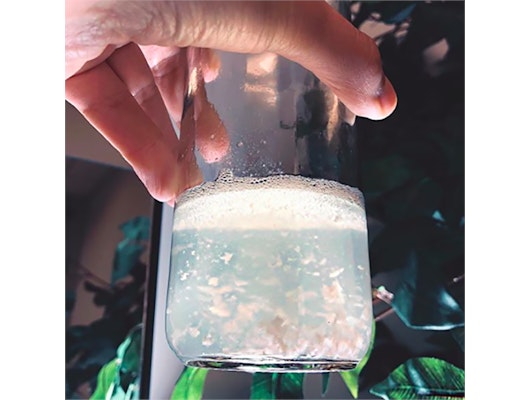 Jar and contents not the result of author's treatment.
Rivas recommends doing DiamondGlow once every two weeks when you first start, and then maintenance treatments monthly. One session will set you back between $150 to $300, depending on the areas you have done (you can use this on your neck, chest, and back of your hands).
"I don't think I've ever had one person tell me they didn't see a difference after having one treatment done," muses Rivas. (Of course, individual results vary, and you should seek out a professional to determine if you're a candidate for the treatment.) I can definitively say that I both saw and felt a difference and now, I'm hooked — I get my DiamondGlow once a month. Once I saw how soft and clear my skin could be, there was no going back.
Service was gifted to the author for the purpose of writing this article.
DiamondGlowTM is an Allergan®-owned treatment.
DiamondGlowTM Important Safety Information
Indication and Use
The DiamondGlowTM device is indicated for general dermabrasion of the skin and also delivers topical cosmetic serums onto the skin.
Important Safety Information
DiamondGlowTM is contraindicated in patients who are pregnant or lactating, have compromised skin quality including but not limited to, sunburned, chapped, irritated or broken skin, open wounds, active, weeping acne, cold sores, or herpetic ulcers. Ask your patient about any medical conditions, including allergies, and usage of topical medication on the area to be treated.
Typical side effects include a scratchy, stinging sensation during the treatment and temporary tightness, redness or slight swelling after the treatment. Rare serious side effects may also occur and include severe skin irritation and allergic reactions. Cease use of the device immediately if any of these serious side effects are observed.
Patients should be advised to use a sunscreen with a sun protection factor of 30 or higher following treatment.
Consult the DiamondGlowTM User Manual for a complete list of Contraindications, Warnings, Precautions, and potential side effects.
Pro‐Infusion Serums Disclaimer
The Pro‐Infusion Serums are intended to meet the FDA's definition of a cosmetic product, an article applied to the human body to cleanse, beautify, promote attractiveness, and alter appearances. These products are not intended to be drugs that diagnose, treat, cure, or prevent any disease or condition. These products have not been approved by the FDA and the statements have not been evaluated by the FDA.