The most frequently-asked question of most first-time cosmetic injectable patients is "what will the results look like?" To get an in-depth understanding of the entire experience, we bring you Under the Needle: a look at an individual's journey from beginning to end.
Amanda Graber Rosenberg, 36, became curious about injectable filler after hearing about it from people she knew who had tried it. The conversation of filler had been floating around her circle of friends — eventually inspiring her to get her lips and cheeks done.
"I had been at a dinner party the month before where a number of the women had recently had their lips done, and I knew little about it," she says. "I was keen to learn more and once I understood what the results could be I was excited to try it."
[Editor's note: Injectable filler is a medical treatment with risks. Be sure to talk with your provider about potential side effects. Learn more now by chatting with a trained aesthetics specialist.]
Though Rosenberg is from New York (by way of London), where she is the Head of PR & Communications for Allergan's Consumer Strategy & Innovations team (and a mother of one!), she got lip and cheek injectable filler at aesthetics bar Alchemy 43℠ in Los Angeles during a work trip. Looking subtle after the treatment was her highest priority. She also wasn't new to the world of cosmetic aesthetics, having tried injectable wrinkle reducers twice in her life already.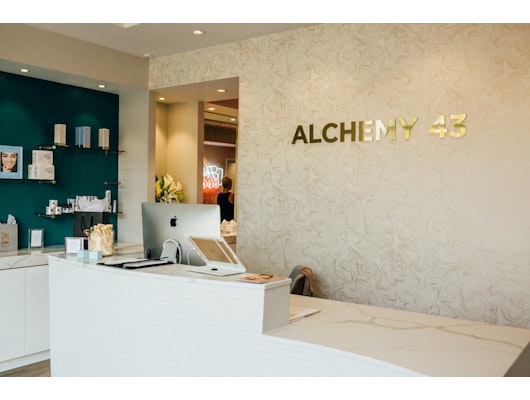 Joslyn Blair
"When you are receiving a filler-based enhancement of [the] lips and cheeks, it's always helpful to give your provider as much specific info as possible about what you are picturing," says Alchemy 43 owner Nicci Levy. "Showing them examples and pictures of what you like is recommended . . . If you aren't sure, that's okay too, a properly trained expert in the field will be able to talk you through the different options to deliver your desired [natural-looking] result"
Everybody's experience is different, but here, Rosenberg shares her filler treatment journey — from the consultation to the post-swollen results.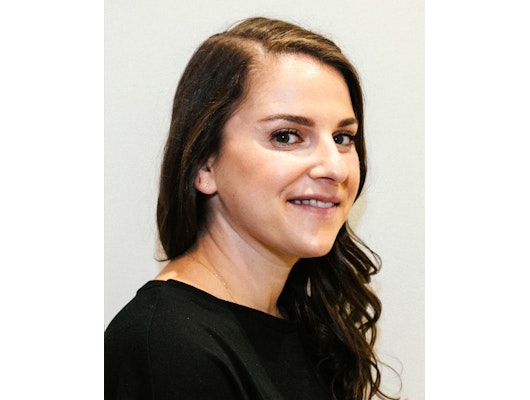 Before Filler 
Goals:
Cheeks:
"Over the last few years, I've been trying to get better at applying my own makeup, particularly when it comes to contouring. Last winter, I had a makeover with Charlotte Tilbury, and with the combination of her products and techniques, I have definitely improved my skills.
I never thought about playing with other areas of my face when it came to injectables, but as I was being educated on filler, I wondered if getting it in my cheeks would help define the current bone structure I had, which in turn, would enhance the contouring I was trying to accomplish. I was extremely specific about what I didn't want to end up looking like: à la chipmunk."
Lips:
"My mom told me never to trust anyone with thin lips. Why, you ask? I have no idea. As a result, I've always been wary of this area — more on other people, but recently on myself. I've tried [makeup] lip plumpers in the past, but they never seemed to do much. When going in for other injectable treatments, I inquired about filler for the first time. I was very specific about wanting a [natural-looking] outcome as I didn't want it to be obvious at all."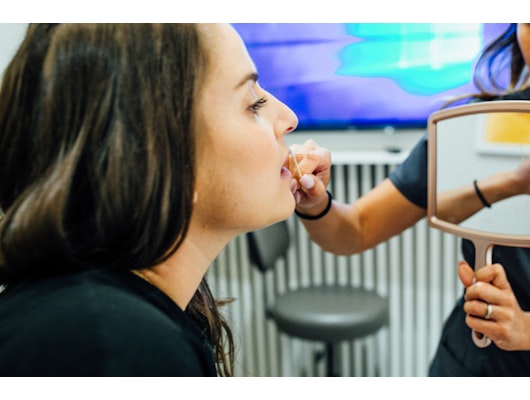 Joslyn Blair
Consultation:
"First, they took pictures of my face at every angle, using a photo technology called Canfield VECTRA® 3D. It's a 3D imaging service that allows clients to preview what their results might look like.
It was really innovative how accurate the imaging felt and it really helped guide our conversation. We used [the images] to discuss what I did and didn't want the results to look like. It definitely increased my comfort level.
The last step was to have a Skype conversation, known as a Good Faith Exam, with a licensed provider to review my medical history and any potential concerns prior to me receiving the treatments."
[Note from Levy: "Good Faith Exams are performed at Alchemy 43 before your first treatment by a licensed MD, NP or PA. This is simply a diagnostic exam to ensure you are a candidate for it and that you have no health conditions that would be contraindicated for the product or service."]
Procedure: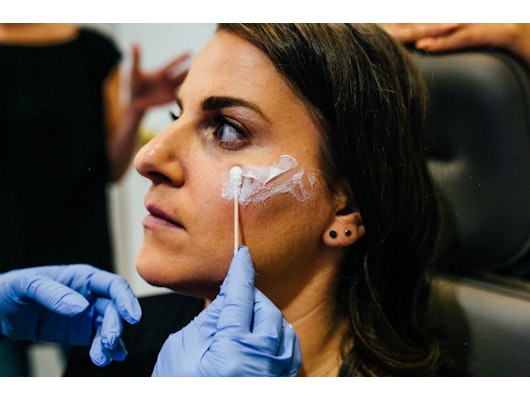 Joslyn Blair
Cheeks:
"We decided to start with the cheeks, and they put a numbing cream on them. I asked to see the [filler] product and have a fresh box opened in front of me (read that tip on @Spotlyte). She gave me a description of what I might feel before she injected me and then off we went!"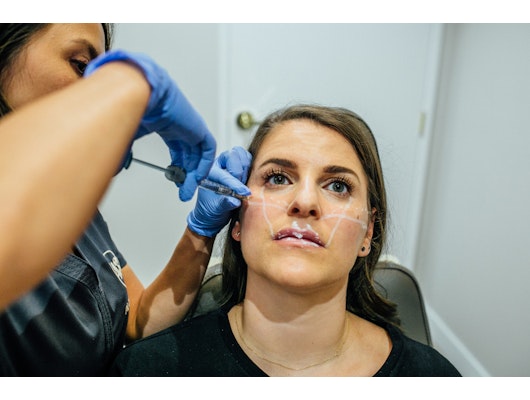 Joslyn Blair
"When trying to explain to friends how it felt, I've shared that even being somewhat numb, I could still feel tugging, pulling, and pressure. Unfamiliar sensations to say the least. I wasn't in pain, but I wasn't relaxing at the beach either." It was over relatively quickly, and the ice pack [after] felt amazing!"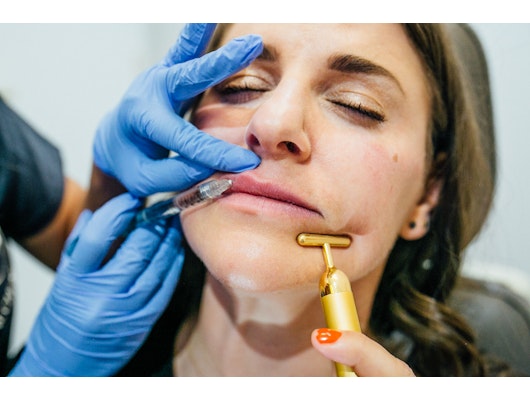 Joslyn Blair
Lips:
"So I'm glad we did the cheeks first — as had we gone for the lips beforehand, I'm not sure I could have done both in one day. The lips hurt. My lips happen to be tender, and I felt each injection like it was the first. I had expected the lips to be a more sensitive area, but being a first timer, I didn't really know what it would feel like. I didn't feel that the lidocaine in the vial or the numbing cream they put on me helped much.
Since I was going for a more natural-looking outcome, the injecting didn't last too long. (Thankfully!) So the procedure felt quicker than the cheeks, which was great."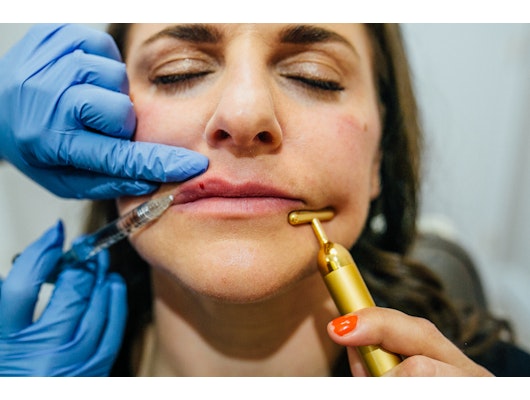 Joslyn Blair
Cheeks:
"The treatment took effect immediately and, for me, that was a positive. I had friends with me while I was having it done, and after just a couple of injections, they were in awe of the results. My cheeks are now more lifted, thanks to the enhanced volume."
Lips:
"My lips felt huge right away, but the team at Alchemy had warned me of that and said [the swelling] would reduce by at least 40 percent over the next couple of days. They were pretty accurate. My lips were definitely sore for that first day, but I kept applying fresh ice packs and eventually the pain subsided.
I saw a close friend that afternoon, and I think I really startled her. Being from London, we are [typically] not as aware and open to such treatments as my American friends seem to be. So I think I really took her by surprise. However, I saw the same friend just last week and we agree that now (two months later) my lips look great. It takes a while for it to settle in. While it was a little painful to get here, I'm happy I tried it."
---quiz start
---quiz end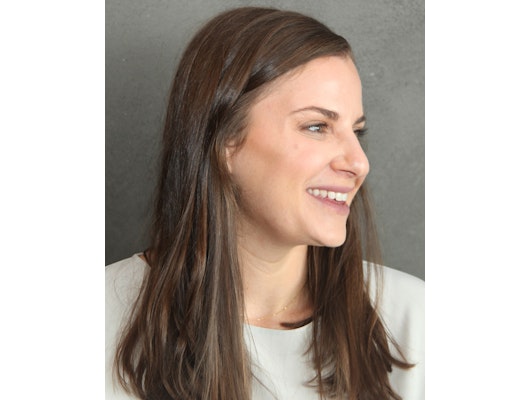 3 weeks after 
Editor's Note: Things to Know About Filler
Everyone's results from this treatment are different. It's important to know that injectable fillers can have risks and side effects, with the most common including tenderness, swelling, and/or bruising. If you are interested in trying filler, talk to your provider about the benefits as well as any other potential side effects. Chat with an aesthetics specialist now to have your questions answered and book a consultation!


Allergan may receive commissions for purchases made through links in this article.
Amanda Rosenberg was gifted this treatment for the purpose of writing this article.