In this series, Top 11, influential people with share 11 ways they take care of themselves including beauty, skincare, and aesthetics. Knowledge is power!
You know those chic gold under-eye patches you see all over Instagram? You can thank Divya Gugnani for them. The boss lady, mother of two, and serial entrepreneur is the co-founder of Wander Beauty, along with model Lindsay Ellingson. The brand is responsible for the aforementioned viral eye patches and other multi-tasking, easy to use products (including one of our favorite mascaras of all time).
If you meet Gugnani in person, you'll likely notice her glowing, bright skin and polished makeup. Here, we got the scoop on how she looks so glamorous while seemingly "doing it all."
"In the words of Frank Lloyd Wright, 'The longer I live the more beautiful life becomes.' Enjoy it, embrace it," Gugnani, who is in her 40s, tells Spotlyte about her general approach to beauty. "I suffer from autoimmune disease, and I'm allergic to many chemicals but I'm results-driven, so I lean on natural ingredients in all of my products. I love to travel, and I've discovered so many interesting ingredients during my travels. Traveling is what Lindsay [Ellingson] and I bonded over — those global travels inspire the ingredients in all of Wander's multitaskers."
She also makes beauty a festive family affair. "I have two kids, a boy (age 6) and a girl (age 4)," Gugnani says. "They are both obsessed with skincare, makeup and all things beauty.  We have frequent swatching and testing parties at home!"
Keep reading to learn the 11 steps Gugnani takes in her regular beauty and medical aesthetics regimen. Get ready to take notes!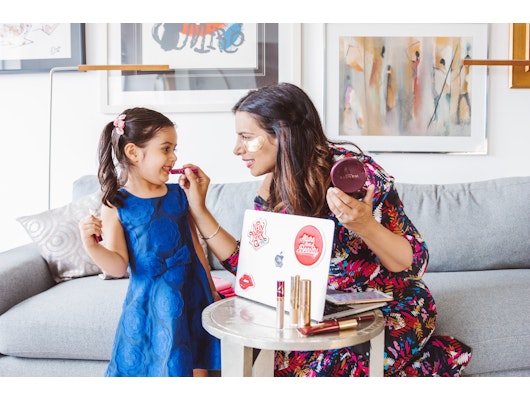 Courtesy of Wander Beauty, Inc.
Wander Beauty Baggage Claim ($25): "I can't live without these — they're a part of my daily morning routine! Since they don't slip or slide I put them on my eyes in the morning to depuff and hydrate while I get my kids dressed for school, pack their lunches, and answer emails. I take them off right before I run out the door for instantly brighter under eyes."
SUPERGOOP!® Unseen Sunscreen ($32): "This is my favorite everyday sunscreen. The gel texture smoothes my skin for makeup application, and I never have to worry about flashback."
BriogeoTM Don't Despair, Repair! Leave-in Mask Spray ($28): "I love that this is a leave-in spray. I'm all about multitasking, so if a product can detangle my hair after a shower, tame my flyaways and simultaneously treat breakage, I'm sold."
Wander Beauty Dualist Matte & Illuminating Concealer ($29): "My mommy multitasking must-have! This never leaves my bag. One side is a full coverage matte concealer stick that hides the dark circles that come with having two children and simultaneously running a business. The other side is an illuminating liquid that I use to brighten and highlight on-the-go."
Nutiva® Coconut Oil: "I am all about the natural oils, so these are always nearby. I heat them up slightly and massage into my scalp and ends as a leave in treatment while I run errands, or I'll throw on a turban for an overnight deep conditioning treatment.
SlipTM Silk Sleep Masks ($45): "I swear by these! They come with me on every trip, especially when I'm traveling to Korea for product development meetings."
Organic Milk: "Yes, milk, the kind my kids drink, except I use it on my face! Trust me on this one. I cleanse my face, and then apply it all over and let it dry. Not only does milk smooth and refresh skin, but the lactic acid in milk helps with pigmentation."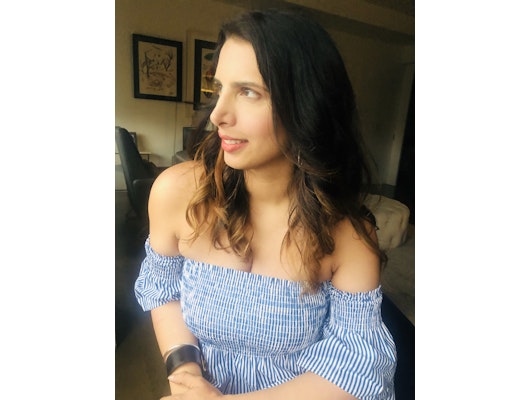 Courtesy of Wander Beauty, Inc.
Wander Beauty Catch the Light Highlighter and Glowtion ($34): "This is my go-to for summer glow from head to toe. The formula is 2-in-1: A creamy highlighting stick on top and liquid highlighter in the tube. I use the liquid formula as a radiant primer and on my body (especially legs!) and the stick for targeted highlight on cheeks, nose and cupid's bow."
Injectable Wrinkle Reducer: "I started going to [my] doctor to get wrinkle reducers on my forehead lines last year. I've always left looking natural, which is super important to me."
[Editor's note: an injectable wrinkle reducer is a treatment performed by a professional to temporarily smooth the appearance of moderate or severe lines on the face in areas such as the forehead or crow's feet. As with any prescription, be sure to talk to your licensed provider about all the risks and benefits. Thinking about a consultation? Chat with a trained aesthetic specialist to find providers near you!]
Urban Decay All Nighter Spray ($32): "I love this setting spray for when my makeup needs serious staying power. I usually go from work to a work-related dinner or event and this setting spray keeps my makeup flawless for a full day, even during the summer."
Olga Lorencin® Red Carpet Facial ($109): "When I actually have more than five minutes to spend treating myself (very rare as a mom of two kids!), this is my favorite way to give myself a full at-home facial. It instantly brightens my entire face without having to step foot into a spa."
Allergan may receive commission for purchases made through links in this article.