Many of us scrape by without serum (and a lot of other skincare necessities!) in our younger years without a second thought. But as you approach your forties, your complexion might betray those skin sins — and you may not look quite as luminous as in previous decades. "As we age, our bodies produce less collagen and elastin, and we start to notice changes in skin tone and texture," explains San Francisco-based plastic surgeon, Dr. David Sieber. "Years of UV exposure and environmental stressors begin to show in the form of sun spots and hyperpigmentation." (You'll see even more damage if you were a sun worshipper in your early twenties!) Plus, according to Dr. Sieber, "cell turnover and natural exfoliation slow down, making the skin look duller and more likely to show wrinkles and crepiness, especially around the eyes."
Luckily, there are a myriad of products that can help combat these skin changes — the trick is knowing exactly what to use and when. Below, a cheat sheet for your most streamlined routine (because sometimes you just don't have time for a 14-step skincare saga).
AM
"In the morning, the focus should be on protecting your skin from environmental stressors," Sieber says. This includes harmful UVA and UVB rays as well as free radicals. Even if you've never used a drop of sunscreen in your life, it's never too late to start protecting your skin from the elements.
Step 1: Splash your face
Cold water — you know the drill! Not only does an icy splash feel invigorating, but it can constrict your pores and make them appear smaller. You could also incorporate a cleanser or micellar water in the morning (try Bioderma Sensibio H20, $15), though it's important not to dry out your skin by overcleansing. Gently pat your face dry with a clean towel.
Step 2: Apply an antioxidant serum
That hyperpigmentation that appeared after your 39th birthday? Thwart it with antioxidants such as vitamin C, which Sieber says can "help fade brown spots and skin discoloration." Not only will an antioxidant serum help with those pesky spots, but it can also boost the efficacy of your SPF.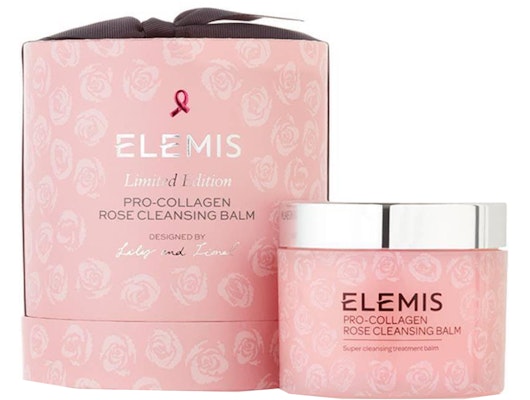 "I recommend a vitamin C + E serum under a sunscreen, a combination which research has found can help provide four times the protection of sunscreen alone," Sieber says. Try the cult classic SkinCeuticals C E Ferulic® Serum ($166), which — as the name suggests — harnesses the antioxidant powers of vitamin C, E, and ferulic acid. (Ferulic acid is an antioxidant which can help stabilize vitamins C and E). Alternatively, try the SkinMedica® Vitamin C+E Complex ($102).
Step 3: Moisturize
Sieber notes that a good daily moisturizer is essential. After all, hydrated, healthy-looking skin is an ideal canvas for makeup! Try the IT Cosmetics® Secret SauceTM️ Clinically Advanced Anti-Aging Moisturizer ($68), which not only hydrates with hyaluronic acid, but also contains peptides — ingredients which Sieber says "trick the skin into boosting collagen production."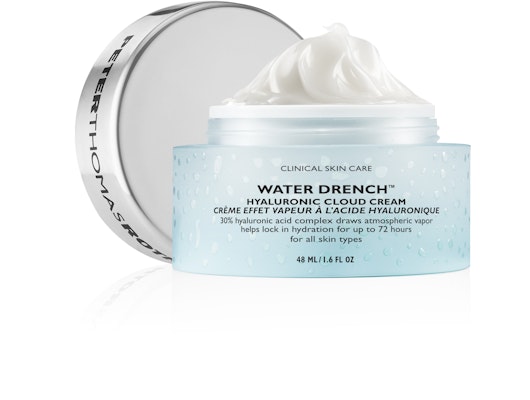 Another option, Peter Thomas Roth Water DrenchTM Hyaluronic Cloud Cream ($35), is spiked with ceramides, which help to strengthen the skin barrier so it can lock in moisture. This formula also contains silk proteins, which can further help the skin hold on to hydration.  
Step 4: Slather on SPF
Once your moisturizer has absorbed, smooth on a broad spectrum protection sunscreen such as Elta MD® UV Clear Sunscreen SPF 46 ($33). The zinc-based formula provides a shield of protection which dries clear, meaning it plays well under makeup. Alternatively, Sieber loves SkinMedica® Total Defense and Repair Sunscreen ($68), which protects skin from harmful UV rays while providing antioxidant protection via green tea extract and vitamins C and E. Learn about the difference between physical and chemical sunscreens here.
PM:
In addition to cleansing the day away, "the focus at night is to hydrate and repair skin," explains Sieber, who recommends applying a retinol-based formula and a nighttime moisturizer to help do both.
Step 1: Cleanser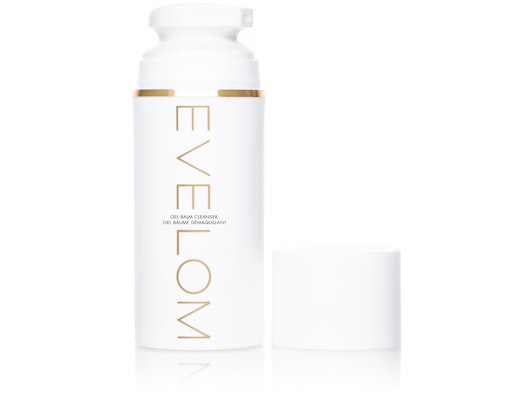 Choose a daily cleanser like the Eve Lom Gel Balm Cleanser ($50), which effectively dissolves makeup (and whatever grime may have accumulated throughout the day) without stripping the skin of its natural oils. Another option, Chanel® Le Lait Fraîcheur D'eau Anti-Pollution Milk-to-Water ($45), contains moisturizing marine extract and feels like a tall glass of water for tired, parched skin. Cleansing will also help prep your skin for subsequent skincare ingredients so they can work most effectively.
Step 2: Retinol serum
Sieber calls retinol "one of the most scientifically proven ingredients for improving skin texture and softening [the appearance of] wrinkles." The vitamin A derivative also promotes cell turnover, which slows down in our forties. (Note: retinol can be drying, so consider applying it every other night at first — this will help your skin get adjusted to its effects.) Sieber recommends the SkinMedica® Age Defense Retinol Complex ($93), which he notes is both effective and relatively non-drying. Another option is the Algenist® ELEVATE Advanced Retinol Serum ($98), which is formulated to be non-drying as well as vegan, with no animal-derived ingredients or by-products.
Step 3: Nighttime moisturizer
Yes, nighttime moisturizers are different from daytime ones. Generally, evening moisturizers are richer and more nourishing; this is because our skin loses moisture as we sleep (not to mention, cotton pillowcases can absorb products!). Before winding down, slather on a night cream such as the Lancôme® Rénergie Lift Multi-Action Night Cream ($122), which contains hydrating hyaluronic acid and skin-smoothing shea butter. Once a week, consider throwing a sleeping mask over your night cream to supercharge your skin's moisture retention. The Laneige Water Sleeping Mask ($25) creates an additional barrier against moisture loss — plus, it's spiked with antioxidant-rich evening primrose oil, which gives stressed out skin a much-needed refresh.
Follow these steps and you'll wake up in the morning with fresh, soft skin — ready to start your glow-boosting regimen all over again. 
 Allergan may receive commission for purchases made through links in this article.
SkinMedica® is an Allergan-owned skin care product line.