Few people have more makeup, hairstyling accessories, and skin-perfecting items than beauty gurus themselves, especially influencers and editors. After all, it's part of the job. These tastemakers are often tasked with the challenging task of receiving and testing dozens of products on a weekly basis in order to recommend them to followers and readers. Though it sounds thrilling (and even enviable) at first, the quantity of new companies and trendy shades continuously developing, debuting, and evolving can quickly become overwhelming.
Based on the sheer number of products received regularly, clutter can easily take over these experts' bathrooms, bedrooms, and/or entire living spaces if they're not careful. Thus, many of them know a thing or two about organizing their products. In the name of cataloguing your own collection, we consulted five influencers and editors for tips. Here's how they find space for their stuff — and how they stay sane when overcrowding is upon them!
Courtesy of Andrew Fitzsimons
The influencer: Andrew Fitzsimons, Celebrity Hairstylist and NatureLab TokyoTM Brand Ambassador
The size of his beauty product collection: "I am super minimal, so I actually don't have a huge collection of products. As a celebrity hair stylist, I'm fortunate that brands send products almost daily, but if it's not something I will use, I donate it to my charity, the Trans Cosmetic Donation [Drive]TM, so the products are able to go to good use."
Courtesy of Andrew Fitzsimons
How he stores his products: "I just moved into a new house in the Hills in Los Angeles. My bathroom is super open, airy, and doesn't have a ton of storage, so it's all about curating products that I really love — since everything is on display. I keep a very small collection of items in my shower and on a shelf over my sink, and that's really it!"
Favorite storage investment: "When I need to hide products away, I have very minimal baskets from The Container Store® ($13 - $25) that are simple, cute, and efficient."
His top organization tips:
Streamline. "There's not really a point in hoarding beauty products, because they expire and can grow bacteria — so make sure you're keeping only the items you'll actually use and appreciate."
Incorporate design into your storage. "Don't just throw all your extra products in a drawer or a bag that lives in the bottom of your closet. Invest in easy-to-access, thoughtful storage items that match the overall aesthetic of your home."
Display your products! "A lot of products come in really gorgeous packaging, so if you take care of them, you can keep a curated assortment out on display. It'll look great, plus you'll have easy access to them when you need them."
Edit often. "Reevaluate your products and what you're actually using on a regular basis, and consider donating products that you haven't yet opened to a worthwhile charity."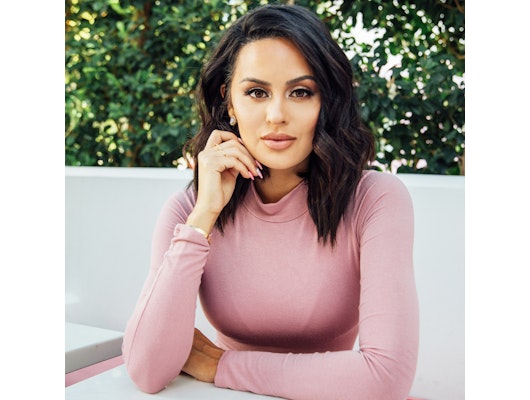 Photo: Emily Malan
The influencer: Christen Dominique, Founder of Dominique CosmeticsTM
The size of her beauty product collection: "Probably too much, but I love being able to test out different products. Without [my collection], I would feel naked."
Favorite storage investment: The Clear Stackable Large Shoe Drawers ($13) from The Container Store.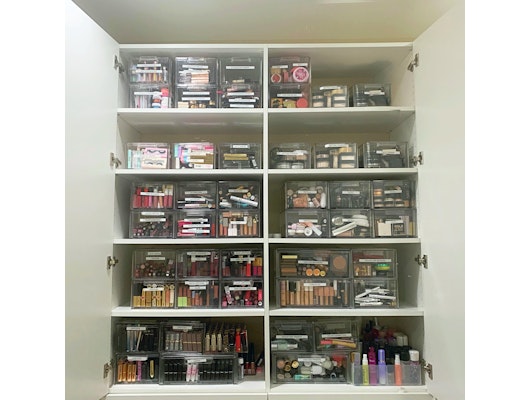 Courtesy of Christen Dominique
How she stores her products: "I store products by category so it's easier to find what I'm looking for, otherwise products would get lost."
Her top organization tips:
Out with the old, in with the new!
If you haven't used a product within six months, get rid of it.
Categorize to make everything easy to find — and label, label, label! 
(Learn more about Christen Dominique, her favorite beauty products, and her medical aesthetics routine.)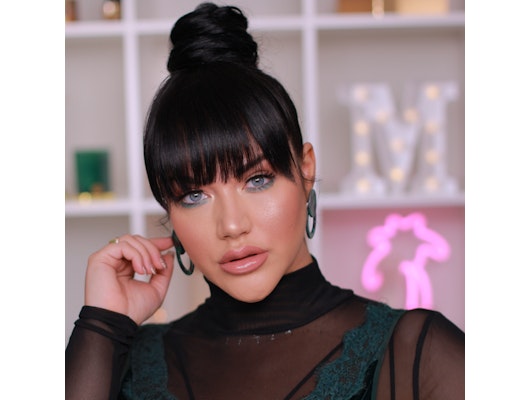 Photo Courtesy of  Militza Yovanka
The influencer: Militza Yovanka 
The size of her beauty product collection: "It would be impossible to count everything, but over 1,000 products — not counting the lipsticks!"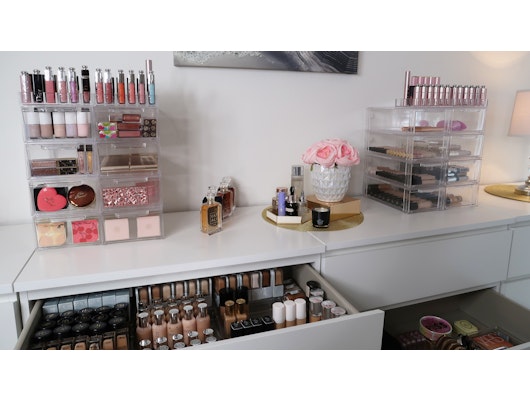 Photo Courtesy of  Militza Yovanka
How she stores her products: "Every drawer is organized by products: foundations, powder, highlighters. Every product has a specific place."
 Favorite storage investment: MALMTM 4-Drawer Chest ($149) from IKEA®, and 7-Drawer Premium Clear Acrylic Chest ($100) from The Container Store. 
Her top organization tips:
Keep everything by category.
If your work is to try and review new products, make sure to have a space to organize all the new things you haven't tried yet.
When it comes to your favorites that you use on a daily basis, especially skincare, keep them on a cute little tray so they're easy to access.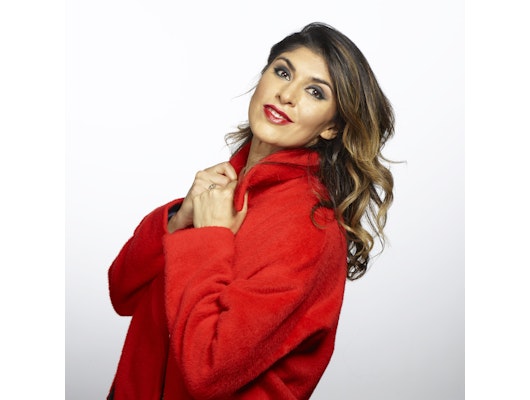 Photo: White Honey
The influencer: Lara Vanessa Eurdolian, Founder of Pretty Connected®
The size of her beauty product collection: "I have an entire office overflowing, so roughly 3,000 to 6,000 depending the month."
Courtesy of Lara Vanessa Eurdolian
How she stores her products: "I started with organizing my makeup in cute 'acrylic makeup storage organizers' — search the term on Amazon®, a ton of options come up — but, I quickly over-cluttered them all. I needed a bigger solution [and] also, one that wasn't clear, so you can't see through to my clutter. The short answer is: bookshelves in the beauty closet, and IKEA ALEX Drawers for everything else."
Favorite storage investments: ALEXTM Drawer ($89) from IKEA. "I switched to the holy grail of beauty organizers. There are a few different styles, but I have five sets of the classic nine-drawer style in my hallway and a few by my desk. I organize them using sticky notes saying what's in each, since I'm always switching in products I receive, and testing [them]."  
ALEX Drawer Unit ($129). "Additionally, I have the wider Ikea ALEX Drawer Unit, which I removed the casters from. I stacked two on top of each other next to my bed."
Top organization tips:
Declutter. "I donate monthly to my Share Your BeautyTM program, which I started with the non-profit Family to FamilyTM. Together, we've helped sustainably donate over 130,000 new beauty products to shelters. I've also been working with high school theatre programs that accept gently used products. Bottom line: if you don't use it, get rid of it."
Make an essentials box, basket, or drawer. "These are your top go to products. I have one for my skincare products on top of my vanity. It keeps me organized. I also have a drawer dedicated to the most used makeup so it's easy to find. Everything else is categorized by type: lipsticks, lip liners, eyeliners, bronzer, foundation."
Perfect your labeling, and have enough storage. "For me, it's all about the IKEA ALEX organizers, since all of my products have a designated drawer. I try to go through them once a month and take out anything I don't use."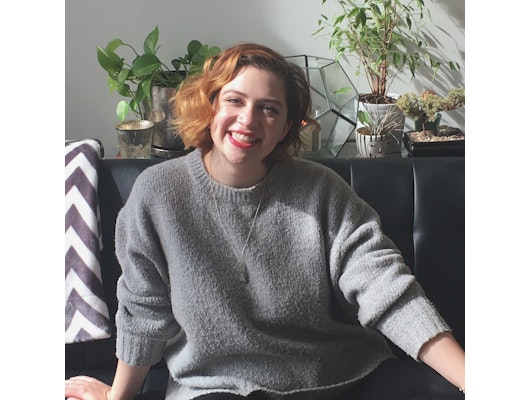 Courtesy of Erin Reimel
The editor: Erin Reimel, Assistant Beauty Editor, ELLE®
The size of her beauty product collection: "I'd like to think I don't have too much, but in reality I do — it's just that I have a lot less than I did before I moved. I live with my boyfriend now, so I can't have beauty products in every corner of every room. There are the products that I use every single day — almost a dozen skincare products, my makeup, and my hair products — plus extras on top of that. They're either things I know I want to try or pretty products that I just had to bring home. I tend to hoard eyeshadow palettes, even though I wear the same few cream shadows most days."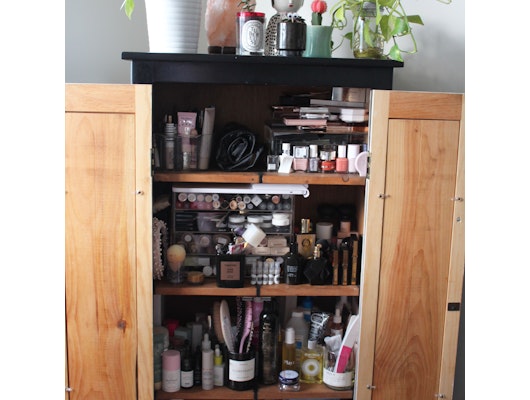 Courtesy of Erin Reimel
How she stores her products: "I keep most of my products in a cabinet. Funnily, it used to be in my parents' kitchen — with all of the snacks my family would stock up on. Then, in my first apartment, it was my TV stand. Now, it's my beauty cabinet. It's in my living room, because I don't have space for a vanity.
I keep all my makeup in it, as well as all my fragrances, hair styling products, and extra skincare products. I'm also a travel-sized product junkie, so I keep bags of minis in the bottom of the cabinet, so I can still use my favorite products when I'm traveling. I have my everyday makeup in a bin on the top shelf so I can just pull it out and use it while I'm sitting on my couch. My everyday skincare and post-shower hair care is stored in a medicine cabinet in the bathroom along with my boyfriend's (very few) products." 
Favorite storage investment: GLAMCOR® RIKI SKINNY® Vanity Mirror ($195). "Hands down, the best part of my beauty storage is my lighted mirror. Because I don't have a dedicated space to do my makeup, I don't have room to set up a big clunky mirror. Plus, I get up really early, so I can't do my makeup without the light. It's a little bigger than an iPad® and equally as thick. It hardly takes up any space, but it's the one thing I can't live without. I also love that it fits in any suitcase — because hotel lighting is the worst."
Top organization tips:
Have a separate section for your most-used items. "I pull out the same makeup container every day, so I have everything I love in one spot. Then I just add pops of color or glitter here and there if I'm inspired."
Purge frequently. "I bring so much home that I can tend to forget what I have. I try to go through my collection every other month or so to filter out old products that might be expired, but also to rediscover some favorites that got pushed to the back of the shelves."
Find storage that shuts. "I used to have my products on open metal shelving and while it was cool to display my fragrances, the rest of my products would get dusty, and it looked like a mess. I like that I can close the cabinet up and no one would know what's in there."
Product prices may vary from the time this article was written.
Allergan® may receive commissions for purchases made through links in this article.