Recently, I've incorporated a new step into my nighttime routine. It involves standing in ridiculously close proximity to my bathroom mirror and scanning my face for wrinkles. To the bystander (i.e. my bleary-eyed boyfriend waiting up for me), this process — which takes around 20 minutes — is an absurd waste of time. At 25 years old, I don't have any deep-set furrows. Nevertheless, I do have fine lines; lines that seem to get stronger daily and are becoming disconcertingly close to full-blown wrinkles.
But what differentiates a fine line from a wrinkle? And when is an unwanted facial etch "ripe" enough to warrant injectable wrinkle reducers? Until recently, I couldn't have told you. (An embarrassment of the highest degree for a Beauty Editor.) So, I consulted California based dermatologist Dr. Annie Chiu and Minneapolis based dermatologist Dr. Brian Zelickson for answers.
What Is the Difference Between a Fine Line and a Wrinkle?

First, it's important to note that not all facial lines are created equal. Dr. Chiu refers to fine lines as a texture issue. "They appear as fine etching," she says. "You will notice when your makeup sits in it a bit."
Adds Dr. Zelickson, "fine lines are generally small, thin, depressed lines or creases in the skin." Severe wrinkles, on the other hand, are "generally deeper and/or wider [than fine lines]," says Zelickson.
[Editor's note: Talk to your licensed provider to discuss the severity of any fine lines and/or wrinkles.]
How Are Fine Lines and Wrinkles Caused?
At their core, most facial lines can be attributed to a combination of natural skin aging, sun damage, and genetics. Unlike many fine lines, though, deep wrinkles can be caused by "[repeated] muscle contractions like frowning, squinting, and smiling." This is where injectable wrinkle reducers can help: they temporarily smooth the look of moderate to severe wrinkles in certain areas of the face. The treatment works to reduce the activity of these overly contracted muscles in the frown lines, elevens, and crow's feet.
However, as with any medical treatment, they have potential risks and side effects. Be sure to talk to a licensed provider to see if they're right for you. (Read more on injectable wrinkle reducers here.)
How Do You Know When a Wrinkle Is Ready For a Cosmetic Injectable?
If you're noticing deeply-etched wrinkles in the aforementioned areas, it might be time to consider injectable wrinkle reducers. "[When] you see an etched wrinkle, it may not completely go away [with injectable wrinkle reducer]," Chiu warns. Injectable wrinkle reducers are for those wrinkles that are moderate to severe — and you should know that the treatment improves the way those wrinkles look, but it may not erase them completely. Talk to a licensed provider to see if you'd be a good candidate.
Also remember deep furrows that appear at rest (such as the marionette lines around the mouth) can be plumped up with fillers, which are temporary medical treatments designed to add volume. They are clinically tested, but there are still potential risks and side effects, so consult with a licensed provider to learn if they're an option for you.
Ultimately, the decision to embark on injectable wrinkle reducer journey starts with your comfort level with the procedure and if you want to soften the wrinkle. 
Confused about which treatment is right for you? Providers offer consultations to answer your questions. Chat now with our team of trained aesthetic specialists to find a licensed provider near you.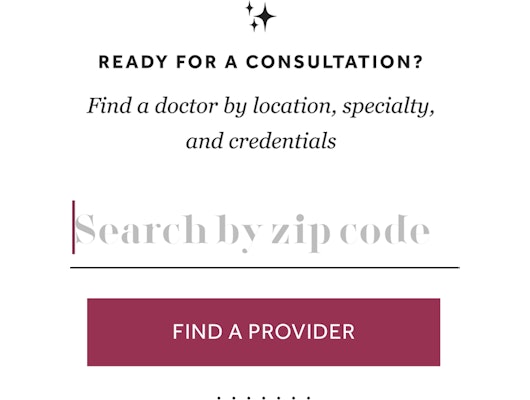 What Do Creams Do?
Incidentally, if you're trying to treat deep facial folds with creams, you might want to reconsider your approach. "Topical products can [only] work for fine lines," confirms Zelickson. Products like sunblock and retinol can delay the formation of deep wrinkles and effectively treat those teeny tiny fine lines. 
As for me, I'll continue my nighttime ritual with a side of retinol — for now. When the time comes (I'm looking at you, forehead furrows) you can be sure I'll be inquiring about injectable wrinkle reducer.
[Editor's note: Retinol shouldn't be used by those who are pregnant, considering getting pregnant, or nursing. Please consult with your doctor before use.].
Dr. Annie Chiu is a paid Allergan consultant.
---quiz start
---quiz end