In the '80s, there was a book — really more of a thick pamphlet — about how to shape the area below your butt. I was already a perky-tushed teen, but each spring, I'd pull the book off the shelf and do the prescribed leg lifts and donkey kicks to whip the area under my little butt into even better shape for swimsuit season.
These days, I don't think of summer as "swimsuit season" so much as "sleeveless tops and shorter skirts" season. But I still want my upper arms, thighs, and the area under my derrière to look their slimmest when summer rolls around, and 30 days of prep ain't gonna cut it. The time to start some of the key summer treatments — fat reduction, cellulite smoothing, hair removal — is months in advance of warmer weather.
For these body-summerizing services, "[You may] need to allow for multiple treatments and downtime between each," says aesthetician Jeannel Astarita, founder of Just AgelessTM medical spa in New York City's SoHo. Here's the lowdown on some of the top body-shaping and body hair-shearing machines, including CoolSculpting® for stubborn fat bulges, ZWaveTM for cellulite, and LightSheer® DUETTM for body hair.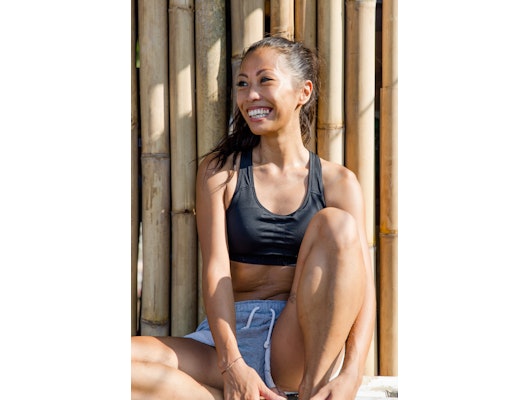 Stocksy United / Jovo Jovanovic
Does not imply person featured in photograph had any treatments mentioned in this article.
Fat-freezing with CoolSculpting
Targeted fat reduction was once just a fantasy. I'd grab my saddlebags and call out to the body gods, "Why have you cursed me this way?" Now, discrete areas of fat like saddlebags are some of the targets of CoolSculpting, a non-invasive fat-reduction treatment that uses cryolipolysis, a process in which treated fat cells are frozen until they crystalize and die.
[Editor's note: The CoolSculpting treatment is a non-invasive fat-freezing treatment that effectively reduces fat in certain self-proclaimed "problem spots" in the submental and submandibular areas, thigh, abdomen, flank, and upper arm, along with bra fat, back fat, and underneath the buttocks (you know, those bulges that just won't go away, regardless of how much you sweat it out on the treadmill). While it isn't a weight loss solution, fat-freezing can reduce pouches of fat. As with any procedure, there are risks and side effects, so talk to your licensed provider to see if it's right for you.]
Pouches of fat that you can pinch are receptive to CoolSculpting. On the other hand, "visceral fat — like a hard basketball belly — can't be treated," says Astarita. "That fat is in the abdominal cavity surrounding the organs," she adds, which means only diet and exercise will have an affect on it.
If you've been carefully concealing your flabby parts your whole adult life, you'll want to mentally prepare to have your fat scrutinized. During the CoolSculpting consultation, Astarita likes to assess the treatment areas while you're standing, sitting, and lying down. "Fat moves around," she says (not news to my own jiggly banana roll!). "You have to make sure you're seeing it and treating it from the [appropriate] angle."
Once a licensed provider determines someone is a good candidate for treatment, a gel pad is applied to the area to protect the skin. Some providers, like Astarita's Just Ageless spa, have multiple CoolSculpting machines that can be used with multiple attachments, so it's possible to treat more than one area at a time. There are many different attachments for the CoolSculpting machine — little ones for the upper arms or a double chin, or large ones for areas like your abdomen or love handles. Many people choose to get more than one area treated, so the cost could then range from $2000 to $4000.
"We use tons of pillows to make patients comfortable in some pretty unusual positions so that we can access multiple areas at once," she says. The treatment itself lasts anywhere from 35 to 120 minutes, and you'll feel really cold in the treated area at first, then numb.
When the applicators are removed, the massage begins. Unfortunately, this is not the essential-oil-plus-Enya kind of massage: It's actually the most ouchy part of the procedure, but also a key step that helps eliminate significantly more fat cells than CoolSculpting done without it. Some practitioners massage with their hands, but Astarita prefers the ZWave tool, which uses radial shockwaves to give you deep, even massage(see more on its capabilities below!). You'll feel some discomfort after the massage, too, as blood flow returns to the cooled area. "Ever make snowballs with your bare hands and then go inside, and your hands feel like they're burning and a little prickly?" Astarita asks. "The blood flow back to the treated area is the same sensation, but it will be over soon. I always make sure to let patients know what to expect; that way it might be unpleasant, but at least it won't be a surprise." Interested in learning more about CoolSculpting? Read about one woman's experience with fat-freezing here.
Other after-effect sensations in the treated area(s) may include temporary redness, swelling, blanching, bruising, firmness, tenderness, cramping, aching, itching, skin sensitivity, and a sensation of fullness in the back of the throat. They usually only last a few days or weeks. Although, as with any treatment, rare complications can occur.
You may see up to a 20 to 25 percent fat reduction in the treated area after your first CoolSculpting treatment, so depending on what your goals are, you may want to go back for a second treatment (talk to your provider about the ideal timeframe for you to return and number of treatments). Although some people may be able to see a difference in as early as three weeks, the most dramatic results usually show between one and three months.
The treatment isn't for everyone: Astarita will use caution with people with medical conditions activated by the cold like Raynaud's disease (in which the cold cuts off circulation to the extremities) and cold urticaria (hives induced by the cold), and will rule out people with cryoglobulinemia (when antibodies gel or become solid at cold temperatures), cold agglutinin (that causes autoimmune antibodies to attack red blood cells in the cold), and paroxysmal cold hemoglobinuria (a type of anemia caused by cold-reacting antibodies).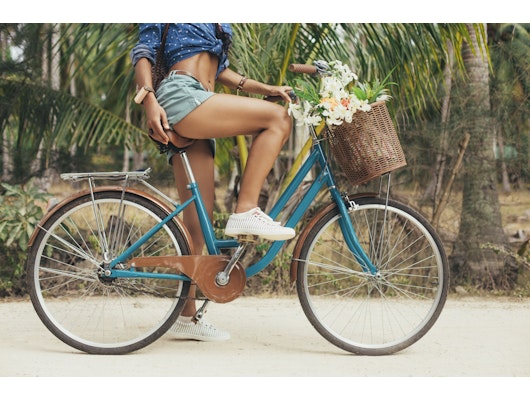 Stocksy United / Lumina
Does not imply person featured in photograph had any treatments mentioned in this article.
Cellulite-smoothing with ZWave
First, a marvy little metaphor on what cellulite really is: "Think of cellulite like a sheet of bubble wrap sitting just below your skin, making the surface look bumpy," says Astarita. There's fat inside the bubbles, and each bubble is anchored by septae — bundles of collagen that have hardened and shriveled — pulling down and keeping each bubble separate from the others. For the record: My thighs can be shipped safely, as they are fully packaged in this bubble wrap. Oh joy.
Here's how the ZWave can help: If you massage those hardened septae, they will soften up and relax, so the sheet of bubble wrap will be more like one, big bubble (with less noticeable pockets), and the surface will temporarily look smooth. Softening those septae takes strong, consistent massage, which is just what the ZWave delivers. The ZWave drives sound waves — or more specifically, radial shockwaves — deep into the tissue to soften the septae. Treatments usually take three to four minutes per body zone, and most patients experience no pain and no downtime after.
[Editor's note: ZWave is a non-invasive procedure with limited risks and side effects. They may include minor redness and bruising, which usually resolve within a few days. As always, talk to your licensed provider before starting any new treatment.]
So why wouldn't everyone try ZWave? "I'd say that ZWave is for patients with moderate cellulite, at most," says Astarita. "If you have more severe cellulite, you might consider surgical options like Cellfina®," she says, in which the connective bands of tissue woven throughout the thighs and buttocks are severed. And a ZWave series isn't inexpensive: "Patients typically start with [six to] 10 treatments, and then we assess," says Astarita. Then you might want to return for maintenance treatments, so the cost can easily add up.
Her fair warning: "If someone tells you they can completely get rid of your cellulite, run for the hills! Cellulite is a chronic condition. It won't 'go away' — you have to treat it forever." Astarita recommends at-home skincare treatments as an adjunct to ZWave: "When skin looks better, cellulite looks better," says Astarita, who recommends dry brushing, retinol and glycolic acid treatments. You can also try some of these plastic surgeon-recommended cellulite remedies.
[Editor's note: Retinol shouldn't be used by those who are pregnant, considering getting pregnant, or nursing. Please consult with your doctor before use.]
Does not imply person featured in photograph had any treatments mentioned in this article.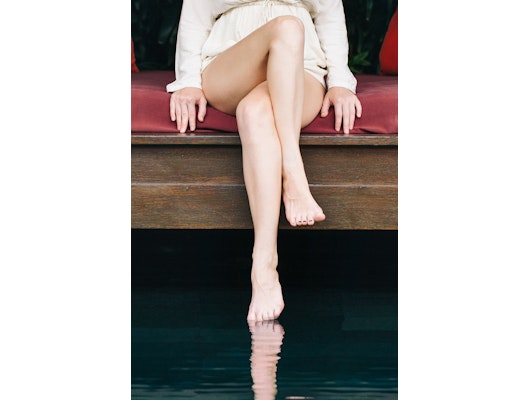 Stocksy United / VISUALSPECTRUM
Body-hair zapping with LightSheer DUET
For all my real and perceived flaws, there's one thing for which I'm perfect: laser hair removal. I have fair skin and dark hair, the ideal combination for a diode laser beam to target the pigment in my hair follicles to destroy the root without damaging the surrounding skin. And when the technology was new (nearly 20 years ago!) and I successfully had my bikini line treated, my skin/hair combination made me among the only viable candidates. But we've come a long way, baby.
"The LightSheer DUET is my workhorse hair removal laser," says NYC-based dermatologist Joshua Zeichner, MD, because it can be adjusted to treat different skin types. "By increasing the time it takes to deliver the laser energy into the skin — known as the pulse width — you can more specifically target melanin in the hair and not pigment in the skin. A longer pulse width setting is used on patients with darker skin types," Zeichner explains.
There are still, however, two hair-removal needs that are unmet. That includes dark hair on very deep complexions: "The laser can't differentiate between the skin and the hair, so there's too much collateral damage to the skin," says Zeichner. The other is baby blonde or white hairs — they don't have enough pigment to attract the laser.
But what hasn't changed in 20 years is the discomfort. Depending on your pain tolerance level, laser hair removal will likely be a less-than-fun experience, though it's admittedly improved somewhat. The hairs being treated are sucked into the vacuum head of the machine to be closer to the energy source, and that suction sensation distracts your brain from the heat of the laser. Also, the process is faster than it used to be — full legs can be done in 15 minutes — so it hurts less for a shorter time.
The laser is most effective in treating hairs in their active growth phase, one of three phases, which explains why multiple treatments are often necessary. "Some hair follicles will be destroyed, some will be partially destroyed, while others are shocked into a resting phase," explains Zeichner. It takes four to six weeks for those hairs to start growing again, at which time you'll have your next laser treatment.
Most people need two to six laser treatments in order to be rid of hair for a few months or years. "So you want to start this treatment way in advance of when you want to be clear," says Zeichner. Cost depends on the part of the body you're treating and where you live in the country, with total prices ranging in the hundreds of dollars. "It is a large financial investment," says Zeichner, "but it can be truly life-changing for some patents."
CoolSculpting® is an Allergan®-owned non-invasive fat reduction treatment.
CoolSculpting® Treatment Important Information 
Uses
The CoolSculpting® procedure is FDA-cleared for the treatment of visible fat bulges in the submental (under the chin) and submandibular (under the jawline) areas, thigh, abdomen and flank, along with bra fat, back fat, underneath the buttocks (also known as banana roll) and upper arm. It is also FDA-cleared to affect the appearance of lax tissue with submental area treatments. The CoolSculpting procedure is not a treatment for weight loss.
Important Safety Information
The CoolSculpting procedure is not for everyone. You should not have the CoolSculpting procedure if you suffer from cryoglobulinemia, cold agglutinin disease, or paroxysmal cold hemoglobinuria.
Tell your doctor if you have any medical conditions including recent surgery, pre-existing hernia, and any known sensitivities or allergies. 
During the procedure you may experience sensations of pulling, tugging, mild pinching, intense cold, tingling, stinging, aching, and cramping at the treatment site. These sensations subside as the area becomes numb. Following the procedure, typical side effects include temporary redness, swelling, blanching, bruising, firmness, tingling, stinging, tenderness, cramping, aching, itching, or skin sensitivity, and sensation of fullness in the back of the throat after submental or submandibular area treatment. 
Rare side effects may also occur. CoolSculpting may cause a visible enlargement in the treated area which may develop two to five months after treatment and requires surgical intervention for correction.
 Ask your doctor if CoolSculpting is right for you. To learn more about what to expect, visit the CoolSculpting website and comprehensive Important Safety Information. 
---quiz start
---quiz end