No one knows how to fake a glow better than the "Queen of Glow" herself, Charlotte Tilbury. The celebrity makeup artist is known for giving clients an ethereal radiance with each swipe of her makeup brush. But for those who don't have access to Tilbury herself, her eponymous beauty brand allows us to DIY that legendary luminosity. If you're like us (i.e. looking forward to Tilbury's product launches the way sneaker aficionados look forward to Yeezy® drops), you'll be excited to hear that she has new, glamorous products coming down the pipeline. Enter: the five-piece collection, GlowgasmTM.  
While I try not to judge products based on their appearance (it's all about what's inside that counts!), Tilbury's new selection is drop-dead gorgeous. The lacquered product packaging on the palettes literally gleams in my hands as I flip through each one, but their eye-catching appearance is just the beginning.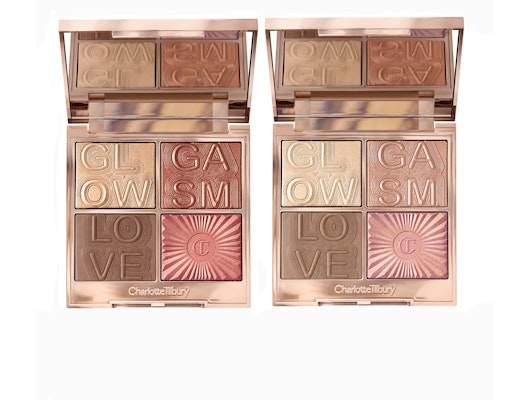 Courtesy
Tilbury's two limited-edition Glowgasm palettes — LightgasmTM and LovegasmTM — include a highlighter, bronzer, and blush for a complete complexion boost. For those looking for a finish that's light-medium, Lightgasm is your best bet. For a medium-dark look, choose Lovegasm. Each shimmering square of powder is made of brightening pearl pigments that catch the light with every movement. Smoothing polymers within the silky powders also allow for a soft-focus effect and a light texture. Pro tip: on days that I want to really intensify the glow on my cheekbones, I'll dampen my makeup brush with water before dipping it into Tilbury's cheek palettes — it gives the hue a deeper, more concentrated look.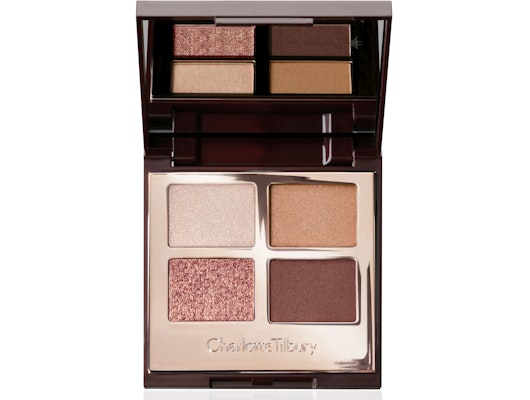 Courtesy
Another palette launching within this collection is the DreamgasmTM Luxury Palette ($53, available May 2), but contrary to the previous two palettes mentioned, this one is intended for the eyes. The four rich shades inside range from a light champagne to a coppery bronze and add a wash of a summer-y sheen to your lids.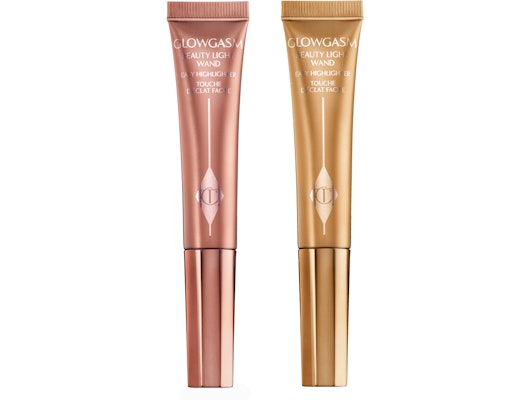 Courtesy
Moving past the new palettes, Tilbury is giving her popular Hollywood Beauty Light WandsTM ($38) — which currently only include a light and dark bronze, as well as a pale yellow — a permanent shade extension. GoldgasmTM, PeachgasmTM, and PinkgasmTM will all be added via the Glowgasm collection, giving the color range for these best-selling, highlighter-blush hybrids a welcomed boost. The pure gold, pale peach, and rosy pink hues all provide a subtle flush when applied to the apples of your cheeks. Just be sure to blend with your fingers in order to get the ultimate, natural-looking sheen.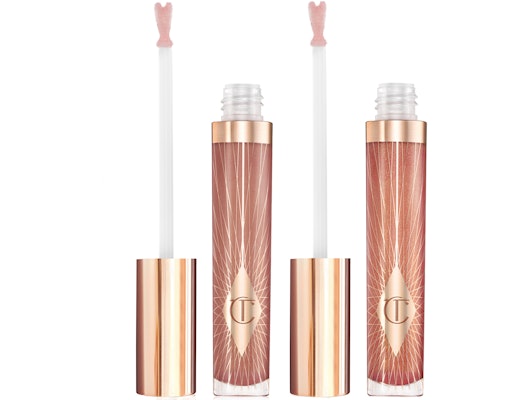 Courtesy
Tilbury's launches don't stop there. She's also adding a rose gold and peach shade to her Collagen Lip BathTM line ($35, available May 23). All it takes is one swipe of the heart-shaped applicator to instantly get a glaze-like, juicy-looking finish. While I love wearing lipsticks and glosses, I oftentimes have difficulty finding formulas that don't dry out or accentuate the fine lines on my lips. Thankfully, this one doesn't do that. The marine collagen and "super lip" peptides within this gloss moisturize bare lips, while the pearlescent pigments mimic the light-reflective sheen of crystals. If you thought it was impossible for lips to be described as "glowing," this product will prove otherwise — seriously.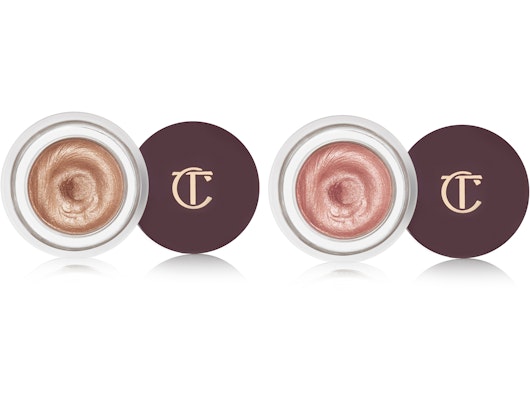 Courtesy
My favorite piece of Charlotte Tilbury news, though, is that the brand's iconic cream eyeshadows are getting a few additional shades added permanently to their collection. I use this velvety formula on my lids every single day, so I couldn't be more excited to add a few more hues into my rotation. Charlotte Tilbury's Eyes to MesmeriseTM in Rose Gold and Star Gold ($35 each) are the perfect metallic colors (rose gold and gilded bronze, respectively) for summer. Even though you can obviously apply the buttery formula to your lids with a makeup brush, I prefer to spread it along my eyes with my finger. I find that this application technique allows me to smudge the product along my crease easily for a more blended look.
Considering Charlotte Tilbury's history of selling out products in the blink of an eye, we're predicting this collection will be flying off shelves quicker than ever before. After all, with many of the formulas looking like bottled up sunbeams and crushed jewels, we'll probably be first in the checkout line.  
Some complimentary products were provided to the author for the purpose of writing this article.
Product prices may vary from the time this article was written.
Allergan® may receive commissions for purchases made through links in this article.