Patricia Wexler is, arguably, one of the most recognized names in dermatology. With a clientele that's a veritable Who's Who of celebrities, CEOs, socialites, and fashion designers, her patients rely on her artistic eye and skillful hand that keeps them looking their best. But call the 67-year-old expert famous, and she will flinch.
"New dermatologists constantly ask me, 'How do I become famous?' and it drives me crazy," she says, shaking her head. "The right question is: 'How do I get good?' You get good by becoming groupies of people who are good. You ask if you can come to their offices and shadow them. You also get good by not picking every procedure; just the ones you're passionate about. And if you're good, you're going to become known for being good. And if you become really good, maybe you'll become recognized for your talent. And that's how you get a good practice with a good reputation. But 'famous' and 'medicine' should never be in the same sentence."
Wexler knew she wanted to be a doctor by the time she turned five, though she didn't grow up in a medical household. She studied five instruments, as well as painting, but medical school was always the plan. Dermatology, however, came more circuitously.
"My first residency was internal medicine, then I did infectious disease," explains Wexler. "I was doing my rounds at Mount Sinai® when the chief resident of dermatology stopped me in the hall and said, 'You know more about dermatology than some of my residents. Do you want the residency?' I didn't have to think. I just said, 'Yes!' I took the long way to get there, but I think my background in internal medicine and infectious diseases only makes me a better dermatologist, so none of it was wasted time."
Wexler hung her first shingle in a basement office on West 12th Street in New York City and soon began finding her specialties, one of which was a little-known procedure called liposuction.
"I love doing liposuction. I'm really good at it, and I have my patients stand while I'm doing it, so you can really see the contours of the body," she explains. "People have turned away from it because of all these [other] forms of non-invasive body contouring. But I eventually get them."
Wexler had me over for lunch one cold early Spring day, and we ate Chinese food from her favorite place on the Upper East Side. She gamely answered all of my questions while simultaneously curbing concern over whether I'd spill soy sauce on my white jumpsuit. (I didn't.)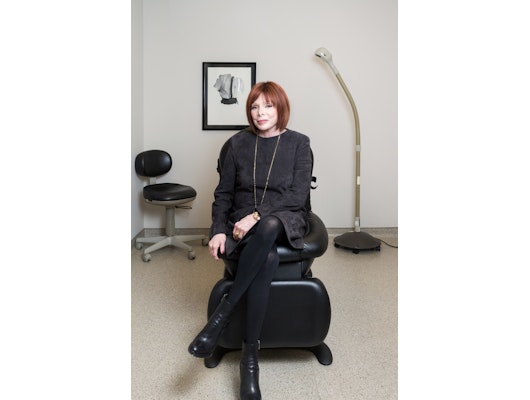 Photos By:  Kelsey Ann Rose
Spotlyte: What are the important questions we should ask dermatologists when we're looking for the right one?
Dr. Patricia Wexler: I think it's important to ask how they fill, where they fill, what fillers [they use]. 
---quiz start
---quiz end
[Editor's note: Injectable filler is a temporary treatment that adds volume to areas of the face such as the lips, cheeks, and laugh lines. Like any medical treatment, it has potential risks and side effects. Be sure to talk to a licensed provider to see if it's right for you. Have more questions? Chat with our team of trained aesthetics specialists now.]
Spotlyte: Any guidelines toward what the right answer should be?
PW: The key thing to ask the doctor is, "What is your aesthetic? What do you think I need, and where do you think I need filler? What would be your goal in treating me?" What do you think you need and what the doctor thinks you need should be similar.
Spotlyte: What are the initial questions that you ask first-time patients?
PW: History. Have you had fillers? Injectable wrinkle reducers? Lasers? And if you weren't happy with what was done, what were you unhappy with? And, of course, what are you hoping I can do for you?
---quiz start
---quiz end
[Editor's note: Injectable wrinkle reducers are used to temporarily smooth the look of moderate to severe wrinkles in certain areas of the face such as the forehead, frown lines, and crow's feet. They should not be done more frequently than every three months. Like any medical treatment, they have potential risks and side effects. Be sure to talk to a licensed provider to see if they're right for you. Have more questions? Chat with our team of trained aesthetics specialists now.] 
Spotlyte: And what are you excited about these days?
PW: Well, I still love Ulthera®. It's the foundation of the face, 100 percent.  
[Editor's note: Ulthera is a non-invasive FDA-cleared treatment that helps to lift and tighten skin, particularly around the neck, chin, and brow.]
Spotlyte: Isn't it painful?
PW: That's old. We used to do [it] at very high intensity; now we do [it] at very low intensity. It works better. It takes three to six months to see the results.
Spotlyte: Do you have a favorite laser?
PW: I can't count the number of lasers we have that improve the skin! 
The Fraxel® is the treatment of choice. We have the Fraxel DUAL, which is more superficial and corrects photo damage, brown spots. The Fraxel Restore is more for fine lines, slight tightening, texture and skin tone. CO2 laser used to be a dirty word because the downtime was so long, but we just got a new technology called the Aerolase® Era.
It's similar to the fractional CO2, but is an Erbium laser, where healing only takes four days. It addresses pigment, photo damage, deeper wrinkles and scarring. It also helps skin build up new collagen, which, in turn, tightens skin. It even helps addresses lip lines, which is the hardest to deal with. Another new one is the Pixel8-RFTM, a radiofrequency micro-needling device that's great for scars, photo damage, and laxity with rapid healing.  
It's a very exciting field. I go to conferences all the time, but that's what makes it fun. An old doctor once told me he pities the doctor who's still practicing what he learned in his training. 
Spotlyte: Are more people staying away from facelifts?
PW: Yes. Although, people in their fifties and sixties who didn't start early with these technologies [may] need the lifts eventually. But people are coming in their thirties and asking what they can do to keep their skin the way it is. And that's the difference. The only surgery you can't forestall is undereye bags.
But there's so much we can do to keep the face going, which is wonderful because people are working into their seventies and eighties, and they want to be considered vital and productive. I have one patient in her eighties who's a producer. She says that if it weren't for Google®, no one would know how old she is. Google is what's killing people! You can't fight Google!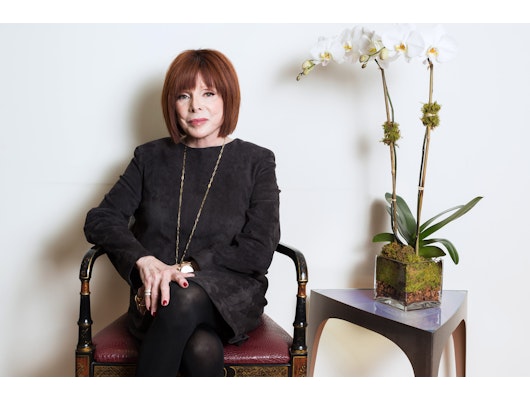 Photos By:  Kelsey Ann Rose
Spotlyte: What constitutes a great patient?
PW: Someone who knows what they want, and is in keeping with what I think they need. They don't cancel their appointments constantly, which is important, and they're nice people. My best friends have come from the practice, because, frankly, where else do I go?
Spotlyte: Conversely, describe an annoying patient?
PW: Someone who comes in, asks me what I think they need, but disagrees with everything I say, then argues when I don't want to do it, and tries to push me into doing it, anyway, which I won't. I won't do anything I don't believe in.
Spotlyte: Speaking of what you believe in, can you share what you've had done?
PW: I've been doing Ulthera for about 12 years, and I do it every two to three years. I have done injectable wrinkle reducers, and I do it [no sooner than] every three months, but since I have bangs, doing it in my forehead would be a waste. The only filler I have in my face is in my lips, which I did for the first time about a month ago. My daughter has huge lips, my mother had huge lips. Me? Not so much.
Spotlyte: Seriously? Wow, and never in your cheeks? You have amazing cheekbones!
PW: Nope, never in my cheeks, but I just noticed that one has begun to drop…
Spotlyte: Would you ever get the thread lift?
PW: I can't. I'm allergic to every thread and suture out there.
Spotlyte: What about lasers?
PW: My husband did a fractionated CO2 laser on my face for the first time a few months ago. He told me that of all the patients he'd had, I took the longest to heal. I'm very sensitive. It took about nine days. It was really hard for me to go through, because I was allergic to Aquaphor® — have I mentioned that I'm allergic to everything? — so that took three added days to get over, then I switched to EltaMD® Healing Ointment ($25) and that was great. Now we're using it on every patient. The whole thing killed my husband's Christmas vacation, but I'm glad I did it; it made my skin feel really good.
Spotlyte: Given that everything is at your disposal here at your practice, I'm so surprised you haven't done more.
PW: At the end of the day, nobody wants to stay late to work on me. I have to beg.
Spotlyte: Did creating your own skincare line stem from your own sensitivities?
PW: Everything I develop is for sensitive skin because of my own experiences, yes. I've actually developed four: Donna Karan Cashmere Mist®, Almay® KinetinTM, Calvin Klein® skincare and makeup, and my own [Patricia Wexler, M.D.®], in my spare time! We're currently working on resurrecting and updating it.
Spotlyte: OK, so we know whose skincare you use. What about makeup?
PW: I recently changed my foundation, which is a major thing! I use Westman® Atelier's, along with the primer, blush, and highlighter. My lipstick is Givenchy® FramboiseTM, my mascara is Giorgio Armani®, eyeliner is Surratt® liquid liner in the brown shade, and my eyeshadow is Urban Decay's® ToastedTM.
Spotlyte: Do you wear sunscreen every day?
PW: Of course! When I'm in the sun, I feel like a laser is hitting my skin. I use EltaMD UV Clear SPF 46 seven days a week. In the Hamptons, we have three 10-ft square UPF umbrellas, as well as one in the car, and one that I walk through the city with, from May to October. You can laugh, but for 67, my skin is pretty good.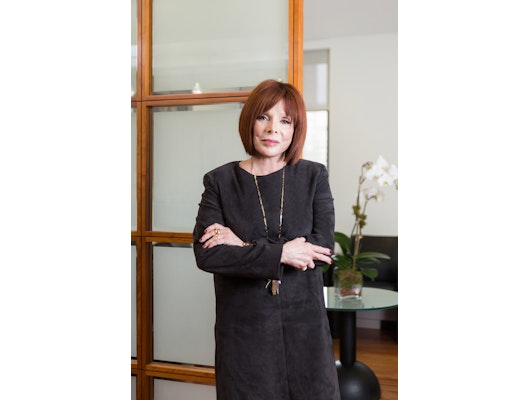 Photos By:  Kelsey Ann Rose
Spotlyte: Do you get facials?
PW: I've never had a facial in my life. It's not that I don't believe in them, which I don't, but extractions [can] cause pores to stretch and steam brings out blood vessels in the face. There's nothing wrong with microcurrent, and a face massage is fine, as is a little glycolic, but I don't want to antagonize my skin or cause anything that changes my skin's barrier.
Spotlyte: Who cuts or colors your hair?
PW: Rebekah Forecast at Serge Normant® for John Frieda® does both.
Spotlyte: What are the most important elements to staying happy, content, and balanced?
PW: I haven't achieved it! I've achieved happiness, absolutely, but I'm not balanced. Work becomes too overwhelming, but once you start in that direction, you can't slide back. At some point in your life, there's one thing that gets neglected.
Spotlyte: So, what does fall through the cracks?
PW: The cracks? It's more like a sinkhole sometimes! And I'm the first thing that falls in — it's always me. I can go weeks without a pedicure, to the point where I'm ripping holes in my stockings; my husband doesn't get the attention he should get, and I go weeks without calling my friends. The office obviously has to run, so it's my apartment that suffers. It's like something from "Hoarders®." I always say, I should have a wife, but I don't. The one aspect I try not to neglect are the grandchildren (ages four and nine). I try to see them every week, if they have time for me!
Jokes aside, I'm so grateful I'm doing what I'm doing. I don't know one dermatologist who's ever retired. One of my favorite stories is about a dermatologist in his eighties who was still practicing at Mount Sinai — Irwin Kantor. When patients called to schedule a 5 o'clock appointment, his receptionist always had to ask, "AM or PM?"
Dr. Patricia Wexler is a paid Allergan® consultant. 
Allergan may receive commissions for purchases made through links in this article.