Ask any dermatologist for their best skincare advice, and we're willing to bet the words "sun protection" pop up within the first 30 seconds. After all, exposure to UV rays can lead to premature skin aging (not to mention, skin cancer). With this in mind, the fact that so many of us are still skipping the stuff is almost baffling. Perhaps it's because suncare hasn't always been the sexiest product category. After all, there's a reason so many of us associate it with greasiness, streakiness, and chalkiness. 
However, this year's sunscreen innovations suggest that times are changing. Just peruse the SPF-spiked formulas below, which range from fragrant body oil to shimmery eyeshadow (yes, really). Below, 11 sunscreens that'll keep your skin protected — and your derm proud.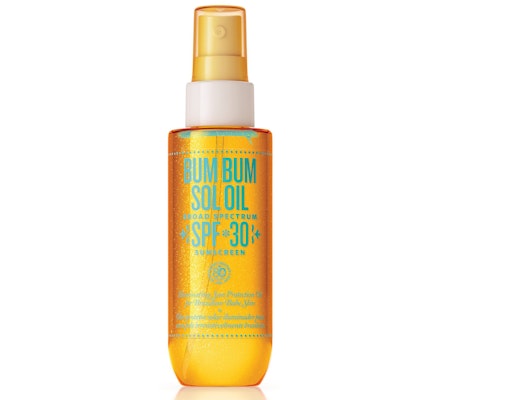 Courtesy
You probably know Sol de JaneiroTM as the brand behind the sexy, wildly popular Bum Bum cream. The Brazillian brand is back with something even hotter for beach season: the Bum BumTM Sol Oil SPF 30 ($38). Not only does it protect skin from damaging UV rays, but it also adds a sultry sheen anywhere you slather it on. Fans of the brand's original pistachio-caramel fragrance will be pleased to learn that this formula smells just like it.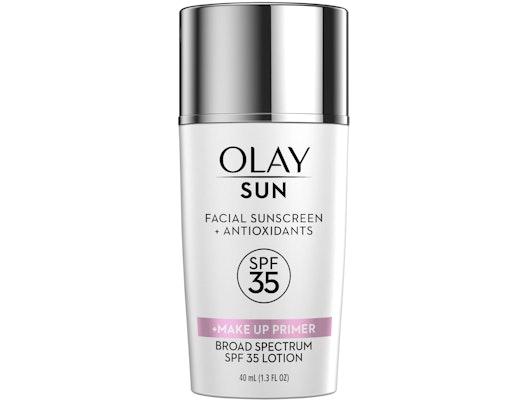 Courtesy
Sweaty summer skin can lead to makeup meltdowns. Applying a primer can help, but for those of us who'd rather streamline our morning routines, the Olay SunTM Face Sunscreen SPF 35 + Makeup Primer ($20) contains a healthy dose of protection plus a built-in base for foundation.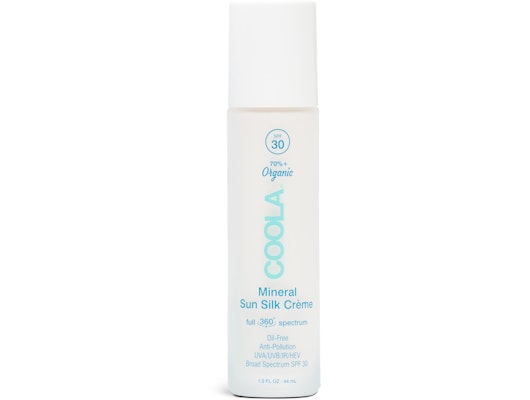 Courtesy
Coola® Full Spectrum 360 Mineral Sun Silk Crème Organic Sunscreen SPF 30 ($42) is free from fragrance and harsh chemicals; instead, it's filled with plant-derived antioxidants and skin-brightening niacinamide. Zinc functions as the active sun blocker (though we promise this stuff is blendable).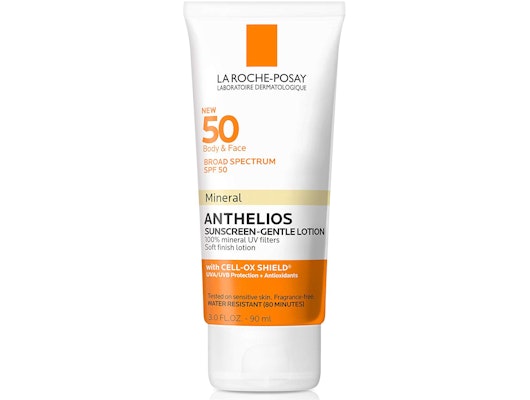 Courtesy
French-born brand La Roche-Posay® is known for its commitment to UV protection. Its latest launch, Anthelios® 50 Mineral Sunscreen-Gentle Lotion ($23), not only contains a hefty SPF 50, but it's also spiked with vitamin E. Sensitive skin will love that it's free from irritating allergens and fragrances, too.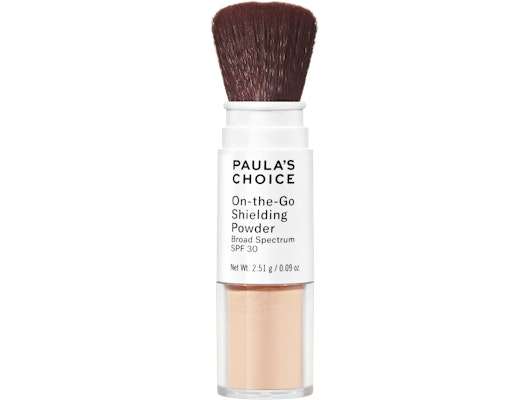 Courtesy
Understanding you should apply sunscreen every few hours is one thing, but carrying out the act is a completely different ballgame — especially if you're someone who wears makeup. As an alternative to smearing a formula over your perfectly-applied foundation, the Paula's Choice® Translucent On-the-GoTM Shielding Powder SPF 30 ($29) allows you to brush on lightweight mineral pigments. Not only will they keep your makeup intact, but they also contain skincare benefits to boot. (Think hydrating ceramides and free radical-thwarting antioxidants like vitamin C.)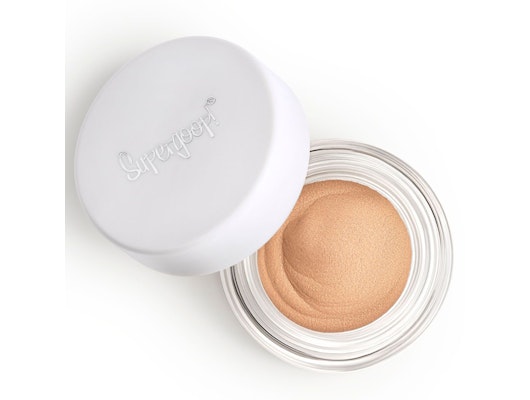 Courtesy
There are a few areas that even the most ardent sunscreen supporters are prone to forgetting. One such zone is the eyelids. Although lids occupy a small percentage of the face, the skin there is paper thin — and thus particularly sensitive to UV damage. The Supergoop!® ShimmershadeTM SPF 30 ($24) provides a functional, flattering solution. These creamy, shimmery eyeshadows come in three flesh-toned shades, which are perfect for wearing alone or under other makeup.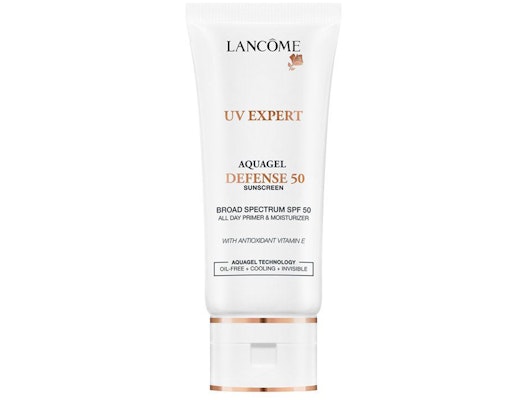 Courtesy
Physical blockers such as titanium dioxide and zinc oxide have a reputation for feeling chalky and looking less cosmetically elegant than their chemical counterparts. So, we were surprised to learn that the active ingredient in the Lancome® UV Expert Aquagel Defense 50TM Primer Moisturizer ($39) is titanium dioxide. The formula has an almost gel-like consistency, which spreads over skin without skipping, flaking, or pilling. In addition to its impressive SPF 50, it also wears like a flattering BB cream, thanks to its skin-smoothing tint.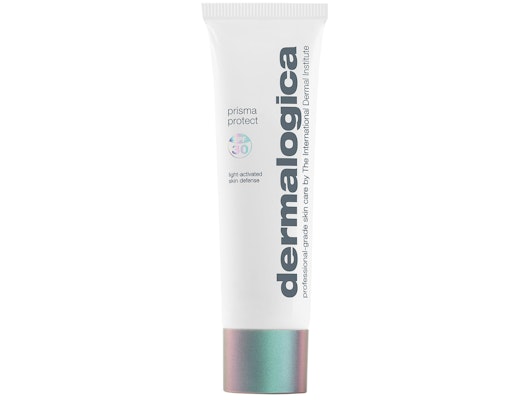 Courtesy
If you're attracted to hyper-glowy skin, consider adding the Dermalogica® Prisma ProtectTM SPF 30 ($65) to your toolkit. In addition to UV protection, the formula offers an iridescent luminosity that provides an otherworldly, lit-from-within glow. (Dare we say you'll actually look forward to applying this stuff?)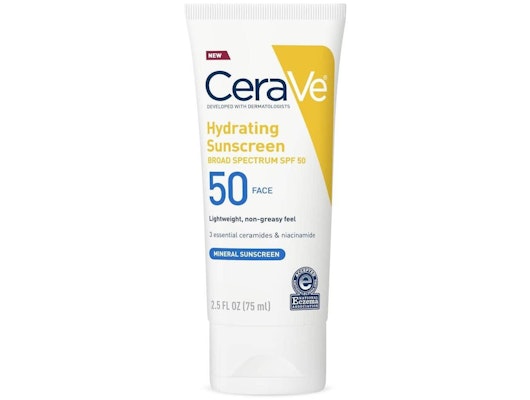 Courtesy
When a dermatologist-favorite brand like CeraVe® releases new sunscreen, it's worth taking note. This one, dubbed the Hydrating Sunscreen ($15), contains a whopping SPF 50 and disappears into all skin tones. Of course, it's also laced with the brand's signature skin-supporting ceramides, plus brightening niacinamide.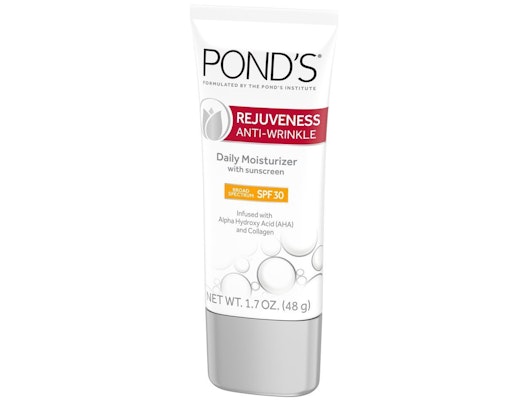 Courtesy
Fans of all-in-one formulas will love the Pond's® RejuvenessTM Anti-Wrinkle Daily Moisturizer with SPF ($10). In addition to sun protection, this cream also acts as a daily moisturizer with a side of sensorial bliss: a lightweight, barely-there feel, and a fresh scent you might expect to find in a luxury face cream. Plus, it contains a low concentration of exfoliating AHA, which works to keep skin looking smooth over time.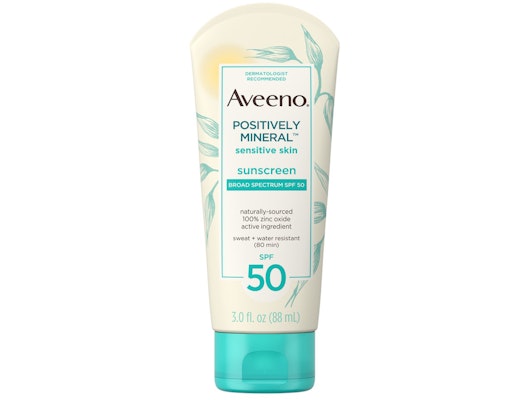 Courtesy
Sensitive skin types may already know Aveeno® as the brand behind some of the most soothing oatmeal-infused moisturizers. The new Positively Mineral® Sensitive Skin Sunscreen SPF 50 ($13) follows suit with a calming blend of mineral UV blockers and, of course, oats. The thick texture is somewhat reminiscent of typical sunscreen, but there's no trace of that typical sunscreen-y smell.
Some complementary products were provided to the author for the purpose of writing this article.
Allergan® may receive commissions for purchases made through links in this article.