Throughout my years of being a beauty writer, I heard legends that a certain type of person existed. I had even aspired to be one myself, but could never quite make it work. It wasn't until I booked an appointment at the Silver Mirror® Facial Bar that the idea become attainable: I had finally entered the elite ranks of the fancy few who consider the "lunch break facial" a regular thing.
The concept behind this facial "bar" is convenience: Your complexion requires regular maintenance with facials, but few of us stick to a consistent skin treatment schedule. Silver Mirror offers speedy (yet fully customizable) facials, making it easy to pop in, get pampered, and go back to your life. For the laziest among us, the spa even has memberships available (with 20 percent off the standard price of a 30- or 50-minute facial).
Before booking, I hadn't had a facial in quite some time — save for the DIY heroics I attempt with masks and devices in my own bathroom — so I committed to the Anti-Aging Facial ($135 for 50 minutes). I also opted for all the add-ons: LED therapy, oxygen infusion, treatment with a PureLift® muscle-toning device, a temperature-controlled ultrasonic hammer (more on this later), and extractions. All these treatments are said to infuse the skin with generous amounts of hyaluronic acid, provide visible lift, and kick collagen production into high gear. I was thrilled at the promise of these results and, after a long, cold winter, my skin was in desperate need of them.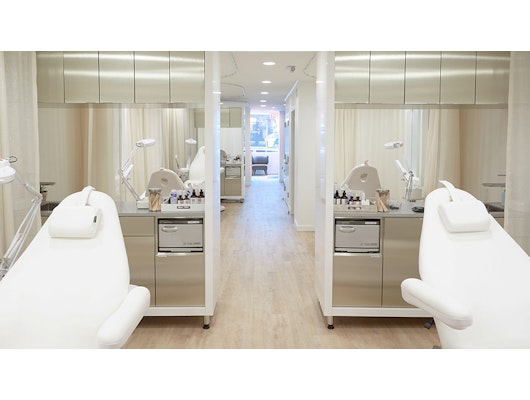 Courtesy of Silver Mirror Facial Bar
My esthetician Suzanne led me back into the pristine area of the bar, which featured curtained-off areas designated for facials. I laid down on the treatment bed, and she started by cleansing my skin and steaming my face (to open pores). I felt relaxed thanks to zen spa music, harmonizing with the gentle hum of a skincare device from the next pod over.
Silver Mirror's potent vitamin therapy peel was applied to my skin for a few minutes, then removed with a warm towel. Suzanne then picked up an ultrasonic scrubber (which looked like a flat metal spatula) and ran it over my skin, allowing the waves to expel leftover makeup, excess oil, and dirt from my pores. It was equal parts soothing and satisfying, almost like a technological version of a pore strip.
Once my face was completely clean and exfoliated, she proceeded with the oxygen infusion treatment. This involved a pressurized stream of oxygen blasted onto my face. It provided a relaxing cooling sensation with the added bonus of an instant glow. "In all of our facials, we use a 95 percent compressed oxygen, which is fantastic for wound-healing, blemishes, and killing bacteria," she explained to me. "The liquid you'll feel is a mineral solution with over 87 skin-nourishing minerals infused into it."
A hyaluronic acid gel was applied immediately after, at which point Suzanne picked up the PureLift Device — a handle equipped with two diamond-cut metal nodules that emit high-frequency waves to stimulate muscles and increase elasticity. As the tool ran over my skin, I could feel the waves pulse through the muscles of my face, causing my brow and jaw to twitch.
"It uses high, low, and intermediate frequencies to innervate the muscle, which you'll visibly be able to see," Suzanne noted as my face quivered. "This helps to stimulate collagen." She added that signs of aging typically are due to a "lag" in facial tissue, which can make the skin appear saggy and slack. "When you stimulate the muscle and stimulate the tissue, it alleviates that." While the sensation was certainly intense, it wasn't uncomfortable. Interestingly, when the device made its way to my forehead, it triggered a sensation that felt as if someone was gently scratching the top of my head. It felt weird, but I was into it.
Courtesy of Silver Mirror Facial Bar
After she'd slicked on another layer of hyaluronic acid gel, Suzanne picked up her hot/cold ultrasonic hammer. This tool looks like a mini ultrasound wand and delivers two different temperatures to soothe skin and amplify the benefits of your skincare products, respectively. Suzanne started with the cold side to reduce inflammation and general puffiness around the eyes; then she switched it to the warm setting, which infuses product deeper into the tissue.
After a final pass of the ultrasonic hammer and a layer of vitamin-rich serum, she placed me under an LED light device. It alternated between blue lights to kill acne-causing bacteria and red lights to trigger collagen production. Once I emerged from the Spaceship Earth experience, Suzanne slathered a layer of sunscreen onto me, and sent me on my way.
I am not joking in the slightest when I say that I slunk down the street — I was that relaxed. The entire treatment only took about an hour, so I was able to make my next work appointment with plenty of time to spare (rolling in with the glowiest skin ever, at that). The weird blemish I'd had under my nose before my appointment had all but disappeared, too. Although I planned to put on makeup before going out that evening, I ultimately decided against it — I was in no mood to dull the radiance Suzanne seemed to infuse into my skin.
Prior to my experience at Silver Mirror, the mere thought of stepping out for more than a few minutes at lunch seemed like a luxury. Moving forward, though, I'll be making a case for a mid-day facial at least once a month . . . sorry, boss.
Complimentary service was provided to the author for the purpose of writing this article.
Price may vary from the time this article was written.