In our series Behind the CurtainTM, we get the scoop on the routines, careers, and more of those working so hard behind the scenes to make celebrities look stunning.
"Embracing natural skin and enhancing your features makes you your most beautiful," insists makeup artist Jillian Dempsey. It sounds like common sense, but in the age of airbrushed "Instagram® makeup" and filters, experts like her stand out. The down-to-earth 53-year-old mother of three champions the use of makeup to celebrate — never hide — one's individuality.
Dempsey got her start working on shoots with famed photographer Annie Leibovitz and doing makeup for movies like The Crew and Love Is Like That, but her natural approach clearly got her noticed in an oversaturated beauty space. These days, she's the trusted makeup artist to beauties Jennifer Lawrence, Kristen Stewart, and Emilia Clarke (just to name a few).
It should come as no surprise that with a philosophy that celebrates natural beauty, Dempsey also views makeup as enjoyable, not essential. "Makeup should be fun," she insists. "It shouldn't feel like, 'Oh, if I don't do this, I'm going to be insecure about myself.'" This approach (plus her pared-down beauty aesthetic) made creating an eponymous brand a sensible next step.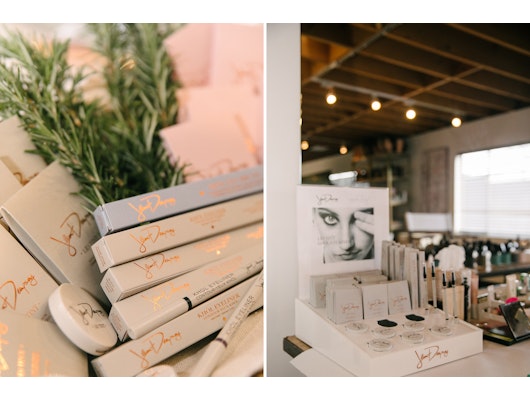 Christopher Brown Photography
Dempsey's collection contains the essentials for the "lazy girl" routine: cheek tints, lid tints, and a kohl liner. Most of the products in her line can be applied with fingertips and are sheer, yet buildable, so you can create looks that vary from subdued to more dramatic — but always keeping your natural beauty in mind. Everything ranges from $20 to $28 and can be found at boutique beauty stories like BlueMercury® and Credo Beauty®. She even recently expanded into devices, and just launched one of the year's buzziest skincare gadgets (more on that later).
We asked Dempsey to share her insight into the changing face of makeup artistry, the challenges of creating a makeup line, and why we should all be using her proprietary Gold BarTM. Keep reading for the full scoop. 
Spotlyte: You attended beauty school, where you had to learn how to do both makeup and hair. Did hair styling help your makeup career in any way?
Jillian Dempsey: Hair and makeup work as a team. When they work together, that's when the magic happens. The hair can dictate what you're going to do with the makeup and vice versa. That's why it's great when the hairstylist and the makeup artist work together to create the look. If you're a makeup artist, you don't have to get your cosmetology license to do hair. But it's important to understand how the balance, shape, and feeling of the overall look work together.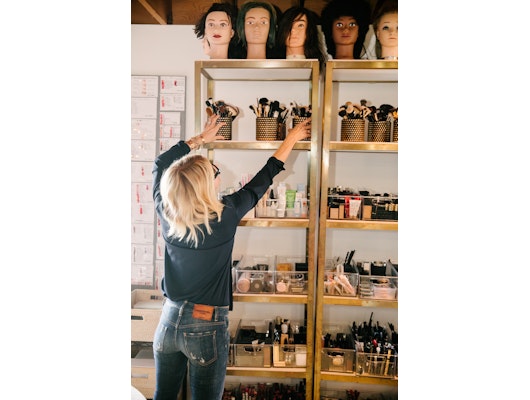 Christopher Brown Photography
Spotlyte: Has the push for digitization in recent years impacted the way you work?
JD: I used to carry an actual portfolio of my work; we called it tear sheets. You would wait for that cover of the magazine or that model spread in the magazine to come out, then you'd curate it in your portfolio and give it to your agent to send out. Then it moved to what lived on your agency's website.
Spotlyte: And now?
JD: Now people are quick to check your Instagram. [Your feed] gives a glimpse inside your world as an artist, what you do, what you choose to do  — this essentially has become the new portfolio. We don't even have portfolios we send out anymore.
Spotlyte: Is there a downside to switching over to Instagram to show off your work?
JD: It's interesting because there's a lot people can do. When I grew up, no one really knew things were getting Photoshopped. Now, it's happening more in the digital space with girls shrinking their waists and enlarging their lips. The artistry is getting a little lost when people cheat and do that. It's the new world and the way things are. You can't fight it. You just have to try to be as organic as you can be.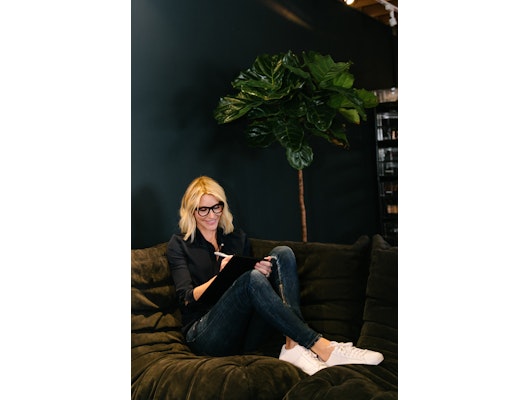 Christopher Brown Photography
Spotlyte: How can aspiring makeup artists find a balance between being organic and competing with technology like FaceTune®?
JD: [Solidify] a formula. When you first touch a face, [take note of] the bone structure and the balance. Step back and take a look at it. What do you see? What do you see for that person? How you work with that face will attract the people who are interested in your aesthetic.
Spotlyte: So it's all about finding your own formula.
JD: Yeah, if you want to stand out — which is hard to do in today's world — [then you need to] think about each client's [unique features]. You have to mold and sculpt his or her face. You're providing a service and you want to complement everything on that person's face. If they have green eyes, study up on what shades complement them and really make them pop. Learn what they did in the '30s, '40s, '50s, '60s — learn it all. Always do your research. Always be on time and organized.
Spotlyte: What made you want to create your own makeup line? Was there something missing in the market that you wanted to fill?
JD: I [wanted to create a line that would be] super easy, finger-friendly, and fun. I love dewy finishes and rich textures. My line feels very effortless. I [love] lazy girl makeup.
I also wanted to create something as organic and natural as possible. It wasn't the easiest thing to do because organic ingredients have a shorter shelf-life. I wanted to deliver something in the land of sustainable beauty. My company is also cruelty-free, which is big for me. I wanted to contribute  — on a small scale — to something that I felt was missing [from the market]. So I created something I couldn't find but wished existed.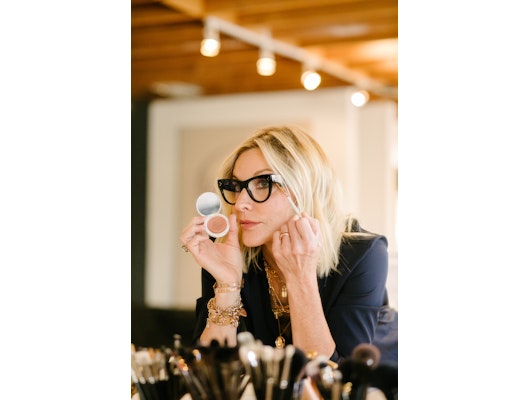 Christopher Brown Photography
Spotlyte: What was the hardest thing about starting your own makeup brand?
JD: It's not an easy task to make products. People always ask, "Why don't you make this color?" You have no idea what goes into making a specific color — there are so many layers that go into it, so many steps. It can definitely be rewarding if you get the product right. But it's even more difficult to make products that are unique and different from [other products out there]. Another hard part is telling your story to the consumer [and showing] them how [the products are] going to fit into their lifestyle.
Spotlyte: As you raise your teenage daughter, what do you hope she learns from the beauty industry?
JD: My daughter is very comfortable in her own skin; she doesn't subscribe to the belief that [makeup defines a person]. I think that's beautiful. I really simplified her beauty regimen; it's well curated for where she is at her age. I didn't want to overwhelm her [with products]. I wanted to invite her in without making makeup feel necessary.
Spotlyte: What about your beauty routine? What are some of your go-to products?
JD: I try so many products; there's not a day that goes by that I'm not trying a new mascara or new moisturizer. I like to see what's out there because it's my job to know. Even if some days I look ridiculous because I'm testing a foundation that's too yellow for my skin tone or if I'm testing out a moisturizer from Japan that's too heavy. I don't like to find myself in a rut, so I push myself [to try new things].
I will never not use a really thick undereye cream at night. If I'm in a hurry [in the morning], I use my lid tints ($28 each), cheek tints ($28 each), and kôhl eyeliner ($20) because I know I can do the fastest face with those products. Every morning, I also make time to use my gold sculpting bar; it's like a gym workout for your face. If I don't do it, I don't feel the same. Sometimes I'll go double and use two gold bars at the same time.
Spotlyte: The Gold Bar looks like such a cool device. Tell us more?
JD: I love talking about this. This is the real deal: it's from Japan and I'm really glad I was able to bring it to the states.
[Editor's note: The Gold Bar ($195) is a 24-karat gold-plated treatment device designed to help release tension in the face for a more lifted and sculpted appearance.]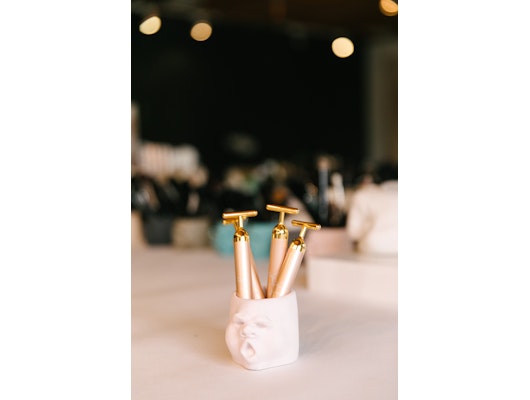 Christopher Brown Photography
Spotlyte: How do you use it?
JD: First, don't wear makeup. Then apply moisturizer on the sides of your mouth, towards your cheekbones, your jawline, and under your chin. Moisturizer gives the gold bar the slip it needs. You turn it on at the bottom and then you angle the bar on the corner of your mouth and push in (you can be as aggressive as you like). Move it in one stroke up your temple and your ears. Repeat this motion. Don't take it back down; always push up.
Spotlyte: What does this do?
JD: You're sculpting cheekbones. If you want to sculpt the jawline, do a little scoop and sculpt on your jawline. You can smooth, tone, depuff [the whole face] — it's like ionic ironing for your face. It just feels good. I like to do it in the morning; it'll last all day.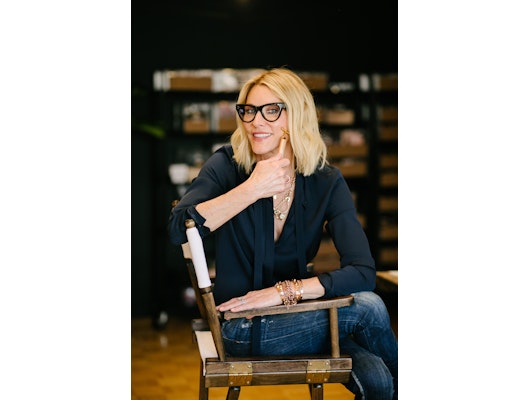 Christopher Brown Photography
Spotlyte: What's one beauty rule everyone should abide by?
JD: Carry a badass lip balm. It should be on everyone's radar — men and women. Try Nuxe® Ultra-Nourishing Lip Balm ($14). It's a balm (a stick just isn't as good as a balm) and it comes in a little glass jar. It's the thickest formula I can find. If you apply this before bed, you'll wake up wearing it.
Product prices may vary from the time this article was written.
Allergan® may receive commission for purchases made through links in this article.